In our series, "A Day in the Life of…" we try to give our readers a chance to sneak a peek behind the scenes of the lives of decorated show horses. Two years ago, we did an article about Batt Ur Lashez, a top ten Congress horse, that moved to the Czech Republic. By now, the mare and her owner Nikol Pavlicova have become European Champion in Performance Halter Open, Youth Western Pleasure, Youth Western Showmanship and NSBA European Champion. But what is "Cassie" like behind the scenes? We have talked to her owner Niki to find out.
What does a normal day look like for Cassie?
Since we have our horses at home, my Dad feeds her and opens her big window, so she can look outside the whole day. Since I don't have school at the moment, her day is usually pretty busy, because I'm at the barn the whole day. Forenoon, she is basically just eating and resting in her stall. After her lunch, she gets a turn out for only few hours since she is getting used to it at the moment. Afterwards, I ride her – approximately five times a week, after riding, I cool her legs, wash her mane and tail – at least once a week – and basically do all the maintenance after we are done riding.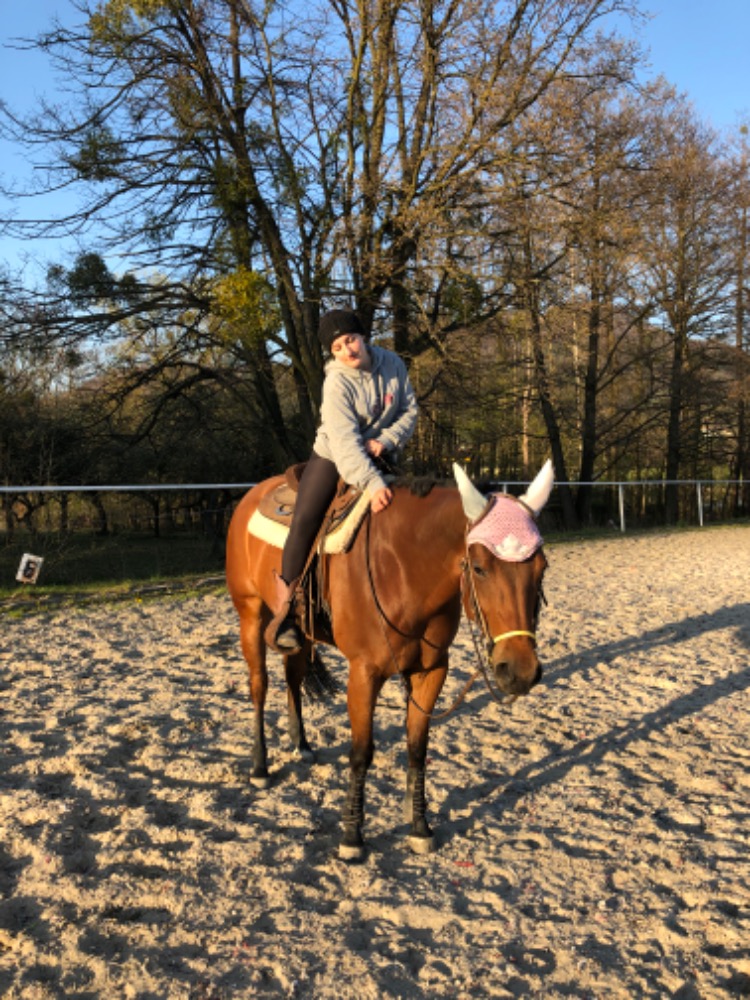 Do you mostly work in the arena or do you go for trail rides and things like that as well?
I mostly work in the arena with her, I have never been on a trail ride with her actually, but we have been on a few walks. I love to do groundwork with her and to improve our relationship and try new things. Cassie is a very funny horse.
What's her favorite food?
Recently, I found out that she loves watermelon, but she basically loves every kind of fruit that she can eat.
What's something she enjoys a lot?
She enjoys our company a lot, mainly that of my boyfriend. Her favorite thing is sticking her head outside the window and just watching everything and everyone working. She also loves to play in the water!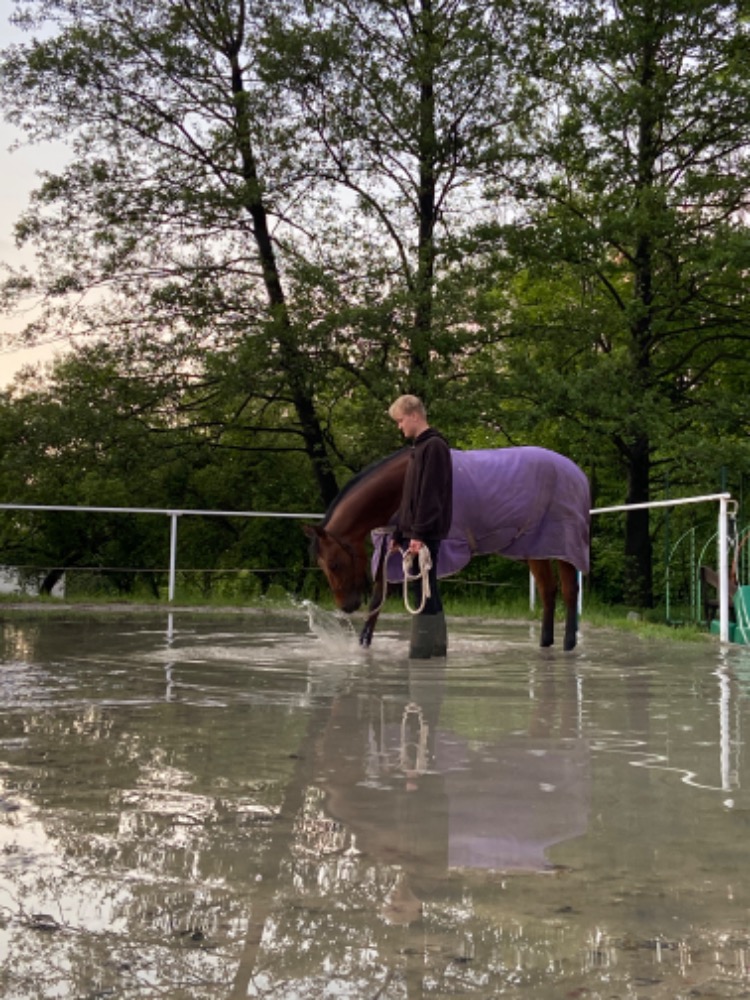 There are no shows at the moment — but if there would be what classes would you be preparing for?
In the winter, we were working on flying lead changes and a lot of trail, since we bought her as my new all allrounder, so I can retire my gelding. I wouldn't show her in the Western Riding this year, but Trail, Western Pleasure and Showmanship for sure.
What's Cassie's favorite class?
I would say Halter, because Cassie is such a princess. In that class, she doesn't have to move, just stands there and everybody is watching her being pretty.
Can you tell us a fun fact about her?
She is a professional chewer, she chews on everything! Leadropes, halters, blankets, wood, but her most favorite is a chain. The first day she was in the Czech Republic, there was a chain in her stall and she shoved it up her throat. I tied her on a chain once thinking it would help with her chewing problem, so I thought it would be uncomfortable for her to chew on a chain, but no she loved it.
If you should describe her in three words…
Moody, pretty, silly
Is she the kind of horse that likes to cuddle?
Not all the time! She has to be in the mood for it and if she doesn't like a person, she won't cuddle with her. She loves to cuddle with kids, my boyfriend and her most favorite person Tereza Ranna! She usually loves to cuddle when she is in a heat though.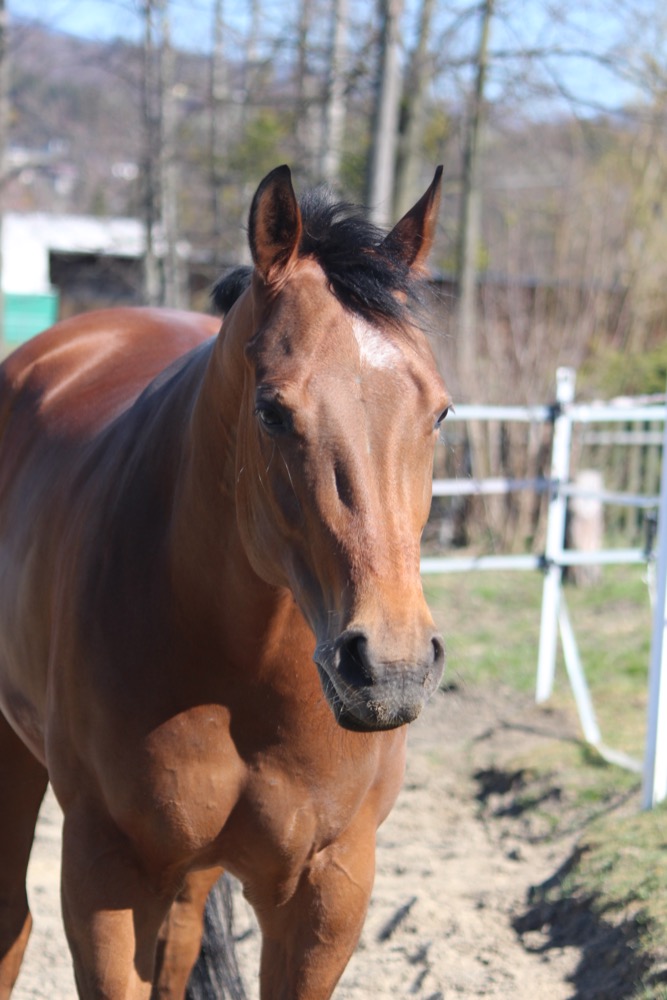 Last question: Does Cassie want to be a Momma one day?
I don't know if she wants to, but I'm pretty sure she will be a good mommy in the future! She is obsessed with ponies and foals!
Ein Tag im Leben von… Batt Ur Lashez
In unserer Serie "Ein Tag im Leben von…" geben wir euch die Chance, etwas mehr über den Alltag bekannter Showpferde zu erfahren. Vor zwei Jahren haben wir berichtet, wie Batt Ur Lashez, damals ein Congress Top Ten Pferd, nach Europa kam. Seitdem hat die Stute mit ihrer Besitzerin Nikol Pavlicova viel gewonnen: Die beiden sind Europameister in Western Pleasure, Showmanship und Performance Mares und haben auch schon einen NSBA-Titel geholt. Doch wie sieht "Cassies" Alltag aus? Wir haben mal bei Niki nachgefragt.
Wie sieht ein ganz normaler Tag in Cassies Leben denn aus?
Da wir die Pferde zuhause haben, füttert mein Vater sie und öffnet das Fenster zu ihrem Stall, dass sie den ganzen Tag nach draußen schauen kann. Da ich momentan keine Schule habe, hat Cassie viel zu tun, denn ich bin den ganzen Tag am Stall. Vormittags schläft sie allerdings nur und isst. Nach dem Mittagessen kommt sie auf die Koppel, allerdings nur wenige Stunden, da wir gerade noch anweiden. Danach reite ich sie – meistens fünf Tage die Woche. Nach dem Reiten kühle ich ihre Beine und wasche Mähne und Schweif – mindestens einmal die Woche. Ich mache also die komplette ausführliche Pflege nach dem Reiten.
Reitest du nur in der Halle oder geht ihr auch mal ausreiten?
Meistens reite ich in der Halle oder auf dem Platz. Ausreiten waren wir noch nie, aber schon ein paar Mal spazieren. Ich liebe es, Bodenarbeit mit ihr zu machen, neue Dinge auszuprobieren und unsere Beziehung zu verbessern. Cassie ist ein witziges Pferd.
Was ist ihr Lieblingsessen?
Neulich habe ich herausgefunden, dass sie Wassermelone liebt. Allerdings mag sie eigentlich fast jedes Obst, das sie essen darf.
Was macht sie gerne?
Sie mag es, unter Menschen zu sein, vor allem meinen Freund liebt sie. Außerdem schaut sie gerne aus dem Fenster und beobachtet alle beim Arbeiten. Sie liebt es auch, im Wasser zu spielen.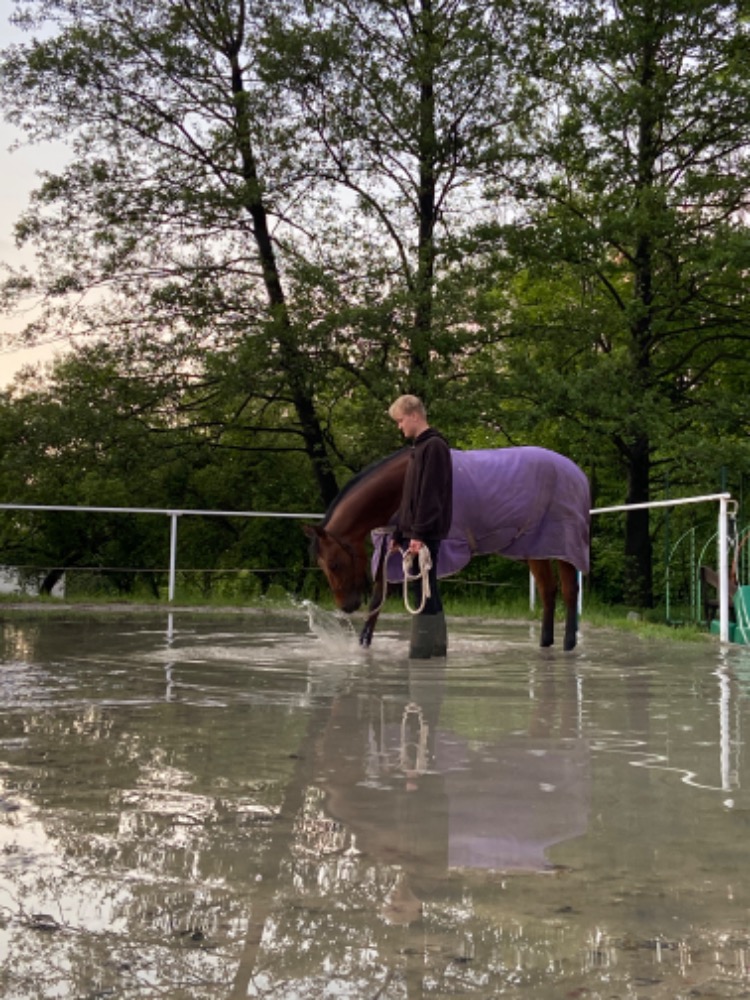 Momentan sind kaum Turniere – aber woran würdet ihr arbeiten, wenn es eine Turniersaison gäbe?
Im Winter haben wir viel an Galoppwechseln und Trail gearbeitet. Sie soll ja mein neues Allroundpferd werden, dass mein Wallach in Rente gehen kann. Ich hätte sie dieses Jahr noch nicht in der Western Riding geshowt, aber sicher in Trail, Western Pleasure und Showmanship.
Was ist denn ihre Lieblingsklasse?
Ich würde sagen: Halter. Cassie ist so eine Prinzession. In der Halter muss sie sich nicht bewegen, nur dastehen und alle sehen, wie hübsch sie ist.
Kannst du uns einen lustigen Fakt über Cassie erzählen?
Sie kaut auf allem, wirklich allem, rum: Stricke, Halfter, Decken, Holz. Am liebsten jedoch auf der Kette. Als sie bei uns in Tschechien ankam, hing eine Kette in ihrer Box und sie hat sie quasi verschluckt. Ich habe sie mal mit einer Kette angebunden, weil ich dachte, dass sie darauf vielleicht nicht herumkaut, aber nein – sie hat es geliebt.
Wenn du Cassie in drei Worten beschreiben müsstest…
Launisch, hübsch, albern.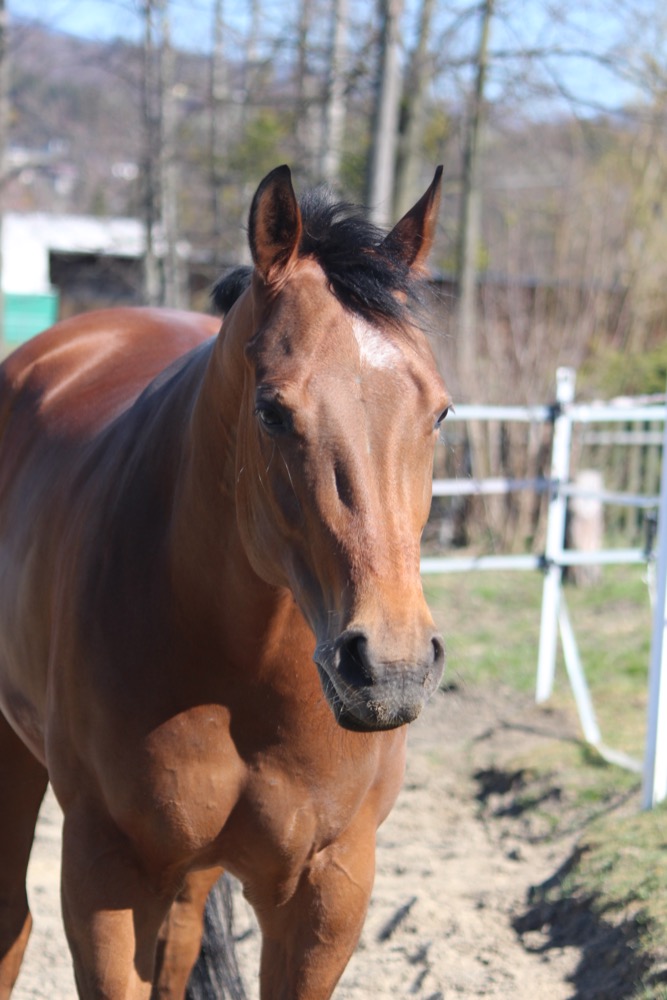 Ist sie ein Pferd, das gerne kuschelt?
Nicht immer. Sie muss in der richtigen Stimmung sein und es muss eine Person sein, die sie mag. Sie kuschelt gern mit Kindern, meinem Freund und ihrer Lieblingsperson Tereza Ranna. Meistens kuschelt Cassie gern, wenn sie rossig ist.
Letzte Frage: Wird Cassie irgendwann mal Mutter?
Sie wird sicher mal eine tolle Mutter. Sie liebt Fohlen und Ponys!