It's something many riders dream of: having their horses living next to their house. Imagine waking up every day, looking at green pastures with your favorite horses on them. This dream is going to come true for Julia Pirkenseer and her husband Thomas: They are currently building a house next to the little barn Julia's parents run. We have talked to the AQHA competitor about the project.
Julia, can you tell us how you got involved with AQHA?
I think it was in 2011, when we bought my gelding Sweet Hot Brownie from one of Nina Leiner's clients. That was when we started showing in the allround events, mainly the Showmanship.
Is your husband a horse-addict as well?
I had to laugh at that question, because when we started dating, he was really interested and started to ride as well and I was like "Yes, he is a horse-addict as well!". By now, however, he is more interested in his mountain bike, but he supports me and my parents who own our little barn with everything that needs to be done.
You – like many other horse-addicts – might have dreamt of a house next to the barn for a long time, but when did things get serious?
Yes, I have been dreaming of this since I was a little girl. Things got serious three years ago, because not only does it save time and looks pretty, it was also the logic thing to do as we would take over the barn from my parents at some point anyway. It just didn't make sense to build a house somewhere else, meaning that I would have to drive to feed the horses each day before work, go back home, go to work, go to the barn again. So it was clear: If we build our own house, it has to be next to the barn.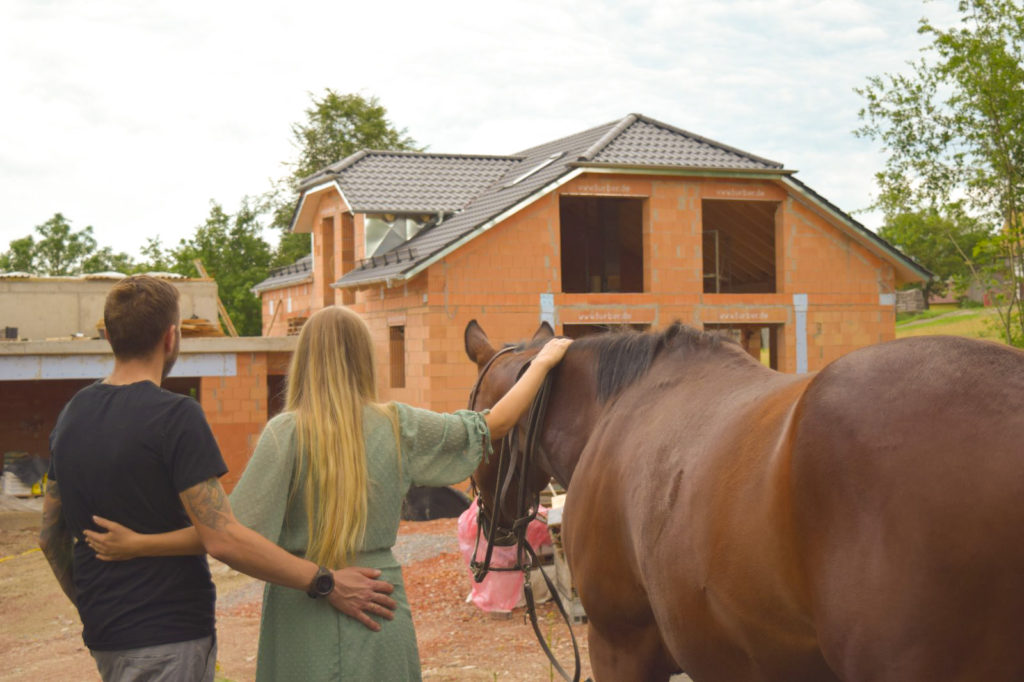 So what will everything look like?
Well, I am excited to see it as well. We did not want a normal house, so we included some fun extras, but since we live in a small village, it couldn't be too modern. It was important to me to include big windows, so we could watch the horses from our kitchen and rooftop terrace. We also built a little apartment inside the house that we might rent to people who go to shows in Kreuth as we live a few kilometers near the facility.
What was challenging during the whole process?
It was hard to buy some land to build a house. People here usually don't like to sell their properties. But we didn't give up, kept asking and in the end, we were successful.
Any advice for people who are dreaming of this as well?
Don't let anyone tell you it's impossible! If you are not able to build a new house next to a barn, you might find a nice old barn with a house that you can renovate. If in the end, the first thing you see every morning are your horses, all the hard work has paid off.
Ein Haus direkt neben dem Stall
Davon träumen sicher viele Reiter: ein eigener kleiner Stall direkt am Haus. Wenn man jeden Morgen aufwacht und als Erstes die Pferde sieht. Dieser Traum wird für Julia Pirkenseer und ihren Mann Thomas bald Realität sein, denn die beiden bauen aktuell ein Haus neben dem kleinen Stall, den Julias Eltern betreiben. Wir haben mit der AQHA-Reiterin über das Projekt gesprochen.
Kannst du noch einmal kurz erzählen, wie du zur AQHA Szene gekommen bist?
Zur AQHA Szene bin ich aktiv 2011 gekommen, als wir damals meinen Wallach Sweet Hot Brownie im Trainingsstall von Nina Leiner gekauft haben. Die darauffolgenden Jahre waren wir im Allaround-Bereich, vor allem aber in der Showmanship, sehr aktiv auf den Shows unterwegs.
Ist dein Mann denn auch Pferdefan?
Bei der Frage muss ich jetzt ein bisschen lachen, denn anfangs, als wir frisch zusammen waren, ist er ganz begeistert gewesen von meinen Pferden, hat dann sogar angefangen, zu reiten und ich dachte: "Yes, haste 'nen Pferdeliebhaber hoch 10 gefunden!". Allerdings ist er dann recht bald auf den Drahtesel umgestiegen und fährt mittlerweile lieber Mountainbike. Er unterstützt mich und meine Eltern, denen unser kleiner Privatstall gehört, jedoch tatkräftig bei den Arbeiten rund um die Anlage.
Den Traum gibt's wahrscheinlich schon lange, aber wann entstand denn der erste Plan, ein Haus mit Stall daneben zu bauen?
Den Traum gibt es tatsächlich schon seit Kleinmädchentagen. Wer will das nicht, sein eigenes Pferd direkt am Haus zu haben? Da das nicht nur zeitsparend und schön anzusehen, sondern auch praktisch im Hinblick auf die Zukunft ist, wenn wir einmal den Stall komplett übernehmen, hat sich die Idee vor rund drei Jahren konkretisiert. Es macht einfach keinen Sinn für mich, sich für die allmorgendliche Fütterung vor der Arbeit ins Auto zu setzen und erst einmal zu den Pferden zu fahren, dann zurück, dann zur Arbeit und so weiter… Deswegen war klar: Wenn wir bauen, dann direkt am Stall. So lässt sich alles verbinden.
Wie genau wird das Ergebnis aussehen?
Da bin ich auch schon sehr gespannt drauf… Nun, im Grunde wollen wir kein Haus von der Stange und haben ein paar Extravaganzen eingeplant, allerdings sollte es auch nicht zu modern geraten, damit es gut ins ländliche Bild passt.
Was mir wichtig war: Von der Küche und unserer Dachterrasse aus wird man direkt zu den Pferden sehen können.
Außerdem ist eine kleine Einliegerwohnung vorhanden, die wir vielleicht auch während der Showsaison vermieten möchten. Schließlich sind wir nur wenige Kilometer von Kreuth entfernt.
Was für Herausforderungen sind Euch bisher begegnet?
Erst einmal war es sehr schwer, überhaupt diesen Bauplatz erstehen zu können, da hier niemand gerne Land verkauft. Aber wir waren hartnäckig, haben immer wieder nachgebohrt und waren schließlich auch erfolgreich.
Was würdet ihr Menschen raten, die auch von so etwas träumen?
Man sollte sich auf keinen Fall von seinem Weg abbringen lassen! Sollte es vielleicht nicht direkt mit einem Neubau am bestehenden Stall klappen, kann man unter Umständen auch nach älteren Hofstellen suchen und diese mit etwas handwerklichem Geschick restaurieren… Der morgendliche Blick aus dem Fenster direkt zu den Pferden zahlt die vielen Arbeitsstunden, die in so ein Projekt investiert werden, definitiv aus.