2020 – it's probably not the year most of us have many fond memories of. For the sister duo Sandra Rüd and Christine Baier, however, the year had another bad surprise in store – besides the whole pandemic stuff. But – we can tell you this much – their story has a happy ending.
"It all started in summer, at the beginning of August, when our APHA mare Sensational Shea aka Amy had a colic. All the usual medicine did not help. We had to take Amy and her two-month-old weanling to the clinic," Sandra told us. When they arrive, the vets instantly stated that they had to perform surgery on the mare who is a European Reserve Champion and multiple Bavarian Champion.
Colic surgery is probably one of the procedures horse owners fear the most – Sandra and her sister for sure did: "We stayed by Amy's side as long as we could. To me, the most terrible moment was when I had to hand over the lead to the vets. There was an emptiness nothing could fill. We could just wait and hope." A few hours, however, the vets told the sisters that surgery went well and that they did not have to remove any parts of the intestines, the mare already got up and let the baby drink. "We were so relieved!"
However, that feeling of relief shouldn't last long: "After nine days, we were able to take her home," Sandra says. At that time, it was really hot in Germany, so that wasn't really helpful for the healing process – on the contrary. The wound seemed to open up more. I was in training with my young mare at the time, since the German Paint was just around the corner. Christine always sent in messages and updates and when the stitches started to open up after two days, we knew: Amy had to go back to the clinic."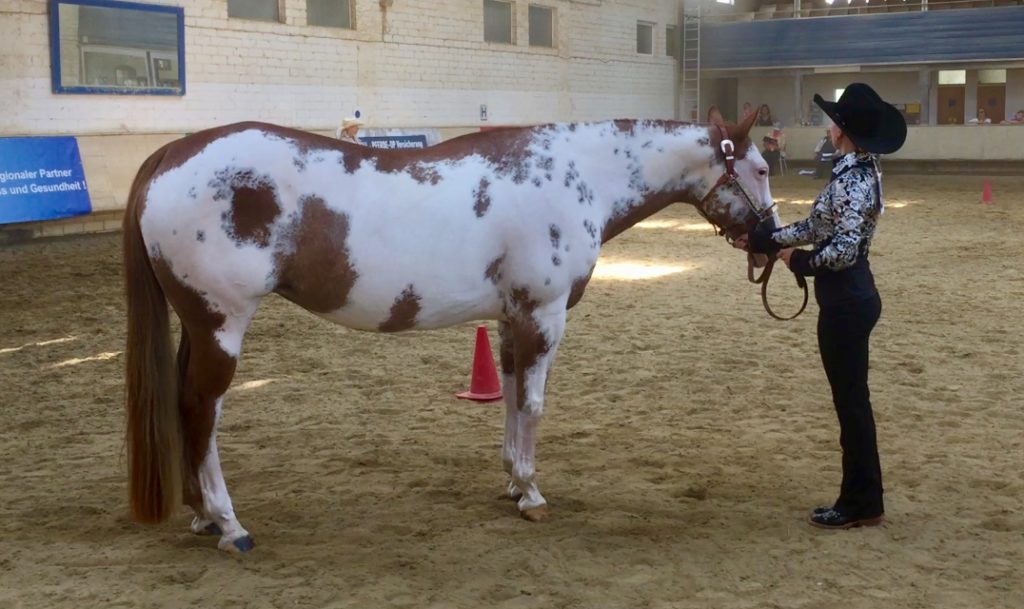 When they got to the clinic they got the result of a smear test: There was a multi-resistant germ in the wound. That was the reason why the stitches wouldn't last. "We knew how serious all of this was: If the abdominal wall ruptures, the horse will hardly survive. The vets couldn't sew in a net – as they would usually do – because the body wouldn't accept it due to the germ. Amy's life was hanging on a thread." A very hard situation for the sisters: "We started to wonder: What if…? Can we put down a horse that wants to live? What about the weanling? Will we find a foster mom?," that is how Sandra describes what they were thinking about.
"It was hard to stay calm and also focus on my young horse's training. The German Paint was our first show together and we were so excited to see all of our horse show friends again – but the thought about Amy was like a dark shadow that followed us. Especially, since Amy gave us such great memories in Kreuth," Sandra told us. "But we didn't give up and Amy fought for her life!"
A special x-ray treatment was supposed to make the tissue grow and thereby heal the wound. They had to change the bandages twice a day and clean the wound, in order to fight the germ. "Day by day, we were waiting for the call from the clinic, but slowly but surely, the good news dropped in." In order to support Amy, the sisters tried to visit her as much as possible: "It really wasn't easy, given that we both work full-time, had a young horse and two kids to watch after."
But all the effort was worth it and new tissue grew: "By the end of October, after staying in the clinic for three months, we could take our Amy and her baby home. The wound has not fully healed yet, but it is not life-threatening anymore. Amy is on the best way to enjoy life as a normal horse again. We are so happy to have her home!"
For the two sisters, this was the most unexpected happy ending in 2020. "Such a story marks one of the hardest moments as a horse owner. But we should never give up! Thanks to everyone who supported us during those hard times, your kind words and hugs from far away!"
2020 – das ist wohl für die meisten nicht unbedingt ein Jahr, auf das sie gerne zurückblicken. Für die Schwestern Sandra Rüd und Christine Baier hielt das Jahr jedoch noch eine weitere unangenehme Überraschung bereit. Doch – so viel kann man schon verraten – die Horror-Geschichte hat ein gutes Ende.
"Alles begann im Sommer, Anfang August, als unsere APHA Zucht- und Showstute Sensational Shea aka Amy anfing zu koliken. Doch diesmal war es mit Colosan, Buscopan etc. leider nicht getan und wir mussten Amy mitsamt ihrem zwei Monate alten Fohlen in die Klinik bringen", erzählt Sandra. Dort angekommen war sofort klar: Amy kann nur noch eine Operation helfen.
Eine Kolik-OP – davor fürchten sich die meisten Pferdebesitzer, auch Sandra: "Bis es soweit war, standen wir ihr tapfer bei. Der schlimmste Moment war für mich das Loslassen. Den Strick aus der Hand zu geben und sie den Ärzten zu überlassen. Es war auf einmal eine Leere, der man nicht entkommen konnte. Wir konnten nur noch abwarten und hoffen." Einige Stunden später erreichte die Schwestern dann die erfreuliche Nachricht: Die Operation war gut verlaufen, es musste nichts vom Darm entfernt werden, sie sei bereits aufgestanden und das Fohlen durfte auch schon trinken. "Da waren wir sichtlich erleichtert, die ganze Anspannung fing an sich zu lösen."
Doch was zunächst hoffnungsvoll aussah, wurde zu einer langen Zeit des Hoffen und Bangens. "Nach neun Tagen durften wir sie nach Hause holen", erzählt Sandra. "Zu dieser Zeit hatte es täglich knapp 30 Grad, was nicht gerade förderlich für die Wundheilung ist. Und so ergaben die nächsten Tage leider auch keine Besserung, im Gegenteil. Die Wunde schien immer weiter aufzugehen. Ich war zu dieser Zeit mit meiner jungen Stute bereits im Training, da die German Paint kurz vor der Tür stand. Christine hat mir ständig Updates geschickt und als nach zwei Tagen die Naht der äußeren Haut komplett aufgegangen war, stand für uns fest: Amy muss sofort wieder in die Klinik!"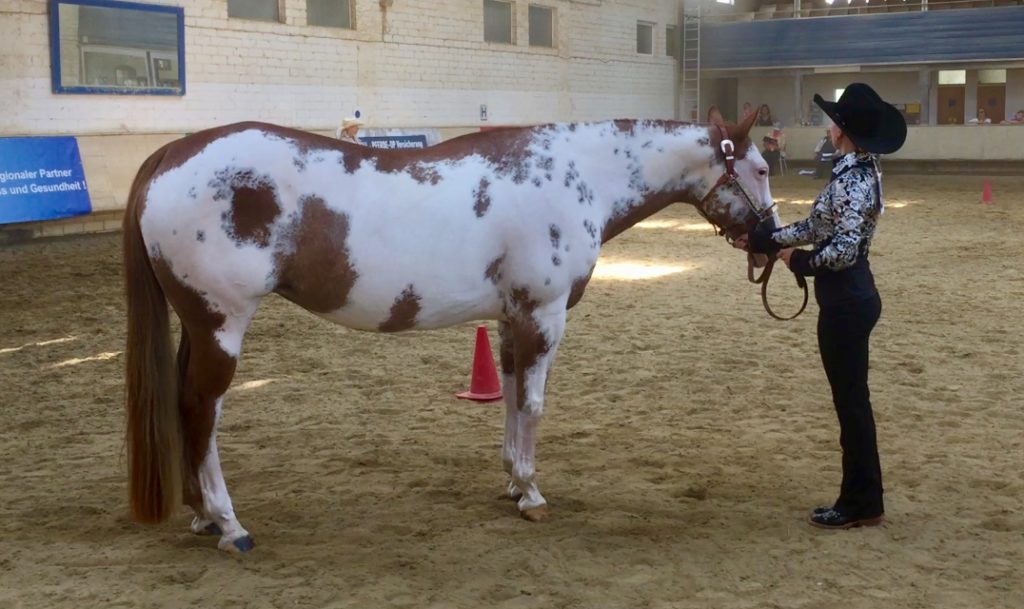 Nun stand auch das Ergebnis des zuvor gemachten Abstrichs fest. Amy hatte einen multi-resistenten Keim in der Wunde, weswegen ihr Körper die Nähte abgestoßen hatte. "Augenblicklich war der Ernst der Lage klar. Wenn die innere Bauchdecke durchbricht, gibt es kaum Überlebenschancen für das Pferd. Ein Netz einzunähen, wie es bei solchen Fällen üblicherweise gemacht wird, war nicht möglich, da auch dieses vom Körper abgestoßen worden wäre. Amys Leben hing also am seidenen Faden." Auch für die beiden Schwestern eine schwere Situation: "Klar fängt man an, sich Fragen zu stellen: Was wenn …? Können wir ein Pferd, das eine Kolik-OP übersteht und an sich völlig munter ist, einschläfern, nur weil es ein Loch im Bauch hat, das nicht wieder schließt? Und was ist mit ihrem Fohlen? Finden wir für ihn eine Ammenstute?", so beschreibt Sandra, was den beiden durch den Kopf ging.
"Es war schwierig einen klaren Kopf zu bewahren und mich dann noch auf das Training meines Jungpferdes zu konzentrieren. Die German Paint war zudem noch unser erstes Turnier überhaupt und die Freude, all die anderen Show-Freunde endlich zu sehen, war riesig. Dennoch lag ständig ein Schatten über uns und die Gedanken waren bei Amy. Vor allem die anderen Pferde dort laufen zu sehen, weckte Erinnerungen und Tränen", erzählt Sandra. "Aber wir gaben nicht auf und Amy hielt sich tapfer und kämpfte!"
Regelmäßige Ultraschallbehandlungen sollten das Wachstum des Gewebes anregen und so die Wundheilung in Gang bringen. Zweimal täglich wurde der Verband gewechselt und die Wunde gesäubert, um den Keim zu minimieren. "Tag für Tag löste jeder Anruf der Klinik erst einmal Herzrasen aus, aber zum Glück überwogen dabei positive Nachrichten." Um Amy bestmöglich zu unterstützen, versuchten die Schwestern, sie mehrmals die Woche zu besuchen. "Gar nicht so einfach neben Full-Time Job, Jungpferd und zwei kleinen Kindern."
Jedoch zeigten sämtliche Mühen langsam ihre Wirkung und es bildete sich neues Gewebe, berichtet Sandra. "Ende Oktober, nach fast drei Monaten Klinikaufenthalt, konnten wir unsere Amy mit ihrem Fohlen endlich guten Gewissens nach Hause holen. Zwar ist die Wunde immer noch nicht vollständig geschlossen und benötigt tägliche Pflege, aber es besteht keine Lebensgefahr mehr! Amy hat es überstanden und ist auf dem besten Weg bald wieder ein ganz normales Pferdeleben zu genießen. Wir sind einfach überglücklich, sie wieder munter zuhause zu haben."
Für die Schwestern war das das unerwartete Happy End im Jahr 2020. "So eine Story zählt wohl zu den schwierigsten Momenten für Pferdebesitzer. Aber auch in diesen Zeiten sollten wir nicht aufgeben und gemeinsam durchhalten! Vielen lieben Dank an alle die uns in dieser Zeit unterstützt haben, für Anteilnahme und gedankliche Umarmungen!"