All diejenigen, die in Corona-Zeiten Geburtstag haben, sind wahrlich nicht zu beneiden. Außer man ist Zoe Brey – sie hat heute Geburtstag und bekommt ein Geschenk, um das sie sicher viele beneiden.
Aber von vorne: Zoe ist die Nichte von Ines Grund, die manch einer vielleicht als Besitzerin von Glamourgirl kennt. Der Familie gehört außerdem auch Best Of Glamourgirl. Ines ist gebürtige Stuttgarterin, lebt seit Jahren in England und ist schon als Achtjährige dem Pferdesport verfallen. "Vor mehr als zehn Jahren habe ich den Polosport in London für mich entdeckt und seit letztem Jahr nun auch das Westernreiten durch meine Trainerin Nina Leiner", erzählt Ines. Mehrfach versuchte sie, ihre Schwester Kira und deren Tochter Zoe für den Polosport zu begeistern – vergeblich.
Die Quarter Horses hingegen gefielen den beiden schon besser – und dazu hat auch die Begegnung mit einem Pferd beigetragen, das in der europäischen AQHA-Szene keine Unbekannte ist: Loves To Lope aka B.B., das Allroundpferd von Fei Ehmann. "Im September 2018 fuhren wir zu Nina, um dort eines ihrer Berittpferde zu probieren und da stand B.B. – wir haben uns sofort verliebt! Nina meinte, das wäre genau das richtige Pferd für uns: ein traumhaft lieber Charakter und Ausnahmetalent im Allaround Bereich dazu –- nur leider wollte Fei B.B. nicht verkaufen."
Loves To Lope ist wie Feis anderes Pferd Only A Glamourgirl eine Tochter der bekannten Zuchtstute Goodbars Glamourgirl von Tim Delf, die momentane #2 auf der Liste der All Time Leading Dams (nach AQHA Punkten) . Sie ist auch die Mutter von Glamourgirl und Best Of Glamourgirl. "Wir sind bei unserer Recherche zu den GG-Nachkommen in Europa zufällig auf Best Of Glamourgirl aka Fiona und Glamourgirl aka Bam Bam gestoßen, und das hat sich dann einfach so entwickelt. Daher konnten wir auch die Vorzüge dieser Zuchtlinie hautnah miterleben und auf jedes Pferd individuell eingehen. Sie haben sich inzwischen gut eingelebt und sind der Mittelpunkt unseres Familienlebens geworden – selbst im Polosport sind sie nun durch den Teamnamen "Glamourgirls United" vertreten", erzählt Ines. Durch die Begegnung mit B.B. war bei Ines und ihrer Familie das Interesse an dieser Zuchtlinie noch weiter gewachsen. "The Showlife hatte regelmäßig über B.B. und andere GG-Nachkommen berichtet und wir durften B.B. auf den AQHA Shows sowie zuhause im Trainingsstall näher kennenlernen", erzählt Ines.
B.B., die Ines als "Workaholic, sehr erfolgreich, aber immer freundlich" beschreibt, ging der Familie nicht aus dem Kopf. Aber: "Fei blieb standhaft", erzählt Ines. Und auch Fei hat uns gesagt: "Aktiv wollte ich sie nicht verkaufen, ich habe immer wieder nein zu Ines gesagt." Nach und nach lernte sie Ines aber besser kennen, sah, wie gut es den anderen beiden Pferden ging. "Ines fliegt zwei-, dreimal im Monat aus London zu ihren Pferden, um ihnen Karotten zu geben und mit ihnen spazieren zu gehen – das hat mich schon sehr beeindruckt."
B.B. ist ein Allroundpferd, sie geht Trail, Western Riding, Western Horsemanship – Fei, das sagt sie selber, liebt aber die Western Pleasure. "Im Moment kann ich mich mit Trail und Horsemanship nicht so identifizieren." Schließlich entschied sich Fei also, Ines' Drängen nachzugeben. Für Ines und ihre Familie ein toller Moment, denn: Die Aufnahme von B. B. als neues Familienmitglied ist Zoes Geburtstagsgeschenk – sie wird heute elf Jahre alt und wir wünschen ihr natürlich auch alles Gute zum Geburtstag und viel Erfolg mit ihrem neuen Traumpferd!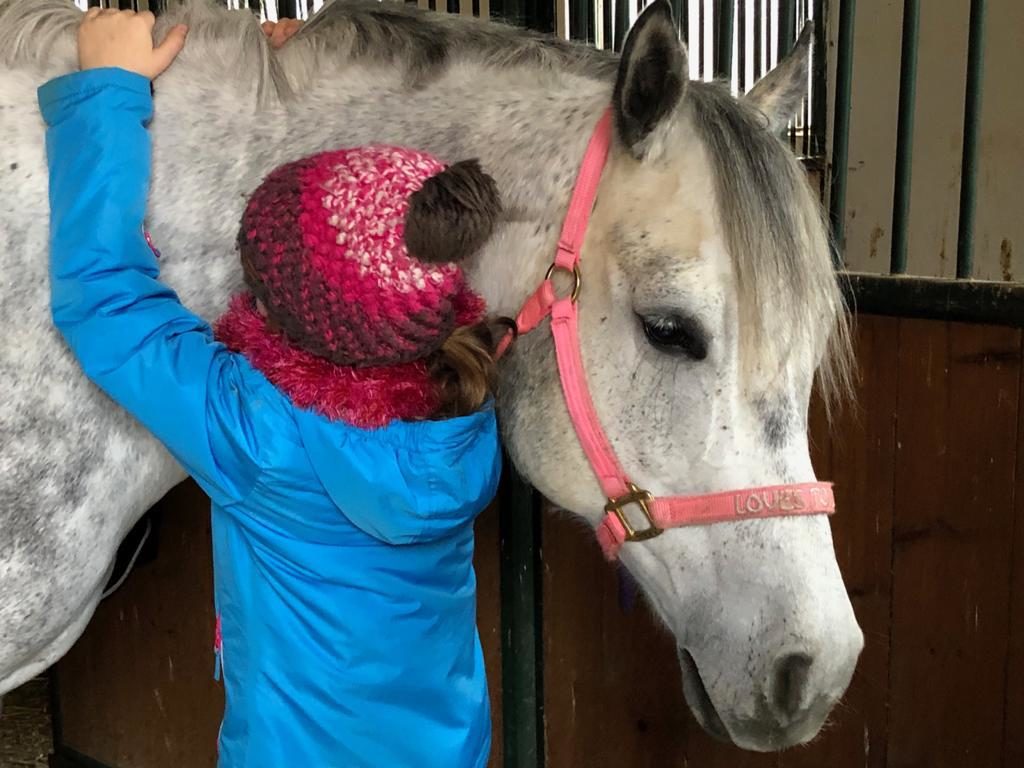 Denn dass B.B. ihr Traumpferd ist, wusste Zoe schon lange, bevor sie etwas von dem Geburtstagsgeschenk ahnte – so erzählt es Ines: "Fei war einverstanden und Zoe durfte nach Wien zum Probereiten, denn B.B. sollte ja zu ihrem elften Geburtstag im April unser Pferd werden. Natürlich blieb alles streng geheim und Zoes Augen strahlten, als sie B.B. zum ersten Mal putzen und reiten durfte. Die beiden haben sich auf Anhieb super verstanden. Auf der Heimreise sagte Zoe dann nur leise: 'Mama, ich glaube ich habe mein Traumpony gefunden!' – nichtsahnend dass genau dieser Traum zu ihrem Geburtstag wahr werden sollte."
Ines' Familie gehören nun drei der vier GG-Nachkommen in Europa – und das ist kein Zufall, denn Ines schätzt die Nachkommen der Stute: "Alle GG-Nachkommen sind nicht nur hoch talentierte Sportpferde, sondern auch sehr menschenbezogen und klar im Kopf. Und hübsch sind sie auch!" Dass irgendwann auch Nummer vier – also Only A Glamourgirl – zur Familie Grund gehört, ist allerdings ausgeschlossen, denn Fei sagt in unserem Interview das, was sie seit Jahren sagt: "Bella ist unverkäuflich."
Die Europäischen Glamourgirls
Only A Glamourgirl
Invitation Only x GG
Loves To Lope
Lazy Loper x GG
Glamourgirl
Invitation Only x GG
Best Of Glamourgirl
RL Best Of Sudden x GG
Fotos von Laura Hochgründler Photography
Jetzt, da Zoe ihr eigenes Pferd hat, gibt es auch schon Pläne für die Zukunft: "Wir lassen uns überraschen, was das Jahr so mit sich bringt. Wir sind Neulinge im Westernsport und da verlasse ich mich ganz auf Nina. Geplant ist momentan, dass Zoe in den Jugendklassen starten wird und ich mit B.B. in den Einsteigerklassen in den Turniersport hineinfinden kann. Natürlich wird Nina B.B. weiterhin in den Open Allround Klassen in Kreuth vorstellen", sagt Ines.
Fei hat zwar mittlerweile ein Pferd weniger – das heißt aber nicht, dass sie dem Sport fernbleiben wird. Sie wird – je nach Corona-Situation – ihre Stute I Batt You Love Me – in der Amateur Western Pleasure showen. "Da ich einige Monate auf Bali sein werde, wird Nina sie auf den anderen Turnieren vorstellen und ich werde nur zuschauen." Zudem werden dieses Jahr fünf Fohlen per Embryo-Transfer aus Only A Glamourgirl gezogen: eines von Lazy Loper, zwei von How Bout This Cowboy und zwei von VS Code Blue. Feis zweites Pferd Tia, eine Tochter von Only A Glamourgirl, steht momentan noch in Frankreich bei David Maisonnette, Nina soll sie kommendes Jahr anreiten. "Ich will mich weiterhin auf die Western Pleasure konzentrieren und möchte in den USA nach einem Seniorpferd suchen, das Western Pleasure und Western Riding geht – sozusagen als Ersatz für B.B., auch wenn man sie eigentlich nicht ersetzen kann", sagt Fei. "Sie ist das süßeste Pferd der Welt, aber davon hat man eben nur etwas, wenn man es regelmäßig sieht – und das ist bei Ines und Zoe der Fall."
Für Zoe wird in jedem Fall heute ein Traum wahr – auch wenn laut Ines es eine lange Reise bis dorthin war: "Abschließend möchte ich mich noch recht herzlich bei all den tollen Menschen bedanken, ohne die diese wunderbare Reise nie begonnen hätte: unsere Trainerin Nina Leiner und ihr gesamtes Team; die Vorbesitzer unserer GGs Dunja Klein, Lenka Zdráhalová und Fei Ehmann; die Züchter Barb und Tim Delf; unsere liebsten DQHA/EWU Freunde Familie Holder, Familie Roos und Familie Hinderer, die uns herzlich aufgenommen und immer unterstützt haben, und natürlich Laura Hochgründler Photography sowie das Team von The Showlife!" Und so kitschig dieser Spruch sein mag, es steckt doch Wahrheit drin: "Every horse deserves, at least once in its life, to be loved by a little girl." Happy birthday, Zoe!
---
Celebrating your birthday in times of corona is probably not what most people who were born in April imagined when they thought about their next birthday party – needless to say they are quite unlucky. For one girl, however, this birthday is going to be a very special one, because Zoe Brey is getting a very special birthday present.
But let's start from the beginning: Zoe is Ines Grund's niece and Ines is known as the owner of the AQHA mare Glamourgirl out of Tim Delf's late mare Goodbars Glamourgirl aka GG, who is the #2 All Time Leading Dam (AQHA points). The family also owns Best Of Glamourgirl, another GG baby. Ines was born in Stuttgart, Germany, but has been living in England for a few years. She fell in love with horses when she was eight years old. "My passion for horses started at an early age thanks to my parents. I took my first classical riding lessons at the age of eight, and have remained loyal to equestrian sports ever since, throughout my studies and career abroad. I discovered polo about ten years ago in England and also recently took an interest in the western events thanks to my trainer Nina Leiner," Ines tells us. She had tried to ignite the passion for polo with her family, but Kira and Zoe wholeheartedly longed for a Quarter Horse instead.
One reason – among many – for their interest in Quarter Horses was the encounter with a horse that is well-known in the European AQHA industry: Loves To Lope aka B.B., Fei Ehmann's successful allround mare by Lazy Loper out of Goodbars Glamourgirl. "We travelled to Nina Leiner's place to try out another senior mare Nina had in training in September 2018. But there she was, chilling out in a paddock saying hi from afar: B.B.! Nina pointed out that B.B. would be the perfect fit for us. She combines outstanding qualities as an all-around show champion with an extremely good-minded character. We were completely smitten by B.B. right there and then, but unfortunately we were informed that Fei had no intentions of selling the horse ever…"
Loves To Lope is a half-sister to Fei's other successful mare Only A Glamourgirl as well as to Glamourgirl and Best Of Glamourgirl. "As part of our research on GG-babies in Europe we came across Best of Glamourgirl aka Fiona and Glamourgirl aka Bam Bam. We were delighted to welcome them to our family and hence have experienced the advantages of this outstanding breeding line first hand already. Both have settled in nicely with Nina and are at the very centre of our family life today. They are also well represented in polo these days thanks to my ladies polo team "Glamourgirls United"," Ines says. By meeting B.B. the family became even more interested in the GG-offspring: "We read several articles on The Showlife about B.B. and other GG-babies. We also had a chance to get to know B.B. at AQHA shows as well as at home with Nina in Vienna." Ines describes the mare as an "utter workaholic, and hence very successful already given her young age of seven" and as a very friendly horse that loves humans and bananas.
The family couldn't get B.B. out of their heads. But: "Whenever we ran into Fei at shows or Nina's in Vienna we kept asking about B.B., but Fei turned down every offer I put on the table." Fei told us: "I did not really want to sell her, I told Ines no many times." After a while, however, Fei got to know Ines better and realized how much care she took of the two other GG-babies. "Ines travels from London to Vienna two to three times per month just to give them carrots and take them for a walk – I was really impressed by that."
B.B. is an allround-horse, she specializes in Trail, Western Riding and Western Horsemanship – Fei, however, loves Western Pleasure. "I am not the typical Trail and Western Horsemanship exhibitor." Fei decided at some point to give in to Ines' efforts. And the family was so happy, because: B.B. becoming a family member is Zoe's birthday gift. She turns eleven years old today – happy birthday, Zoe, we wish you all the best and lots of fun and success with your new horse!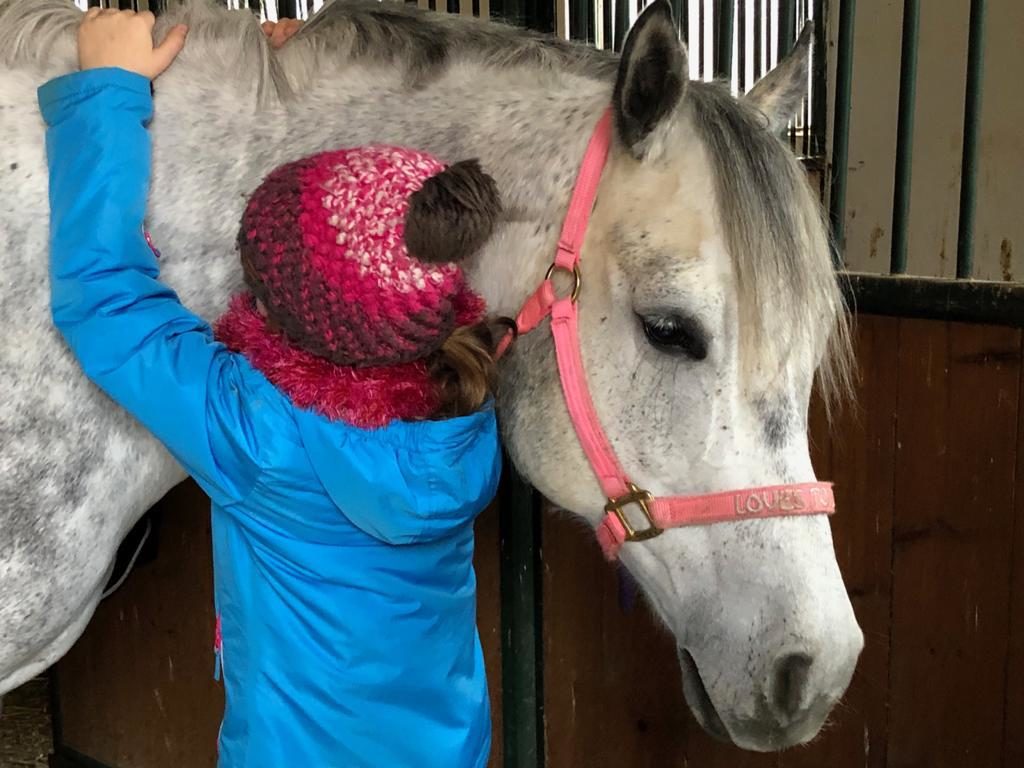 Zoe knew that B.B. was her dream horse long before she knew about this special birthday gift. Ines told us about a very cute situation: "Zoe and Kira went to Vienna for an 'undercover' trial lesson on B.B with Nina. The mission was top secret and Zoe had no idea that B.B. would be a surprise new family member at her upcoming birthday in April. Zoe was so excited to groom and ride B.B. and they totally hit it off right away! On their way back to the airport Zoe whispered softly "Mum, I think I found my dream pony!". Of course, she had no idea that this dream would actually come true on her birthday."
Ines' family owns three of the four GG-babies in Europe now – this is no coincidence, since Ines loves the bloodline: "GG-babies are not only extraordinarily talented show horses, but also exceptionally friendly and good-minded. And quite frankly, they are easy on the eye, too!" It is unlikely, however, that number four – Only A Glamourgirl – will become part of the family as well. In our interview, Fei told us what she has been telling us for years: "Bella is not for sale – ever!"
The European Glamourgirls
Only A Glamourgirl
Invitation Only x GG
Loves To Lope
Lazy Loper x GG
Glamourgirl
Invitation Only x GG
Best Of Glamourgirl
RL Best Of Sudden x GG
All of the pictures above were taken by Laura Hochgründler Photography
The future looks bright for Zoe and B.B. and the family has already made plans. Ines told us: "We are looking forward to exploring what the upcoming season has in store for us. We are new to the sport and fully trust Nina's judgement. Zoe will likely explore Youth classes with B.B. this year while I am keen to start my show journey at the Novice level. However, foremost you will continue seeing B.B. with Nina in the show pen doing what they do best: Acing Open all-around classes!"
Having sold B.B. does not mean that Fei will stop showing: She plans – if possible due to the corona situation – to show her mare I Batt You Love Me in the Amateur Western Pleasure at the big shows. "Since I will be travelling to Bali and stay there for a few months, Nina will show her and I will watch from afar," Fei says. Only A Glamourgirl will hopefully have five babies via embryo transfer next year: one by Lazy Loper and two by VS Code Blue. Fei's other horse Tia, an own daughter of Only A Glamourgirl, is still living in France, at David Maisonnette's place. The plan is for Nina to start her next year: "I want to focus my show career on Western Pleasure and will start looking for a Senior Western Pleasure horse in the States as soon as possible. If this horse can do the Western Riding as well, it could be a good replacement for B.B. – despite the fact that B.B. is actually irreplaceable," Fei stresses. "She is the sweetest horse in the world, but you can only enjoy that kind of horse if you visit it on a regular basis – which Ines and Zoe do."
Today, a dream comes true for Zoe – and although it took a while to get there, Ines is happy how things have turned out: "Finally, I would like to express my deepest gratitude to the very special people without whom this wonderful journey would never have started: Our trainer Nina Leiner and her entire team; the previous owners of our GGs Dunja Klein, Lenka Zdráhalová and Fei Ehmann; breeders Barb and Tim Delf; our dearest DQHA / EWU friends: the Holder family, the Roos family and the Hinderer family, who warmly welcomed and always supported us, and of course Laura Hochgründler Photography and the team of The Showlife!" As cheesy as it sounds: Every horse deserves to be – at least once in its life – loved by a little girl. Happy birthday, Zoe!