Many people know Adrienne Jüliger as a NSBA and DQHA Longe Line winner with her mare Leave A Blue Trace. Just recently, Adrienne has purchased a third horse – she also owns a Reining bred gelding called Lewhiz Best Denim. The 20-year-old has told The Showlife all the details on her new horse.
TSL: Congrats, Adrienne! Can you tell us a little bit more about your new horse?
AJ: Sure! My new horse Dont You Doubt Me aka Despacito is a 2016 gelding by No Doubt Im Lazy out of Simply Perfected, a very successful mare that is owned by Laura Kraack and was the first Pleasure Celebration winner in 2007 with Karin Prevedel. Despacito is a lovely, very relaxed horse. He is a little bit lazy, and totally relaxed in the way he moves, which I like a lot. He is called "Despacito", the Spanish word for "slow", because he is so slow-legged. He is very friendly and likes to try out new things, although he is a bit careful doing that. He has not seen that much in his life so far, because he spent it on the pasture at KPR, together with other prospects. When I took him home from Italy – yes, I did it myself and those were some hard 13,5 hours – it was his first trip away from home and he was a little nervous the first few days at the new barn. After a few days however, he became friends with the other young horses and by now, he is the boss of the 2-year-olds. What I like about him, is, that he is quite tall. So far, all my other horses are rather small. Since I am very tall, I am happy to have a tall horse as well. He measures 16,1 hands by now.
TSL: You just mentioned your other horses. As far as I know, your mare is four and your gelding is four years old. Why did you decided to get another young horse?
AJ: I have been looking for a new horse for quite a while, because I have been thinking about getting another one. Since my mare got injured this year and I did not know what the future would hold for her, I started looking for another horse. I would have never thought of finding the perfect horse at the first barn I visited. I think it all turned out quite well. Now, Rose has time to get better and I can still show.
TSL: You just mentioned that you met your dream horse at the first barn you visited. How long have you been looking before?
AJ: I started looking for a horse on Facebook and the internet, but realized that I could not find what I was looking for. So, I decided to visit some barns. First stop: KPR. There were three horses I was looking at and I quickly decided that Despacito would be the one. I am very picky when buying horses. It has to be a perfect match. But if I like one and it fits, I do not think twice.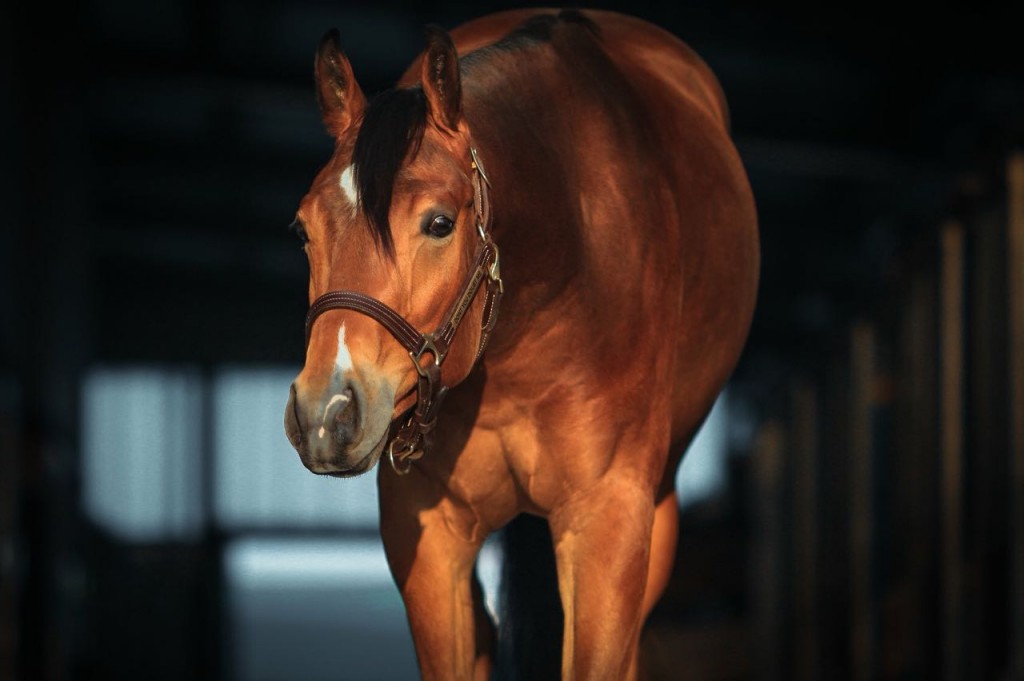 TSL: What are you future plans?
AJ: I want Despacito to get used to the "show life". Since he is not paid-in into the DQHA Futurity, I will not show him in the Longe Line and Trail in Hand in Aachen, but I plan on showing him in the NSBA Longe Line, the Halter and – who knows – a Showmanship class. I think that I can show him in the Western Pleasure and the Hunter under Saddle – because of his height – in the future.
TSL: You are a model and quite busy. How do you manage to practice and show?
AJ: My Reining horse is currently in training with Matteo Toniolli, so I do not have to take care of that. And I have amazing friends at home who help whenever I am not there. Things are more difficult with the shows. I try to arrange my schedule in order to attend the shows, but sometimes, they tell me to work one to two days before a show – therefore I can hardly enter any classes a few weeks before a show. In the end, however, it does not matter, how many horses I take to the show, if I have time.
TSL: Thank you and good luck!
---
Viele kennen Adrienne Jüliger als NSBA und DQHA Longe Line Siegerin mit Leave A Blue Trace. Seit einigen Wochen besitzt die 20-Jährige neben "Rose" und ihrem Reining Wallach "Lewhiz Best Denim" ein weiteres junges Pferd. Uns hat Adrienne alle Details verraten.
TSL: Erst einmal herzlichen Glückwunsch zum neuen Pferd, Adrienne! Kannst Du unseren Lesern etwas von Deinem neuen Pferd erzählen?
Adrienne Jüliger (AJ): Mein neues Pferd Dont You Doubt Me aka Despacito ist ein 2016 geborener Wallach. Er ist von No Doubt Im Lazy aus der Simply Perfected, die die meisten kennen dürften. Sie ist eine sehr erfolgreiche Stute im Besitz von Laura Kraack und hat unter anderem die erste Pleasure Celebration in Europa 2007 unter Karin Prevedel gewonnen. Despacito ist ein super liebes und entspanntes Pferd. In der Bewegung ist er ein wenig faul und wirklich sehr entspannt, was mir sehr gut gefallen hat und weshalb er auch seinen Rufnamen Despacito, also auf Spanisch "langsam", hat. Er ist Neuem gegenüber sehr aufgeschlossen, aber auch etwas vorsichtig. Er kennt natürlich noch nicht viel, da er fast sein ganzes Leben bei KPR auf der Koppel in einer Jungpferdegruppe stand und so noch nicht viel von der restlichen Welt mitbekommen hat. Als ich ihn aus Italien geholt habe – ja, ich habe ihn selbst geholt und es waren 13 1/2 harte Stunden – war das seine erste Reise weg von Zuhause und die ersten Tage war er im neuen Stall noch sehr unsicher. Er hat sich jedoch nach ein paar Tagen schon mit den anderen Pferden angefreundet und ist jetzt schon Chef unter den drei Zweijährigen.
Was mir außerdem gut gefallen hat, ist, dass er sehr groß ist. Bisher sind meine anderen Pferde ja immer eher klein gewesen. Aber da ich selbst sehr groß bin, ist ein etwas größeres Pferd sehr schön für mich. Er misst an der Kruppe jetzt schon 164 Zentimeter.
TSL: Wie Du gerade kurz angedeutet hast, besitzt Du ja schon zwei weitere Pferde, die auch noch recht jung sind – wieso noch ein junges Pferd?
AJ: Ich habe mich immer wieder mal nach Pferden umgeschaut und schon öfters mit dem Gedanken eines weiteren Pferdes gespielt. Da meine Stute leider Anfang des Jahres verletzt war und ich aufgrund der darauffolgenden Komplikationen nicht wusste, wie es um sie steht, habe ich noch einmal mit dem Gedanken gespielt, mich etwas umzuschauen. Dass ich direkt beim ersten Stall fündig werde, hatte ich gar nicht gedacht, aber es hat mit Despacito einfach gepasst. Zeitlich passt das Ganze auch ganz gut, da ich meiner Stute jetzt alle nötige Zeit zur Genesung geben kann, ohne dass ich auf das Showen verzichten muss.
TSL: Du sagtest gerade, dass Du bereits beim ersten Stall fündig geworden bist: Wie lange hast Du denn davor nach einem Pferd gesucht, wie viele Pferde hast Du angeschaut?
AJ: Ich hatte mich mal ein klein wenig bei Facebook und im Internet umgeschaut, aber schnell gesehen, dass ich dort nicht wirklich das finden werde, was ich suche. Also habe ich entschieden, zu ein paar Ställen zu fahren. Als Erstes war KPR in Italien geplant. Dort habe ich drei Pferde angeschaut und habe mich eigentlich relativ schnell für Despacito entschieden. Wenn es bei mir um Pferdekauf geht, bin ich wirklich sehr eigen. Es muss zu hundert Prozent alles passen. Aber wenn mir eins gefällt und ich ein gutes Bauchgefühl habe, dann fackel' ich nicht lange.
TSL: Wie soll Eure Zukunft aussehen? Was ist geplant?
AJ: Erst einmal soll er ganz langsam an das 'Show Life' vom Boden aus gewöhnt werden, daher plane ich dieses Jahr, die ein oder andere In-Hand Klasse. Da er leider nicht DQHA Futurity einbezahlt ist, werde ich leider in Aachen nicht die Longeline und den Trail In Hand showen können, jedoch planen wir die NSBA Longeline sowie Halter und vielleicht mal eine Showmanship ein. In Zukunft denke ich, dass ich sowohl in Pleasureklassen als auch in Hunterklassen aufgrund seiner Größe mitreiten werde.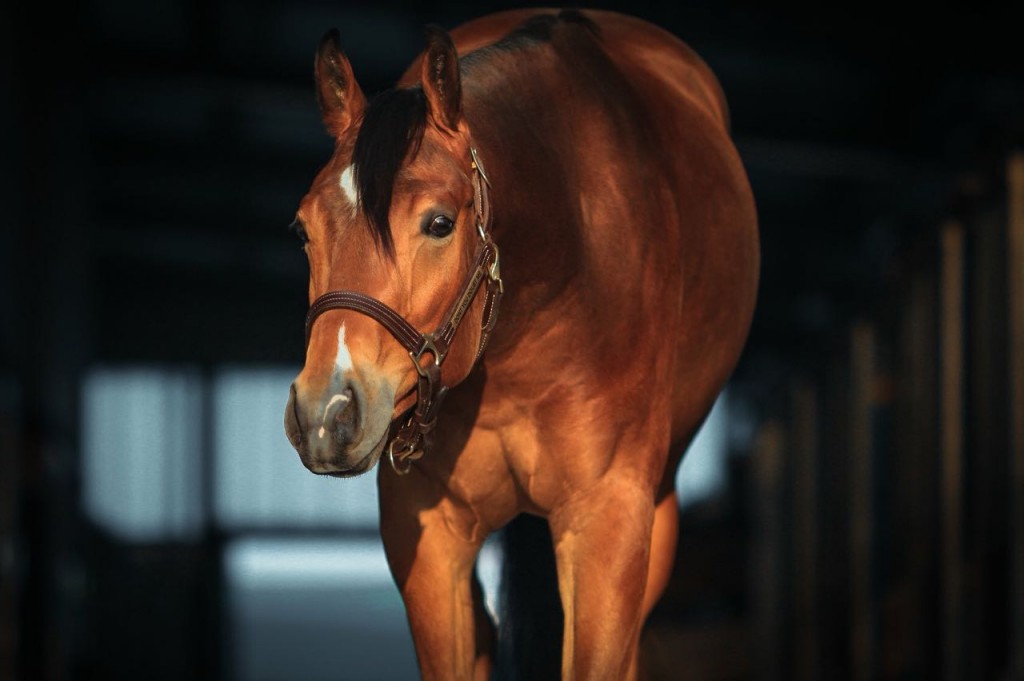 TSL: Dein Job als Model ist auch nicht unbedingt ein berechenbarer, entspannter Job. Schaffst du es neben dem Arbeiten drei Pferde zu reiten und zu showen?
AJ: Ich hab meinen Reining-gezogenen Wallach aktuell im Training bei Matteo Toniolli, so muss ich mich da schonmal nicht sieben Tage die Woche drum kümmern. Und Zuhause habe ich super Freunde, die mir helfen, die Arbeit zu bewältigen, falls ich nicht da bin. Mit den Shows ist es ja leider immer etwas schwierig. Ich versuche, mir die Zeit um die geplanten Shows so gut es geht frei zu halten, jedoch kann es trotzdem sein, dass ich ein bis zwei Tage vor den Shows erfahre, dass ich doch arbeiten muss. Daher ist es immer ein Risiko für mich, einige Wochen vor der Show zu nennen. Mit wie vielen Pferden ich dann letztendlich hin fahre ist, vorausgesetzt ich habe Zeit, dann zum Glück ja egal.