For a long time, Jennifer Lang from Austria has been known as one of the most competitive riders in the European APHA industry, as a APHA European Champion. Together with her mare One Dream Of Krymsun, one of the most outstanding Western Pleasure mares in the European APHA industry, Jenny was a force to be reckoned with in the arena. Jenny and "Stella" became European Champions in Western Pleasure as well as Reserve Champions in Showmanship and Hunter Under Saddle. Just recently, Jenny has purchased a new horse and we wanted to know more:
TSL: Jenny, you have bought a new horse – can you tell our readers a bit more?
Jennifer Lang (JL): Well, actually, I did not plan on buying a new horse when I first visited Karin and Ruggero Prevedel. But, as they say: Life is what happens while you are busy making plans. The little filly with the big heart and I clicked immediately and Karin was sure that she would be the perfect match. This 2017 filly called Sheza Fancy Hotrod aka Tiffany is a full sister to Simply Perfected, the mare that became the first Pleasure Celebration Champion in Europe with Karin in the saddle. Tiffany, therefore, has big shoes to fill. Her full brother Just To Fancy is a multiple champion in various classes.
TSL: So, why did you decide on buying another horse? Given the fact that you had such a successful show mare already?
JL: I had decided to buy a new horse long before I bought Tiffany. Actually, I decided to do so, when I planned on breeding Stella. My fiancé suggested that this would be the perfect occasion to become an AQHA rider. And he was right: It was the right time, and even more – the right horse at the right time. All horses bred by KPR are very well-bred, great movers and good-minded.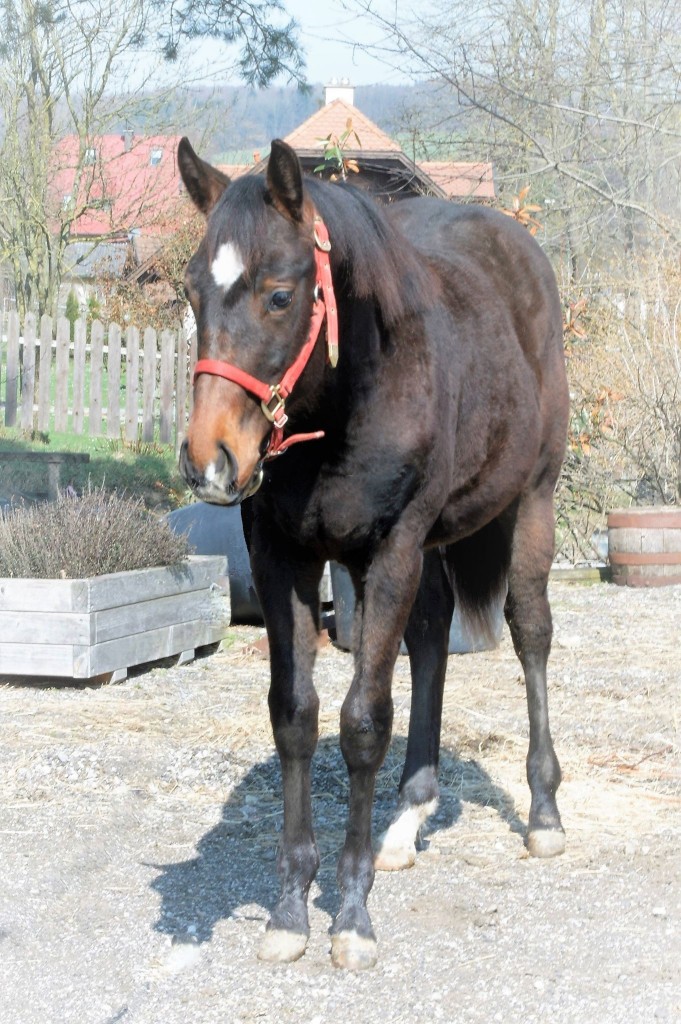 TSL: You were a very successful APHA competitor – why did you decide to get involved in the AQHA industry?
JL: It was time for a change. I have been competing at APHA shows since I was a child and I am deeply connected with the APHA and the people in this industry. The AQHA, however, offers more – on national and international circuits. I have gotten to know the AQHA industry much more during the past years and I am impressed by the many professional and competitive athletes at those shows. I am excited to become a part of this soon!
TSL: So, I heard that you have sold "Stella" – why?
JL: When I bought Stella, my dream was to win a medal at the Euro Paint. Well…in the end, there were more than just one. Stella made me the rider I am today and has exceeded my expectations. Back then, I made one promise: I wanted to retired her as a sound horse at the right time. And I kept my promise.
TSL: Stella is in foal to A New Perspective. What is going to happen with the baby?
JL: I still own the unborn baby and Stella will have it at her new home, towards the end of May. Her owner is great and takes amazing care of her. I have a few people interested in the baby, so we will see what the future holds. I am sure: At the end of the day, everything will be alright. At this point, I really want to thank Karin for being so professional, for her help and patience with respect to breeding Stella and for bringing Tiffany into my life.
Thank you, Jenny!
---
Lange kannte man Jennifer Lang als Starterin aus der APHA Szene, als APHA European Champion. Zusammen mit One Dream Of Krymsun, eine der herausragendsten Western Pleasure Stuten in der europäischen Paint Horse Szene, war Jenny Konkurrenz, mit der man rechnen musste. Jenny und "Stella" wurden zusammen European Champions in Western Pleasure und Reserve Champions in Showmanship und Hunter under Saddle. Wir haben erfahren, dass Jenny vor Kurzem ein neues Pferd gekauft hat und haben genauer nachgefragt:
TSL: Jenny, Du hast Dir gerade ein neues Pferd gekauft – kannst Du unseren Lesern etwas mehr erzählen?
Jennifer Lang (JL): Eigentlich war es gar nicht geplant, ein neues Pferd zu kaufen, als ich das erste Mal bei Karin und Ruggero Prevedel zu Besuch war. Wie so oft im Leben kommt es jedoch meist anders als man denkt. Das kleine Fohlen mit dem großen Herzen hatte es uns von Anfang an angetan und Karin meinte ziemlich bald, sie wäre das perfekte Pferd für mich – "the perfect match" sozusagen. Die 2017 geborene Stute mit dem Namen Sheza Fancy Hotrod aka Tiffany ist eine Vollschwester zu Simply Perfected, eine Stute, die unter Karin der erste Pleasure Celebration Champion Europas wurde. Es sind große Fußstapfen, in die Tiffany tritt. Auch ihr Vollbruder Just To Fancy ist mehrfacher Medaillen Gewinner.
TSL: Wieso hast Du Dir ein neues Pferd gekauft? Du bist ja lange Zeit mit One Dream Of Krymsun sehr erfolgreich unterwegs gewesen.
JL: Die generelle Entscheidung für ein neues Showpferd habe ich in Wahrheit schon viel früher getroffen. Nämlich bereits zu dem Zeitpunkt, als ich mich dafür entschied, meine One Hot Krymsun Stute "Stella" decken zu lassen. Mein Verlobter stellte mir dann irgendwann die Frage, ob nicht jetzt der perfekte Zeitpunkt wäre, um zur AQHA zu wechseln? Und er hatte recht, es war der richtige Zeitpunkt und nicht nur das: Es war auch das richtige Pferd zum richtigen Zeitpunkt. Die Pferde von Karin sind alle aus tollen Eltern, extrem gute Beweger und charakterlich einfach top.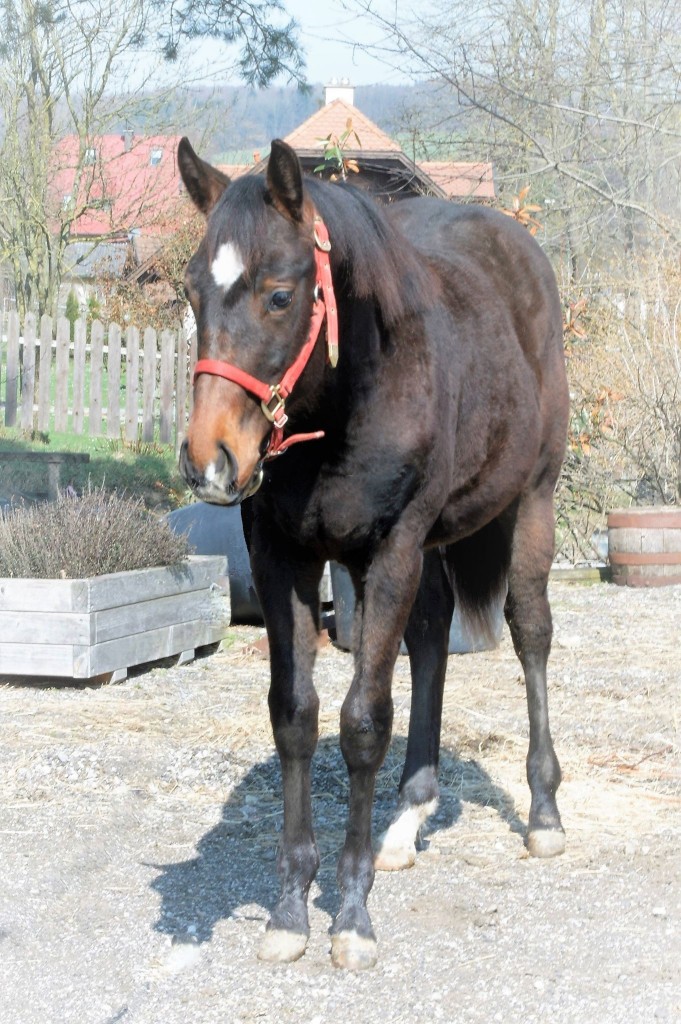 TSL: Du warst sehr erfolgreich in der APHA Szene unterwegs: Gibt es einen Grund, wieso es dieses Mal ein Quarter Horse geworden ist?
JL: Es war einfach Zeit für eine Veränderung. Seit meiner Kindheit bin ich in der APHA Szene unterwegs und der APHA sowie den Leuten in der Szene sehr verbunden. Aus meiner Sicht bietet jedoch die AQHA national und international mehr und attraktivere Möglichkeiten. Ich habe die AQHA Szene in den letzten Jahren immer besser kennengelernt und bin beeindruckt von den zahlreichen höchst professionellen und kompetitiven TeilnehmernInnen auf den Shows. Ich freue mich sehr, in Zukunft ein Teil davon sein zu dürfen.
TSL: Du hast Dein anderes Pferd, "Stella", verkauft. Gab es einen Grund dafür?
JL: Als ich Stella gekauft habe, war mein großes Ziel, einmal bei einer APHA Europameisterschaft eine Medaille zu gewinnen. Es sind dann doch einige mehr geworden. Stella hat mich zu der Reiterin gemacht, die ich heute bin. Sie hat meine Erwartungen um ein Vielfaches übertroffen. Ich habe ihr und mir damals ein Versprechen gegeben: Sie sollte gesund und zum richtigen Zeitpunkt aus dem aktiven Sport ausscheiden. Und ich habe mein Versprechen gehalten.
TSL: Stella war tragend von A New Perspective. Was wird aus dem Fohlen?
JL: Das ungeborene Fohlen ist in meinem Besitz und Stella wird es Ende Mai 2018 bei ihrer neuen Besitzerin auf die Welt bringen. Sie hat eine tolle und fürsorgliche neue Besitzerin gefunden. Für das Fohlen gibt schon den einen oder anderen Interessenten. Wir werden sehen, was die Zukunft bringt, aber ich bin sicher: Am Ende des Tages ist es die richtige Entscheidung. Ein großes Dankeschön an dieser Stelle an Karin für ihre Professionalität, ihre Hilfe, Unterstützung und unendliche Geduld rund um Stellas Bedeckung und dafür, dass sie Tiffany in unser Leben gebracht hat.
Vielen Dank, Jenny!