You are new to the show industry and totally confused by everything that's going on? You have been showing for a while but still don't get the new scoring system? You are a DIY-rider without a trainer to ask some questions? We are here to help! Together with five DQHA Professional Horsewomen who are also judges, we have created this unique opportunity for you: Ask the judge!
This is how it works: You send in your question via e-mail, Facebook or Instagram DM and our judges will answer them! You can ask anything about our sport – really! – there are no stupid questions. You can send in questions until August 23rd. We will post all the questions and answers in an article, they will be anonymous, so ask away!
Below, you can learn more about our judges, what topics they will cover and what cards of which association they hold.
Lucy Adams
Topics: Reining, Ranch Riding, Versatility Ranch Horse
Associations: AQHA
Stefanie Bubenzer
Topics: Western Pleasure, Trail, Western Riding, Hunter under Saddle
Associations: AQHA, APHA, NSBA, ApHC and WRR
Michaela Kayser
Topics: Versatility Ranch Horse and Ranch Trail
Associations: APHA and DQHA
Sascha Ludwig
Topics: Reining and Ranch Riding
Associations: AQHA, APHA, DQHA and EWU
Sandra Schmitz
Topics: Showmanship, Horsemanship, Equitation
Associations: AQHA and APHA
Ihr seid neu im Turniersport und irgendwie noch etwas verwirrt von all den Regeln? Oder ihr showt schon länger, steigt aber nicht bei dem neuen Scoring-System durch? Ihr reitet "alleine" Turniere ohne Trainer und habt ein paar Fragen? Wir helfen! Zusammen mit fünf Richtern und Professional Horsewomen geben wir euch die Möglichkeit, alle Fragen rund um den Westernsport zu stellen: Ask the judge!
So läuft das ab: Ihr schickt eure Frage via E-Mail, Facebook oder Instagram messenger ein und unsere Richter werden sie beantworten. Ihr könnt bis zum 23. August Fragen einschicken. Wir werden alle Fragen und Antworten dann in einem Artikel posten, damit auch andere möglichst viel lernen können.
Wenn ihr weiterscrollt, erfahrt ihr mehr über die fünf Richter, welche Themenbereiche sie betreuen und welche Richterkarten sie haben, sprich zu welchem Verband sie euch Fragen beantworten können.
Lucy Adams
Themen: Reining, Ranch Riding, Versatility Ranch Horse
Richterkarten: AQHA
Stefanie Bubenzer
Themen: Western Pleasure, Trail, Western Riding, Hunter under Saddle, Pattern-Klassen
Richterkarten: AQHA, APHA, NSBA, ApHC and WRR
Michaela Kayser
Themen: Versatility Ranch Horse und Ranch Trail
Richterkarten: DQHA und APHA
Sascha Ludwig
Themen: Reining and Ranch Riding
Richterkarten: AQHA, APHA, DQHA and EWU
Sandra Schmitz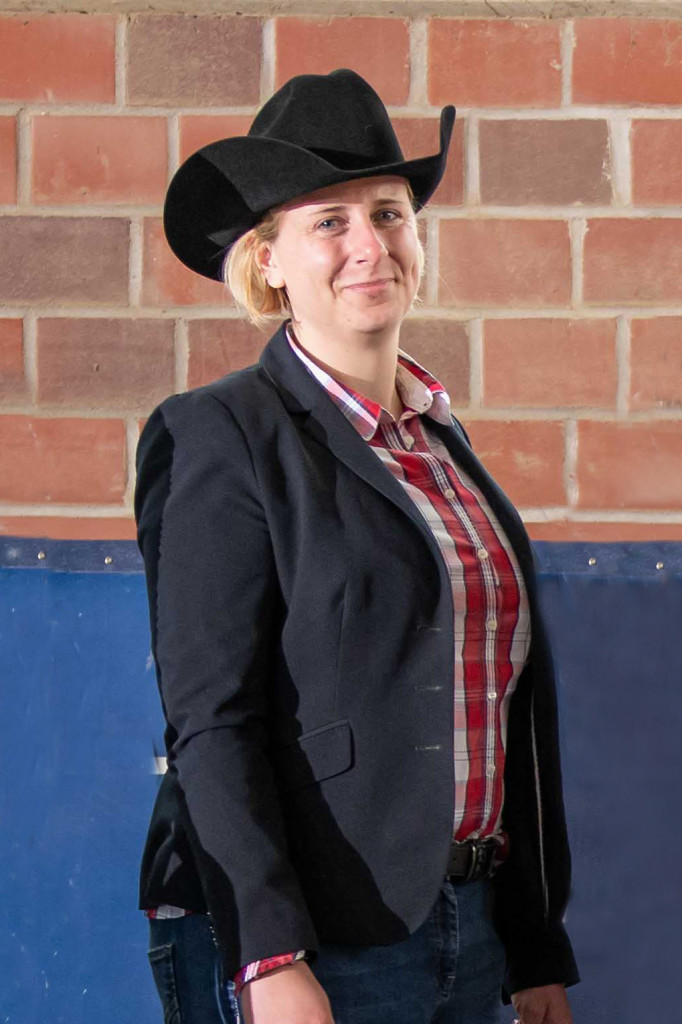 Themen: Showmanship, Horsemanship, Equitation
Richterkarten: AQHA und APHA