Most of us who go to European universities can only dream of such a chance: representing your school at equestrian competitions. In the States, however, this is common practice. Since most of our European readers might have heard about those so-called Equestrian Teams at US universities, but might wonder how this works exactly, i.e. how does one qualify, what horses do team members ride, what does their schedule look like etc; our dear friend Lea Henzgen who has spent a semester abroad at Baylor University (you can find our article on Lea here) has interviewed four young equestrians who are competing in a team for their university. We will introduce them to you one by one, starting with Hayley Forsburg, who is not only part of an Equestrian team but even captain.
Hayley Forsburg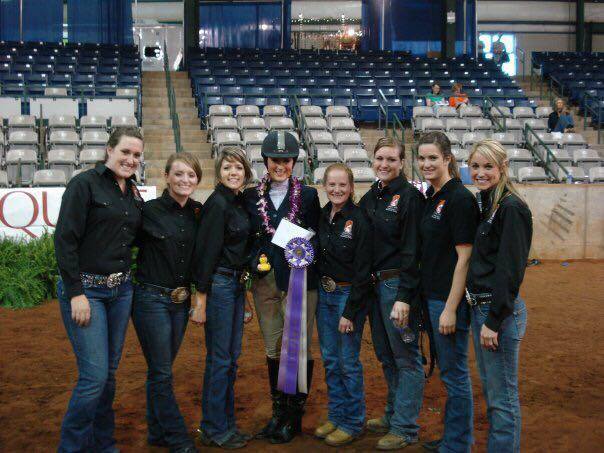 Classes shown for the Team: Intermediate Hunt Seat Equitation, and Advanced Western Horsemanship
Name of Team/College: Oregon State University IHSA (Intercollegiate Horse Show Association)
TSL: How did you get selected for the team?
Hayley Forsburg (HF): I learned about the OSU IHSA team at one of the University's incoming Freshmen events. At Oregon State, we conducted tryouts at the beginning of each season. With the IHSA, there is a level for everyone, from riders who have never even sat on a horse, all the way up to World Champions. The purpose of our tryouts was to determine the rider's ability, and gauge the appropriate level for them. Having not shown much outside of 4H prior to joining the team, I began in Intermediate Western Horsemanship, and Walk-Trot-Canter Equitation on the Flat.
TSL: You were Captain for your team, Hayley. How did your duties differ from those of the "normal" team members?
HF: I was selected to be a Captain for the team during my second year, and served as Captain until my Senior year. As Captain, my duties were quite extensive. Our team consisted of approximately 60 members, all of whom traveled and showed with the team, and our coach volunteered most of her time with us. We had a few officers to help run the program, but ultimately, as Captain, it was my responsibility to make sure that everything ran smoothly. I organized team travel for competitions, including booking hotel rooms, vans, and air travel. I attended all mandated University meetings with the Athletic Department, Animal Sciences Department, and Recreational Sports Department; where we managed team budget, travel, advertising for upcoming seasons, etc. I attended all incoming Freshmen event nights, and traveled around the state to various horse shows to draw interest to our team for students of the university. I organized and led all team meetings, wrote press releases for the team, organized team community service events, team bonding activities, helped teach beginner practices, and picked up any slack I could for our coach. Our officer team was very close, and we all put everything we had into our team because we all loved it so much. Being a part of the OSU IHSA team truly was the best part of my college experience.
TSL: How did your college find the horses and who takes care of them? How are they financed?
HF: All the Oregon State horses were donated to the University by private parties. Owners received tax write-offs in exchange for their horse and tack donations. The University hired students to work at the barns, care for the horses, and maintain the property. Since Oregon State University is a strong Animal Sciences school, the horses were part of the Equine department and lived at the Horse Center. Our horses were used for all the University's Equine classes, in addition to the team.
TSL: What did non-equestrians think of the Equestrian Team/ Horseback Riding? How was the Equestrian team perceived compared to other Athletic Teams?  
HF: As the IHSA team at Oregon State was a club sport, and not an NCAA sanctioned sport, recognition of the team's presence on campus was low comparatively. Most people at OSU didn't take much interest in the team unless they were interested in horses, or heard about how successful the team was. During my time as Captain, our officer team worked to get our team recognized by the university for our achievements. We used the school's newspaper, increased social media presence, and did interviews for local news stations when our teams traveled to Championship shows.
---
Up next is Kaylee Mellott who most of you might know as a very successful competitor who has been part of the show team of Highpoint Performance Horses:
Kaylee Mellott
Name of College: Baylor University
Name of team: Baylor Equestrian Team
Classes shown: Horsemanship
TSL: Kaylee, how did you get selected for the team?
Kaylee Mellott (KM): I have shown competitively at all the major shows since I was in the 11 and under. It had always been a goal of mine to be on an Equestrian team, so when I became a junior in high school I started filling out Equestrian questionnaires on the college's websites I was interested in. After filling out the forms, different schools started contacting me about coming on official visits.
TSL: What is your daily routine while you are at university?
KM: A normal day for myself as an equestrian athlete at Baylor consists of workouts at 5:45 in the morning, classes ranging from 9-1 and then going to the barn for practice from 3-5. After practice if we don't have a team meeting I usually have tutoring at 7 or 8 – depending on the day. After tutoring, I go home and finish the schoolwork I didn't get to while at tutoring and then go to sleep and start all over the next day!
TSL: How do you find horses and who takes care of them?
KM: Most of our horses are retired show horses that have been donated either from current or past members of the team, or from trainers that are close with our coaches. It takes a village to take care of the horses we have, at Baylor we have student workers that feed and clean the stalls, while us girls and coaches on the team take care of the bathing, brushing, exercising and treating injuries part of the process.
TSL: Can you explain in which classes team members compete and what the Big 12 are?
KM: The classes that are offered in the NCEA format are Horsemanship, Reining, Flat and Jumping. NCEA, National Collegiate Equestrian Association, is the organization behind these events. The Big 12 is the conference which Baylor as a school belongs in, there are many different conferences in the NCAA (National Collegiate Athletic Association). Therefore, when we won the 2017 Big 12 Championship, it meant we were the best out of all the other teams in the Big 12 Conference.
---
The next equestrian Lea interviewed was Paige Stopperich, another very successful competitor whose name you definitely have come across in the past.
Paige Stopperich
Classes shown for the Team: Western Horsemanship
Name of Team/ College: University of South Carolina Equestrian Team
TSL: How did you get selected for the team?
Paige Stopperich (PS): I started showing Quarter Horses when I was eight years old and eventually started competing on a national level.  Most of the girls that compete on a national level, regardless of the breed, start getting recognized by college coaches.  The coaches stay updated with how well girls do in competitions and communicate with potential athletes through phone calls, emails, letters, or text messages.  But, there are certain rules and regulations both coaches and athletes must follow regarding when and how they may communicate.  Coaches are allowed to contact athletes directly during their junior year of high school.  Once a relationship has formed coaches can invite athletes on either official or unofficial visits in order to give prospects a feel for the campus and how their life would work if they committed to that particular school.  Eventually offers are made from the coaches and athletes decide which institution they would like to attend.
TSL: What does a "normal" day look like for an Equestrian Athlete?
PS: Days of the week vary due to my class schedule and team responsibilities. Tuesday, Thursdays, and Fridays we have workouts at 6:50 am and classes mostly take up the rest of the day. Each girl on our team practices three days a week; I practice Monday, Wednesday, and Friday while others practice Tuesday, Thursday, and Friday.  On Friday the entire team practices together and we call that "team ride".  We also have team meeting and either yoga or wellness on Wednesday nights.  Needless to say my schedule is typically jam packed between my academic and athletic responsibilities.
TSL: How did your College find the horses and who takes care of them? How are they financed?
PS: All universities that have NCAA equestrian programs rely on donated horses to use; universities are not allowed to purchase horses from other people.  Therefore, it is challenging yet vital to get new horses and as a team we are always on the lookout for people wanting or willing to donate a horse to our program.  The horses are very well taken care of by a hired barn staff and a great barn manager, Maggie Barton.  They work day in and day out in order to help keep our horses happy and healthy while we are in class.  Like any sport at a university, our incredible athletic department finances our equestrian team, along with our scholarships.
TSL: You have been very successful with your College Equestrian Team, but also with your own horse at the AQHA World Shows. How much did riding for the team improve your skills and could you take a lot of advices to the shows with your personal trainer Michael Colvin?  
PS: Michael Colvin is by far the most talented and influential trainer I have ever had.  I can honestly say that I would not be the rider, or the individual, that I am today without him. He truly helped me accomplish every dream I've ever had regarding the AQHA world. Every time I step into the arena, whether in the AQHA or college equestrian world, I use the skills that he has taught me. I believe that my success in the college equestrian world is due in a large part to what he taught me in the AQHA world.  But, my coach at school, Ruth Sorrel, has also been instrumental in my growth as an athlete and as a person. I owe so much of my success to these two individuals for not only believing in me, but also pushing me to be the best version of myself in and out of the arena.
---
Our last interview partner is definitely a familiar face, since she is European herself: Gina Victoria Ulveie from Norway has left Europe in summer 2016 in order to take up her studies at St. Andrews University.
Gina Victoria Ulveie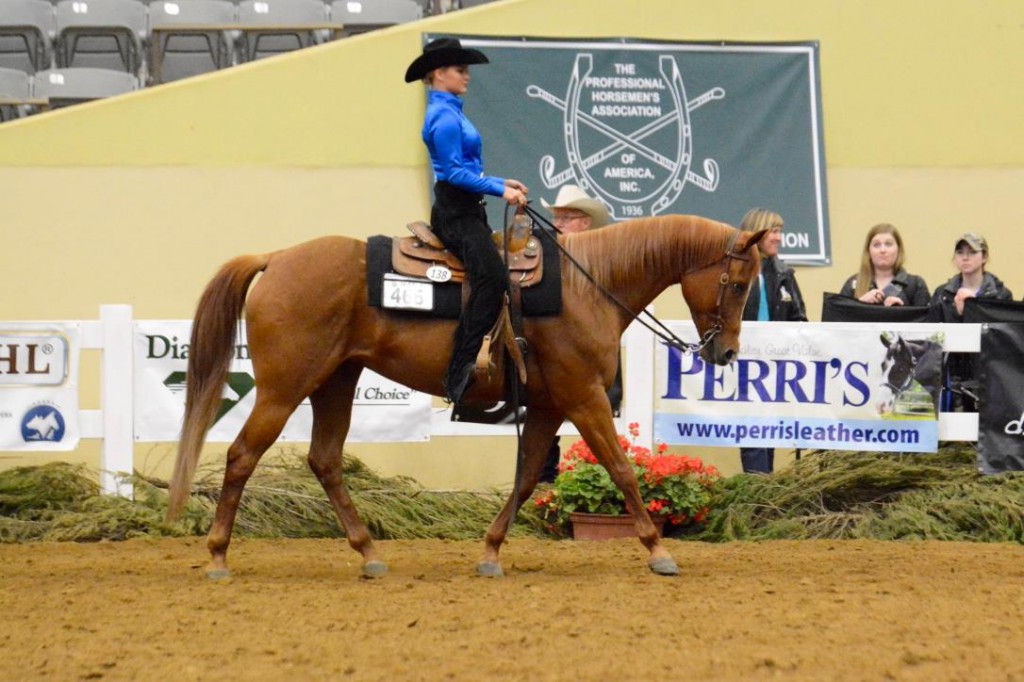 Classes shown for the Team: Horsemanship in the Open division
Name of Team/ College: St Andrews University (NC)
TSL: How did you get selected for the team?
Gina Victoria Ulveie (GVU): In order to be a part of a college equestrian team you first need to be accepted as a student at the school. You also need to send in a promo video of your riding skills, as well as information on your riding background and results.
TSL: You were born and raised in Norway. When did you make the decision to study in the US and was it difficult for a girl from Europe to become a part of the Equestrian team?
GVU: My great goal in life is to become the best rider and horsewoman possible and to never stop learning. With this in mind, I knew I had to move away from my home country, as Norway has a very little western riding community. In 2015, I was lucky enough to compete at the AQHA Youth World Show under the guidance of Michael Colvin. Michael talked to me about studying in the States and trying out for a college Equestrian Team. I knew at that time that college sports were a huge thing over there, but I did not know that they had equestrian college leagues as well! Needless to say, I loved the idea of cooperating education with the sport that I love. Just a few days later, I was introduced to Carla Wennberg, who is now my Western team coach. For me, making the move from Norway to North Carolina has been the easiest decision of my life, as I knew SAU were multiple IHSA National Champions and I had heard so many great things about their coach Carla!
TSL: What advice can you give to other European girls and guys who might think of going to study abroad and become part of an Equestrian Team?
GVU: Take a leap of fate and go for it! Riding collegiately in the US is a great idea if you want to continue a show career after your Youth years, build your network in the horse show industry, improve your English, all at the same time as you go to school. Schools that have Equestrian Teams often also offer equine majors such as Equine Business Management, Therapeutic Horsemanship and Pre-Vet. Even if you want to study something that is not horse related, you can still take equine classes if they fit your schedule. Personally, I major in psychology, but I have taken riding instruction and judging classes, and I absolutely love them!
If you wish to study and ride collegiately, I suggest reaching out to schools and coaches about a year prior to when you wish to start to make sure you are within their deadlines. Make sure you let them know that you are an international, as you might need extra help understanding the American education system. Also, figure out early on how much their tuition cost and what scholarships are available. If you are struggling to pay the costs, I recommend looking into organizations (such as AQHA) that give out scholarship funds.
TSL: How did your College find the horses and who normally takes care of them? How are they financed?
GVU: Our college mainly depends on horse donations from horse owners. Luckily, my school has amazing coaches that work hard at finding horses that would fit our program. Also, by trying to give the best care we can to the horses, we build up a reputation that horses that get donated to St Andrews live a happy and healthy life.
We have a fantastic barn staff that take care of our horses and our facility. Students are more than welcome to help out by work study. Team riders are also expected to take well care of our horses, especially considering how much these horses do for us.
TSL: What is the usual reaction of your fellow students when you say you ride for the Equestrian Team and how do your friends in Norway usually react?
GVU: I am one of the very few international riders at our school. When I first arrived at campus I did not know anyone at all, but they all welcomed me with opened arms. I know this is common courtesy at our school, but I feel like they took extra well care of me, since as a foreigner I faced an entirely new culture. For that I am beyond thankful!
My friends from back home did not really get that surprised when I told them about the move. Due to horse shows, I have travelled a lot and often over long periods at the time. When I finally graduated high school, it was therefore a natural thing for me to do. Although leaving my family, friends and horses behind is difficult, I knew that had to happen in order for me to continue to grow as a rider and horsewoman.
I would also like to take this opportunity to thank the people who have helped me fulfill my dream of being a college equestrian! Heidi Grønvold, Lena Opsahl, Cédric Leroux, Michael Colvin, Carla Wennberg, and most of all my parents. Also huge thank you for my western team at SAU for being the most supportive team out there, and for making my move from Norway to North Carolina as smooth as possible.
---
If you want to find out more about College Equestrian teams, check out the following websites:
Baylor Bears Women Equestrian Team
University of South Carolina Equestrian Team
St Andrews Equestrian Western  (If you want to find out more about the St. Andrews Equestrian Program, check out this video.)
All the teams have Facebook/Instagram pages, so make sure to check them out as well to get an insight on all the action that is behind the scenes!
A heartfelt THANK YOU to Hayley, Paige, Kaylee and Gina for taking the time to answer these questions and to Lea for asking them!
---
DEUTSCHE VERSION
Die meisten von uns, die hier in Europa zur Uni gehen, können von solchen Chancen nur träumen: Die eigene Universität bei Wettkämpfen in einem Equestrian Team zu präsentieren. In den USA ist das allerdings gang und gäbe. Die meisten von uns haben diese Equestrian Teams sicher schon neidvoll zur Kenntnis genommen, wissen aber gar nicht so genau, wie das alles konkret abläuft: Wie qualifiziert man sich? Welche Pferde reitet man bei solchen Wettbewerben? Wie sieht ein normaler Tagesablauf für Mitglieder eines Equestrian Teams aus? Lea Henzgen, die selbst ein Semester an der Baylor University, die für ihr herausragendes Equestrian Team bekannt ist, studiert hat (einen detaillierten Artikel dazu findet ihr hier), hat für The Showlife vier junge Reiterinnen interviewt, die an ihrer jeweiligen Uni im Equestrian Team mitreiten. Wir werden hier alle vier nacheinander vorstellen; den Beginn macht Hayley Forsburg, die nicht nur Mitglied eines Equestrian Teams war, sondern sogar Captain.
Hayley Forsburg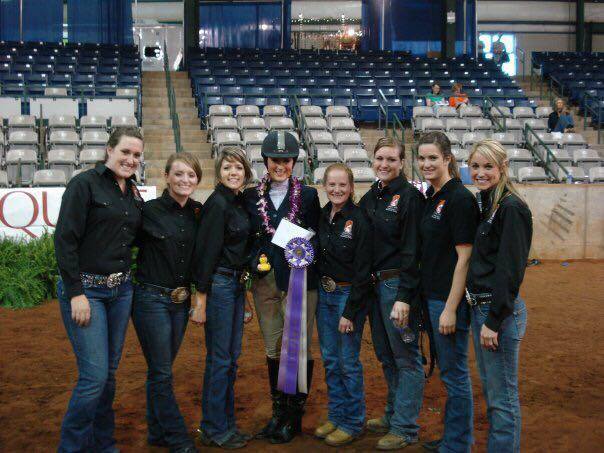 Tritt in folgenden Disziplinen an: Intermediate Hunt Seat Equitation und Advanced Western Horsemanship
Name der Uni und des Teams: Oregon State University IHSA (Intercollegiate Horse Show Association)
TSL: Wie hast Du es ins Team geschafft, Hayley?
Hayley Forsburg (HF): Ich habe auf den sogenannten Freshmen Events der Uni, also den Veranstaltungen für Neulinge, mehr über das Equestrian Team erfahren. An meiner Uni gibt es am Anfang jeder Saison ein Auswahlverfahren für das Team. Bei der IHSA gibt es für alle Leistungsstufen eigene Klassen – vom totalen Anfänger bis zum World Champion. Bei den Auswahlverfahren geht es generell darum, das reiterlicht Können der jeweiligen Person einzuordnen und die richtige Leistungsklasse zu finden. Bevor ich ins Team kam, habe ich kaum mehr als 4H Klassen (rasseoffene Klassen in den USA) geshowt, weshalb ich als Intermediate Horsemanship Reiterin begann und in Walk-Trot-Canter Equitation an den Start ging. (LINK EINFÜGEN)
TSL: Du warst sogar Captain Deines Teams – wie sahen Deine zusätzlichen Aufgaben aus?
HF: Ich wurde in meinem zweiten Jahr zum Captain gewählt und hatte diese Position bis zum Abschlussjahr inne. Ich hatte wirklich viele Aufgaben. Unser team bestand aus circa 60 Mitgliedern, die alle mit dem Team gereist sind und Wettkämpfe geritten sind. Unsere Trainerin hat die meiste Zeit ehrenamtlich gearbeitet. Wir hatten einige Angestellte, die bei der Organisation geholfen haben, aber als Captain hatte ich die Hauptverantwortung, dass alles reibungslos ablief. Ich habe die Reisen organisiert, Hotels gebucht, Kleinbusse und Flüge. Außerdem musste ich an allen Pflichtveranstaltungen des Athletic Department, des Animal Sciences Department und des Recreational Sports Department an der Uni teilnehmen. Dort haben wir über das Budget verfügt, Reisen geplant, Werbung für die nächste Saison entworfen. Ich musste an allen Veranstaltungen für die neuen Freshmen teilnehmen und bin durchs ganze Land gereist, um auf Turnieren Werbung für unser Team zu machen. Ich habe alle Team Meetings organisiert und geleitet, Anfängern beim Training geholfen und unserer Trainerin alles abgenommen, was ich konnte. Unser Organisationsteam war sehr gut befreundet und wir haben alles für das Team gegeben, weil es so unglaublich viel Spaß gemacht hat. Teil des Teams zu sein war das Beste am Collegeleben!
TSL: Wie kamt ihr zu den Pferden und wer hat sich um diese gekümmert? Wie wurden sie finanziert?
HF: Alle Pferde wurden der Oregon State University von Privatpersonen gespendet. Die ehemaligen Besitzer konnten das steuerlich absetzen, wenn sie das Pferd und Ausrüstung gespendet haben. Die Uni hat Studenten angestellt, die im Stall gearbeitet haben, die Pferde versorgt haben und die Anlage in Schuss gehalten haben. Da die Oregon State University sehr viele tierwissenschaftliche Fächer anbietet, waren die Pferde Teil des Equine Department und waren im Horse Center untergebracht. Die Pferde wurden für das Team und alle Equine Kurse hergenommen.
TSL: Wie war die Reaktion von Nicht-Reitern auf das Team? Wie wurde das Equestrian Team im Vergleich zu anderen Sportmannschaften gesehen?
HF: Unser IHSA team war ein sogenannter Clubsport und fiel nicht unter NCAA (National Collegiate Athletic Association) Sportmannschaften, insofern wurde das Team auf dem Campus vergleichsweise wenig wahrgenommen. Diejenigen, die sich dafür interessierten, waren selbst pferdeverrückt oder wussten, wie erfolgreich das Team war. Als ich Captain war, haben wir sehr dafür gekämpft, dass wir an der Universität wegen unserer Erfolge wahrgenommen werden. Wir haben versucht das durch die Uni-Zeitung, Social Media und Radio-Interviews bei lokalen Radiosendern zu erreichen – vor allem, wenn wir bei Championships waren.
---
Die nächste Interviewpartnerin ist Kaylee Mellott, die die meisten von Euch sicher als Mitglied des Highpoint Performance Horses Teams kennen:
Kaylee Mellott
College: Baylor University
Name des Teams: Baylor Equestrian Team
Tritt in folgenden Disziplinen an: Horsemanship
TSL: Kaylee, wie wurdest Du für das Team ausgewählt?
Kaylee Mellot (KM): Ich habe, seitdem ich in der 11&under Kategorie war, an allen großen Shows teilgenommen. Es war immer eines meiner Ziele, in einem Equestrian Team mitzureiten, also habe ich, als ich ein "Junior" an der Highschool war, Bewerbungen für Equestrian Teams an allen Colleges, die mich interessierten, ausgefüllt. Danach haben mich verschiedene Unis kontaktiert und wir haben über offizielle Besuche gesprochen.
TSL: Wie sieht ein normaler Unitag für Dich aus?
KM: Als Equestrian Athlete an der Baylor University sieht mein Tag so aus: Workout um viertel vor sechs morgens, Kurse von neun bis elf, dann Training im Stall von drei bis fünf Uhr. Nach dem Training habe ich – wenn kein Team Meeting ansteht – Tutorium um sieben oder acht Uhr, je nachdem, welcher Tag es ist. Danach gehe ich schlafen und machen die Hausaufgaben, die ich im Tutorium nicht geschafft habe, dann schlafe ich und am nächsten Tag geht es so weiter.
TSL: Woher bekommt ihr die Pferde?
KM: Die meisten unserer Pferde sind Turnierpferde in Rente, die von jetzigen oder ehemaligen Teammitgliedern gespendet wurden – manchmal auch von Trainern, die unsere Coaches gut kennen. Es braucht wirklich ein halbes Dorf, um all unsere Pferde zu versorgen, deshalb haben wir Studenten, die füttern und misten, während wir Teammitglieder und die Coaches uns um waschen, putzen, bewegen und Verletzungen bei den Pferden kümmern.
TSL: Kannst Du unseren Lesern erklären, in welchen Disziplinen man antreten kann und was die Big 12 sind?
KM: Bei der NCEA (National Collegiate Equestrian Association) gibt es Horsemanship, Reining, Dressur und Springen. Die NCEA steht hinter allem. Die Big 12 ist die Liga, zu der Baylor als Uni bei der NCAA (National Collegiate Athletic Association) gehört; es gibt verschiedene Ligen. Als wir 2017 das Big 12 Championship gewonnen haben, waren wir also Tabellenführer der Big 12 Liga.
---
Lea hat auch Paige Stopperich interviewt, die sicher auch vielen als erfolgreiche AQHA Reiterin bekannt ist.
Paige Stopperich
Tritt in folgenden Klassen an: Western Horsemanship
Name der Uni und des Teams: University of South Carolina Equestrian Team
TSL: Paige, wie hast Du es ins Team geschafft?
Paige Stopperich (PS): Ich habe als Achtjährige angefangen, Quarter Horses zu showen und das auch bald auf nationalem Level. Die meisten Reiterinnen, die auf diesem Niveau showen – egal, bei welchem Verband – machen College Coaches auf sich aufmerksam. Die Coaches verfolgen, wie die Reiterinnen sich auf Turnieren schlagen und telefonieren auch mit potentiellen Teammitgliedern, schicken E-Mails, Briefe oder SMS. Es gibt aber Regeln, denen Coaches und Sportler folgen müssen, wenn sie kommunizieren, und wann und wie sie das tun. Die Coaches dürfen potentielle Teammitglieder während deren Junior Year an der Highschool kontaktieren. Sobald der Kontakt da ist, können sie die Reiterinnen zu offiziellen oder inoffiziellen Besuchen an die Uni einladen, damit die Sportlerinnen den Campus kennenlernen können, damit sie sehen, wie ihr Unileben aussieht, wenn sie es ins Equestrian Team dieser Uni schaffen. Die Coaches schicken dann Angebote raus und die Athletinnen entscheiden, welche Uni ihnen zusagt.
TSL: Wie sieht ein normaler Tag für Dich aus?
PS: Das kommt auf meinen Stundenplan und meine Teamverpflichtungen an. Dienstag, Donnerstag und Freitag haben wir Workout um 6:50 in der Früh und dann viele Kurse und Seminare den ganzen Tag über. Jede Reiterin hat dreimal in der Woche Training: Ich trainiere Montag, Mittwoch und Freitag, andere trainieren Dienstag, Donnerstag und Freitag. Freitags trainiert das ganze Team, wir nennen das den "Team Ride". Wir haben außerdem Meetings und Yoga oder Wellness Mittwochabend. Kein Wunder also, dass meine tägliche Routine vollgepackt mit sportlichen und akademischen Programmpunkten ist.
TSL: Woher kommen Eure Pferde, wer kümmert sich um diese und wie wird das finanziert?
PS: Alle Unis mit NCAA Equestrian Programs kriegen Pferde gespendet. Die Unis dürfen keine Pferde kaufen. Es ist also eine Herausforderung, aber nötig, neue Pferde zu finden und wir als Team suchen ständig nach Leuten, die ihre Pferde spenden würden. Die Pferde werden hervorragend durch das Stallteam versorgt und wir haben eine wunderbaren Stallmeisterin, Maggie Barton. Sie alle arbeiten tagein, tagaus daran, dass die Pferde glücklich und gesund sind. Wie bei jedem anderen Sport wird auch unser Equestrian Team – und die damit zusammenhängenden Stipendien – vom Athletic Department finanziert.
TSL: Du bist mit Deinem Team erfolgreich, aber auch mit Deinem eigenen Pferd bei AQHA Shows. Wie hast Du als Reiterin vom Team profitiert und konntest du auch viel mit ins Training zu Deinem Trainer Michael Colvin nehmen?
PS: Michael ist bei Weitem der talentierteste und einflussreichste Trainer, den ich je hatte. Ich kann wirklich sagen, dass ich ohne ihn nicht die Reiterin oder der Mensch wäre, der ich heute bin. Er hat mir geholfen, jeden Traum, den ich als AQHA Reiterin je hatte, zu erfüllen. Jedes Mal, wenn ich in die Arena reite – egal ob bei einer AQHA Show oder als Equestrian Teammitglied, nutze ich das, was er mir gelehrt hat. Ich denke, dass ich als Teammitglied so erfolgreich war, weil er mir so viel beigebracht hat. Aber auch mein Coach an der Uni, Ruth Sorrel, war ein entscheidender Faktor in meiner Entwicklung als Sportlerin und als Mensch. Mein Erfolg ist zu großen Teilen dem Einfluss dieser beiden Personen geschuldet, die in mich geglaubt haben und mich gepusht haben, dass ich die beste Version meiner selbst bin.
---
Unsere letzte Interviewpartnerin dürfte den meisten bekannt sein, da sie selbst aus Europa kommt: Gina Victoria Ulveie aus Norwegen ist im Sommer 2016 in die USA geflogen, um dort zu studieren. Seitdem ist sie an der St Andrews University und auch in der Equestrian Team.
Gina Victoria Ulveie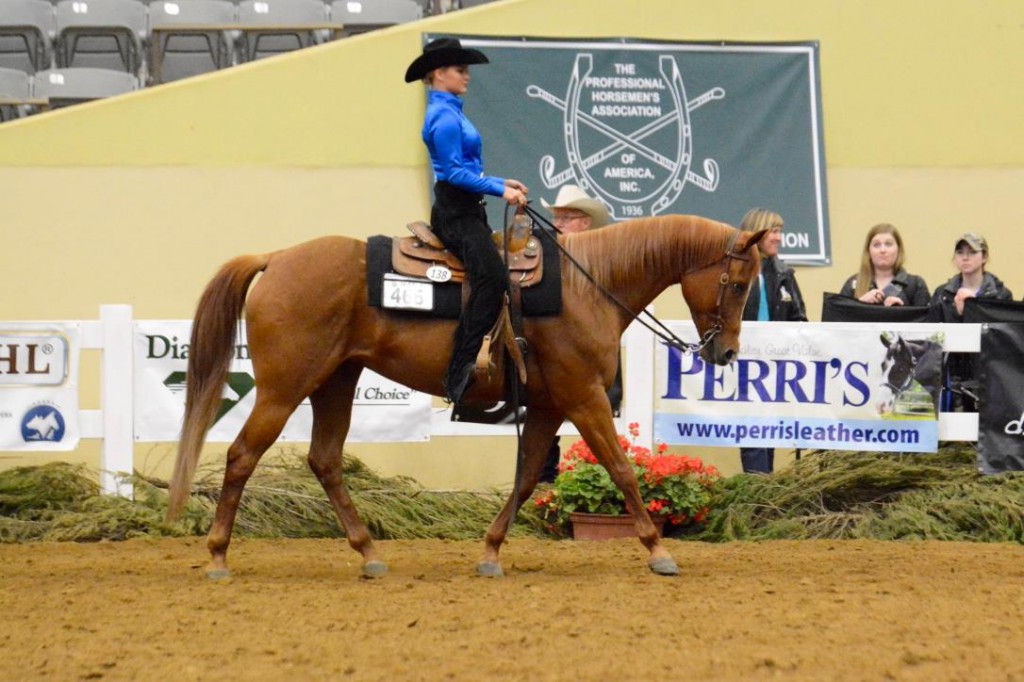 Tritt in folgenden Disziplinen an: Horsemanship in der Open Division
Name der Uni/des Teams: St Andrews University (NC)
TSL: Wie wurdest Du für das Team ausgewählt, Gina?
Gina Victoria Ulveie (GVU): Zuerst einmal muss man als Student an der Uni angenommen werden, wenn man in so einem Equestrian Team mitreiten will. Du musst außerdem auch ein Promo Video Deiner Reitfähigkeiten und Informationen über Deinen reiterlichen Werdegang und Deine Erfolge einsenden.
TSL: Du bist in Norwegen geboren und aufgewachsen. Wann hast Du dich entschieden, in den Staten zu studieren und war es als Europäerin schwierig in das Team aufgenommen zu werden?
GVU: Mein größtes Ziel im Leben ist, die bestmögliche Reiterin und "Horsewoman" zu werden, die ich sein kann und dabei immer Neues zu lernen. Daher musste ich mein Heimatland verlassen, da Norwegen nur eine sehr kleine Westernreitszene hat. 2015 hatte ich die Chance, an der AQYHA World Show teilzunehmen und mit Michael Colvin zu trainieren. Michael hat mich darauf angesprochen, in den Staaten zu studieren und mich für ein Equestrian Team zu bewerben. Ich wusste zu diesem Zeitpunkt, dass College Teams Übersee eine große Sache sind, aber nicht, dass es auch extra Ligen für Reiter gibt. Kein Wunder also, dass mir die Idee, meine Ausbildung mit meiner reiterlichen Karriere zu kombinieren, gefallen hat. Nur einige Tage später wurde ich Carla Wennberg, meiner jetzigen Teamtrainerin vorgestellt. Von Norwegen nach North Carolina zu ziehen, war die leichteste Entscheidung meines Lebens, da ich auch wusste, dass das Team der St Andrews University mehrfacher National Champion in der IHSA war. Außerdem hatte ich so viel Gutes von Carla Wennberg gehört!
TSL: Was würdest Du anderen Europäern raten, die auch gerne in den USA zu studieren und sich für ein Team zu bewerben?
GVU: Habt ein bisschen Vertrauen ins Schicksal und macht es einfach! Auf Collegeebene in den USA zu reiten ist eine tolle Möglichkeit, wenn man nach der Youth Karriere noch weiter machen möchte, sein Netzwerk in der Szene verbessern möchte und sein Englisch verbessern möchte – und das alles, während man zur Uni geht! Viele Unis, die Equestrian Teams haben, bieten Studiengänge wie Equine Business Management, Therapeutic Horsemanship und Pre-Vet an. Natürlich kann man auch etwas studieren, das nichts mit Pferden zu tun hat und trotzdem einige der "Equine Classes" belegen. Mein Hauptfach ist beispielsweise Psychologie, aber ich habe Reitlehrer- und Richterseminare belegt und das mach sehr viel Spaß!
Wenn man gerne dort studieren und im Team reiten möchte, empfehle ich, sich ein Jahr vorher direkt an die Unis und Coaches zu wenden, damit man alle Anmeldefristen einhält. Man sollte auch deutlich machen, dass man nicht aus den USA kommt, damit klar ist, dass man eventuell etwas mehr Hilfestellung braucht, um das amerikanische Bildungssystem zu verstehen. Außerdem sollte man natürlich recherchieren, wie hoch die Studiengebühren sind und, ob es Stipendien gibt. Wer Schwierigkeiten hat, die Studiengebühren zu bezahlen, sollte recherchieren, welche Organisationen Stipendien anbieten – zum Beispiel die AQHA.
TSL: Wie kommt Deine Uni an Pferde, wer kümmert sich um diese und wie wird das finanziert?
GVU: Auch unsere Uni ist auf Spenden angewiesen. Gott sei Dank arbeiten unsere Coaches hart daran, gute Pferde zu finden, die in unser Programm passen. Dadurch, dass wir uns bestmöglich um die Pferde kümmern, versuchen wir, uns den Ruf zu erarbeiten, dass die Pferde, die an die SAU gespendet werden, dort ein glückliches Leben führen. Wir haben hervorragendes Stallpersonal, das sich um Anlage und Pferde kümmert. Natürlich sollen auch die Teammitglieder ihren Beitrag leisten – vor allem angesichts dessen, was die Pferde für uns tun!
TSL: Wie reagieren Deine Kommilitonen, wenn Du erzählst, dass Du im Equestrian Team bist und wie reagieren Deine Freunde in Norwegen?
GVU: Ich bin eine der wenigen internationalen Reiterinnen an unserer Uni. Am Anfang kannte ich keinen auf dem Campus, aber alle haben mich mit offenen Armen empfangen. Ich weiß, dass unsere Uni dafür bekannt ist, aber ich hatte das Gefühl, dass man sich um mich extra gut gekümmert hat, da ich mich ja auch an eine neue Kultur gewöhnen musste. Dafür bin ich mehr als dankbar!
Meine Freunde zuhause waren nicht wirklich überrascht, als ich erzählt habe, dass ich umziehen werde. Wegen der Turniere in Europa war ich ohnehin oft über längere Zeiträume weg. Als ich das Gymnasium abgeschlossen habe, war es dann der logische Schritt, in die Staaten zu ziehen. Meine Familie, Freunde und Pferde zu verlassen war natürlich hart, aber ich wusste, dass es für meine reiterlicht Entwicklung notwendig war.
Ich möchte mich daher sehr herzlich bei all den Menschen bedanken, die diesen Traum wahr gemacht haben: Heidi Grønvold, Lena Opsahl, Cédric Leroux, Michael Colvin, Carla Wennberg und natürlich meinen Eltern. Außerdem geht ein großes Dankeschön an mein Western Team an der SAU, das mich sehr unterstützt hat und meinen Umzug nach North Carolina dadurch sehr erleichtert hat.
---
Für mehr Informationen:
Baylor Bears Women Equestrian Team
University of South Carolina Equestrian Team
St Andrews Equestrian Western  (Mehr zum SAU Equestrian Team gibt es auch in diesem Video.)
Ein großes Dankeschön geht an Hailey, Kaylee, Paige und Gina, die sich die Zeit genommen haben, diese Fragen zu beantworten und an Lea, dafür, dass sie diese Fragen gestellt hat!