Imagine this: You really want to talk to someone, but they can't hear you or understand you. Most riders have experienced situations like this with their horses. However, we all know that if we are willing to learn their language, we can understand them. The same goes for communicating with deaf people. They might not hear you, but they can understand you and you can have great conversations. Angela Tuscher is a multiple EWU German Champion, an Americana Champion and she is also a sign language interpreter. We have talked to her about the similarities between riding and sign language, she told us why deaf people can sense horses' moods easier and how to respectfully communicate with deaf people.
Angela, how did you get involved with the industry?
I was a late-bloomer in that field, I got hooked when I watched a cowboy and his beautiful, strong, little horse at a rodeo show ride bridle less manoeuvers. I was 17 years old, I had no clue of western riding or the horses, but I loved the harmony between them. So my Dad and I started taking riding lessons. We liked it a lot and got two Quarter Horses: One of them is my 17-year-old, unique Quarter Horse mare Peppa Bar Delmaso aka Jazzlyn who is still in great shape. We shared great memories inside and outside of the show pen. I currently own five Quarter Horses and offer lessons to anyone who wants to learn more about western riding.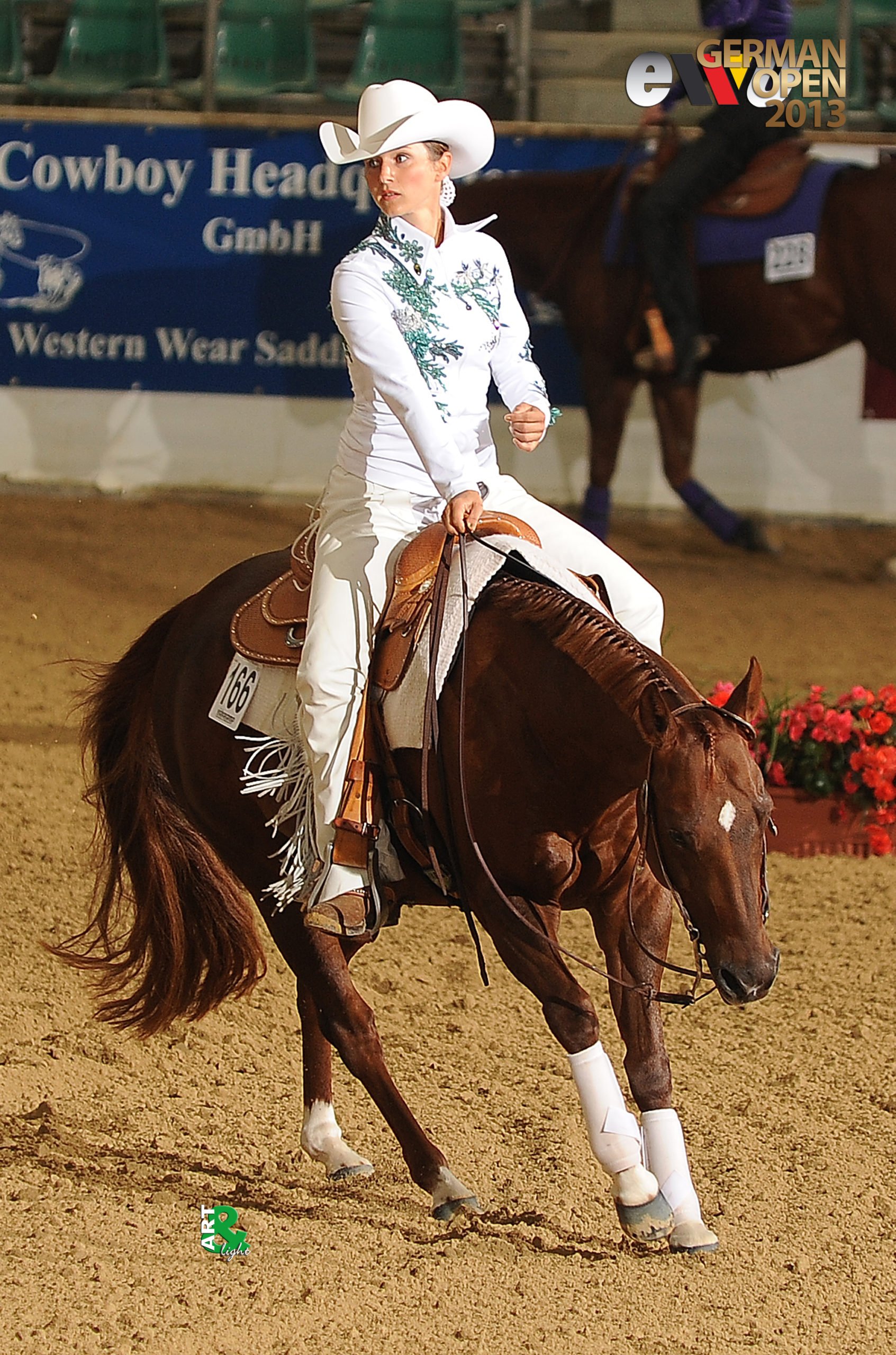 You also work as a sign language interpreter. How did you learn this?
After graduating highschool, I wanted to improve my riding and training skills, before moving to Hamburg where I studied sign language for multiple years. The topic of my diploma thesis was to create a dictionary of terms related to western riding for deaf people. During that time, terms like these hardly existed.
I was lucky enough to have some great deaf friends who helped me with this thesis and thought of new sign language terms. If you create new terms for the German Sign Language they have to be created by deaf people themselves. Since we collected many terms around western riding, I started to offer riding lessons for deaf people.
Did you learn things from your work with deaf people that helped you with training horses – or the other way round?
To me, talking to deaf people is no different than talking to people who can hear. If you change your mimics or the position of your hand slightly while talking in sign language, the gesture can have a totally different meaning. I think this is similar to the work with horses: If your cues aren't clear, you might give a different signal. It is important to control your body and use it in the right way – that goes for riding and talking in sign language.
Both of my jobs – riding instructor and sign language interpreter – allow me to connect with people. It is all about meeting them at where they are in their personal development.
Do your jobs cross paths at times?
I have a dear friend who rides as well and has been breeding Quarter Horses for years. I know some deaf people who are interested in learning more about western riding with the help of sign language. I would love to see many more, though!
From my experience I can say that deaf people do have a special connection with animals. Do you agree?
Absolutely? You know how they say that if one of your senses is limited, the others become even stronger. I can confirm that from what I recognized during the past years: My deaf friends and riders can sense it way earlier if a horse is about to spook during a grooming session. Those riders are better prepared for situations like that.
Another thing is question that people who can hear ask a lot: Can deaf people drive? Of course, they can! Since they are trained to use the visual sense more, they might recognize emergency lights way earlier than a hearing person listening to music would do.
How can you communicate with deaf people if you don't know sign language?
Ask them. It is very important to talk to those who are affected by a disability! One thing I can say, because deaf friends have said that a lot: Don't be shy! Those are people, too! Imagine going on vacation to a country where you don't speak the language: Somehow you always get through. Everyone understands gestures such as "eat" or "drink". Nowadays, everyone can use their smartphone to type things down. But be aware that spoken and written German or any other language you speak is a foreign language to deaf people who learned this as their second language. The German Sign Language is an own language with its own grammar – but sadly this was just officially recognized in 2002.
It is important to look them in the eye and talk loud and clear. If you mumble or talk too fast or too slow, it will make it harder for deaf people. It is good to use short sentences and maybe introduce the conversation with a general term, so that the other person knows what you're talking about.
If you want to know what being deaf feels like, try watching a movie silently. Then check how much you understood.
The best thing is to learn sign language, for sure. Deaf people cannot learn to hear, but people who can hear can learn sign language.
What do you think – how many deaf people are western riders?
Hard to say, but I don't think you will find many at the shows – which is sad!
Do you want our sport to be more diverse?
Absolutely! I love that our society is so diverse. We still need to overcome so many barriers, though.
Just imagine a Western Pleasure or Hunter under Saddle class – a deaf person wouldn't understand when to jog, lope or walk. I think it would be great to have visual signs as well – could be a help for people who can hear as well. Same goes for the awards presentation – those are little things, but they can have an impact if you sum it up. It is the same with announcements at train stations or call boxes.
Those are a few thoughts I have as someone who is not affected. I can only repeat: Ask those who are confronted with barriers every day. Talk to them in order to help solve their problems.
I think the corona crisis made people realize how important it is to have a sign language interpreter on TV – and it is so easy to include them. I did some press conferences as well. We should maintain this standard even when the lockdown is over. It is normal in other countries to have a sign language interpreter on TV.
It is important to raise awareness and make people stand up for something like that.
Gespräche trotz Stille: Angela Tuscher arbeitet als Trainerin und Gebärdendolmetscherin
Stellt euch vor, ihr wollt jemandem unbedingt etwas sagen – doch die Person kann euch nicht hören oder nicht verstehen. Dass das manchmal nicht so einfach ist, weiß sicher jeder Reiter. Doch trotz aller Kommunikationsschwierigkeiten mit den Vierbeinern, die auf den ersten Blick nicht unsere Sprache sprechen, findet doch immer Kommunikation statt. Dasselbe gilt für Gehörlose: Zwar können sie vielleicht nicht hören, was man ihnen mitteilen möchte, und doch können ganz wunderbare Konversationen entstehen. Angela Tuscher ist mehrfacher German Open Champion in Trail, Western Pleasure, Superhorse und Horse&DogTrail, war 2015 Americana Champion und arbeitet auch als Gebärdendolmetscherin. Uns hat sie erzählt, welche Parallelen es zwischen Gehörlosen und Pferden gibt, wieso Gehörlose oft die Stimmung der Tiere besser wahrnehmen und wie man Menschen, die nicht hören können, respektvoll begegnet.
Angela, wie bist du zum Westernreiten gekommen?
Die typische Wendyphase eines Mädchens habe ich ausgelassen und habe erst in der Pause einer Rodeoshow einen Cowboy sein unglaublich wunderschönes, kleines und bemuskeltes Pferd ohne Kopfstück perfekte Manöver reiten sehen. Damals war ich 17 Jahre alt, hatte noch keinen Plan von Westernpferden und dem Reitstil der Cowboys, aber diese Einheit und das zwanglose Miteinander fand ich sehr beeindruckend. So begann ich, gemeinsam mit meinem Vater Westernreitunterricht auf Schulpferden zu nehmen.
Dies sagte uns sehr zu, sodass wir schon bald zwei Quarter Horses unser Eigen nennen konnten. Eine davon ist meine jetzt 22-jährige, einzigartige und immer noch topfitte Peppa Bar Delmaso, genannt Jazzlyn, mit der ich viele wundervolle und unvergessliche Momente innerhalb und außerhalb des Showrings hatte. Aktuell besitze ich fünf Quarter Horses, mit denen Interessierte den Umgang und das Reiten im Westernstil erlernen können.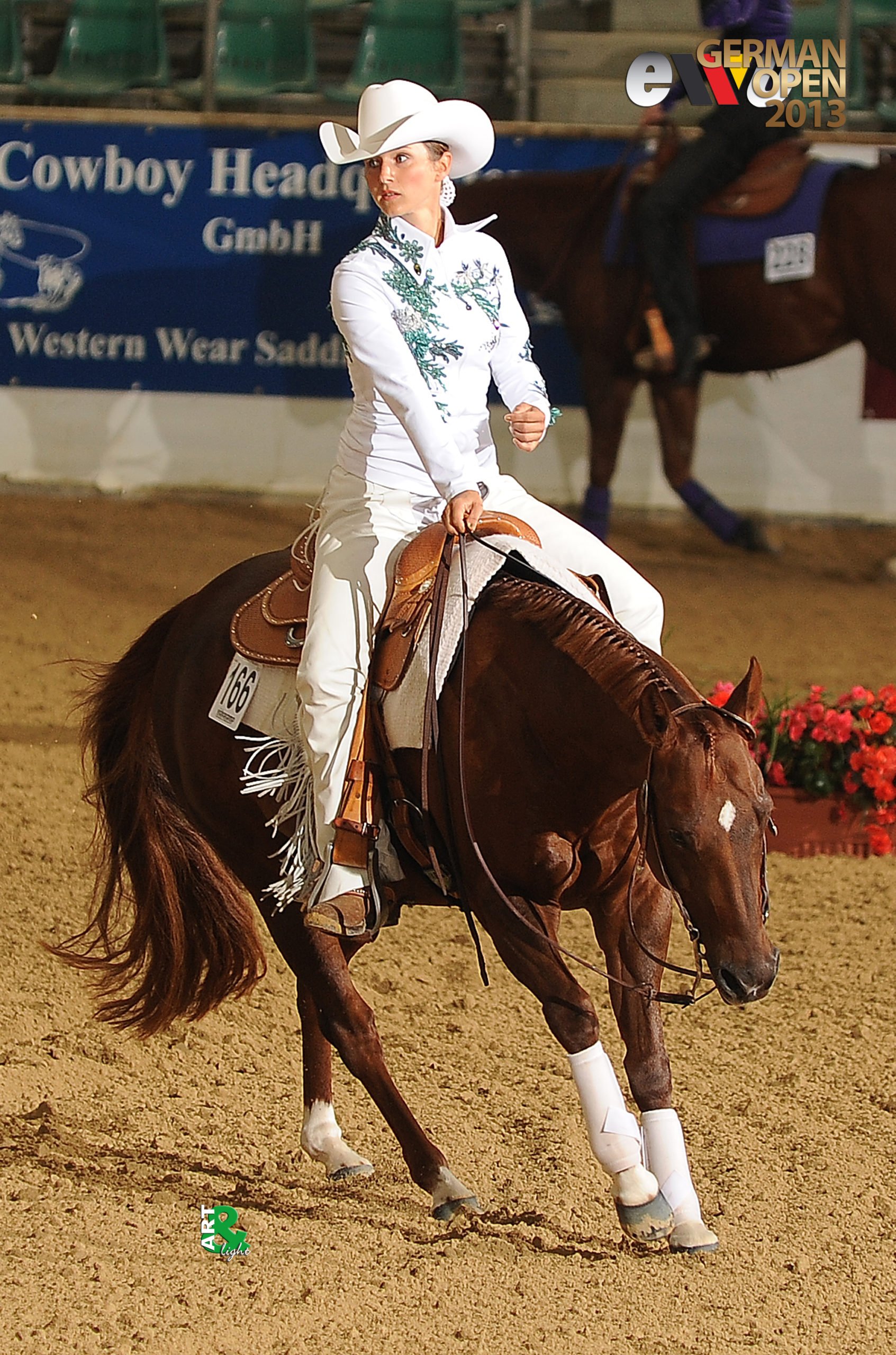 Du arbeitest außerdem als Gebärdendolmetscherin und gibst Gehörlosen Unterricht. Wie kam es dazu? Was für eine Ausbildung musstest du durchlaufen?
Nach dem Abitur habe ich mich zunächst verstärkt im Reiten weitergebildet, Trainerscheine gemacht, Input von verschiedenen Trainern gesammelt, ehe ich nach Hamburg gezogen bin, um dort mehrere Jahre Gebärdensprachdolmetschen zu studieren. Mein Diplomthema 2012 war bereits die Erstellung eines Fachgebärdenlexikons im Bereich Westernreiten.
Damals gab es in Deutschland nur sehr wenige einheitliche Gebärden in dem Bereich, wie man sich vorstellen kann.
Ich hatte das Glück, ein paar sehr nette und hilfsbereite taube Bekannte und Freunde zu haben, die sich Gebärden einfallen ließen, falls diese noch nicht existierten. Neue Gebärden müssen auf jeden Fall aus der muttersprachlichen Sprachgemeinschaft selbst entstehen.
Durch die Vorbereitung und das Erörtern der einzelnen Begriffe gab ich auch Reitunterricht in Gebärdensprache.
Hat dir der Umgang mit Pferden bei deiner Arbeit mit Gehörlosen geholfen — oder andersherum?
Für mich sind taube Personen wie jeder andere auch. Gebärdensprache an sich jedoch kann schon bei minimalen Veränderungen der Mimik oder Handformen oder Ausführungsstelle ganz andere Bedeutungen haben. Da sehe ich eine großes Parallele zu der Arbeit mit Pferden. Wenn man bei Pferden nicht eindeutig ist, kann dies auch einen großen Unterschied bedeuten. Bei beidem ist der kontrollierte und richtige Einsatz des Körpers unabdingbar.
Bei beiden meiner Jobs , dem Unterrichten und dem Dolmetschen, habe ich zudem viel mit Menschen zu tun. Es geht um das richtige Einschätzen, das richtige Abholen des Gegenüber.
Überschneiden sich die beiden Welten auch manchmal, sprich, triffst du auch gehörlose Menschen beim Reiten?
Eine ganz liebe Freundin reitet Western und züchtet Quarter Horses seit Jahren in einer kleinen, privaten Zucht. Ansonsten kenne ich einige Gehörlose, die Interesse haben, entspannte und barrierefreie Weiterbildung im Westernreiten auf DGS (Deutsche Gebärdenspache) zu bekommen. Aber natürlich freue ich mich, wenn es noch mehr werden!
Meiner Erfahrung nach haben gehörlose Menschen oft einen besonderen Draht zu Tieren — hast du so etwas auch schon beobachtet oder teilst du diese Ansicht nicht?
Doch absolut! Man sagt ja, sobald ein Sinn eingeschränkt ist, seien die anderen Sinne geschärfter. Dies kann ich natürlich nur durch meine Beobachtungen und nicht aus eigener Erfahrung bestätigen. Mir ist schon oft aufgefallen, dass meine tauben Reitschüler und Freunde schon viel eher bemerkten, wenn sich ein Pferd etwa beim Striegeln etwas anspannt, ehe es vor etwas erschreckt. Da sind diese Reiter dann viel besser vorbereitet.
Ein gutes Beispiel ist auch die gängige Frage, die meine Freunde oft von Hörenden gestellt bekommen: Nämlich, ob Gehörlose überhaupt Autofahren dürfen. Na klar dürfen sie! Durch die starke visuelle Ausprägung sind sie teilweise auch hier viel schneller im Bemerken von Blaulicht als manch ein Hörender, der hinter seinem Lenkrad die Musik voll aufgedreht hat.
Wie kann man Gehörlosen als hörender Mensch respektvoll begegnen, wenn man keine Gebärdensprache spricht?
Da wäre es natürlich wichtig, taube Menschen selber zu befragen, denn nichts ist wichtiger, als Betroffene selbst zu fragen, anstatt über sie zu sprechen!
So viel kann ich aber sagen, da ich es schon oft von meinen tauben Freunden und Kunden mitbekommen habe: Erst einmal keine Scheu, etwas falsch zu machen! Es sind auch nur Menschen!
Wenn man etwa im Urlaub ist und die Sprache nicht versteht, dann klappt eine Kommunikation doch auch mit "Händen und Füßen". Viele Gesten wie "essen" und "trinken" werden von jedem verstanden.
Heutzutage kann man auch jederzeit etwas in sein Handy tippen oder sprechen, um in schriftlicher Form zu kommunizieren. Allerdings muss hierzu gesagt werden, dass die deutsche Lautsprache, also das gesprochene Deutsch und eben auch die Schriftsprache, eine Fremdsprache für Gehörlose ist, die diese Sprache nicht als Erstsprache erworben haben. Die DGS ist eine selbstständige Sprache mit eigenständiger Grammatik, was leider erst 2002 offiziell in Deutschland anerkannt wurde.
Wichtig ist auf jeden Fall, Blickkontakt zu halten und normal und deutlich zu sprechen. Bei einem ohnehin nur zu 30 Prozent absehbaren Mundbild des Gegenübers würde eine undeutliche Aussprache – zu schnell oder langsam sprechen oder Kaugummikauen – das Ganze unnötig erschweren. Zudem sind klare kurze Sätze von Vorteil und ein Überbegriff, damit man schneller einschätzen kann, um was es geht.
Jeder, der sich das nicht genau vorstellen kann, kann ja einfach mal einen Film auf stumm schalten und schauen, wieviel man danach verstanden hat.
Der absolut respektvollste Umgang auf lange Sicht wäre natürlich, Gebärdensprache zu lernen. Denn Menschen mit Hörbeeinträchtigung können nicht lernen zu hören, aber Hörende können lernen, zu gebärden.
Was schätzt du, wie viele Gehörlose gibt es im Westernreitsport?
Schwer zu sagen, aber ich vermute im Sport nicht sehr viele – leider. Zumindest ist es mir nicht bekannt.
Würdest du dir wünschen, dass der Sport sich noch mehr für Menschen mit Einschränkungen — egal welcher Art — öffnet?
Auf jeden Fall! Die Vielfalt der Gesellschaft ist doch wundervoll.
Allerdings müssen dafür noch viele Barrieren beseitigt werden.
Wie sieht es beispielsweise in einer Railprüfung wie Pleasure oder Hunter under Saddle aus? Akustische Signale, die die Übergänge ansagen, funktionieren für Gehörlose einfach nicht. Dabei wäre es mit Sicherheit auch ein Vorteil für den ein oder anderen Hörenden bei lauter Musik, visuelle Kommandos zu bekommen.
Oder das Aufrufen zum Start oder zur Siegerehrung…. vermeintliche Kleinigkeiten, die bei Häufung allerdings große Auswirkungen haben können.
Auch Barrieren im öffentlichen Leben wie die Durchsagen an Bahnsteigen oder Notrufsäulen an Autobahnen sollten beseitigt werden, damit niemand mehr verunsichert und benachteiligt ist.
Das sind nur ein paar Gedanken, die ich als Nicht-Betroffene habe.
Allerdings steht und fällt es auch hier wieder damit, die einzelnen Personengruppen direkt zu befragen, auf welche Barrieren sie stoßen, um diese beheben zu können.
Die Situation während des Coronavirus hat mit Sicherheit vielen Hörenden erstmals bewusst gemacht, dass barrierefreier Informationszugang im Fernsehen durch Dolmetscher möglich und auch von Nöten ist. Das war ein Schritt in die richtige Richtung. Ich selbst hatte einige Dolmetscheinsätze bei der Pressekonferenz in Baden-Württemberg.
Jedoch sollte es diesen uneingeschränkten Informationsfluss für Gehörlose jederzeit geben. Dies ist in anderen Ländern schon gängig, hierzulande bislang leider noch nicht umgesetzt.
Wünschenswert ist es, wenn immer mehr Menschen sich dessen bewusst sind und aktiv an einer Umsetzung arbeiten und sich dafür einsetzen.