Quelle: SWT2018 is almost over and some of our readers took some time to look back and tell us about their favorite show moments of 2018.
Sophie Gillioz
What a year it was! I would have never imagined to have such an outstanding season once in my life. After one year off – because of her pregnancy – my mare Power In The Canyon aka Cany came back to the show pen with more motivation and more pleasure for working than ever. I did not need to work very hard, but just find the right "buttons", do a little warm-up and everything worked out perfectly. I really felt how much fun she had to be back in the game. It's like getting back your dance partner after a break … everything becomes so easy and obvious. She helped me win some incredible titles : European Champion, Swiss Champion, Bavarian Champion … We also achieved some long time goals that I worked hard for for years :
All Around Champion at the European Championship
Leading DQHA All Around Champion Amateur – still waiting for the final results
All Around Champion Swiss Championship
Cany even prepared me to achieve a crazy goal: Being called back at the AQHA World Show in Horsemanship for the ribbon ceremony with a horse that I could ride only three days before the show!
I want to thank my fabulous Cany for allowing me to live these incredible moments in my life. She is definitly my once-in-a-life-time-horse. I would like to pay tribute to her and dedicate this beautiful year to Cany!
Sabrina Heyn
The 2018 season included many beautiful moments, but one day at the Summer Show stands out: I was showing my 2-year-old mare Gotta Lazy Lope aka Lys for the first time. We did the NSBA Open Longe Line after our Halter class and won the bronze medal – standing behind the red carpet with my baby horse – what a great feeling! After that, we did the Non Pro class – she was so cool and relaxed – and then Catharina Snäll and I were the last ones standing. The feeling when your name is not called for second place is just incredible! I cried so much. At night, I did the Golden Series Ranch Riding final with Stylish Pleasin Chic aka Chica and we ended up in third place. Three classes, three top 3 placings – what a great day with my girls!
Joana Sprogø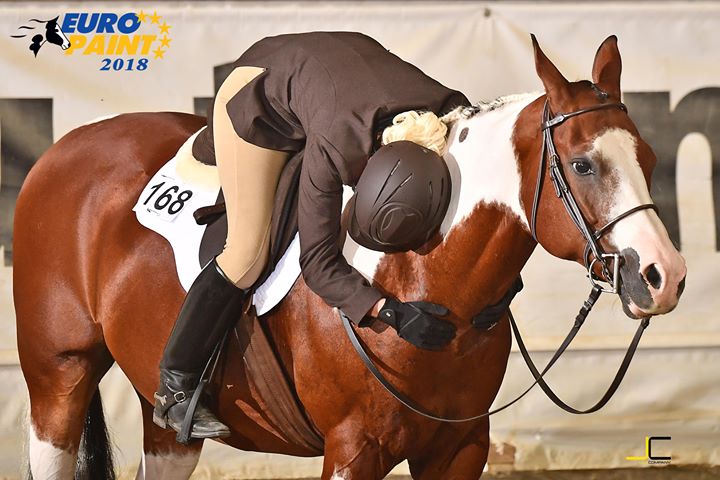 My favorite moment in 2018 was winning the Hunter under Saddle classes at the Euro Paint. There is a long and complicated story behind that: I was suffering from a severe form of Morbus Menieré and was supposed to not ride again in my life – ever! My horse did not only give me the courage to get back in the western saddle, but in the hunter saddle as well. And this, believe me, really is a miracle!
Julia Weber
My favorite moment in 2018 was when I made it to the Showmanship finals with the Quarter Horse gelding Go On A Joyride, who I had the opportunity to show at the German Open. Unfortunately, I had to say goodbye to my Haflinger mare Ariva Golden Sunshine in July – I was just crushed. I had owned her since she was a baby and I had trained her by myself. We were supposed to be showing at the European Championship of Haflingers and at the German Open. When she was laid to rest, I was an intern at Cathrin Dostal's and Tommy Posch's place. They were eager to support me and allowed me to show Go On A Joyride aka Manni at the German Open. We started practicing Showmanship less than four weeks prior to the show. We practiced every day, so the maneuvers got better day by day. I knew, however, that I shouldn't raise my own hopes, because the competition at the GO is tough. We practiced a lot while we were in Kreuth and Franca Bartke helped a lot. When I left the arena after the go-round and watched the video of my run, I had to cry. We made it to the finals and improved even more! It was my favorite moment as Showmanship was Ariva's and my favorite event. By doing so great at the German Open, Manni helped me experience some great moments – and I am sure Ariva would have been happy as well!
Larissa Weber
This year, a dream came true: I bought my first horse! After a lot of thinking, I picked up "Freddy" at Rikke Benjaminsen's in July. I was the happiest girl in the world! Two days later, I was just shocked: Freddy was lame. I had planned on doing a regional EWU championship to find out how he would behave in the show pen – this was the only show this year I could do. A week prior to the show, he felt better and our vet told us that Freddy had injured himself by stepping on something. So, I decided to do the show and sent away my late-entry form. The first day of the show went well and we could bring home ribbons in every class. On Sunday, we did the Championship Pleasure class – I was not expecting much. The class was held in an outside arena – an uneven arena with stones in the sand that was located on the opposite side of the street. Freddy had never been to the arena before. Plus, it was so hot that day! But – contrary to my expectations – Freddy behaved, passed some "scary corners", was listening to me and never lost his rhythm. In the end, we won the class and took home the gold medal and the title of Regional Champion. I know that a regional shows are small compared to other events, but to me this was a memorable win – with my first horse I had not really ridden until then. Despite the terrible conditions I got to know Freddy better and started to love his coolness!
---
Sabrina Heyn
In 2018 waren ein paar sehr schöne Showmomente dabei, aber der Samstag der Summer Show war einfach unglaublich! Ich hatte meine zweijährige Stute Gotta Lazy Lope aka Lys zum ersten Mal auf dem Turnier dabei. Ihre erste Klasse nach der Halter war die Longe Line Open, dort holte sie Bronze – roter Teppich mit deinem kleinen Babypferd- was für ein Gefühl! Direkt im Anschluss war die Non Pro – sie war so brav und unfassbar souverän – und dann blieben Catharina Snäll und ich bei der Siegerehrung übrig. Einfach unbeschreiblich, wenn der eigene Name dann nicht aufgerufen wird. Da sind Freundentränen geflossen – viele! Am Abend hatte ich das Golden Series Ranch Riding Finale mit Stylish Pleasin Chica aka Chica und wir wurden Dritter. Drei Starts, drei Mal auf dem roten Teppich- was für ein toller Tag mit meinen gigantischen Mädels!
Sophie Gillioz
Was für ein Jahr! Ich hätte mir nie vorstellen können, einmal im Leben so eine tolle Saison zu haben! Nach einem Jahr Pause aufgrund ihrer Schwangerschaft kehrte meine Stute Power In The Canyon, genannt Cany, mit noch mehr Motivation und Willen zurück in den Showpen. Ich musste nicht wirklich trainieren, nur die richtigen "Knöpfe" finden, ein wenig aufwärmen und alles hat funktioniert. Ich habe wirklich gemerkt, wie viel Spaß sie daran hatte, wieder mitzulaufen. Es ist, als würde man nach einer langen Pause wieder mit dem gewohnten Partner tanzen – alles ist so einfach und offensichtlich. Cany hat mir geholfen, ein paar tolle Titel zu gewinnen: Europameister, Schweizer Meister, Bayerischer Meister. Wir haben außerdem ein paar Titel gewonnen, von denen ich schon lange geträumt habe: All Around Champion auf der EM, momentan sind wir auch auf Platz eins des DQHA All Around Year End Highpoints in der Kategorie Amateur und wir wurden All Around Champion auf der Schweizer Meisterschaft. Cany hat mir außerdem geholfen, ein weiteres unglaubliches Ziel zu erreichen: Ich habe es auf der AQHA World Show ins Horsemanship-Finale geschafft, obwohl ich das Pferd erst drei Tage vorher geritten bin.
Ich möchte mich wirklich bei Cany bedanken, dass ich diese unglaublich tollen Momente erleben darf. Sie ist mein Once-in-a-lifetime-Pferd. Ich möchte ihr dieses wunderbare Jahr widmen.
Larissa Weber
Dieses Jahr habe ich mir meinen größten Traum ermöglicht – ein eigenes Pferd. Nach einigem Hin und Her habe ich mich Mitte Juli entschieden und in Österreich bei Rikke Benjaminsen meinen Freddy geholt. Ich war das glücklichste Mädchen der Welt, doch zwei Tage später der Schock: Freddy ging lahm. Dabei war eigentlich die Teilnahme an der Niederbayern/Oberpfalz Meisterschaft der EWU geplant, da dies das einzige Turnier war, auf dem es mir möglich war, noch diese Saison zu testen, wie sich der sechsjährige Wallach in einer unbekannten und stressigen Situation verhält.
 Eine Woche vor Turnierbeginn ging es ihm wieder gut und die Lahmheit wurde nach Aussage des Tierarztes durch Vertreten ausgelöst. Kurz darauf nannte ich nach und ging am ersten Augustwochenende mit einem Pferd an den Start, das ich bis dato noch keine zehn Mal geritten bin. Der erste Turniertag verlief überraschend gut und wir konnten uns in allen genannten Prüfungen eine gute Platzierung sichern. Am Sonntag stand die Meisterschafts-Pleasure auf dem Programm, in die ich mit wenig Erwartung einritt. Die Prüfung fand auf einem großen Außenplatz auf der gegenüberliegenden Straßenseite statt, den Freddy noch nie betreten hatte. Der Platz war uneben, steinig und stieg, beziehungsweise fiel extrem ab. Zu allem Überfluss knallte auch noch die Augustsonne mit über 30 Grad auf Mensch und Tier herunter. Doch wider Erwarten lief alles wie am Schnürchen: Freddy war sehr brav, ging an allen Büschen und "gefährlichen Ecken" vorbei, hörte mir gut zu und hielt sein Tempo konstant bei. Schlussendlich konnten wir uns den ersten Platz sichern und nahmen nicht nur die Goldmedaille und die Schärpe, sondern auch den Meistertitel mit nach Hause.
Ein regionales Turnier ist definitiv nicht das größte, was die Szene zu bieten hat, aber für mich war es mein bedeutungsvollster Sieg: mit meinem ersten Pferd, das ich bis dahin kaum geritten bin. Unter diesen nicht ganz optimalen Umständen lernte ich meinen Freddy besser kennen und durfte seine Nervenstärke lieben lernen.
Joana Sprogø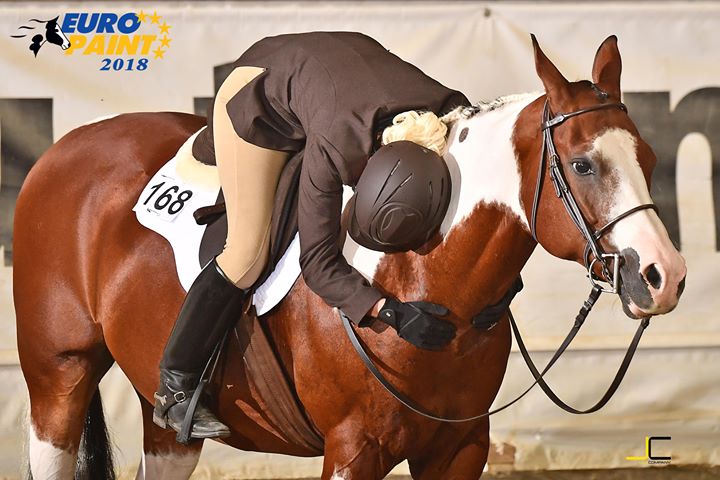 Mein schönster Moment in diesem Jahr und wohl auch in meinem Leben waren die Siege der Hunterklassen auf der Euro Paint. Die Geschichte dahinter ist lang und kompliziert … Ich hatte eine sehr schwere Verlaufsform von Morbus Menieré und sollte nie wieder reiten können. Mein Pferd hat mir nicht nur den Mut gegeben, wieder in den Westernsattel zu steigen, sondern auch in den Hunter Sattel. Und das war wirklich ein kleines Wunder!
Manuela Berg
Quelle: SWR
Julia Weber
Mein schönster Turniermoment 2018 war, als ich mit dem mir zur Verfügung gestellten Quarter Horse Wallach Go On A Joyride im Showmanship-Finale auf der German Open stand. Nachdem ich meine Haflinger Stute Ariva Golden Sunshine mit nur sieben Jahren im Juli einschläfern lassen musste, brach für mich eine Welt zusammen. Ich hatte sie von klein auf und ich habe Ariva selbst ausgebildet. Dieses Jahr waren als große Ereignisse die Hafi Europameisterschaft und die German Open geplant. In der Zeit arbeitete ich als Praktikantin bei Cathrin Dostal und Tommy Posch. Für die beiden war es selbstverständlich, mich zu unterstützen und so konnte ich mit Go On A Joyride, genannt Manni, doch an der GO teilnehmen. Nach einigen Änderungen begann die Vorbereitung für die Showmanship nicht einmal vier Wochen vor der GO. Wir trainierten jeden Tag immer etwas, sodass die einzelnen Manöver einigermaßen saßen. Trotzdem war mir auch klar, dass ich die Hoffnungen in einem großen Starterfeld nicht zu hoch setzen darf. In Kreuth trainierten wir noch einmal hart und Franca Bartke gab uns tolle Tipps. Im Vorlauf lief es wirklich gut und als ich aus der Arena kam und mit Franca den Run noch einmal anschaute, flossen die Tränen. Wir wurden mit dem Finale belohnt und in diesem konnten wir uns noch einmal steigern. Für mich war es der schönste Turniermoment, denn Showmanship war Arivas und meine Lieblingsdisziplin. Mit dem tollen Run im Finale half mir Manni, an diesem tollen Gefühl teilhaben zu können trotz des tragischen Verlusts. Und ich bin mir sicher, dass sich Ariva gefreut hätte.