Sometimes you just really need a good song. One that motivates you to work even harder, one that brings up good memories, one that gives you chills. Well, even better if you have a whole playlist to listen to, right? We have asked well-known riders and trainers to put their favorites on our ultimate "The Showlife"-playlist and tell us why they chose that song. Check out their answers and the playlist at the end of the article!
Jennifer Abröll
The song I chose is "Applause" from Lady Gaga. This is the song that always come on after they have played the national anthem at the Euro Paint. So if you are among the lucky ones behind the red carpet, as soon as this song comes on, all your friends run towards you, to hug you and congratulate you.
Laura Pfeifer
I chose "Call Me Maybe" (Carly Rae Jepsen). During my Youth career, this song was on a lot and when I rode the final class with my beloved gelding Hesa Nigel Paycheck, this song was on as well. Another song would be "Can't Hold Us" (Macklemore). The beat is amazing for riding and I chose this song for my Golden Series Horsemanship class with Loves To Lope in 2019 – we ended up as Reserve Champions.
Lara Schrage
My songs are "Shape of You" (Ed Sheeran) and "Good As Hell" (Lizzo). The latter is a song I always listened to when I visited my horse Tailor in Italy – which I can't at the moment. The other song was on when I did my first decent Showmanship class, so that was a good moment.
Elisa Frischbier
One of the songs I chose is "rockstar" (Post Malone), because my young mare LopinOnTheFrontPage was such a rockstar at her first shows the past year. A song that reminds me of my other horse Shes All The Candy is "Make It Happen" by Mariah Carey – we always said that as a running gag when I bought "Cookie".
Alan Vincent
I'm usually more into R'n'B music with nice vocals and a nice and flowy melody. To pick one right now, I'll go with "Come together" by Chris Brown featuring H.E.R.
picture: Luxcompany
Laura Weber
I put "This Is How We Roll" by Florida Georgia Line on the playlist, because it makes me think of summer and horse shows – and the rhythm fits almost every horse.
Leontýna Tanko
The first song I put on the playlist is "I like it" by Cardi B, because once they play that song at the arena bar, everyone goes crazy. The other song is "Jamming" by Bob Marley, because I am always jammin' on my horse's back – his name is Marley. And I am hoping it won't ever change.
Desiree Leiner
I chose "Shotgun" by George Ezra, because I like this song and it was on when I rode my equitation pattern at the ECQH in 2018. I won on one card and was Reserve Circuit Champion with Mill River Gold.
Jael Heizmann
My song on the playlist is "Miss Shiney" by Kaiit. It is a slower song, but I like its flow. I also chose this one because not everyone might know it and it would be cool to have some unknown songs on the list.
picture: Alena Schmid
Tabea Schnauder
"Tequila" by Jax Jones and Martin Solveig is the song I chose. Not because I like to drink tequila, but because the song reminds me of the horse shows – and that is especially nice given the current situation
Moritz Stummer
"I had a thousand bad times, so what's another time to me?" – that quote sums it up which I chose "A Thousand Bad Times" by Post Malone. After a thousand bad times, life still goes on and something great can happen – and that is what makes life worth living. Focus on what you love, put on your sun glasses and ride with the flow. By the way: This song is great to practice Western Riding.
Nicola Eger
"Not Afraid" by Eminem is a great song if you are ever doubting yourself – that is why I chose it for the playlist.
Alexandra Jagfeld
I chose two songs: "Up & Up" by Coldplay is the song that reminds me of Rojo Solo Cup. It was on during one of our first rides in Aachen, I had such a great feeling and was singing this song while riding. The other song is "Undiscovered" by Laura Welsh – this one is linked with Clearly Open Range. This song has a great rhythm for jog. Mirko Müller asked the announcer to play this song during one class I was showing in with "Brandy" – and we won!
Stella Peter
The first song I chose is "Blurred Lines" by Robin Thicke. We used to listen to it all the time when Team Dasi was a "boot camp" in 2013 – I have such great memories of that time. Another song is "My Life Would Suck Without You" (Kelly Clarkson). This song was on when I rode my first ever Horsemanship class in the Ostbayernhalle in Kreuth with my former horse Mr Wonderbond. I was so nervous and my trainer told me to just sing along – this song still gives me chills.
Meinou de Ruijter
Since my horse's name is Bandedo Dancer, "Moves Like Jagger" (Maroon 5) is a perfect song to trot down the arena.
Lea Henzgen
I chose this song – "16 Shots" by Stefflon Don – for the Golden Series Horsemanship final last year because I liked the energy and pump of it (although Boris Kook disliked the lyrics). It was a very special ride for me, because it was after a long time that Madonna and I finally found our "bound" again in the show pen. Now, everytime I hear that song it reminds me about that feeling and why you should always ask your horse, not tell them.
Lilly Görgen
I chose a German song: "Erfolg ist kein Glück" which can be translated as "success doesn't happen by accident or because you're lucky". I think the lyrics really fit our sport, because you have to work hard, nothing is simply given to you. This song is really motivating if things don't go as planned – it gives you the motivation to push trough.
Leonie Fischer
I think we all know the feeling of having bad day: The horse has an injury, the class did not go well or you are just having had a bad practice. "Stronger" by Kanye West is the perfect song to come back stronger. And as they say: "What doesn't kill you makes you stronger" – no matter what happens, life goes on.
Franziska Dorfmeister
"This is me" by Keala Settle was on when I was showing in a Senior Western Pleasure class, I was showing one of my training horses and Ben Fisher was showing another one. The lyrics are also really special to me: When I started working as a trainer, I was facing a lot of negative vibes from some people. They used to say things like "Gestüt Schwabing does not have a Western Pleasure Trainer anymore". Looking back, I never thought, I would come that far, but this song gave me motivation when I needed it.
Robyn Barkey
At horse shows, I love to do my make-up and listen to music. It's really soothing! I have one song in particular that I love to listen to when I have to prepare for a class. It's "Fire" by Gavin Degraw.
Lina Paßgang
I chose "My Truck" by Breland, because you always sing along – even as a non-equestrian.
Jenny Brandes
I chose "Win" by Jay Rock – the remix featuring Snoop Dogg. My other passion besides riding is ice hockey and they always play this song after my team wins. By now, I also listen to this song after successful classes and shows with my horse.
picture: Luxcompany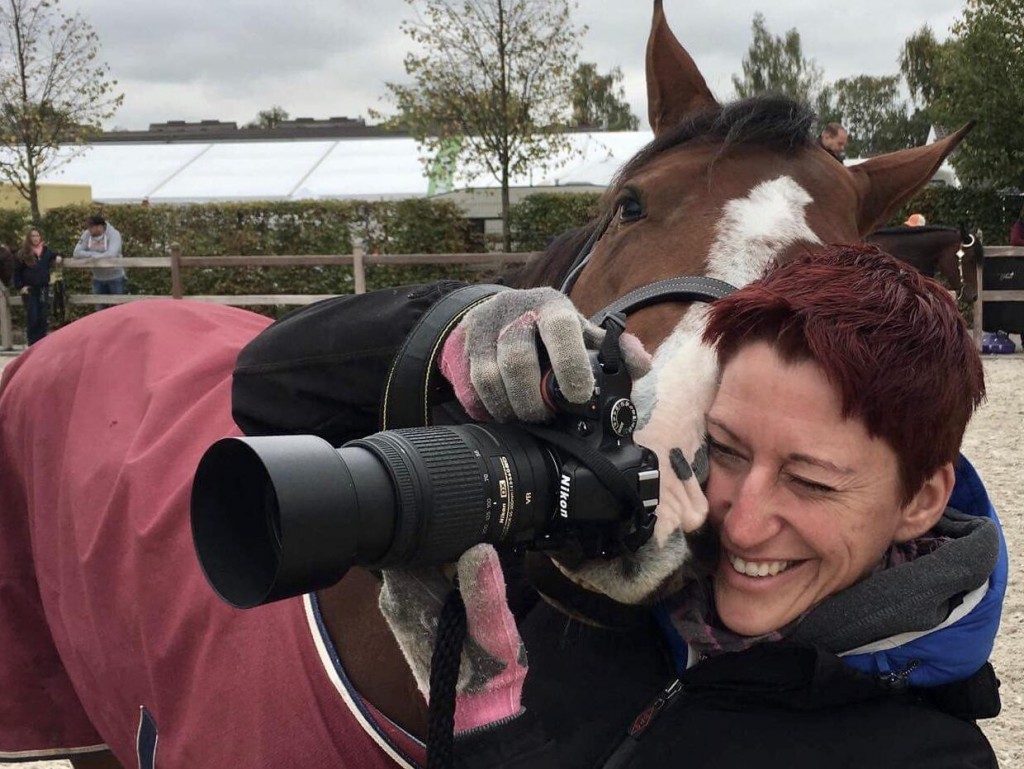 Caro Behnke (TSL Team)
I chose "Ba-Ba Banküberfall", it's a German song and the title means "bank robbery". It has a really nice beat – and to be honest, sometimes robbing a bank seems like the only solution for someone who owns a horse…
Sophie Gotthold (TSL Team)
My song is "High Hopes" (Panic At The Disco!). It kind of tells the story of me and my horse HC A Gleam Of Hope. Nobody believed in him and I never believed in myself, but together, we somehow managed it. Plus, it is a really good feeling to listen to that song when entering the arena.
video: MP video