Most of us know Cora Kümmerling from Sweden as one of the most accomplished Youth competitors in Europe. Together with her amazing horse Dont Skip It Up she has been crowned European Champion and Int. DQHA Champion multiple times. However, anyone who has been keeping their eyes open, might have noticed that Cora was seen together with a dark Reining horse at last year's European Championship. We have sat down with Cora in order to find out everything about her new passion:
TSL: Additionally to your allround horses Dont Skip It Up and Dont Dress Me, your family has purchased a Reining horse in 2016 – can you tell us about your new horse?
CK: Yes, we bought a Reining horse last year. His name is Freckles Whiz Delmas aka "Otto", he is seven years old and a black gelding. Otto is by Easy Otie Whiz who is by Topsail Whiz. At first, we told KPR and Fredrik Thomsson that we are looking for a Reining horse and so we started to look everywhere. Then after a year, KPR found a horse in Italy that could fit me. And that it was: The moment I saw him I fell in love with him, he is so kind and "lazy" and he still was a stallion at that point. But we couldn't have him as a stallion because as a stallion I couldn't show him in the Youth classes. However, gelding him didn't change his character, he is still the kind and lazy boy he was before. The laziness you can se in the show pen when he doesn't want to run off or the like is what makes me trust him. I'd rather have a lazy horse than the opposite!
TSL: You have always been one of the most accomplished allround Youth competitors – why did you decide to try something totally new?
CK: I wanted to show Reining, because it looks fun with all the action and the speed and I also wanted to challenge me to do something new, so I gave it a chance and I really like it. But the most important factor is that I like the speed and thats why I also started with car racing. If you compare Western Pleasure and Trail with Reining it is very different. You can "ride" much more in the Reining than you do in Western Pleasure, where you should not pick up your hand, you should sit back, really show off and ride with long reins. It is like that in Trail as well: long reins, no steering with your hands, but instead your seat and legs. Whereas in the Reining you can "ride" a bit more, you have time before you do the other maneuvers – in Trail and WP there is no time to really think because then it does not look fluid.
TSL: What is it that fascinates you about Reining?
CK: The big thing that fascinates me are the big maneuvers where you can really get "plus" on your score. If you know your horse doesn't spin that good you can go a bit more on the stops or the circles if the horse can do that.
TSL: Does that mean we have to say good-bye to you as an allround competitor or will you show in both, allround and Reining?
CK: Yes, I will continue to show both. It's hard with the time schedule when the reiners train at night and the allrounders in the morning and also when classes collide. One example: Western Pleasure classes are often held after Reining classes, because it is unlikely that a horse will show in both – but that is what makes it problematic for me. But all this is part of the competition and that is what makes it so special. A good thing that I see is when showing feels like "vacation" – besides all the hard work and the long days. Your mind isn't focused on studying or the like and it feels like a second life, one where you have other friends and other problems that you wouldn't care about at home.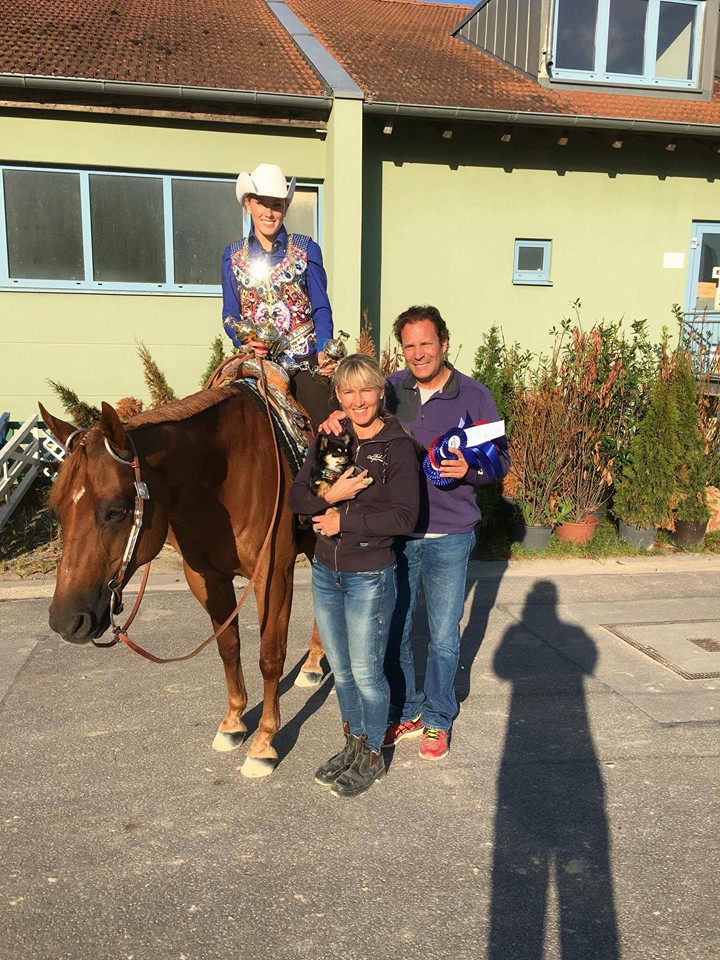 TSL: What are your plans for your allround horse, Dont Skip It Up, this year?
CK: Its a tough question to answer, because we have such a past, and its sad to say that right now we in the family can't compete with Dont Skip It Up, because he is injured and is standing at a clinic. He is getting better, but it takes time. I hope we can bring him to the European Championship this year. While Skip is standing at the clinic I have been able to focus a bit more on school here at home. Dont Dress Me was also injured at the beginning of the year and was staying at a clinic for two months, but he is now ready to show again. It's nice that we also have two young ones coming up, but it's hard when all the show horses are gone and you sit at home and think what to do next when you are so used to the old routine.
Thank you so much, Cora! Tack, Cora!
---
Die meisten von uns kennen Cora Kümmerling aus Schweden als eine der besten Youth Allround Reiterinnen in Europa. Mit ihrem Erfolgspferd Dont Skip It Up hat sie mehrfach die Titel European Champion und Int. DQHA Champion errungen. Trotzdem konnte jeder, der ein bisschen die Augen offen gehalten hat, im vergangenen Jahr feststellen, dass Cora plötzlich auf einem dunklen Reiningpferd zu sehen war. Wir haben Cora interviewt, um alles über diese neue Leidenschaft herauszufinden:
TSL: Neben Deinen Allroundpferden Dont Skip It Up und Dont Dress Me besitzt Deine Familie seit letztem Jahr auch ein Reiningpferd – kannst Du uns ein wenig von diesem Pferd erzählen?
CK: Ja, gerne, wir haben ihn letztes Jahr gekauft. Er heißt Freckles Whiz Delmas und ist ein sieben Jahre alter schwarzer Wallach. Wir nennen ihn Otto. Er ist von Easy Otie Whiz, der von Topsail Whiz abstammt. Zuerst haben wir KPR Quarter Horses und Fredrik Thomsson erzählt, dass wir gerne ein Reiningpferd hätten und uns überall umgesehen. Nach einem Jahr hat das Team von KPR ein Pferd in Italien gefunden, das zu mir passend könnte. Und das war es auch schon: Ich habe mich sofort in ihn verliebt, er ist so lieb und ein wenig faul, obwohl er zu dem Zeitpunkt noch Hengst war. Allerdings konnten wir ihn als Hengst nicht kaufen, da ich ihn dann nicht in der Youth Division showen dürfte. Er hat sich aber auch als Wallach charakterlich nicht verändert, er ist immer noch das freundliche, ruhige Pferd, das er davor war. Diese Faulheit, die man ihm in der Arena manchmal ansieht – wenn er nicht zügig losläuft oder Ähnliches – ist genau das, was mich dazu bringt, ihm voll zu vertrauen. Ich habe lieber ein faules Pferd als das Gegenteil!
TSL: Du bist eine der besten jugendlichen Allroundreiterinnen – warum wolltest du etwas Neues ausprobieren?
CK: Ich wollte Reining ausprobieren, weil es immer nach viel Spaß aussieht – die ganze Action und die Geschwindigkeit. Außerdem wollte ich mich selbst ein wenig herausfordern, also habe ich dem Ganzen eine Chance gegeben und mir gefällt es sehr gut! Am meisten gefällt mir wirklich die Geschwindigkeit – deshalb habe ich außerdem auch mit Autorennen angefangen. Wenn man Pleasure und Trail mit Reining vergleicht, sieht man ja sehr große Unterschiede. In der Reining kann man etwas mehr "reiten" als in der Pleasure, wo den Zügel nicht aufnehmen sollte, hinten sitzen soll, showen muss und das Ganze natürlich mit langen Zügeln. Das ist in Trail ja ebenso: lange Zügel, kein sichtbares Lenken über den Zügel, sondern über Sitz und Bein. In der Reining kann man etwas mehr "reiten" und man hat Zeit, vor den Manövern nachzudenken – in Trail oder Pleasure geht das nicht, dann sieht es nicht mehr flüssig aus.
TSL: Was fasziniert Dich am meisten an der Reining?
CK: Das, was mich am meisten fasziniert, sind diese tollen Manöver, wo man, wenn man gut ist, wirklich Pluspunkte einfahren kann. Wenn man weiß, dass das Pferd nicht so tolle Spins macht, legt man eben etwas mehr Können in die Stops oder Zirkel, je nachdem, was das Pferd kann.
TSL: Heißt das, wir müssen uns jetzt von Dir als Allroundreiterin verabschieden? Oder machst Du beides?
CK: Ja, ich werde beides machen. Es ist allerdings hart mit den Zeitplänen: Die Reiner trainieren nachts, die Allrounder früh morgens. Außerdem kollidieren die Klassen häufig. Ein Beispiel: Pleasure ist oft direkt nach der Reining, weil es unwahrscheinlich ist, dass ein Pferd in beiden Klassen antritt – das macht es dann aber schwierig für mich. Aber das ist alles Teil des Turnierreitens und das macht es ja auch besonders. Ich persönlich liebe es, wenn sich das Turnier – abgesehen von der Arbeit und den langen Nächten – anfühlt wie Urlaub. Man muss sich nicht auf Arbeit oder Schule konzentrieren, sondern führt ein zweites Leben, eines, in dem man andere Freunde hat und sich auf Probleme konzentriert, an die man zuhause nicht mal denkt.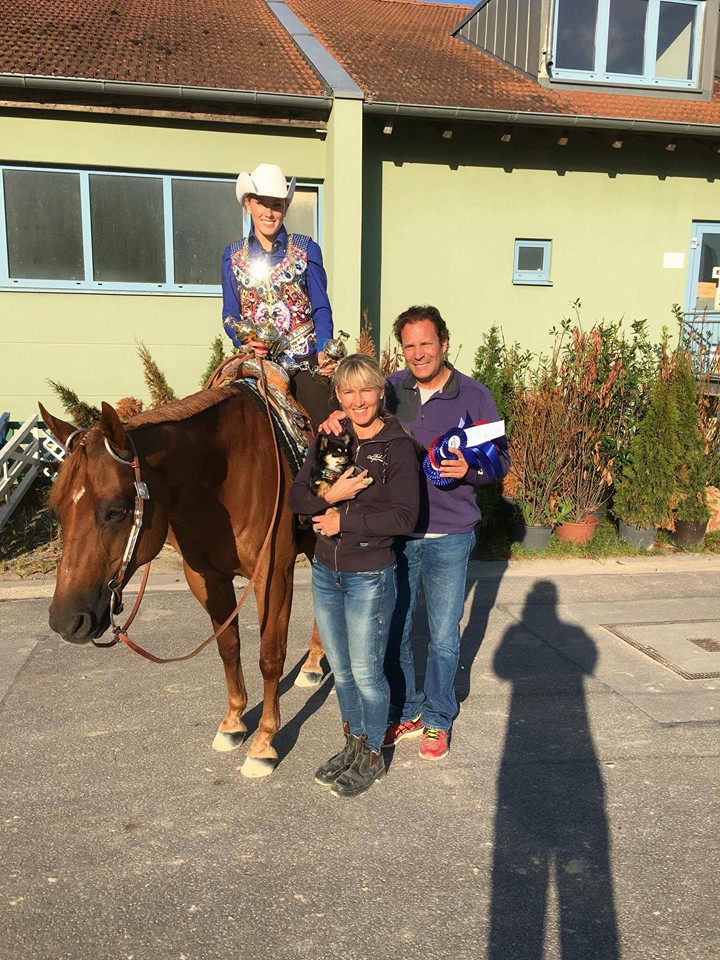 TSL: Was sind Deine Pläne für dein Allroundpferd Dont Skip It Up?
CK: Es fällt mir schwer, diese Frage zu beantworten, da ich ja eine tolle Zeit mit ihm hatte, und ich bin traurig, dass wir momentan als Familie nicht mit ihm antreten können, da er verletzt ist. Er ist momentan in einer Klinik – es wird zwar besser, dauert aber. Ich hoffe, wir können ihn zur EM mitnehmen. Zumindest hatte ich etwas mehr Zeit, mich auf die Schule zu konzentrieren, während Skip in der Klinik war. Auch Dont Dress Me war Anfang des Jahres verletzt und zwei Monate in der Klinik, aber er ist jetzt wieder fit. Gott sei Dank haben wir auch zwei junge Pferde, aber es ist hart, zuhause zu sitzen, während die Showpferde weg sind und man gar nicht weiß, was man mit sich anfangen soll.
Vielen Dank, Cora!