In this part of our series on DIY amateurs, we talked to Hanna Heinz whose horse lived really close by for a long time. She told us how she juggles her training without an indoor arena while working in the home office.
Hanna, what are you doing for a living?
I am a Compensations & Benefits Manager at a German company that works on an international level. Since most people usually don't know what that means, I always say that I am responsible for payment and reporting of those managers who work for our company on a global level. I also do a lot of projects. In the end, I am sitting in front of three monitors, am in a lot of video calls, other calls, work on Excel documents, PowerPoint presentations and answer e-mails.
At what kind of barn is your horse boarded? How much do you have to do by yourself?
Chex is living at a barn at my parent's home with four other horses. We don't have an indoor arena, but an outdoor arena, lots of pastures, a great area to go for trail rides and a big barn where you can use one part as a single stall. The rest of it is open stabling. I am sharing all barn chores with my parents and the one person whose horse is boarded at our place. This means that I have to take care of the barn six times a month. I usually have to muck out the barn and paddocks, feed the horses and stake out the pastures. If there is a big project coming up like renewing fences etc., we usually do this together.
How often are you at the barn per week and how much time do you spend there?
I have been living above my parents until the end of 2020 and during that time, I was at the barn every day. But this does not mean that I am riding or practicing every day. Sometimes, I just cuddle with my horse, feed the horses or say hi. I try to work Chex three to five times a week. This doesn't work out all the time, I have to admit. It usually depends on how much I have to do at work and for my studies – I am also studying at university at the moment. In winter, our training is kind of limited as we depend on the weather. So, depending on the situation, I spend between one to three hours at the barn.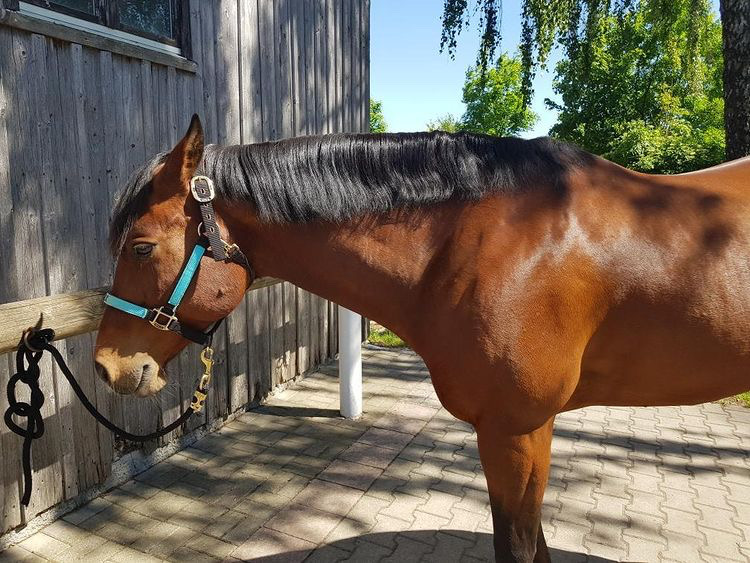 How much training does your horse need?
Chex is nine years old, so he is broke. I just try to keep him fit during the winter. Learning new things during the off-season has always been a challenge – and it still is, given the pandemic. When Chex was younger, we drove around a lot – but that was before I was working full-time.
Who supports you in your training?
My trainer is Anna Gürlich, we have been under her guidance for years, she knows us so well and always has the right piece of advice. Unfortunately, Anna is located 200 kilometres away, so if I want to take a lesson, I usually have to block a whole day for this. For Chex and me, the following things work: We go to clinics with Anna, take lessons that take place at a barn within a one-hour drive and sometimes, I will send Chex to full training with her. If that is the case, I try to make it for a lesson every two to three weeks. This only works, because I have flexible working hours and can be working at the home office. During the first lockdown, we also tried some online training which was a great way to stay motivated.
How do you juggle your horse and your daily life?
I think there are times when this works out well and sometimes, it doesn't. I try to integrate time with my horse in my schedule at work, so that I can block the time I need to take care of Chex. Since I work a lot, I try to make the best of home office and take care of the horses, whenever there is a little gap in my schedule. And in general, I spend the most time with him on the weekends.
Any advice for other riders?
If possible, work from home and with flexible hours. This enables you to make the most of your time. It also helps to treat time with your horse like a daily routine – like brushing your teeth. Well, at least that's the goal.
Weiter geht es in unserer Serie "Stall-Routine": Dieses Mal geht es um Hanna Heinz, die lange Zeit die Pferde direkt neben ihrem Zuhause hatte.
Was machst du beruflich?
Ich bin Compensation & Benefits Manager bei einer mittelständischen Firma, die international tätig ist. Da die meisten damit nicht viel anfangen können, sage ich einfach immer, ich bin für die Vergütung, die Marktvergleiche und das Reporting für die sehr teuren Manager global bei uns zuständig, plus viel Projektarbeit. Das bedeutet in etwa so viel wie: Ich arbeite den ganzen Tag vor drei Bildschirmen, springe viel zwischen Videokonferenzen, Telefonaten, Excel, PowerPoint und E-Mails hin und her.
In was für einer Art Stall steht dein Pferd, wie viel der Versorgung musst du übernehmen?
Chex steht bei meinen Eltern zu Hause in einem Offenstall mit vier weiteren Pferden. Wir haben leider keine Halle, aber dafür einen 20 auf 40 Meter Reitplatz mit Licht, viele Koppeln, ein schönes Ausreitgelände und einen großen Stall, bei dem man auch einen Teil als Box abgrenzen kann, um ihn beispielsweise extra mit Kraftfutter zu füttern. Ich teile mir die Stallarbeit mit meinen Eltern und unserer einzigen Einstellerin. Das heißt, ich habe ungefähr sechsmal im Monat Stalldienst. Das beinhaltet den Stall und den Paddock misten, füttern und im Sommer auch die Koppel vorstecken. Solche Dinge wie Koppel- und Zaunpflege oder größere Umbauten machen wir meistens gemeinsam, je nachdem, wie die Zeit es zulässt. 
Wie oft pro Woche bist du im Stall und wie viel Zeit verbringst du dann dort?
Im vergangenen Jahr war ich fast jeden Tag im Stall, da ich bis Ende des Jahres 2020 noch über meinen Eltern gewohnt habe. Aber das bedeutet nicht, dass ich jeden Tag reite oder trainiere. Manchmal ist es auch einfach nur füttern, streicheln und Hallo sagen. Ich versuche aber, so drei- bis fünfmal die Woche etwas mit ihm zu machen. Das klappt leider nicht immer so gut. Je nachdem, wie viel ich in der Arbeit und in meinem berufsbegleitenden Studium zu tun habe, kann es auch mal weniger trainieren und mehr kuscheln und füttern sein. Zusätzlich ist jetzt im Winter das Training natürlich wetter- und bodenbedingt ohne Halle etwas eingeschränkter. Zeitlich verbringe ich dann so zwischen ein bis drei Stunden direkt im Stall.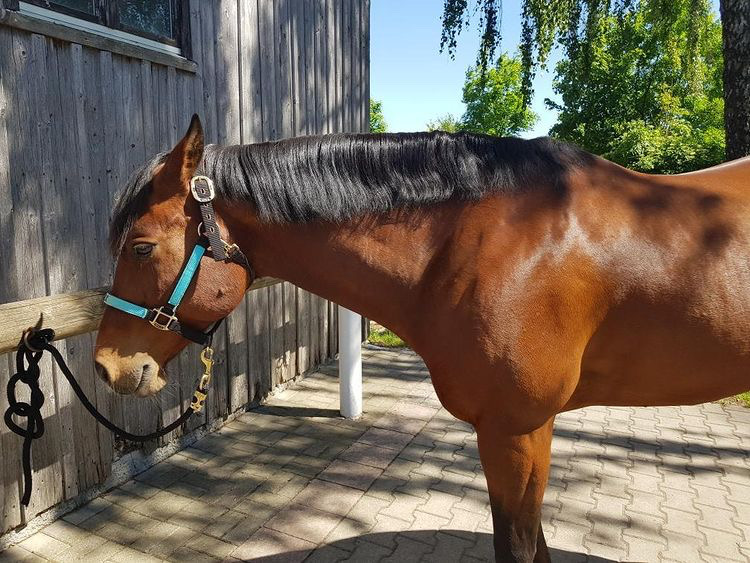 Wie viel Training braucht dein Pferd?
Chex ist jetzt neun Jahre alt und damit ist sein Trainingsstand schon relativ gefestigt und über den Winter geht es uns mittlerweile mehr um das Erhalten von Dingen, die er schon kann. Neue Dinge über den Winter zu erlernen, ohne Halle und ohne Trainer vor Ort, war und ist immer noch eine Herausforderung, gerade in den jetzigen Zeiten. Als Chex noch jünger war, bin ich im Winter wahnsinnig viel mit dem Hänger unterwegs gewesen. Allerdings habe ich da auch noch nicht Vollzeit gearbeitet, muss ich fairerweise dazu sagen.
In welcher Form wirst du im Training unterstützt?
Ich habe eine ganz tolle Trainerin in Anna Gürlich gefunden, die uns schon lange begleitet und uns beide so gut kennt und deswegen immer den richtigen Rat für uns parat hat. Leider ist Anna über 200 Kilometer von uns entfernt, weswegen "einfach mal zur Reitstunde fahren" einem Tagesausflug gleicht. Deswegen haben wir für uns eine gute Mischung aus folgenden Dingen gefunden: Wir fahren zu Kursen, zu Reitstunden, die einmal monatlich in einem Stall auf halber Strecke stattfinden und Beritt bei Anna vor Ort. Wenn Chex bei Anna steht, versuche ich alle zwei bis drei Wochen für eine Reitstunde nach Rohr zu fahren. Das geht natürlich nur dadurch, dass ich flexibel und im Home Office arbeiten kann. An dem Tag arbeite ich dann entweder sehr früh oder sehr spät noch, damit ich mir diesen Luxus leisten kann. Während des ersten Corona-Lockdowns haben wir jetzt auch das erste Mal das Online Training ausprobiert und das ist wirklich eine super Ergänzung und Motivation für das Training zu Hause.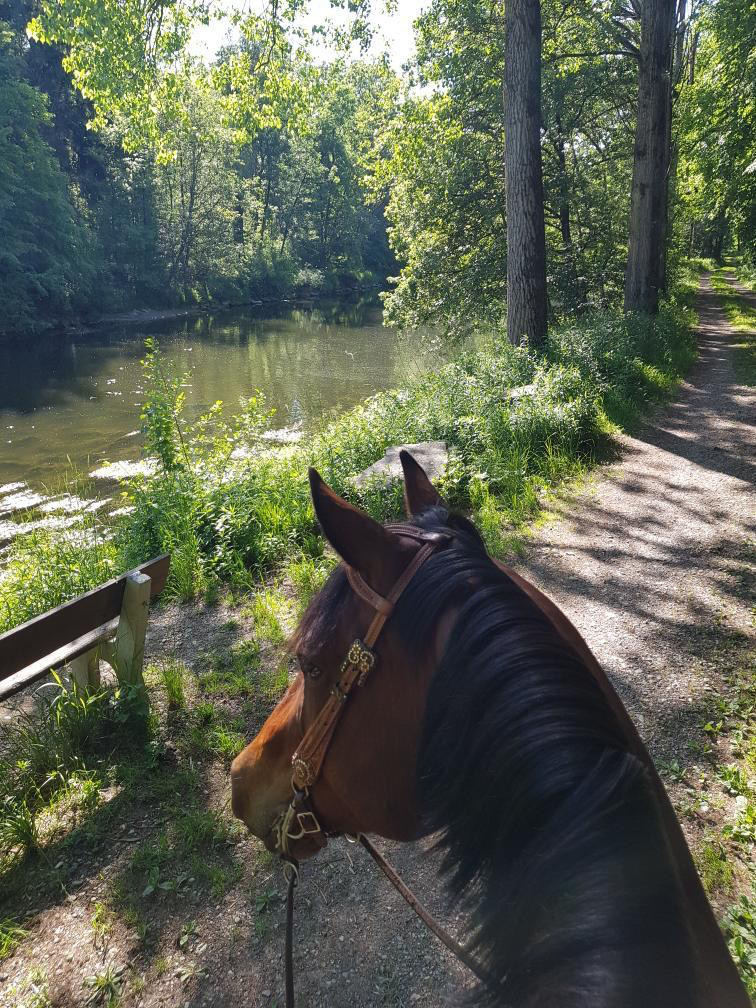 Wie schaffst du es, Alltag und Pferd unter einen Hut zu bringen?
Um ehrlich zu sein, funktioniert es mal besser und mal schlechter. Prinzipiell versuche ich, mir die Zeit mit meinem Pferd als Termin in meinen Kalender einzutragen, insbesondere in meinen Arbeitskalender damit bildet das eine Art Routine. Dann ist diese Zeit geblockt und kann nicht so einfach mit Terminen gefüllt werden. Da ich relativ viel arbeite und im Winter dadurch erst aufhöre, wenn es schon dunkel ist, habe ich jetzt schon öfter die Flexibilität des Home Office genutzt und bin raus zum Pferd, wenn ich gerade mal eine Lücke zwischen den Terminen von ein bis zwei Stunden in meinem Kalender hatte. Ansonsten fällt die Zeit mit dem Pferd natürlich auch oft auf und rund um das Wochenende.
Hast du Tipps für andere Reiter?
Wenn es möglich ist, würde ich immer empfehlen, flexible Arbeitszeiten und Home Office zu nutzen. Das ermöglicht einem, am meisten aus seiner Arbeit und der Zeit mit dem Pferd herauszuholen. Und ansonsten hilft es mir sehr, einige Dinge als Routine in den Alltag einzubauen. Dann ist die Zeit mit dem Pferd so selbstverständlich in den Tag integriert wie das Zähneputzen. Okay – sagen wir, das ist das Ziel, an der Umsetzung arbeite ich auch noch.