Round and round we go: Let's check out the advice by Natalie Eibeler-Gruber on a key manoeuvre of the Reining – the spin.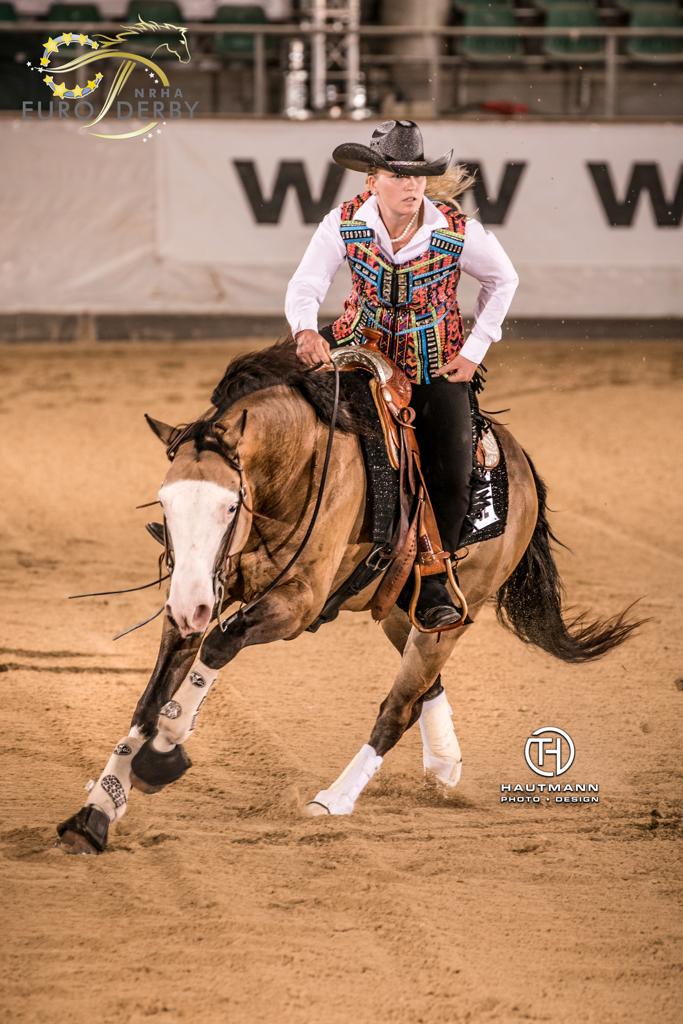 Natalie Eibeler-Gruber
picture by Tom Hautmann
EWU Trainerin A Western Riding 
Barn Manager 

Favorite events: Reining and Ranch Riding
Achievements: wins and placings at the EWU German Open and Regional Championships

Natalie was born in 1992 and has been riding since she was a little kid. She is a trained barn manager and EWU trainer A. Natalie offers lessons and coaching for newcomers and more experienced riders. She is keen on always learning more, or as Philip Rosenthal says: If you stop improving, you stop being good at it.
Natalie wants her clients to learn about the proper body position, cues and techniques when it comes to riding, but also to form a bond with the horse. "Horse and rider should become a team. That is why we teach our clients basic knowledge about horses. We want them to become confident riders with horse sense and a feeling for the right cues."

Just as with any manoeuvre, Natalie stresses that a good basis is the key for a good spin. "I start with a small circle at a walk. I push out the hip while letting the horse walk forward. The horse's hind legs should not follow in the same line as the front legs." When walking a circle to the right, there should come a point where you start the spin: "Open your left leg, the right rein should be on your horse's neck. Then start to turn. If I am happy with the spin, I let the horse walk out and start the exercise all over again." Check out the video to see what Natalie means. "You can use the rein to help the horse maintain its form. Slowly release to see if this will work without the rein."
Nicht nur in Reining und Ranch Riding gefragt, sondern auch in fortgeschrittenen Horsemanship-Klassen: der Spin. Tipps dazu gibt es heute von Natalie Eibeler-Gruber.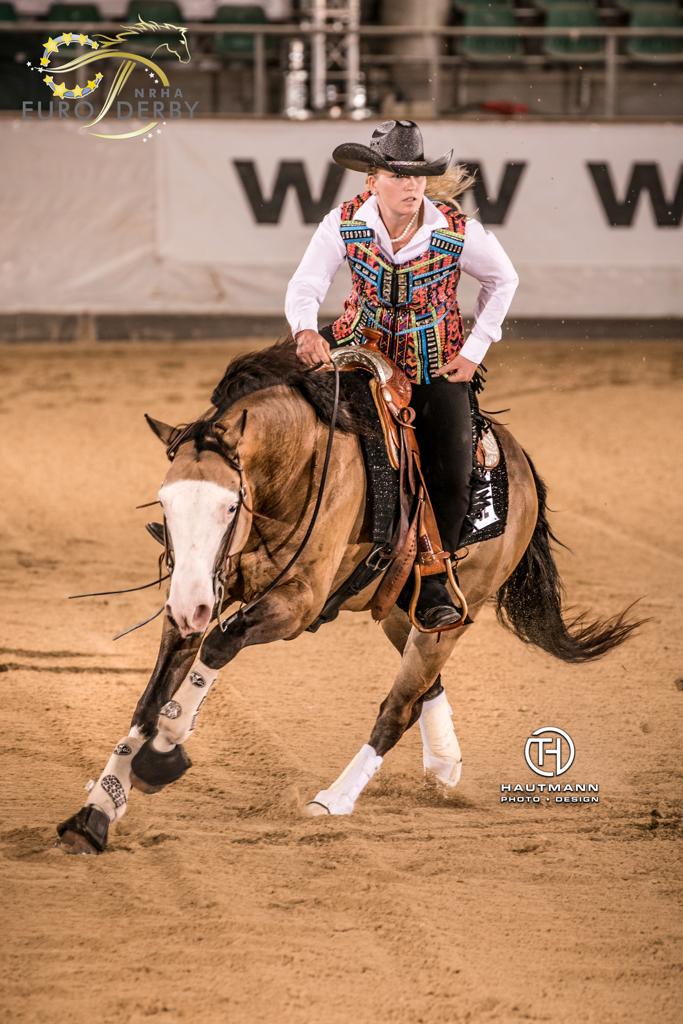 Natalie Eibeler-Gruber
Foto: Tom Hautmann
Trainer A Westernreiten 
Pferdewirtin Westernreiten 

Lieblingsdisziplinen: Reining und Ranch Riding 

Erfolge: Siege und Platzierungen Landesmeisterschaft EWU Bayern + German Open 

Natalie ist 1992 geboren. Von Kindesbeinen an ist sie im Sattel zu finden. Als gelernte Pferdewirtin und Trainerin A Westernreiten bietet sie Reitunterricht auf Schulpferden und eigenen Pferden an. Das Unterrichtsangebot richtet sich sowohl an Einsteiger/Umsteiger als auch an fortgeschrittene Reiter. Natalie legt dabei selbst großen Wert auf ihre eigene Weiterbildung – getreu dem Motto "Wer aufhört, besser zu werden, hat aufgehört, gut zu sein." (Philip Rosenthal)


"Neben fachlich korrektem Lernen von Sitz, Hilfengebung und Reittechnik ist uns die Vermittlung von Gefühl und Verständnis für den Partner Pferd ein großes Anliegen. Es ist uns sehr wichtig, dass sich Reiter und Pferd als gutes Team entwickeln und ein harmonisches Miteinander entsteht. In unserem Reitunterricht erhalten die Schüler auch Allgemeinwissen rund um das Thema Pferd. Unser Ziel ist aus unseren Reitschülern selbstständige, sichere Reiter mit Pferdeverstand, gutem Sitz sowie klarer und gefühlvoller Hilfengebung zu machen."