It is not unusual to see a Western rider try out some jumps or participate in a dressage class. This article, however, is about a way of riding that usually doesn't cross paths with the Western industry: polo. Ines Grund is the owner of the allround mares Glamourgirl, Best Of Glamourgirl and Loves To Lope, but she is also a passionate polo player. In fact, she loved polo before she became addicted to the allround classes. Together with her friend, Wolf Jage, she explained this fast and fascinating sport to us.
Polo has been a part of the riding culture in Germany long before the Western events. "In 1898, the first German polo club was founded in Hamburg and from 1904 until 1909, more clubs were founded in Hanover, Bremen, Frankfurt, Berlin and Munich," Wolf Jage explains. He is the owner of the Munich Polo Center which is located on the grounds of the race track in Munich. "Polo was an Olympic discipline until 1936. At that time, the biggest polo stadium of the world was built next to the Olympic stadium. Up to 60.000 people could watch the game. But when World War II started, everything came to a halt. By the end of the 50s, people founded new polo clubs in almost all of the German states that were located in West Germany." According to Wolf Jage, there are 35 clubs today that are organized within the German Polo Association, plus there are private polo facilities. "There are about 600 more or less active players in Germany today," Wolf Jage concludes the historic overview.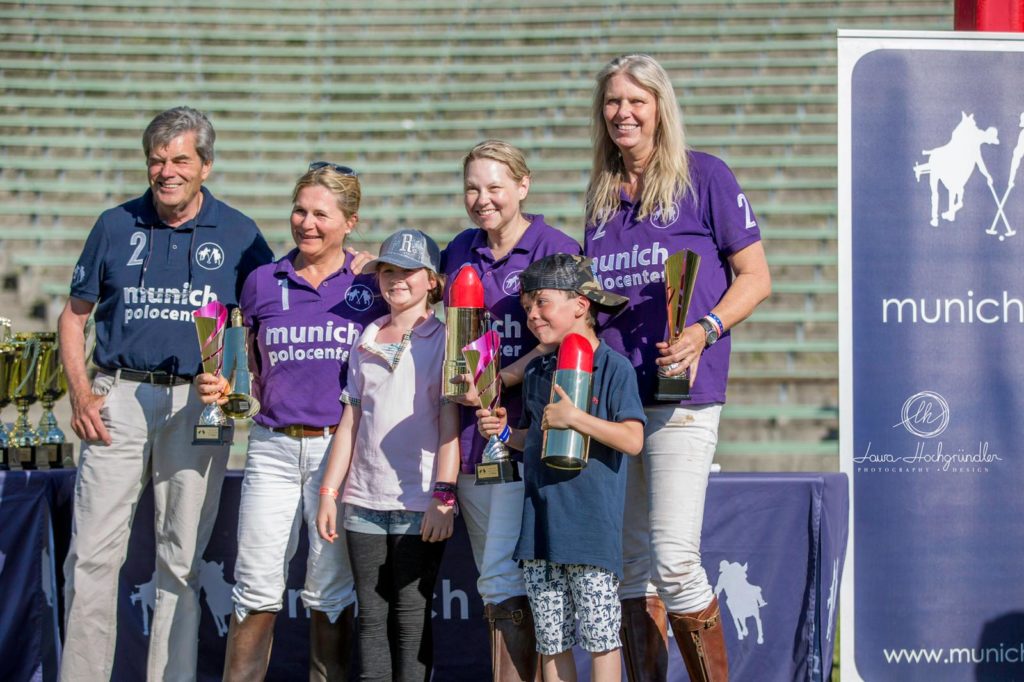 Contrary to other styles of riding, polo is a team sport. Each team consists of four players and: "Polo is one of the few sports where mixed teams are normal," Wolf Jage stresses. There are different performance categories: "The three German performance categories are: low, medium and high goal – depending on the team's handicap." Each player has a handicap: "The players are rated twice a year by a commission of the German Polo Association. If you add up all of the four players' handicaps you get the team's handicap," Wolf Jage explains. "Newcomers start with a handicap of -2. The best players of the world have a handicap of +10. The best players in Germany have a handicap of +4."
Ines is currently playing on the medium goal level – but not in Germany. She lives in London where she first got in touch with polo and started loving it: "I discovered polo thanks to a colleague in London. He invited me to a polo beginner day and I was immediately hooked. Unfortunately, I had very little time for hobbies back then," Ines says and adds: "Hence, I started polo only a few years later at the Munich Polo Center under guidance of polo guru and coach Wolf Jage. It was quite a long journey from there with countless hours in the saddle, improving my 'polo swing' (hitting technique), and lots of game theory but also some great successes early on. Wolf always placed great emphasis on training foundations and made sure that we got exposed to outstanding experts like world-renowned polo coach Rege Ludwig from the US or Germany's top polo player Tom Winter. I couldn't have asked for a better start!"
Hit a ball and make a goal while riding – that sounds quite challenging. Wolf Jage says that a good rider can play in a practice match after a few months of training. But: "If you want to play in a real match, you need to know more about technique, rules and tactics. Polo is more than hitting a ball."
It takes training and dedication to become a decent polo player – this is what Ines says as well: "After a few beginner years with Wolf Jage in Munich, I moved back to London in 2011 and started beginner and intermediate chukkas (group practices) at the Ham Polo Club. I was constantly working on my riding and hitting skills in order to improve my polo handicap from -2 as quickly as possible so that I could take part in proper polo tournaments," Ines says. Her first polo ponies, Argentine Criollos Petisa and Peluche, were excellent schoolmasters and are nowadays enjoying their well-deserved retirement. "In 2012, I participated in the UK Women Nationals Tournament already, and only a year later I met the Argentine polo professional Chino during polo camp in Buenos Aires. Chino has a polo handicap of 6 and is a cousin of the world's best polo player Adolfo Cambiaso who has a handicap of 10. Thanks to Chino's training methods and excellent horses, I was soon able to join Guards Polo Club, one of only four high goal clubs in England. Since then, I have been playing there as a patron (non-pro) in the English 'medium goal'."
Polo is an international sport – and that is what Wolf Jage cherishes about it: "I loved getting in contact with people from international clubs. Those were some unforgettable moments. I have played polo in more than 20 countries of the world and made many friends. To name some examples: Kazakhstan, Brunei, Mongolia, Kenia, Argentina, Jamaica and all the European neighboring countries of Germany where they play polo."
Contrary to the allround sport, polo is way more spectacular at first glance – and rougher. Referees can call a foul if things are getting too rough. But Wolf Jage stresses: "The horses' safety is our top priority. The referee has to intervene, before a player commits a foul." In order to understand the game, one should know this: "The most important rule is the so-called line of the ball. The player who follows this line at the gallop and hits the ball on his right side has the right of way. No other player is allowed to cross the line if he puts the first player in danger by doing so."
Some players wear a face guard for their own safety, Wolf Jage says. Every player has to wear a three-point helmet. "Boots and kneepads are also part of the equipment. Traditionally, players wear white breeches and a polo shirt." All this equipment is still cheaper than a Western Pleasure jacket: "The complete outfit costs about 1000 euro," Wolf Jage says.
Without a horse, however, the whole outfit is useless. "According to the rules, you can ride any horse," Wolf Jage explains. "But small, athletic horses that are fierce and not spooky have proven themselves. Retired polo horses are actually really sought-after on the market – because of their good nerves they make great horses for people who want to go in the woods and just ride for fun."
Ines has some of those fast and athletic horses: "I have three high-performing thoroughbreds of my own in the line-up. They also play with our polo professional Santiago de Estrada called Chino in important final games or so-called high goal matches – the highest level of difficulty and speed in polo," Ines explains. "All three were hand-picked and further trained for the professional sport by Chino himself, before I bought them." Contrary to the Quarter Horses Ines owns who come from the famous Goodbars Glamourgirl bloodline, breeding isn't as important with the polo horses: "They don't have any particularly special background or famous breeding line, but simply got chosen due to their extraordinary affinity and high potential to perform in polo."
Ines' favorite is a sorrel mare called Laurel: "My favourite polo pony is a sorrel mare named Laurel. She is an extremely timid but electric horse who develops her confidence and fight in a game solely from the player on her back. I was fascinated by her at first sight and since then we've had many unforgettable polo moments together. And after five years with us, she finally started to trust people again. However, Laurel still has her 'crazy days' once in a while where she races across the field like a fury gone wild! By now I got used to this feature and open her up to run – if game tactics and safety allow for it – because after 90 seconds she is usually back with me 100 percent. Pimienta and Julia are much easier to ride in comparison and utter fighting machines on the pitch. Unfortunately, they also seem much less interested in human beings in general."
Speed is the main difference between polo and the allround horses: "When I loped my Pleasure horse Bam Bam for the first time at the Summer Show last year, it felt to me like we were barely moving forward. For reference, every other allround rider in the arena would have called this an – overly – extended lope for a Hunter under saddle class…"
The switch from polo to Pleasure is huge, Ines says: "The aids for polo are way more extreme, for example you keep a constant connection to the horse's mouth, use your body weight strongly and stand up in the stirrups most of the time for agility rather than sitting back straight in the saddle. I am probably most likely to succeed at Pleasure during the winter season when my polo ponies are turned out for their well-deserved holiday in the field and I can take lessons with Nina Leiner regularly. In addition, Quarter Horses are completely different in every-day handling and behaviour; our Glamourgirls in particular have an extremely friendly character and are completely relaxed around people – in contrast to my rather explosive thoroughbreds. "
When starting with the allround events, Ines could use some of her polo knowledge: "I mostly use my polo experience in the allround sport when it comes to general horse health, equipment and organization. I also had a chance to gain deep insights into horse training through polo and I am truly grateful that we have found an extremely competent and reliable partner for our Quarter Horses in Nina Leiner."
Despite all differences, both sports also have a lot in common as Ines points out: "Many characteristics are important basics for both Western Riding and polo, for example the quality and health of the horse, the seamless interactions between a horse and its rider, and the required precision – in polo probably more with regards to the hitting technique than riding."
In the end, it is the passion that counts: "What matters most in both sports in the end is to be passionate about it and do your best – our horses will give it their all anyways," Ines says. "Of course, I am also delighted when we win, but for me polo and Western Riding are first and foremost an ideal balance for work. I enjoy every moment there with my family and friends, whether I sit in the saddle myself or share the excitement behind the scenes."
Polo is a fascinating sport, not only for everyone who watches it for the first time, but for experienced players like Ines as well: "I am truly passionate about polo because of the incredible speed of the game, phenomenal team spirit and the stunning polo ponies themselves of course! Once the ball gets rolled-in, there is no time to think, just the unity with your pony and the will to score goals or keep your opponent in check." It gets rough at times, but that doesn't bother Ines – for a good reason: "It's certainly a rough game, but after a match everyone gets together at the club house to discuss victories and defeats of the day. Polo matches in England are often also quite a spectacle and it is nice to take part in this famous tradition. "
Ines' love for both the polo and the allround sport is manifested in the name of her polo team: It is called Glamourgirls United. "Polo in the UK is still pretty limited this season due to the pandemic, but we start seeing conditions improving and hopefully we can play polo over here again soon! I am also looking forward to competing internationally with my favourite lady players Regina Jage and Silke Kavka as "Glamourgirls United" for the Munich Polo Center!"
Schnell und spannend: Polo
Dass Westernreiter sich auch ab und an im Springsattel versuchen oder jemand umsteigt auf Dressur, das ist heutzutage zwar immer noch eher selten, kommt aber vor. Im folgenden Artikel geht es jedoch um eine Sparte des Reitsports, die seltener mit dem Westernsport in Berührung kommt: Polo. Ines Grund ist Besitzerin der Goodbars Glamourgirl-Nachkommen Glamourgirl, Best Of Glamourgirl und Loves To Lope. Ines ist aber auch leidenschaftliche Polospielerin und hat uns zusammen mit ihrem Bekannten Wolf Jage einen Überblick über diesen faszinierenden und vor allem schnellen Sport gegeben.
Polo gibt es schon deutlich länger als den Westernsport in Deutschland: "1898 wurde der erste Polo Club in Deutschland in Hamburg gegründet. Danach folgten im Zeitraum von 1904 bis 1909 Clubgründungen in Hannover, Berlin, Bremen, Frankfurt und München", erklärt Wolf Jage. Er ist Inhaber des Munich Polo Center, das auf dem Gelände der Münchner Galopprennbahn liegt. "Zur Olympiade 1936 in Berlin war Polo zum letzten Mal Olympische Disziplin. Auf dem Maifeld – neben dem Olympiastadion – wurde damals das größte Polostadion der Welt errichtet. Bis zu 60 000 Besucher konnten das Pologeschehen verfolgen. Der Zweite Weltkrieg unterbrach die deutsche Pologeschichte. Ende der 50er Jahre gründeten sich die meisten Poloclubs wieder neu und es entstanden neue Clubs in fast allen – damals westlichen – Bundesländern neue Clubs." Laut Wolf Jage gibt es heute 35 Polo Clubs, die im Deutschen Polo Verband organisiert sind, dazu kommen private Poloanlagen. "Zum heutigen Zeitpunkt gibt es circa 600 mehr oder weniger aktive Polospieler in Deutschland", schließt Wolf Jage diesen Überblick ab.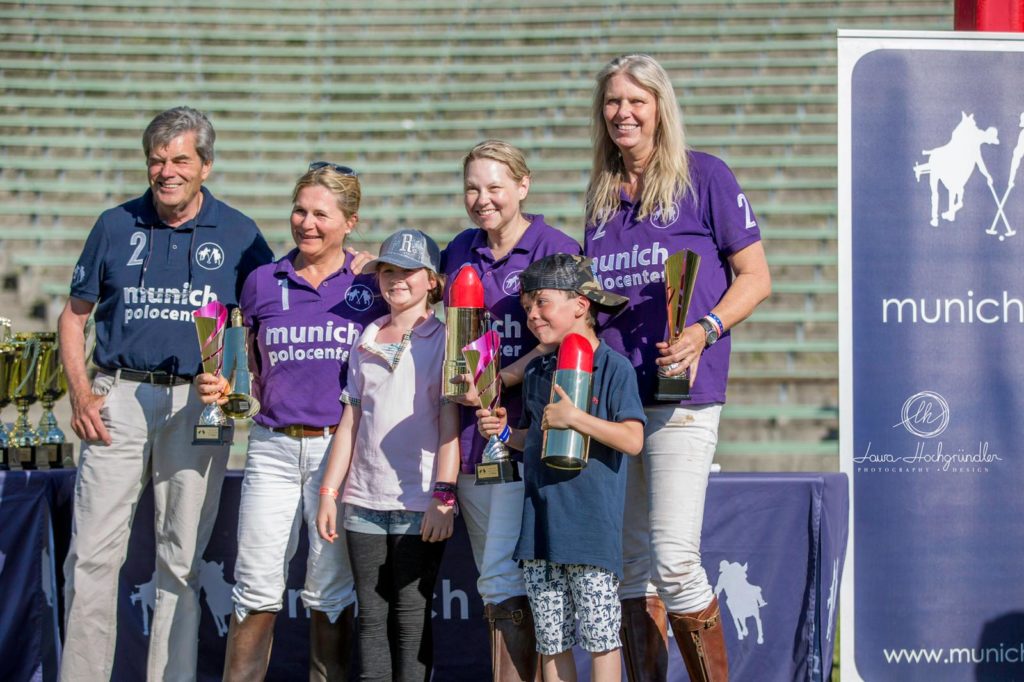 Während in anderen Reitsportarten nur sporadisch in Teams geritten wird, ist Polo eine richtige Mannschaftssportart. In jedem Team sind vier Spieler und – das hebt Wolf Jage hervor: "Polo ist eine der wenigen Sportarten in denen gemischte Teams spielen." Hier, wie in den meisten Sportarten, gibt es unterschiedliche Leistungsklassen: "Gespielt wird in Deutschland in drei Spielklassen: Low, Medium und High Goal – je nach Teamhandicap", erklärt Wolf Jage. Das Handicap stuft den individuellen Spieler ein: "Jeder Spieler hat ein individuelles Handicap, das zweimal jährlich von einer Kommission des Deutschen Polo Verbands vergeben wird. Die vier Einzelhandicaps ergeben in Addition das Mannschaftshandicap. Anfänger starten mit dem HCP -2. Die besten Spieler der Welt tragen das Handicap +10. Die besten Spieler in Deutschland haben HCP +4."
Ines spielt aktuell im Medium Goal – allerdings nicht in Deutschland, sondern in London, wo sie diesen Sport auch kennen und lieben lernte: "Den Polosport habe ich über einen Kollegen in London entdeckt, der mich zu einem Polo-Schnuppertag eingeladen hatte, nur leider hatte ich damals wenig Zeit für Hobbys", erinnert sich Ines. "Voller Energie begann somit erst einige Jahre später im Munich Polo Center bei Polo-Koryphäe und Trainer Wolf Jage der lange, steinige Weg mit unzähligen Stunden, Schlagtraining und Spieltheorie, aber auch ersten Erfolgen! Wolf hat immer großen Wert auf fundierte Trainingsmethoden gelegt, und auch häufig andere renommierte Trainer wie Rege Ludwig aus den USA oder Profi-Spieler wie Tom Winter hinzugezogen. Ich hätte mir keinen besseren Start wünschen können!"
Reiten und dabei noch einen Ball schlagen, Tore machen – das klingt für Anfänger zunächst wahnsinnig herausfordernd. Wolf Jage betont jedoch, dass ein guter Reiter nach einigen Monaten Training bereits an einem Trainingsspiel teilnehmen kann. Aber: "Für Turnierteilnahmen sind Schlagtechnik und vertiefte Regelkenntnisse sowie Spielverständnis, also Taktik, erforderlich. Ein Pololspiel erfordert mehr, als nur einen Ball gut zu treffen."
Es erfordert Training und harte Arbeit, ein guter Polospieler zu werden – so ging es auch Ines: "Nach meiner Polo-Grundausbildung bei Wolf Jage in München fing ich in 2011 mit dem Mannschaftstraining im Londoner Ham Polo Club an. Hier habe ich stetig an meiner Reit- und Schlagtechnik gearbeitet, um möglichst schnell mein Polo-Handicap von -2 zu verbessern und an Turnieren teilnehmen zu können." Treue Partner waren Ines dabei ihre ersten Poloponys, die argentinischen Criollos Petisa und Peluche: "Sie waren hierbei hervorragende Lehrmeister und dürfen inzwischen ihren Ruhestand genießen." Für Ines ging es erfolgreich weiter: "In 2012 konnte ich bereits in den Women Nationals starten und lernte im darauffolgenden Jahr im Trainingslager in Argentinien den Polo-Profi Chino kennen. Chino hat das Polo-Handicap 6 und ist der Cousin des weltbesten Polospielers Adolfo Cambiaso, der das Handicap 10 hat. Dank Chinos Trainingsmethoden und guter Pferde wurde ich dann vor vier Jahren im Guards Polo Club, einer der nur vier "High Goal" Vereine Englands, aufgenommen und spiele seither als Patron (Non-Pro) auch im englischen "Medium Goal", ein Schwierigkeitsgrad entsprechend dem Konzept der deutschen Zweiten Fußball-Bundesliga."
Polo ist ein sehr internationaler Sport, was auch Wolf Jage sehr schätzt: "Für mich waren die internationalen Kontakte zu anderen Clubs immer sehr interessant und haben unvergessliche Momente gebracht. Ich habe in über 20 Ländern der Welt Polo gespielt und es sind viele Freundschaften entstanden. Um nur einige Stationen zu nennen: Kasachstan, Brunei, Singapur, Mongolei, Kenia, Argentinien, Jamaica und natürlich alle europäischen Nachbarländer, in den Polo gespielt wird. "
Gerade im Vergleich zum doch etwas gesetzten Allroundsport wirkt Polo für Laien doch zunächst einmal sehr spektakulär und etwas "rauer". Wie in jedem Mannschaftssport gibt es auch hier Fouls, wenn es wilder zugeht. Trotzdem betont Wolf Jage: "Die Sicherheit der Pferde steht an erster Stelle. Der Schiedsrichter muss ein Foul pfeifen, bevor es passiert." Um das Spiel zu verstehen, sollte man ein Grundprinzip kennen: "Die wichtigste Regel ist das Wegerecht: Der Spieler, der der Balllinie in Galopp Geschwindigkeit folgt und den Ball auf der rechten Seite des Pferdes schlagen will, hat das Wegerecht. Vor ihm darf kein anderer Spieler die Balllinie kreuzen, wenn er ihn dadurch gefährdet oder behindert."
Um sich zu schützen, tragen manche Spieler ein Faceguard, erklärt Wolf Jage. Außerdem muss jeder Spieler einen Drei-Punkt-Helm tragen. "Reitstiefel und Knieschoner gehören dazu. Und traditionell wird in weißen Hosen und Poloshirt gespielt." Wer Polo spielt, kommt letztlich aber doch günstiger weg als eine Reiterin, die ein teures Western Pleasure Jacket kauft, denn: "Ein komplettes Outfit kostet etwa 1000 Euro", sagt Wolf Jage.
Wer das komplette Outfit hat, kommt allerdings ohne das passende Pferd trotzdem nicht weit. "Vom Reglement her dürfen alle Pferde Polo spielen", erklärt Wolf Jage. "Durchgesetzt haben sich Pferde mit einem Stockmaß von unter 1,60 Meter. Sie müssen schnell und wendig sein, dürfen nicht schreckhaft sein und müssen gute Nerven haben. Deshalb sind Polopferde nach ihrer Polokarriere als sicheres Pferd bei Freizeitreitern sehr begehrt."
Auch Ines hat solche schnellen, wendigen Pferde: "Ich habe drei leistungsstarke Vollblüter, die fest in meinem Line-Up verankert sind, aber auch mit unserem Polo-Profi Santiago de Estrada, genannt Chino, bei den wichtigen Entscheidungsspielen oder im "High Goal", dem schnellsten und schwierigsten Level im Polosport, zum Einsatz kommen. Alle drei Pferde wurden von Chino selbst entdeckt und für den Profi-Sport weiter ausgebildet, bevor ich sie übernommen habe." Ines Allroundpferde zählen vor allem durch ihre Mutter Goodbars Glamourgirl in Sachen Abstammung zu den Top-Pferden Europas – im Polosport ist das allerdings nicht so wichtig. Ines sagt über ihre Polopferde: "Sie haben alle keine besondere Abstammung, sondern sind lediglich aufgrund ihrer Affinität und Potenzial für den Sport bei uns gelandet."
Ines' Liebling ist die Fuchsstute Laurel: "Sie ist ein extrem ängstliches, aber energiegeladenes Pferd, das sein Selbstvertrauen im Spiel einzig aus dem Kampfgeist des jeweiligen Reiters entwickelt. Sie hat mich vom ersten Moment an fasziniert und mir viele unvergesslich tolle Polo-Momente geschenkt. Nach nunmehr fünf gemeinsamen Jahren ist sie inzwischen auch zutraulich geworden. Laurel hat jedoch noch immer gelegentlich ihre ,fünf Minuten' – dann rast sie wie eine wildgewordene Furie übers Spielfeld und ist nicht zu bremsen. Inzwischen habe ich mich daran gewöhnt und lasse ihr den Raum – sofern es Spieltaktik und Sicherheit zulassen – denn nach etwa 90 Sekunden ist sie dann meist wieder voll bei mir. Pimienta und Julia hingegen sind deutlich leichter zu reiten, aber im Spiel die reinsten Kampfmaschinen und haben an Menschen auch im täglichen Umgang eher wenig Interesse."
Die Geschwindigkeit ist sicher der größte Unterschied zwischen Ines Polo- und ihren Allroundpferden. "Als ich Bam Bam aka Glamourgirl an der Summer Show letztes Jahr zum ersten Mal geritten habe, dachte ich mir, wir kommen ja kaum vom Fleck im Galopp; wohlgemerkt – neutral betrachtet für alle Westernreiter auf dem Abreiteplatz – handelte es sich hierbei tatsächlich um einen verstärkten Hunter-Galopp, einen Extended Lope."
Sich von langsam und gesetzt auf schnell und treffsicher umzustellen, ist nicht einfach. "Die reiterliche Umstellung von Polo zu Pleasure ist schon sehr groß. Die Hilfengebung im Polo ist deutlich bestimmter – ständiger Kontakt zum Pferdemaul, extreme Gewichtsverlagerungen etc. – und man steht viel in den Steigbügeln, statt im Sattel zu sitzen. Am ehesten gelingt mir die Pleasure wohl im Winter, wenn ich regelmäßig bei Nina Leiner vor Ort sein kann und meine Polopferde in den wohlverdienten Ferien sind. Außerdem sind die Quarter Horses auch im Umgang völlig anders; gerade die Glamourgirls haben einen extrem menschenbezogenen, freundlichen Charakter und sind tiefenentspannt – im Gegensatz zu meinen explosiven Vollblütern."
Ines konnte aber bei ihrer neuen Leidenschaft, dem Allroundsport, durchaus vom Polo profitieren: "Im Allroundsport kann ich hauptsächlich allgemeine Erfahrungen, etwa zur Pferdegesundheit, Ausstattung und Organisation aus dem Polosport heranziehen. Zudem habe ich dort auch einen guten Einblick ins Pferdetraining erhalten und bin sehr froh, dass wir in Nina hier einen überaus kompetenten und zuverlässigen Partner für unsere Westernpferde gefunden haben."
Trotz aller Unterschiede sieht Ines auch Gemeinsamkeiten bei beiden Sportarten. "Viele Eigenschaften, wie die Qualität und Gesundheit des Pferdes, das reibungslose Zusammenspiel von Reiter und Pferd sowie die erforderliche Präzision – im Polo eher bei der Schlagtechnik als am Pferd – sind jedoch im Polo wie im Westernreiten wichtige Grundlagen." Auch für Wolf Jage macht die Zusammenarbeit von Pferd und Reiter einen wichtigen Aspekt dieser Sportart aus.
Und letzten Endes zählt die Leidenschaft, mit der man das Ganze betreibt. "In beiden Sportarten ist es letztlich entscheidend, mit Leidenschaft dabei zu sein und sein Bestes zu geben – die Pferde tun das ohnehin", betont Ines. "Natürlich freue ich mich, wenn wir dann auch gewinnen – aber Polo und Westernreiten sind für mich in erster Linie ein toller Ausgleich zur Arbeit und ich genieße hier jeden Moment mit der Familie und meinen Freunden, ob ich selbst im Sattel sitze oder hinter den Kulissen mitfiebere."
Alles in allem ist es faszinierend, was Pferd und Reiter auf dem Spielfeld leisten: "Am meisten faszinieren mich die Geschwindigkeit des Spiels, der Teamgeist und natürlich die Pferde im Polo-Sport", betont Ines. "Wenn der Ball eingerollt wird, gibt es keine Zeit zum Nachdenken, sondern nur noch die Einheit mit dem Pferd und den Willen Tore zu schießen, beziehungsweise den Gegner in Schach zu halten. Da geht es schon gut zur Sache, aber nach dem Spiel trifft man sich wieder gemeinsam im Clubhaus und diskutiert die Siege und Niederlagen des Tages. Zudem sind Polospiele in England auch oft ein gesellschaftliches Ereignis und es ist einfach toll, an dieser Tradition teilhaben zu können."
Um eine Verbindung zwischen ihre Polo-Leidenschaft und dem Westernsport herzustellen, hat Ines ihr momentanes Team "Glamourgirls United" genannt. Und mit diesem will sie auch in Zukunft wieder alles geben: "Dieses Jahr sind wir in England durch die Pandemie leider noch immer sehr stark eingeschränkt, aber langsam lockern sich die Auflagen und es kann wieder losgehen! Zudem hoffe ich sehr, dass ich weiterhin auch international mit Regina Jage und dem Ladies Team Glamourgirls United für das Munich Polo Center unterwegs sein darf."