As Lea Henzgen said in one of our latest interviews: Most talented European riders dream of competing at the US circuit one day. Competing at the World Show, no matter which one, is a big dream – one that has become true for 17-year-old Zoe Long from Germany. Zoe is originally from Mühlheim an der Ruhr and has participated at this year's ApHCG Youth World Show. "I have been riding horses my whole life, but started showing four years ago," Zoe told us. One beautiful aspect of her story is, that she is that successful without a horse of her own: "I have been showing my trainer's horses at EWU, ApHCG and PHCG shows." Zoe's trainer is the Deeb family from Germany.
So how did Zoe end up showing in the States? Anyhow, this is different from association to association and not always that easy. It is "easy" with the ApHCG, if you are talented enough: "To compete at the World Show, you have to send a written application to the German affiliate and then they appoint you as the German candidate," says Zoe whose dream has come true because of the Appaloosa Horse Club.
People from the States supported Zoe as well: "My US-trainer Linda Long organized a horse for me." Zoe was allowed to show Macho in Levi, a 11-year-old gelding, owned by Lora Marshall. And they were successful: The team ended up 7th in Showmanship, 5th in Horsemanship and 4th in the Trail. "I came to the show without any expectations, for me it was all about being a part of it and learning new things," Zoe told us. So, unsurprisingly, Zoe was close to tears during the award's presentation. "I could not believe being in the Top 10, being in the Top 5 – I had tears in my eyes, because it was unbelievable." Zoe also had a personal sense of achievement: "My personal success was that I stayed calm during the class – usually, I have been very nervous, even at smaller shows, but in this big arena, it all went away. It was so much fun! Being a part of it as a European was a big honour and it felt great, since I felt like being a good representative for Germany."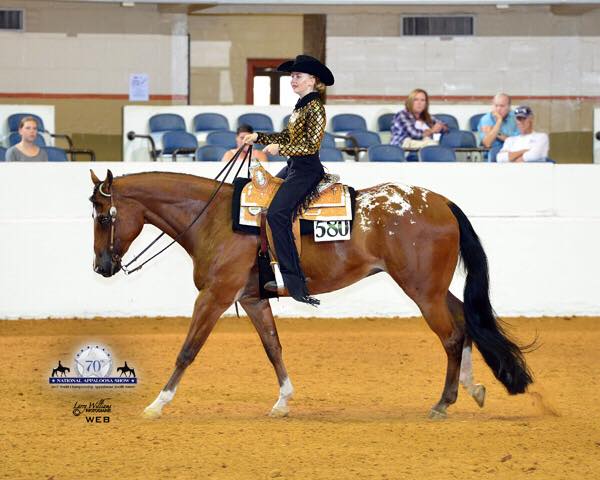 Back in Germany, Zoe's success continued: She became Reserve Champion Youth Pleasure at the German Paint Horse Championship. "I also plan to do some smaller EWU shows as well as the Dutch Championship of Appaloosas. I also want to thank my trainers, the Deeb family, who have made all of this possible, my parents and my trainer in the States, Linda Long!"
---
Wie Lea Henzgen in einem unserer letzten Interviews bemerkte: Vielen Europäern reicht der europäische Show Circuit irgendwann nicht mehr und sie suchen die Herausforderung in Übersee. Auf der World Show zu starten, egal welcher, das ist ein großer Traum – einer, der für die 17-jährige Zoe Long Wirklichkeit wurde. Zoe kommt aus Mühlheim an der Ruhr und nahm an der diesjährigen Youth World Show des ApHCG in Fort Worth teil. "Ich reite schon mein Leben lang, aber erst seit vier Jahren Turniere", erzählt Zoe. Ein schöner Aspekt an ihrer Geschichte ist, dass sie so erfolgreich ist, ohne ein eigenes Pferd zu besitzen: "Ich darf die Pferde meiner Trainer, der Familie Deeb, auf Turnieren des ApHCG, der EWU und des PHCG vorstellen."
Wie aber kam es dazu, dass Zoe in den Staaten mitreiten durfte? Immerhin ist dies von Verband zu Verband verschieden und nicht zwingend einfach. Beim ApHCG ist es jedoch "einfach", wenn man den deutschen Verband von seinem Talent überzeugen kann: "Um an der World Show teilnehmen zu können, muss man eine schriftliche Bewerbung an den deutschen Verband schicken und dieser schlägt einen dann als Kandidat für Deutschland vor", so Zoe, für die Appaloosa Horse Club einen lang gehegten Traum verwirklicht hat.
Nicht nur aus Deutschland, auch in den Staaten erfuhr Zoe viel Unterstützung: "Meine dortige Trainerin, Linda Long, hat ein Pferd für mich organisiert." Dieses Pferd, den 11-jährigen Wallach Macho In Levi, im Besitz von Lora Marshall, durfte Zoe dann auf der World Show vorstellen – mit Erfolg: Das Team wurde Siebte in Showmanship, Fünfte in Horsemanship und Vierte im Trail. "Ich bin völlig ohne Erwartungen auf Erfolg in die USA geflogen, mir ging es darum, dabei zu sein und viel zu lernen", erzählt Zoe bescheiden. Kein Wunder also, dass sie bei der Siegerehrung den Tränen nahe war: "Ich konnte es anfangs nicht fassen, in den Top 10 zu sein, dann in den Top 5 – mir standen die Tränen in den Augen, weil es einfach unglaublich war!" Auch den Vorsatz, mehr zu lernen, konnte Zoe durch ein persönliches Erfolgserlebnis verwirklichen: "Mein persönlich größter Erfolg war, dass ich in den Prüfungen die Nerven behalten habe, da ich sonst sogar auf kleinen Shows immer sehr aufgeregt war. Aber in der Riesenarena war alles wie weggeblasen. Es hat einfach nur total viel Spaß gemacht! Als Europäerin so gut dabei zu sein hat mich total geehrt und es hat sich einfach nur total toll angefühlt, da ich das Gefühl, hatte Deutschland gut zu repräsentieren."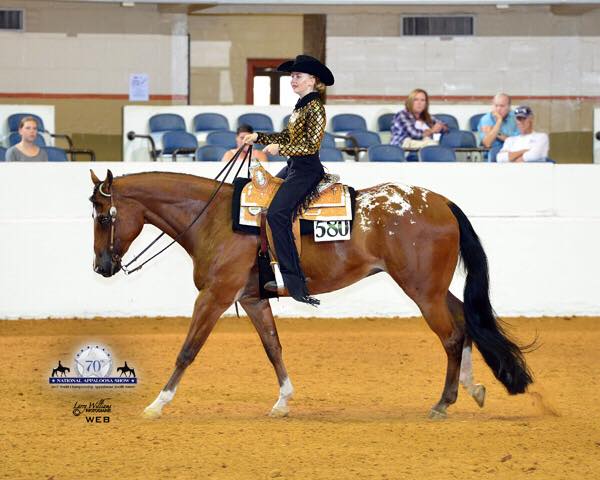 Zurück in Deutschland ging es gleich weiter mit Zoes Erfolgsserie: Auf der German Paint wurde sie unter anderem Vizemeister in Youth Pleasure. "Als nächstes stehen außerdem ein paar kleinere EWU Turniere und die Holländische Meisterschaft der Appaloosa auf dem Plan." Natürlich weiß Zoe, dass es für die ganzen Turniere ein großes Team braucht – wie sagen die Amerikaner so schön sagen "It takes a village": "Ich würde mich an dieser Stelle gerne noch einmal bei meinen Trainern, der Familie Deeb, bedanken, sie haben mir alles beigebracht und mich an diesen Punkt gebracht. Außerdem würde ich mich noch gerne bei meinen Eltern und meiner Trainerin aus Amerika, Linda Long, bedanken.