The horse show industry – while being a fun and exciting world on the one hand, it can turn into a quite intimidating field as well. Especially if you don't know of those unwritten rules.
Pick up a rule book and educate yourself – that's one piece of advice many trainers, professional horsemen and women as well as judges have given in articles and podcast episodes on The Showlife. And while it's a small challenge itself to understand and navigate through the rule book, understanding the unwritten rules on the circuit are even more challenging. In this article, I'd like to introduce you to some questions of style most people would agree on when it comes to show outfits for the Western classes. However, some of those things might be influenced by my personal taste, so it's nothing that's written in stone.
WEAR A SHAPED HAT
Yes, we have repeated this multiple times, but: Having a shaped hat is one key element of a neat look. It's really worth investing in a shape every now and then – depending on the quality of the hat and how much you use it. That definitely is money well spent, so spread the word!
CLEAN YOUR SHOES
Something that we mentioned in other articles as well but: Really – take care of your shoes! Not only because it will give you a neat overall impression, but also because boots can last a long time if taken care of correctly.
WATCH YOUR PANTS AND CHAPS
A mistake that many people make (including me): Make sure your pants have the right length. Try them on with your boots and slightly bend your knee. If they still have the appropriate length (i.e. covering the shaft of your boot), you can wear them. Applies to Chaps as well. They come in a size so that you have to pull them up when walking and pull them down when riding. They should still cover all of your boot when riding.
Also make sure that your pants match the base color of your outfit! (Yes, black is a always a good choice). It will give you a neat and harmonious look. If someone wears a pink pair of pants with a black jacket (to go with an extreme example) the legs will always look kind of "off".
The same goes for pants underneath chaps in Western Horsemanship: Ideally, you'll find a pair of pants that fits the color of your chaps. For any other Western classes, it is acceptable to wear blue jeans underneath black, tan, brown or grey chaps.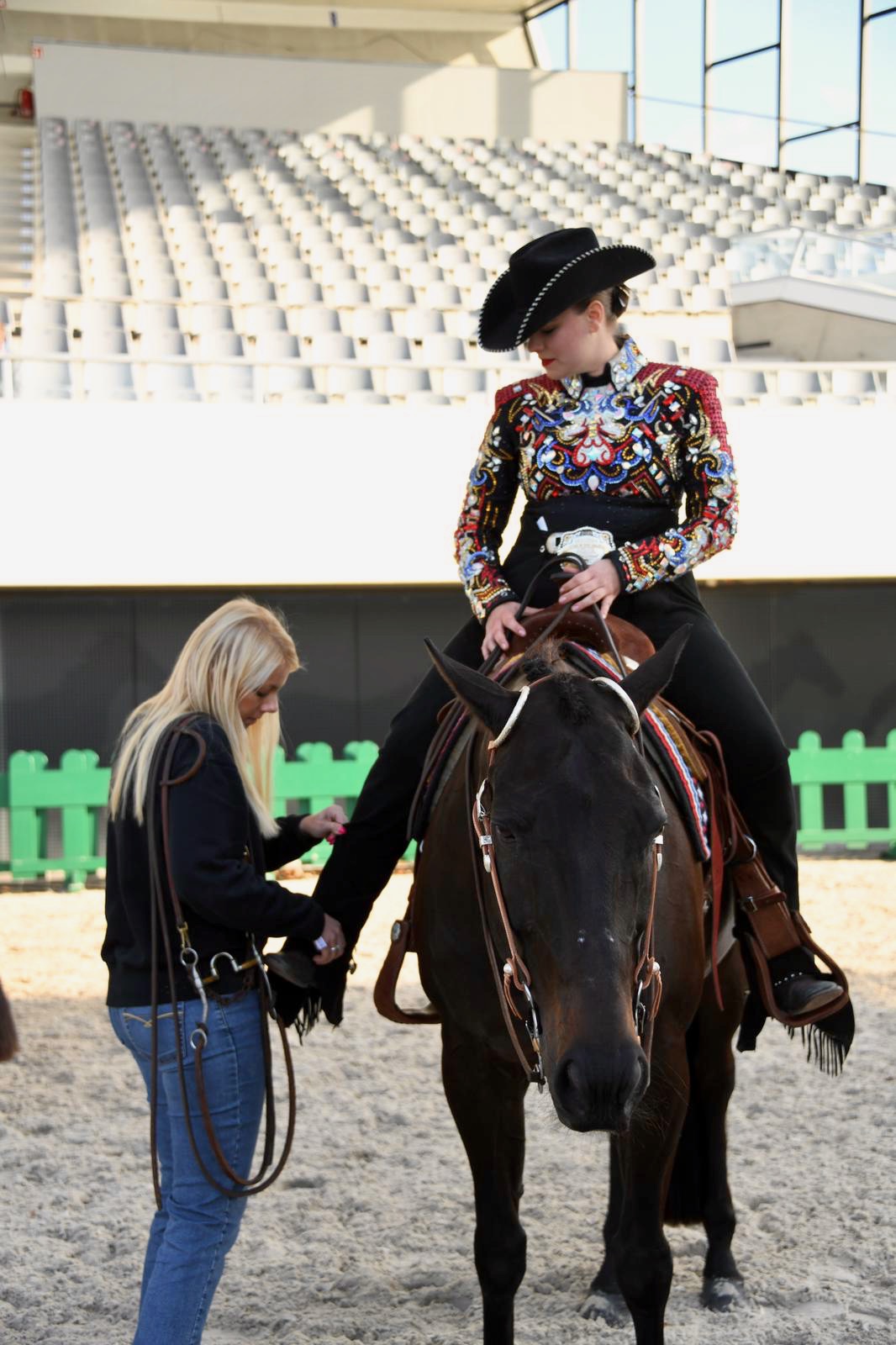 DON'T GO FOR THE BLING
Yes, I know, it's tempting and confusing: You see pictures from a horse show and see many women wearing those sparkling outfits and they look gorgeous in it. And you want to look the same. Unfortunately, you got a little heart attack after looking at the prices and realized that you cannot afford such a piece (or maybe you aren't even sure about the whole horse show thing and don't want to invest in such a high-quality piece). So you buy a cheaper version of the outfit full of rhinestones. Been there, done that and I advise you: don't! I know that you might get the feeling that it's "what you have to wear", maybe because people told you so, but frankly, that's bullsh*t. Excuse my language. Go for a well-fitted shirt in a color you like (preferably one that's easy to combine) that might cost you a little over 100 €. Go for black Showmanship pants and a neat blazer to fit that shirt instead of buying a tacky, saggy, cheap outfit. Trust me: If you do the latter, chances are that people might not recognize you as a newcomer on first glance.
GO EASY ON THE COLOR
This is a very personal opinion I have, but: Colors such as bright pink, purple, light red or even yellow are colors for Youth riders or maybe Amateur riders, depending on the type – especially when it comes to chaps. I feel like Open riders are better off with neutral colors, mainly because it's easier to combine them and you don't have to change your outfit every so often if you show multiple horses in a short time.
TUCK IN THAT SHIRT
No, that's not officially stated in the rule book, but definitely an unwritten rule: Wear a shirt you can tuck in for Western Horsemanship. While jackets are fine in Western Pleasure, Trail and Western Riding, a tucked in shirt or Horsemanship outfit is a standard these days – mainly because the class is highly based on the rider's body position and a look like that makes it easier for the judges to evaluate that. Oh, and wear a belt if you can.
On the other hand, that also means: No vests in Western Horsemanship or Showmanship. That is a point that some might disagree on – but I feel like there is a reason on why vests are mainly used in Western Pleasure, Trail and Western Riding. You cannot tuck in a vest – contrary to a bolero – so using it for a Western Horsemanship class doesn't make sense because of reasons mentioned beforehand. I also feel like a classic vest–shirt–combo doesn't add to the neat look you'd like to see in Showmanship. There are, however, outfits that are designed to be shirt/vest/jacket– combos that might work in the Showmanship.
WEAR YOUR HAIR IN A BUN
For classes such as Showmanship and Western Horsemanship a neat bun is appropriate – mainly to create a neat picture without hair flying around. For classes such as Western Riding, Trail, Western Pleasure or any other Western Class a ponytail is acceptable. Women with shorter hair have to get a little bit creative – but anything will do as long as it gives a clean look.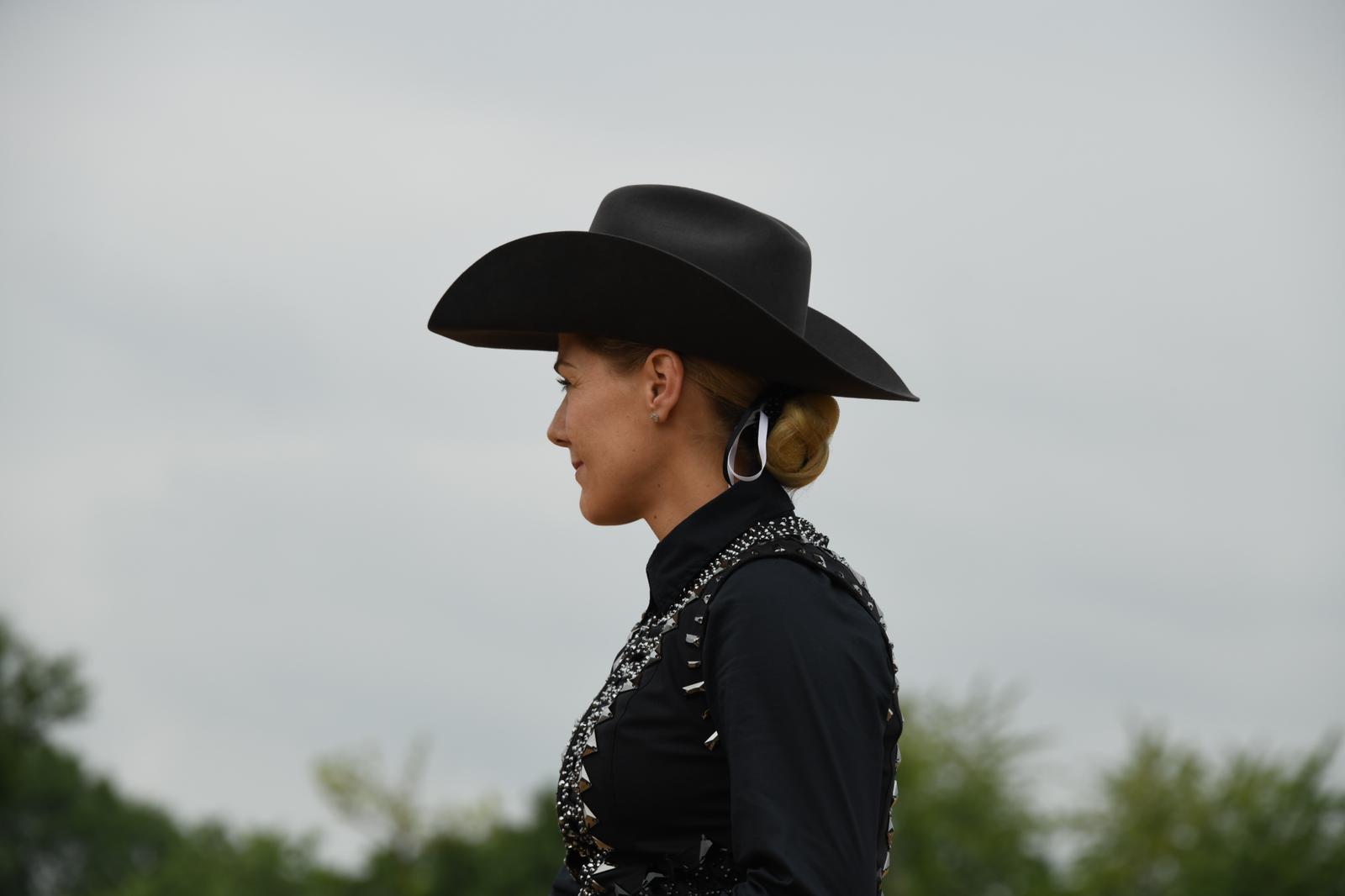 ---
Die Turnierwelt – so schön und aufregend und doch manchmal so verwirrend. Vor allem, wenn man die "ungeschriebenen Gesetze" nicht kennt.
Nehmt euch ein Regelbuch in die Hand und informiert euch vorab! Diesen Rat haben schon viele Trainerinnen, Professional Horsemen und -women sowie Richter hier auf The Showlife gegeben. Und während das Regelbuch selbst schon für Neulinge manchmal ein Buch mit sieben Siegeln sein kann, sind die ungeschriebenen Gesetze der Turnierszene oft noch viel schwieriger zu verstehen. In diesem Artikel will ich euch ein paar Outfit-"Regeln" vorstellen, die in keinem Regelbuch stehen, auf die sich die meisten Menschen in der Szene aber einigen können. Trotzdem sind sie natürlich auch ein wenig von meinem eigenen Geschmack beeinflusst und somit nicht in Stein gemeißelt.
LASST DEN HUT SHAPEN
Das haben wir schon so oft in Artikel geschrieben, aber es schadet nicht, das noch einmal zu wiederholen: Ein gut geshapter Hut ist wirklich ausschlaggebend für einen ordentlichen Look und es lohnt sich definitiv, in ein "Shaping" zu investieren. Wie oft das nötig ist, hängt von der Qualität der Huts ab und wie, beziehungsweise wie oft, er genutzt wird. Auf jeden Fall ist es gut investiertes Geld, in einen ordentlichen Hut und "Shaping" zu investieren.
TRAGT SAUBERE SCHUHE
Auch das wurde schon mehrfach erwähnt, aber hier noch einmal: Achtet darauf, dass eure Schuhe sauber sind. Erstens trägt es deutlich zu einem ordentlichen Look bei, vor allem in der Showmanship und zweitens ist Schuhpflege ohnehin sinnvoll, da solche Boots dann wirklich gut über Jahre halten können.
ACHTET AUF DIE HOSEN UND CHAPS
Ein Fehler, den viele machen (mich eingeschlossen): Probiert potenzielle Hosen für die Showmanship mit Boots an und beugt eure Knie. Wenn die Hose dann noch lang genug ist und keine "Hochwasser"-Situation entsteht, passt sie. Das gilt auch für Chaps: Probiert sie an und achtet darauf, dass sie auch mit gebeugtem Knie lang genug sind. Idealerweise müsst ihr sie zum Laufen hochkrempeln – dann haben sie meist die richtige Länge, wenn ihr sie herunterkrempelt, sobald ihr im Sattel sitzt.
Achtet außerdem darauf, dass eure Showmanship-Hosen den Basis-Farbton eurer Showmanship-Jacke aufgreifen (schwarz ist immer eine gute Wahl). Damit kreiert ihr einen harmonischen und ordentlichen Look. Ein extremes Beispiel: Tragt ihr etwa eine pinke Hose zu einem schwarzen Outfit, wirkt es immer ein wenig so, als würden die Beine nicht zum Körper gehören.
Das gilt auch für die Hosen unter den Chaps in der Western Horsemanship: Der Farbton der Hose sollte dem der Chaps entsprechen. Für andere Western-Klassen sind Blue Jeans unter schwarzen, grauen, braunen oder beigen Chaps auch okay.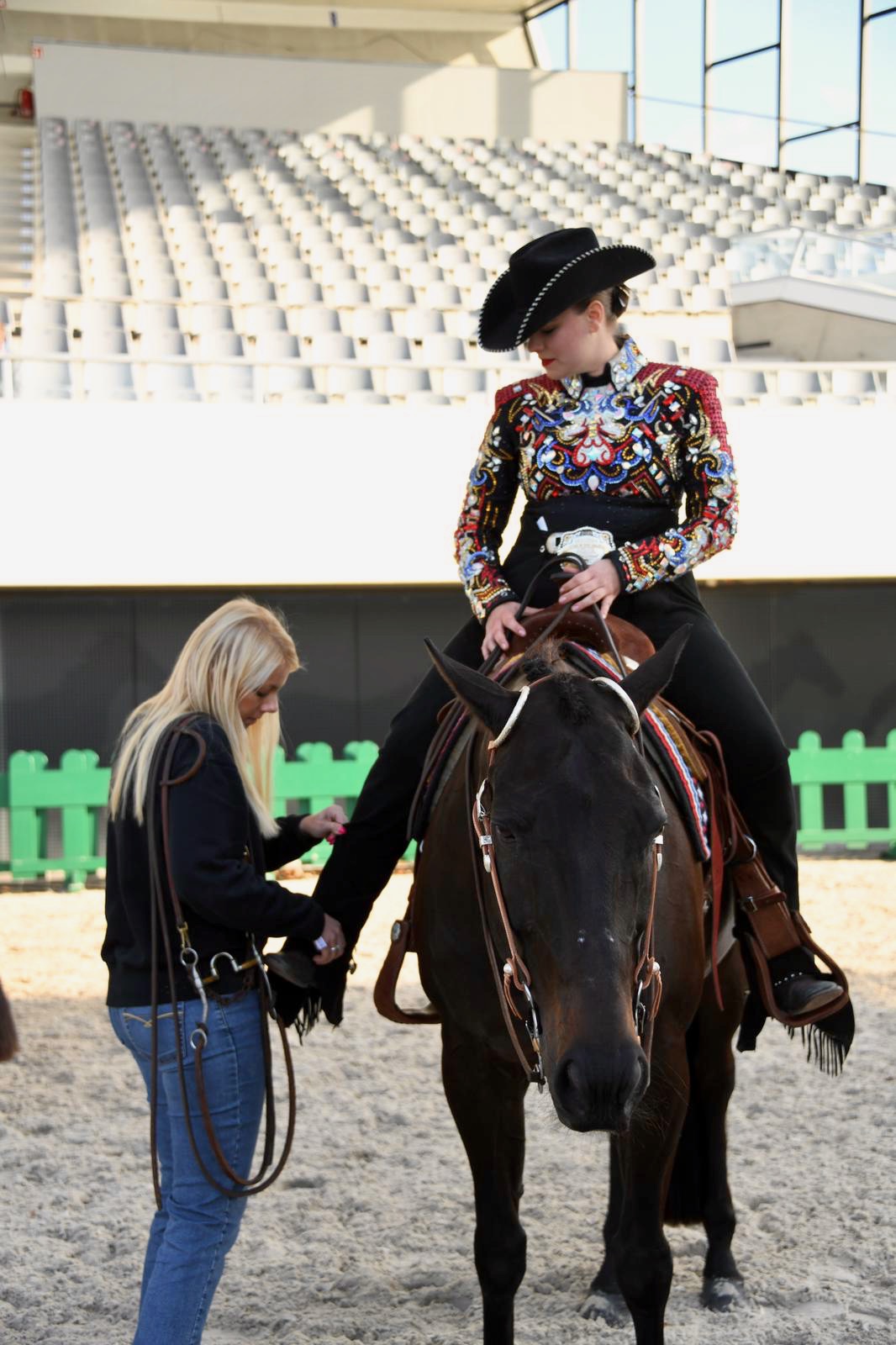 BITTE KEIN BILLIG-BLING
Jetzt kommt der unangenehme Punkt, der mir aber wichtig ist, da ich mich früher auch habe vereinnahmen lassen. Es hieß immer: Das Outfit muss glitzern. Klang logisch, denn auf den Fotos der Champions trugen auch alle tolle, glitzernde Jackets. Die waren aber sehr, sehr weit über dem Budget. Also habe ich etwas genommen, das ich mir leisten konnte, Hauptsache, es hatte irgendwelche (billigen) Steine drauf. Dass das Ganze saß wie ein Sack und der Look weit entfernt von "neat" war, war mir damals nicht klar. Heute weiß ich: Mit einer schlichten, aber gut sitzenden Bluse wäre ich besser gefahren. Und das würde ich auch allen Neulingen empfehlen: Es gibt wirklich schöne Blusen, die maximal etwas über 100 Euro kosten, aber auch Blusen aus ganz normalen Textilgeschäften funktionieren super, auch wenn man damit vielleicht einmal zum Schneider gehen muss. Auch für die Showmanship ist ein klassischer schwarzer Anzug meist die sinnvollere Alternative: sieht gut aus, das Preis-Leistungs-Verhältnis stimmt und man kann das Ganze einfach wiederverkaufen. Wenn man dann irgendwann merkt, dass man wirklich langfristig showen möchte, kann man in ein teureres Outfit investieren.
Für die ersten Male ist ein klassischer Look aus gut sitzenden Chaps, Bluse und Hut aber die beste Wahl, denn: So wirkt man ordentlich und auch nicht auf den ersten Blick wie ein Neuling.
VORSICHT MIT FARBEN
Ebenfalls eher ein persönlicher Punkt, aber: Grelle Farben wie pink, lila, helleres rot oder gelb sind eher für Youth- und Amateur-Klassen und weniger für die Open-Division – vor allem, wenn es um Chaps geht. Neutrale Farben wie schwarz, grau, beige oder dunkelbraun sind für (Newcomer)-Trainer auch aus praktischen Gründen die bessere Wahl – schließlich reitet man eventuell doch mehrere Pferde in einer Klasse und ist so flexibler
BITTE REINSTECKEN
Auch das steht nicht offiziell im Regelbuch, aber es ist definitiv ein ungeschriebenes Gesetz: Was man in der Western Horsemanship trägt, sollte man in die Hose stecken. Jackets sind ideal für Western Pleasure, Trail oder Western Riding, aber für Western Horsemanship solltet ihr eher auf eine Bluse, ein Horsemanship-Shirt oder ein Shirt mit Bolero zurückgreifen. Hintergrund ist, dass die Richterinnen und Richter in dieser Klasse den Sitz beurteilen und das geht einfach besser, wenn man etwas trägt, das in die Hose gesteckt wird und Chaps darüber sitzen. Idealerweise tragt ihr dazu einen passenden Gürtel.
Für mich gilt außerdem: keine Westen in Showmanship oder Western Horsemanship. Für die Western Horsemanship sind Westen aus dem oben genannten Grund nicht ideal und auch in der Showmanship tragen sie meiner Meinung nach nicht zu einem ordentlichen Look bei – da gehen die Meinungen aber auseinander. Es gibt Designerinnen, die Kombinationen aus Weste und Horsemanship-Oberteil anbieten, die dann gemeinsam eine Jacke ergeben – solche Kombis kann man auch in der Showmanship tragen.
TRAGT EINEN DUTT
Wer lange Haare hat, sollte diese für Western Horsemanship und Showmanship zu einem ordentlichen (und da setze ich ein dickes Ausrufezeichen hin!) Dutt zusammenbinden. Für diese Klassen, in denen ein ordentlicher Look erforderlich ist, lenken herumfliegende Haare von einem ordentlichen Gesamtbild ab. Für andere Western-Klassen ist ein Pferdeschwanz in Ordnung, allerdings sollte man hier auch darauf achten, dass vorne keine Strähnen im Gesicht hängen – allein schon, weil es beim Reiten stört. Frauen mit kürzeren Haaren oder Bob-Frisuren müssen etwas kreativer werden: Hier kann man beispielsweise die Haare mit Klammern so wegstecken, dass nichts herumfliegt und das Gesamtbild trotzdem ordentlich aussieht.