Trail, Western Pleasure, Hunter Under Saddle – these three events are among the most popular in the European all around industry. More and more specialized horses are raised or imported for these events. An event that has numerous entries at shows as well is halter. But – in contrary to the US – there is not even a smidge of a halter industry in Europe. We have talked to Günter Fischer and his daughter Leonie whose family is among the very few in Europe that have imported real halter horses from the US.
Wincredible Ella and Centrisity – to anyone who is firm with American Quarter Horse bloodlines it must be clear that these mares are not all round or hunter bred. These two mares that have been imported by the Fischer family (BBQH) are by two of the most successful US halter stallions, Wincredible and CK Kid, who are both Halter World Champions. In the US these two mares would probably attract attention because of their excellent breeding, in Europe they did so because they were pure halter horses. But why buy such horses, if there is no halter market in Europe? "Since the modern performance Quarter Horses were drifting apart from the prototype of a Quarter Horse, we decided to import two halter mares that could go into breeding after their show career", Günter Fischer tells us.
No sooner said than done – Wincredible Ella is now the proud mother of three. All of the foals are by all around performance stallions, namely Only Invitational and Disavowed. The babies out of these crosses are according to Günter Fischer "typical representatives of the American Quarter Horse, good movers and doing excellent in halter classes."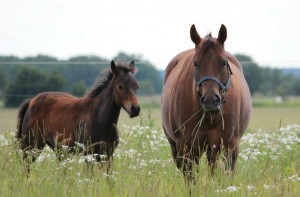 Wincredible Ella with one of her babies, picture: private
Since this sounds really good, one starts to wonder why the Fischer family is the only one to cross halter mares with good conformation to successful performance stallions. "I think this is partly due to the fact that people in the US are willing to buy one horse for one event, no matter if that is halter, western pleasure or hunter. Europeans hardly do that," Günter Fischer's daughter Leonie speculates. But if there are no halter horses why are these classes often so big? "Many people just bring their performance horses to the show and since they are there anyway they are doing the halter as well", Günter Fischer states.
Portrait of Centrisity whose head shows the typical QH features: tapered with small ears; picture: private
Another factor why there are no specialized halter horses in the halter classes, but mainly allrounders as Leonie observed, is that there are still many prejudices about the US halter industry buzzing around in Europe. Leonie assumes that this is partly due to the fact that most people are not really familiar with the halter industry: "US halter trainers have a really bad reputation in Europe, because Europeans regard the halter horses too fat or unnatural. There might be a smidge of truth in this, because most things in the US are a bit more extreme than in Europe, but these horses definitely have a good life – better than some allrounders!" Getting a halter horse ready for the show – the so-called fitting – is more work than it seems: "You need to know a lot about feed, supplements, ingredients and training possibilities," Leonie explains. "Everything has to be individualized for the respective horse. You need to know how to build up muscles in the right place in order to improve possible weaknesses in the horse's conformation."
The fact that halter horses are usually not ridden, does not mean they just stand around in their stalls and eat: "Our halter mares are turned out in the paddock and the pasture just as all our other horses and they get ponied regularly," Günter Fischer states. "We put their health first!" Another highly debated point about halter horses are genetic defects: "We made sure that both of our mares were free of any genetic defects," Günter Fischer says.
Leonie Fischer & Wincredible Ella, picture: Art & Light
Walk in, present your horse, leave – at first glance doing a halter class might seem boring especially to laymen. But as any other class, halter requires a lot of preparation: "It is not only the feeding and getting your horse fitted, but your own training as well. You need to know how to present your horse in the best possible way!" Leonie who has shown Designed By Royal Te at the 2009 AQHYA World Show knows what she is talking about: "Once you have entered the arena it is anything but boring! You can really feel a certain electricity in the air and it is so much fun to stand next to the horse that you have prepared for a long time and to show the judge that your horse is the prettiest in the arena!"
Leonie Fischer & Designed By Royal Te at the 2009 AQHYA Youth World Show; picture: private
The last thing some people criticize about halter horses is that they are not the best-minded horses – a prejudice the Fischer family can definitely not agree on: "Both our mares are really friendly, calm horses that love people and are easy to handle for amateurs!" And not only amateurs, but youth competitors as well. During her youth career Leonie was European and Int. DQHA Champion with Centrisity and was awarded a Youth Superior title in Halter.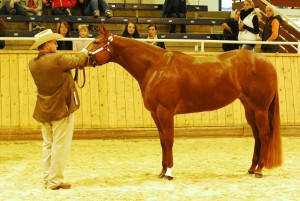 Günter Fischer & Centrisity, picture: private
In 2012 Centrisity has won a European Champion and Int. DQHA Champion title in Youth, Open and Amateur Halter. Furthermore she has won 171 Grand Champion titles in total and is a three time European Champion in each division Youth, Amateur and Open as well as multiple Int. DQHA Champion. Wincredible Ella is in no way inferior to Centrisity and has amassed six European Champion titles and four Int. DQHA Champion titles in only to years of showing. She has passed on her talent to her progeny: Oh What A Man, Attentioninthebarn and Love Me Like You Do are multiple European Champions, Int. DQHA Champions, Futurity Champions, Highpoint Champions and Grand Champions and are making their new owners very happy.
To the Fischer family showing halter is a family affair: pictured here is Britta Fischer with Centrisity; picture: private
To sum it up: Despite all prejudices the Fischer family's success with halter horses has shown that these horses are as good-minded or not as any other Quarter Horse, that they live a happy life and get turned out regularly and that they can stamp their babies really well. With respect to showing halter is as fun as any other class: Showing is not about being as spectacular as possible in the pen, but about the moment when you can show off the results of long-time preparation! (Same could be argued for western pleasure…)
GERMAN
Trail, Western Pleasure, Hunter under Saddle – diese drei Disziplinen zählen zu den beliebtesten in der europäischen Allround Szene. Immer mehr spezialisierte Pferde werden für diese Disziplinen gezüchtet oder importiert. Eine weitere Klasse mit vielen Startern ist oftmals die Halter. Aber – im Gegensatz zur US-Szene – gibt es in Europa nicht einmal den Ansatz einer florierenden Halterszene. Günter Fischer, dessen Familie zu den Wenigen zählt, die richtige Halterpferde importiert haben, und seine Tochter Leonie haben uns im Interview ihre Meinung zu diesem Thema gesagt.
Wincredible Ella und Centrisity – jedem, der ein bisschen firm in Quarter Horse Blutlinien ist, weiß, dass diese Pferde dem Namen nach eher nicht allround- oder hunter-gezogen sind. Beide Stuten wurden von der Familie Fischer (BBQH) importiert und sind Nachkommen zweier World Champion Halter Hengste, nämlich Wincredible und CK Kid. In den USA würden diese Stuten wegen ihrer exzellenten Abstammung auffallen, in Europa ist dies in erster Linie der Fall, weil sie reine Halterpferde sind. Aber warum kauft man sich solche Pferde, wenn in Europa eigentlich kein Markt dafür vorhanden ist? "Da die modernen Performancepferde vom Urtyp des Quarter Horses mittlerweile stark abweichen, haben wir uns entschieden, zwei Halterstuten zu importieren, die nach der Showkarriere in die Zucht gehen können", erklärt Günter Fischer.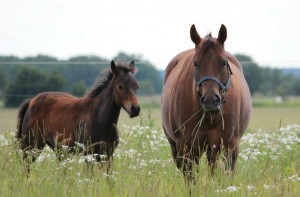 Wincredible Ella mit einem ihrer Fohlen, Bild: privat
Gesagt, getan: Wincredible Ella ist mittlerweile stolze Mutter dreier Fohlen. All ihre Nachkommen sind von Performance-Allround Hengsten, nämlich Only Invitational und Disavowed. Die Fohlen sind laut Günter Fischer alle "typische Vertreter des American Quarter Horse, gute Beweger und aufgrund ihres herausragenden Gebäudes sehr erfolgreich in Halterklassen."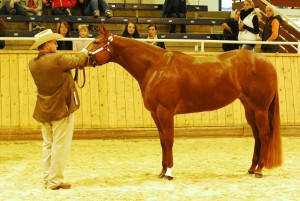 Günter Fischer und Centrisity; Bild: privat
Nachdem sich das vielversprechend anhört, fragt man sich, weshalb die Familie Fischer bisher die Einzigen sind, die diesen Weg eingeschlagen haben. "Ich denke, das liegt unter anderem daran, dass die Amerikaner eher bereit sind, ein Pferd ausschließlich für eine Disziplin zu kaufen, egal, ob das Halter, Pleasure oder Hunter ist", mutmaßt Leonie. Aber weshalb sind die Halter Klassen in Europa dann trotzdem immer voll? "Viele Reiter bringen ihre Performancepferde zu den Shows und nachdem sie dann ohnehin schon da sind, stellen sie das Pferd auch in die Halter", so Günter Fischer.
Centrisity's Kopf weist die typischen QH-Merkmale auf: keilförmiger Kopf mit kleinen Ohren; Bild: privat
Ein weitere Erklärung, weshalb in Europa keine Halterpferde, sondern eher Allrounder in den Halterklassen stehen, ergibt sich durch die Tatsache, dass man der Halterindustrie in Europa immer noch kritisch gegenüber steht. Zu Unrecht, wie Leonie findet: "Viele Europäer wissen sehr wenig über die Halterpferde. Die US-Trainer dieser Pferde haben oft einen schlechten Ruf, da viele Europäer glauben, dass Halterpferde einfach fett und unnatürlich sind. Auch wenn in den USA alles etwas extremer ist als bei uns, steckt hinter Halter doch mehr als Überfütterung und den Pferden geht es entgegen aller Gerüchte gut." Ein Pferd wirklich "halterfertig" zu kriegen, durch das sogenannte Fitting, ist mehr Arbeit, als es auf den ersten Blick scheint: "Man muss sehr viel über Futter, Zusatzfutter, Inhaltsstoffe und Trainingsmöglichkeiten wissen", erklärt Leonie. "Alles muss individuell auf das Pferd abgestimmt sein. Man muss genau wissen, wie man Muskeln an den entsprechenden Stellen aufbaut, damit man das Gebäude des Pferdes bestmöglich darstellen kann und eventuelle Schwächen ausgleichen kann."
Leonie Fischer & Wincredible Ella; Bild: Art & Light
Die Tatsache, dass Halterpferde meist nicht geritten werden, heißt jedoch nicht, dass diese Pferde nur in der Box stehen und essen: "Unsere Halterpferde kommen wie alle anderen auf die Koppel und die Paddocks. Außerdem dürfen sie als Handpferde mitlaufen", so Günter Fischer. "Die Gesundheit der Pferde steht immer an erster Stelle!" Ein weiterer Punkt, der bei Halterpferden oft diskutiert wird, sind Gendefekte: "Wir haben sichergestellt, dass unsere beiden Stuten frei von Gendefekten sind", betont Günter Fischer.
Reinlaufen, Pferd aufstellen, wieder gehen – für einen Laien wirkt eine Halterklasse auf den ersten Blick sicher langweilig. Halter verlangt aber ebenso intensive Vorbereitung wie jede Performance Klasse: "Man muss nicht nur auf das Fitting und die Ernährung des Pferdes achten, sondern auch sich selbst vorbereiten. Schließlich muss man wissen, wie man sein Pferd bestmöglich präsentiert!" Leonie, die 2009 Designed By Royal Te auf der AQHYA World Show vorgestellt hat, weiß, wovon sie spricht: "Sobald man in der Arena ist, ist es alles andere als langweilig! Man kann spüren, wie elektrisiert die Stimmung ist und es macht so viel Spaß, neben einem Pferd zu stehen, das man lange vorbereitet hat, und dem Richter zu zeigen, dass das eigene Pferd das schönste in der ganzen Arena ist!"
Leonie und Designed By Royal Te 2009 auf der AQHYA World Show, Bild: privat
Den letzten Punkt, den Gegner der Halterpferde oft anführen, ist, dass sie nicht als die charakterstärksten Pferde gelten – ein Vorurteil, dem die Familie Fischer nicht zustimmen kann: "Unsere beiden Stuten sind sehr freundliche, ruhige und menschenbezogene Pferde, die auch von Amateuren gehändelt werden können!", betont Günter Fischer. Und nicht nur von Amateuren, sondern auch von Jugendlichen. Während ihrer Youth Karriere wurde Leonie mit Centrisity unter anderem Europameister und Int. DQHA Champion und bekam das Youth Superior in Halter verliehen.
Halter ist bei den Fischers Familiensache: hier showt Britta Fischer Centrisity; Bild: privat
2012 wurde Centrisity Europameister und Q12 Champion Halter in allen drei Divisionen: Youth, Open und Amateur. Außerdem gewann sie insgesamt 171 Grand Champion Titel und ist dreifacher Europameister in den Divisionen Youth, Amateur und Open sowie mehrfacher Int. DQHA Champion. Wincredible Ella steht Centrisity allerdings in nichts nach und gewann in zwei Showjahren sechs Europameistertitel und wurde viermal Int. DQHA Champion. Ihr Talent hat sie an den Nachwuchs weitergegeben: Oh What A Man, Attentioninthebarn und Love Me Like You Do sind mehrfache Europameister, Deutsche Meister, Futurity Champions, Highpoint Champions und Grand Champions und bereiten ihren neuen Besitzern viel Freude.
Um es zusammenzufassen: Entgegen aller Vorurteile zeigt der Erfolg der Familie Fischer mit ihren Halterpferden, dass diese Pferde charakterlich ebenso gut oder schlecht sein können wie jedes andere Quarter Horse, dass sie ein schönes Pferdeleben haben, regelmäßigen Auslauf kriegen und dass sie durchaus einen guten Teil zur Zucht beitragen können. Was das Showen angeht, ist Halter ebenso spaßig wie jede andere Klasse: Es geht nicht darum, die spektakulärsten Manöver in der Arena zu zeigen, sondern die Ergebnisse monatelanger Vorbereitung zu präsentieren! (Dasselbe gilt übrigens für Western Pleasure!)