Even though, we mostly cover topics that deal with our sport, we all know that there are many other things to do with horses. Plus, we all know how closely our emotions are tied to our horses' behavior. This can be hard at times, but also lead to a learning process. The latter is the idea behind the concept of horse-assisted coaching. We have talked to Catharina Falch, who is not only an avid Western Rider, but also a coach for horse-assisted coaching. She told us all about it, the horses they use and why it is more than leading a horse and looking into a crystal ball.
Catharina, can you tell us about yourself and how you got involved with horses?
Hi, my name is Catharina Falch, although some people might still know me as Catharina Cuntz. I was introduced to western riding by Thomas Posch 18 years ago. The pastures for his horses were right behind our house. One day, he took a lead rope and a halter and we went for a trail ride. I was hooked and traded my English saddle for a Western saddle. I got my mare Docs Jane To Cash who made all my dreams come true: We were EWU Regional Champions, Champions in Western Horsemanship and won the Jungpferde Basis for five-year-old horses at the German Open. Afterwards, I started my studies and Jane had two wonderful babies.
You are offering horse-assisted coaching – can you tell us what that means exactly?
I recently became self-employed and combined my passion for horses with my ability to interact with humans.
Horse-assisted coaching is a combination of talking techniques and exercises that are done while working with a horse. The so-called coachee receives a non-judgemental feedback from the horse towards his or her attitude or any topics that might cause tension. We all know that horses recognize fear immediately. That also is true for any other kind of emotion. When it comes to working on perspective, a horse can be really helpful. The horse takes up a role and the coachee has to deal with this role. I am the coach and will ask certain questions, give impulses and translate the reaction of the horses. That way, I assist my clients during self-reflection, self-analysis and finding a solution. A coach does not make suggestion.
Most coaches focus on certain topics. I have been working on the topics of communication and personal development for years now, so that is my focus.
My clients are people who want to work on themselves. They come to my workshops or book a single coaching.
If I would explain what exactly we do, I would sound very esoteric, so I would rather give a little insight than an explanation:
After a talk on the phone, we will meet in the outdoor arena. "We" – that is the coachee, the horse and me. We will do a short introduction and then do a basic exercise in which the coachee interacts with the co-coach, the horse. While we talk about the topic, the coachee might lead the horse around in the arena. Horses react very sensitively towards any kind of emotion. If the client hides something or is sad, the horse might react by being a little nervous. I will bring this to the coachee's attention and whenever he or she is ready, we can take a look behind the facade. At that point, we are already dealing with things and can do certain exercises. This is not about working with horses as you might know it from the sport. The horse is a reflection of what bothers the coachee: colleagues, family or any other aspects of the problem. You can simulate certain situations with the horse, look at them from different perspectives and get a whole picture of the situation. Those steps are really challenging for the coachee, but in the end, they will bring relief. At the end of the coaching, we will look to the future and look for solutions.
Which horses are your co-coaches?
Besides my Quarter Horse, we mostly use our thoroughbreds.
We got Danish King and Damon Gibs after their racing career. "Danny" did over 30 races. Both are seven years old, really fit, calm and will wrap anyone around their finger. They are perfect for any sort of emotional topics. My husband also rides them in polo matches and I do some jumping from time to time.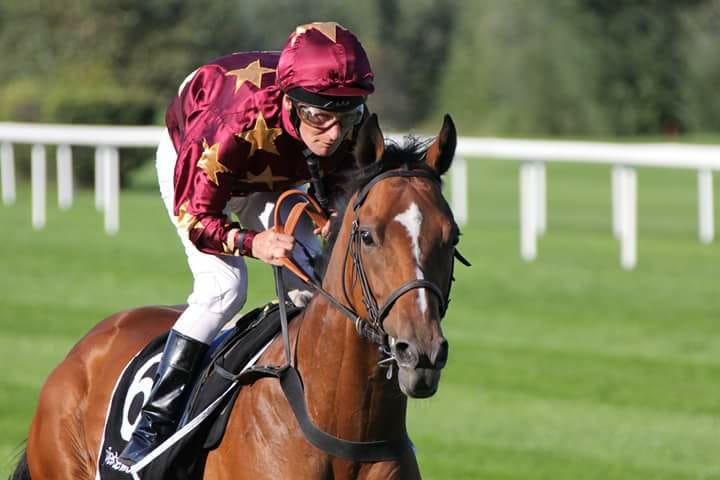 We have another five-year-old mare called Cantate that was supposed to be a race horse as well – but she was so calm, she didn't even make it to the track. She is a really strong partner for each coachee just like Jane. I ride Cantate like a Western horse and prepare her for the 2021 EWU show season. She has also been added to the AQHA book as an appendix mare.
What are the results of the coaching?
Most clients do not know what the problem is when they come to me. This is mainly due to the fact that our problems are like an ice berg: In the end, we don't like the top of the mountain, not what's underneath the surface, but that is where the solution lies. Horses are like a tool when it comes to showing a person aspects of their character. They also help in revealing the problem and thereby finding a solution.
We can also use the horse to imitate certain situations and in the past, this has really helped. Those exercises give you a chance to look at a situation from different perspectives. I can offer the coachee some pictures that my stick in their brain better than the things we talked about. This helps whenever you want to work on yourself.
Thanks to the horse, we will get to the root of the problem and move on to change and a solution.
Any situations in which you should not do the coaching?
Yes! If anyone is treated by a psychologist, they should not do the coaching or only do it if the therapist agrees. Other than that, there are no limits.
I had some clients who were afraid of horses – but this usually isn't a problem. On the contrary: The coachees lose their fear, another bonus of the coaching.
The whole thing sounds rather esoteric. How do you react if people think that?
I can understand that. I felt the same way and that's why I really thought about whether I would do this professionally or not.
When I decided to do so, I worked with someone who trained horse-assisted coaching in Switzerland. Their approach was really logic and methodical. The AHAA Manufaktur trains coaches for one year, so that they can work in a very structural way. To me, it was important, to have an association that guarantees quality. In my case it's the Swiss Association for Horse-Assisted Coaching.
I put a lot of emphasis on structure, science-approved methods, well-trained horses and a proper surrounding when it comes to the coaching. We are working on questioning and further developing our methods in cooperation with doctors, psychologists and other coaches.
Horse-assisted coaching is more than walking through the mud with a pony and looking into a crystal ball.
Meistens geht es hier auf The Showlife um sehr sportbezogene Themen – dabei ist die Bandbreite rund um das Thema Pferd riesig, wie wir alle wissen. Wir wissen auch, dass Pferde unsere Emotionen oft spiegeln – wie sehr, ist uns aber vielleicht gar nicht bewusst. Genau mit diesem Thema beschäftigt sich Catharina Falch, die pferdegestütztes Coaching anbietet. Wir haben einmal nachgefragt, was sich dahinter verbirgt, welche Pferde sie einsetzt und wie sie mit Vorurteilen umgeht.
Catharina, kannst du dich kurz vorstellen und erklären, wie du zum Westernsport gekommen bist?
Hi, ich bin Catharina Falch, viele kennen mich aber eher unter meinem Mädchennamen Catharina Cuntz. Zum Westernreiten hat mich Thomas Posch vor 18 Jahren gebracht, als er damals seine Koppeln direkt hinter unserem Haus hatte. Er hat mich mit Strick und Halfter bewaffnet auf ein Pferd gesetzt und dann sind wir zusammen durch den Wald geritten. Das hat mich nachhaltig begeistert und so wechselte ich bald darauf vom Englisch- in den Westernsattel. Meine Stute Docs Jane To Cash erfüllte mir dann vor sieben Jahren einen Traum nach dem anderen. So konnten wir bei der EWU einige Landesmeistertitel, einen EWU Champion Titel in der Horsemanship und schlussendlich sogar den Sieg in der Jungpferde Basis 5-jährig einheimsen. Danach habe ich mich auf mein Studium konzentriert und Jane hat zwei wunderbare Fohlen auf die Welt gebracht.
Du bietest pferdeunterstütztes Coaching an. Was genau steckt dahinter?
Genau, ich habe mich kürzlich selbstständig gemacht und so meine Leidenschaft für Pferde gepaart mit meiner Sensibilität für Menschen zum Beruf gemacht.
Pferdeunterstütztes Coaching ist eine Mischung aus Gesprächstechniken und Übungen, die von einem Pferd begleitet werden. Der sogenannte Coachee bekommt vom Pferd wertfreies Feedback zu seinem Auftreten oder zu Themen, die in ihm Spannungen hervorrufen. Dass Pferde beispielsweise Angst sofort bemerken, kennen hier wohl die meisten. So funktioniert das auch mit anderen Emotionen. In der sogenannten Perspektivenarbeit ist das Pferd eine super Hilfe. Bewusst oder unbewusst steckt der Coachee das Pferd schnell in eine Rolle, mit der er sich auseinandersetzt. Ich als Coach stelle konstruktive Leitfragen, gebe Impulse und übersetze die Reaktionen des Pferdes, wo es nötig ist. So begleite ich meine Kunden bei der Selbstreflexion, -analyse und Lösungsfindung. Ein Coach gibt, ungleich einer Beratung, keine Ratschläge.
Die meisten Coaches spezialisieren sich auf bestimmte Themen. Ich beschäftige mich seit vielen Jahren gerne mit Persönlichkeitsentwicklung und Kommunikation. Deshalb ist das auch im Coaching mein Schwerpunkt.
Meine Kunden sind also solche, die an sich selbst arbeiten wollen. Sie kommen dann in meine Workshops oder buchen ein Einzelcoaching.
Wenn man versucht, zu erklären, was wir nun speziell mit dem Pferd, im pferdeunterstützten Coaching tun, klingt das immer nach Kristallkugel und Räucherstäbchen, deswegen will ich hier lieber einen Einblick geben als eine Erklärung:
Nach einem telefonischen Vorgespräch treffen wir uns auf unserem Reitplatz. "Wir" sind der Coachee, ich und ein Pferd, der Co-Coach. Nach einer kurzen Einführung starten wir mit einer Grundübung, bei der der Coachee in Interaktion mit dem Co-Coach tritt. Während wir im Gespräch auf das Thema eingehen, geht der Coachee beispielsweise mit dem Pferd auf dem Platz umher. Pferde reagieren sehr empfindlich auf die Stimmung eines Menschen. Wenn den Kunden im Gespräch etwas bedrückt, oder er etwas vor sich selbst versteckt, wird das Pferd beispielsweise mit Unruhe reagieren. Ich mache darauf aufmerksam und wenn der Coachee bereit ist, können wir dann gemeinsam hinter seine Fassade blicken. Am Ende dieser Phase sind wir auf jeden Fall schon mitten drin im Thema und können mit gezielten Übungen starten. Hier geht es nicht um die Arbeit mit Pferden wie man sie aus dem Reitsport kennt, stattdessen wird der Co-Coach zum Sinnbild für etwas, das dich beschäftigt: Kollegen, Familie, oder andere Charaktere des Problems. Das Pferd gibt die Möglichkeit, alltägliche Situationen nachzustellen, aus verschiedenen Perspektiven nachzuempfinden und so ein vollumfängliches Bild der aktuellen Lage zu sehen. Diese Prozesse sind geistig sehr anstrengend für den Coachee, trotzdem erleichternd. Gegen Ende des Coachings gilt es nach vorne zu schauen – und gezielt Lösungsansätze zu entwickeln.
Welche Pferde setzt ihr ein?
Neben meiner anfangs schon erwähnten Quarter Stute Jane setzen wir vor allem auch unsere englischen Vollblüter im Coaching ein.
Danish King und Damon Gibs haben wir nach ihrer aktiven Karriere im Galopprennsport übernommen. "Danny" ist über 30 Rennen gelaufen. Die beiden sind jetzt sieben Jahre alt, topfit, seelenruhig und absolute Charmeure. Sie eignen sich ideal für emotionale Themen im Coaching. Neben dem Einsatz im Coaching bewähren sich die beiden als Polopferde mit meinem Mann und ich springe ab und an mit ihnen.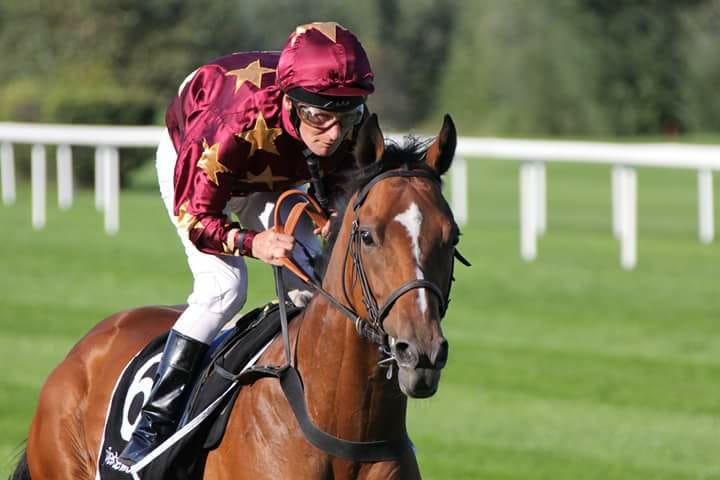 Auch die fünfjährige Cantate stammt aus einem Rennstall, sie ist allerdings noch ruhiger als die beiden Jungs und wurde deshalb schon vor dem ersten Renneinsatz ausgesondert. Sie ist ein absolut starker Partner in Kommunikationsthemen, wie übrigens auch Jane. Cantate reite ich übrigens Western und bereite sie auf die EWU-Turniersaison 2021 vor. Sie wurde gerade ins Appendix Stutbuch der AQHA aufgenommen.
Was für Erfolge seht ihr beim Coaching?
Meistens ist meinen Kunden gar nicht bewusst, wo es wirklich hakt, wenn sie mit einem Thema zu mir kommen. Das liegt daran, dass sich unsere Probleme meist aufbauen wie ein Eisberg. Am Ende stört uns die Spitze, nicht das, was unter der Oberfläche liegt, doch dort liegt die Lösung. Die Pferde helfen mir, wie ein Werkzeug, dem Kunden Nuancen seines Charakters zu verdeutlichen, die Aufschluss darüber geben, wo der Ursprung und damit der Lösungsansatz zu finden ist.
Besondere Erfolge sehe ich auch darin, dass wir mit dem Pferd Situationen sehr gut aufstellen können. In der Aufstellungsarbeit bekommt man die Möglichkeit Situationen aus verschiedenen Perspektiven klar zu betrachten und auch zu spüren. So kann ich dem Coachee Bilder mitgeben, die sich im Kopf besser verankern als der reine Inhalt eines Gesprächs. Das hilft enorm bei der aufs Coaching folgenden Arbeit an sich selbst.
Wir kommen also dank dem wertfreien Pferd sehr schnell zum Kern eines Coachingthemas und dann durch die erlebten Bilder nachhaltig in einen Lösungs- oder Änderungsprozess.
Gibt es Momente, in denen das pferdeunterstützte Coaching eher nicht angewandt werden sollte?
Ja, während laufender Psychotherapien sollte pferdeunterstütztes Coaching nicht, oder nur mit Absprache mit den behandelnden Ärzten angewendet werden. Ansonsten gibt es keine Einschränkungen.
Ich hatte schon viele Kunden die Angst vor Pferden hatten, selbst das ist im Coaching kein Problem – im Gegenteil, die Angst verfliegt ziemlich rasch. Das gibt's quasi gratis dazu.
Das Ganze klingt zunächst etwas esoterisch. Wie reagierst du, wenn Leute so denken?
Verständnisvoll, denn ich kann es bestens nachvollziehen. Mir ging es genauso und deswegen habe ich auch lange überlegt, ob ich wirklich auf diesem Wege meine Fähigkeit und Leidenschaft zum Beruf machen soll.
Als ich beschlossen habe, mich auf das Abenteuer einzulassen, habe ich mich ganz bewusst für einen Ausbildungsanbieter in der Schweiz entschieden, der sehr fundiert und methodisch arbeitet. Die AHAA Manufaktur bildet, in einer ein Jahr dauernden Ausbildung Coaches aus, die sehr strukturiert arbeiten können. Mir war es auch wichtig, einen Dachverband zu haben, der die Qualität sichert. Das macht in meinem Fall jetzt der Schweizer Verband für Pferdeunterstütztes Coaching.
In meiner Arbeit lege ich besonderen Wert auf sinnvoll aufgebaute Struktur und wissenschaftlich erprobte Methoden, auf gut ausgebildete Pferde und ein ordentliches Arbeitsumfeld. In Kooperation mit Ärzten, Psychotherapeuten und anderen Coaches arbeiten wir stetig an einer Weiterentwicklung und Überprüfung unserer angewandten Methoden.
Denn pferdeunterstütztes Coaching ist viel mehr als mit einem struppigen Pony durch den Matsch zu stapfen und sich dabei was aus der Kristallkugel vorlesen zu lassen.