One thing is for sure: Showing Paint Horses, grey horses or palominos is great – they usually make you stand out in the crowd. Another thing is for sure as well: Keeping those horses clean can be torture. No, we are not exaggerating in that case. In part one of our series "Horse Show Hacks" we asked competitors who show Paint Horses or grey horses for their advice on how to keep the horses clean and make them shine in the show pen.

Anna Greiner
We are doing three things and they work great: We use the Fanola No Yellow Shampoo – you don't need a lot of it and it really works great on the body and the tail or the tail extension. We also use two products by Cowboy Magic: The most important utensil is the Green Spot Remover. You spray it on and let it soak. Afterwards you can wash it off or wipe it off with a towel or sponge. That even works five minutes before the class when your decided to take a nap beforehand. We also use the Cowboy Magic Shine In Yellow Out Shampoo – it really removes the yellowness.

Anna Stein
We use potato starch for the white spots and legs: Wash the horse and really rub in the potato starch. Let dry and brush off – and it's done and so white and shiny! I feel like the horses like that better than the Show Touch Up. It really is a secret weapon.

Jennifer Abröll
Start by washing the horse multiple times before the show. I also use the silver shampoo by Swiss O Par from the drugstore. The matching conditioner works great on the tail.
picture: Martin Link
Nadine Pilger
My recommendation is: ink. You can put one little ink cartridge – the ones you use on for a pen – in a big shampoo bottle that contains about 300 millilitre. I also use baby powder for the final touch up.

Picture: Michaela Maltz-Szrama
Carolin Güntner
I favour Showsheen: I usually wash my ApHC gelding with silver shampoo or baby shampoo and then spray on Showsheen while he is still wet. This has one more advantage: When I start to brush him it removes even the last bit of dust. I put on a sleazy and sheet afterwards. If there are any stains on his coat in the next morning I use Coat Remover: Just tap it on and rinse off. You have to be careful though to make everything look evenly white.

Alena Helmcke
My favorite is the Silver Shampoo by Silverado – it is definitely better than the others. I also always carry a bottle of Green Spot Remover, either by Silverado or Cowboy Magic, in my grooming bag as well as a pack of baby wipes.

Ramona Weißland
I have a bay overo Paint Horse mare with white spots on the belly and four white feet – so I know what I am talking about. I really love the Equixtreme Stain Removing Coat Whitener. It's easy to use and the result is perfect – especially good for everyone who starts grooming at five in the morning before the Showmanship class.

Picture: Inge Kirchberger Pferdefotografie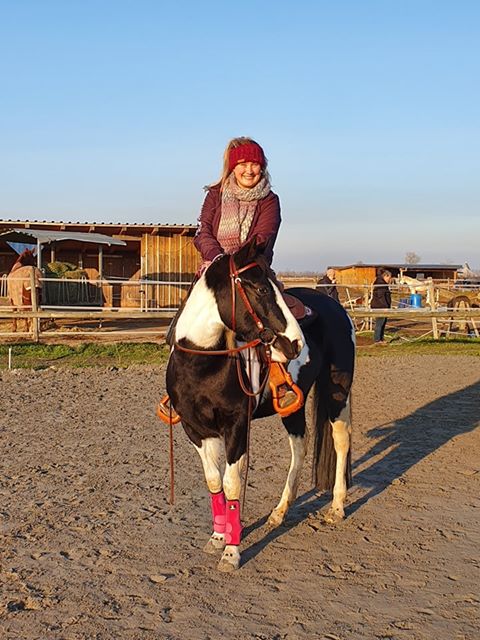 Lisa Schiller
It's basically two things that keep my mare white: sweat and tears. After using many different shampoos which all didn't work, I finally have found the perfect one: Oster Show White

Fabienne Mokwa
The only thing that works for us is Absorbine Conditioner – otherwise my horse is always a little yellow. After washing I usually apply lots of High Gloss on the legs, neck and the hindquarters, so that dust doesn't settle on the white spots. For a nice finish, I brush my horse off with a lambskin glove and use chalk and Touch Up. When it come to tail extension for Paint Horses or pintos, make sure to use one that fits the other color of your horse's coat – even if the tail itself is white. Using the tail extension in the other color will make the white pop out instead of highlighting the fact that the natural tail is not as white as the extension. Make sure to put a sleazy and sheet on your horse and apply another layer of High Gloss on the parts where you horses body touches the ground when laying down. A big grooming bag with lots of products is a must as well.

Eines steht fest: Paint Horses, Schimmel oder Palominos sind toll – man fällt meistens mit ihnen auf. Aber: Diese Pferde zu waschen, ist eine Wissenschaft für sich. Damit alle, die immer noch daran verzweifeln oder eben erst in den Sport eingestiegen sind, sich viele Stunden voller Verzweiflung sparen können, haben wir ein paar Turnierreiter um Rat gefragt. Sie haben uns verraten, wie man Mistflecken entfernt und auch weiße Schweife sauber kriegt. Dies ist Teil I unserer Serie "Horse Show Hacks".
Anna Greiner
Wir machen genau drei Dinge und die funktionieren super: Einerseits das Fanola No Yellow Shampoo, davon braucht man gar nicht viel und es hilft vor allem für richtig hartnäckige Flecken oder den Schweif, beziehungsweise das Schweiftoupet. Dann noch zwei Produkte von Cowboy Magic: Unser wichtigstes Utensil ist der Green Spot Remover. Den sprüht man auf, lässt ihn am besten eine Zeit lang einwirken und wäscht oder wischt ihn mit Wasser, einem Schwamm oder feuchten Tuch ab. Das klappt auch noch fünf Minuten vor der Prüfung, wenn das liebe Pferd sich noch einmal hingelegt hat und schöne Mistflecken trägt. Wir waschen immer mit dem Cowboy Magic Shine In Yellow Out Shampoo, das nimmt den Gelbstich recht gut weg.
Anna Stein
Also wir machen unsere weißen Flecken und Beine mit Kartoffelmehl ultra weiß: Frisch waschen und dann das nasse Fell mit dem Mehl richtig einreiben und trocknen lassen, ausbürsten – und fertig. Strahlend weiß! Finden die Pferde auch angenehmer als das Show Touch Up in Weiß. Das ist eine Geheimwaffe.
Jennifer Abröll
Frühzeitig Vorwäsche betreiben und dann das Silber Shampoo von Swiss O Par – das Preis-Leistungs-Verhältnis ist super. Die passende Haarkur kann in den Schweif.
Foto: Martin Link
Nadine Pilger
Ich kann Tinte empfehlen: Einfach Tinte mit ins Shampoo mischen und ein bisschen einwirken lassen – nur nicht zu lange sonst wird es lila! Ich haue immer eine Patrone – die vom Füller – in eine Shampooflasche, da sind etwa 300 Milliliter drin.Für den finalen Touch nehme ich gerne Babypuder.
Foto: Michaela Maltz-Szrama
Carolin Güntner
Bei meinem ApHC-Wallach mit Snowcap schwöre ich auf Showsheen. Ich wasche ihn am Abend zuvor mit Schimmel-Shampoo oder was ich gerade da habe – oft sind Baby-Shampoos besser als extra dafür vorgesehene habe ich mittlerweile fest gestellt – und sprühe ihn noch im nassen Zustand mit Showsheen ein. Ein weiterer Vorteil: Der letzte Dreck und Staub geht so, wenn ich ihn im trockenen Zustand mit einer langen Bürste striegle, auch noch heraus. Dann packe ich in Sleazy und Sheet. Für die Flecken am nächsten Tag habe ich Reinigungsschaum oder Coat Remover, tupfe damit die (Mist)-Flecken ein und wasche es mit sauberem Wasser raus. Nachteil: Damit es keine Ränder gibt, muss man wohl oder übel oftmals das komplette Hinterbein bearbeiten. Als finish dann noch weißes Touch Up dann wars das.
Alena Helmcke
Mein favorisiertes Shampoo ist das von Silverado – da können andere nicht mithalten. Im Groomingbag habe ich immer eine Flasche Greenspot Remover von Silverado oder Cowboy Magic und eine Packung Feuchttücher.
Ramona Weißland
Da ich eine bay-overo Paint Horse Stute mit viel weiß unten am Bauch und natürlich vier weißen Füßen habe, ist das genau mein Thema. Ich kann den Equixtreme Stain Removing Coat Whitener wärmstens empfehlen! Super easy in der Anwendung und ein perfektes Ergebnis! Sehr hilfreich für alle, die morgens um 5 Uhr für die Showmanship groomen.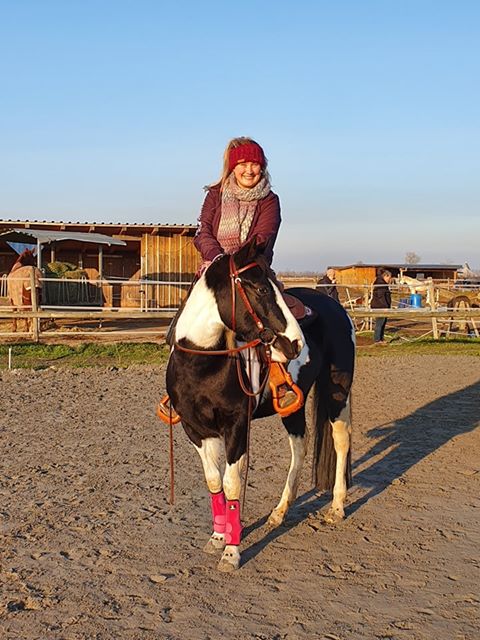 Lisa Schiller
Viele Tränen und Schweiß halten meine Paint Stute weiß. Beim Shampoo habe ich nach etlichen Fehlkäufen endlich eins gefunden, das super ist: Oster Show White.
Fabienne Mokwa
Bei uns hilft nur Absorbine Conditioner, sonst bleib das Schweinchen gelb. Danach möglichst schnell nach dem Trocknen viel High Gloss auf die Beine, Hals und die Kruppe, damit sich Staub nicht wieder tief ins weiße Fell setzen kann. Am Körper mache ich dann den Feinschliff nach dem normalen Lammfellhandschuh mit Kreide und Touch Up.
Für den Schweif gilt, solange es ein Schecke ist: immer ein farbiges Toupet reinhängen. So wirkt das Weiß im Schweif nochmal heller, auch wenn der Schweif eigentlich nur weiß ist. Das Pferd hinterher von oben bis unten einpacken, vor der Nacht auf die Liegestellen noch eine Schicht High Gloss drauf und ein riesiger Groomingbag mit diversen Fleckenentfernungsmitteln muss natürlich auch sein.