Well, we all know that feeling: Watching the livestream of a beautiful hunter under saddle class at the AQHA World Show or the All American Quarter Horse Congress. Tall horses with great stride and perfect topline trotting around while their riders keep their seat flawlessly. Heels own, head up.
But how do they get there? We asked some of Europe's most successful Trainers and one of the most popular designers for custom hunt attire, Custom Collar Boutique (USA), how to get ready for a Hunter under Saddle class.
Tipp No 1: Practice your hunt seat!
Angelina Siemon (Int. DQHA Res. Champion Senior HuS): Your seat is supposed to form a unity with the horse's movement. A straight upper body, closed hands slightly above the withers and bent legs with deep heels are your aim while practicing your seat. To get the perfect hunt seat, it is really important to practice in your english saddle. Most people train their horses with western saddles and only get the english saddle on the horse for the show. A good saddle which fits horse and rider is really important, because if the saddle does not fit the rider, you get into a relieving posture which makes it impossible to sit properly. I ride a lot without stirrups and do many transitions from trot to lope and from lope to trot. Riding a lot at sitting trot helps as well, in order to help you closing your knee.
Stefania Ugolini and Bandedo Dancer
Stefania Ugolini (NSBA Futurity and European Champion HuS): A good seat is fundamental in the hunter under saddle class. To improve the rider's body position my advice would be to practice riding in the english saddle. If you do not practice you won't get the feeling and the confidence that you need in the show pen. This is also very important for the horses, especially young ones which need to experience the different feeling of having a hunter saddle on them.
Tipp No 2: Find the right speed and rhythm for your horse
Angelina Siemon: Your aim is not to show the fastest trot, but trot and canter with a maximum stride length. This differs from horse to horse. Therefore you need a straight, balanced horse with a lifted shoulder. To get your horse soft and willing, you need to practice turns, side pass and many, many transitions. Also counter canter and haunches-out help to lift the horses' shoulder and to get them deep-hocked. While showing, your horse tends to lose the drive on the short side of the arena or in small curves, but you can help him by maintaining a steady contact with your outside rein. A hunt seater is supposed to accept your leg as an allrounder and let you push him forward with your legs without getting anxious. By pushing your horse with your legs it is easier to get the horse into the rhythm and drive that is necessary for hunter under saddle.
Angelina Siemon and Fancy One Wisely, Picture: Dirk Büttner
Tipp No 3: The perfect topline
Stefania Ugolini: In the hunter under saddle, maintaining a leveled head set is considered a real challenge for horse and rider. Each horse is of a different conformation and this is why they all have different head sets. Your job is to find out which one fits your horse the most and which is most comfortable. The most important thing is to keep the horse flexible in his withers to make it relax its neck and get into a natural position. I personally work a lot on the connection between my hands and legs. If I can push my horse from my legs through my hands and give it a steady place to stay, the horse will usually find the right position by itself. In case the horse carries its neck too high or too low, the problem is mostly not the neck itself but the rest of the body. A horse which carries its neck too low often needs to be pushed more from behind and lift the shoulder. Exercises like leg yield, haunches-in and haunches-out can help to improve it.
However, if the horse carries its neck too high, it might need to get softer in the withers, so I advise to do serpentines at the jog while pushing it through your hands and bend the head to each side until it relaxes its neck.
Tipp No 4: Evaluate bigger strides
Stefania Ugolini: At first I need to know my horse and what my horse is capable of, in order to ride the best stride. Before you can evaluate bigger strides, you need to work on rhythm, cadence and consistency. If your horse does not have a big trot, try to make it look easy going with flowing strides and ground coverage without taking more speed. My favorite exercise is to ride a figure 8 at the trot and canter. It really helps to improve the drive from behind and self-carriage.
Tipp No 5: The Style
Alicia & Debbie (owners of Custom Collars Boutique, USA):
What are the latest hunt coat trends?
It has been so refreshing to see riders incorporate their personal style into their riding attire! The key is to balance that with upholding the time honored look of the hunter ring. Nowadays, we rarely produce a custom jacket order without trim. Trims can be any color and can be placed on the collar, pockets and lapel of a hunt coat. If you tend to maintain a more conservative look, find a coat with a thin, rolled collar piping and a thicker trim is great for a rider looking to step out a little more. We always tell customers to stand back at a distance to look at a hunt coat trim, because in the ring you are far away from the judge. Bright collar jacket trim seems to lighten the area around a rider's face. We really focus on then using that same coat trim on the customer's custom shirt or dickie to make it a complete outfit. Buttons are another great way to dress up your jacket! Gold, silver and brass metallic buttons really draw the eye to a properly fitting coat and give it a dressier look.
Custom Hunt Coat with rust trim and matching dickie, picture: CCB
What coat and trim colors are most popular?
Trim: In the last year or so, we have seen a rise in earth tone trim colors: rusts, browns, burnt orange – especially on sorrel/chestnut/bay/brown horses. A common and more versatile trim option is silver or gold as it still allows you to wear many different shirting options with it, and it also looks great with matching gold or silver buttons. On our custom jackets for youth lavenders, pinks and blues seem to be the most popular.
Jacket: We get a wide range of coat color and pattern requests. While our most popular hunt coat colors have traditionally been black, navy and gray, we have seen a major upswing in coat orders for greens, all shades of blues, beiges and browns. Though tone on tone jacket fabrics with a sheen has been a best seller for many years, bolder plaids and pattern fabrics have also been in high demand. When choosing a hunt coat, always keep the judge in mind. As style and rules differ from association to association, hunt clothing should follow your association's rule book and still maintain a classic look.
Custom Hunt Coat made of Grey pattern fabric and matching brown trim, picture CCB
What Shirt trends have you seen emerging?
Shirts have really evolved over the past 5 years with patterns, bold colors and unique collar designs. The collar of your hunt shirt is an area of your look you can step out a little and make it your own. These days, there are so many designs for different tastes and style preferences. Most popular in 2017 so far has been our silk filled in V design which is very flattering to elongate the neck and draw attention to a rider's face.
Additionally, you can never go wrong by investing in a good, white hunt shirt. White is also perfect for equitation. Dress it up with some silk collar fabric in the same color as your coat for a conservative and tailored Outfit.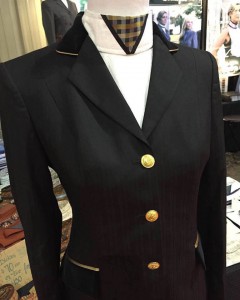 Silk filled V Design, picture: CCB
Which is more popular – a full hunt shirt or a dickie?
Both have their advantages! A custom hunt shirt is always great for a large show! That being said, we have had customers win at world and national levels wearing our custom dickies. The key is finding a dickie that mirrors the look of a full shirt. A dickie is an excellent option for riders in hot climates and they pair perfectly with a moisture-wicking base layer to stay cool. Most people are surprised by how comfortable they are to wear and show in. They are also a great way to change out your look affordably!
Any other advice you can offer?
Nothing beats a tidy, well fitted outfit! An off the rack hunt coat that fits close to the body and is cut at just the right length beats a pricey, ill-fitting jacket any day! Ill-fitting attire takes the focus off of your horse onto your clothing, rather than complimenting your horse! A quick and easy thing to do is to take you current hunt coat to a local tailor and have them alter it to give your coat a properly tailored fit. Though custom riding apparel is expensive, investing in a nice fitting hunt coat that is made to fit is something you can use for years to come as trends do not change as often in the hunt division.
Alicia and Debbie, owners of Custom Collar Boutique
Thank you to Angelina Siemon, Stefania Ugolini and Custom Collar Boutique for your great tips!
GERMAN VERSION
Im Grunde kennen wir das doch alle: wir sitzen vor dem Livestream und bewundern tolle Hunter under Saddle Klassen auf der AQHA World Show oder dem Congress. Riesige Pferde mit tollem Raumgriff und perfekter Oberlinie schweben umher, während ihre Reiter ihren Sitz makellos in jeder Gangart halten können. Absatz tief, Kopf hoch.
Aber wie erreicht man das? Wir haben ein paar unserer erfolgreichsten Trainer und einen der erfolgreichsten Designer für Turnierkleidung, Custom Collar Boutique (USA), befragt, wie man sich und sein Pferd am besten für die Hunter under Saddle vorbereitet.
Tipp No 1: Übe deinen Hunter Sitz!
Angelina Siemon (Int. DQHA Res. Champion Senior HuS): Der Sitz sollte eine Einheit mit der Bewegung des Pferdes bilden. Ein aufrechter Oberkörper, geschlossene Hände, die über dem Widerrist positioniert werden und angewinkelte Beine mit tiefem Absatz sind das Ziel des Sitz-Trainings. Um einen sicheren Sitz zu bekommen, ist es zunächst einmal wichtig, oft im Englisch Sattel zu reiten. Viele reiten nur auf der Show im Englisch Sattel und üben dies nicht zuhause im täglichen Training. Zudem sollte der Sattel nicht nur an das Pferd, sondern auch an den Reiter angepasst sein, da sich auch der Reiter eine Schonhaltung durch einen unpassenden Sattel angewöhnen kann. Um einen sicheren Sitz zu bekommen, empfehle ich viele Übergänge zu reiten, vom Trab in den Galopp und vom Galopp in den Trab. Auch das Aussitzen und das Reiten ohne Steigbügel helfen beim Sitz-Training, da dies den Knieschluss fördert, der für das Reiten im Englisch Sattel sehr wichtig ist.
Stefania Ugolini und Bandedo Dancer
Stefania Ugolini (NSBA Futurity and European Champion HuS): Der richtige Sitz ist fundamental in einer Hunter Klasse. Am meisten hilft es tatsächlich, viel im Hunter Sattel zu sitzen und zu üben. Das wird häufig unterschätzt, aber ohne das ständige Reiten im Hunter Sattel bekommt man kein Gefühl und nicht die Sicherheit, die man in der Show Arena braucht. Auch für das Pferd ist das sehr wichtig. Gerade bei jungen Pferden, die sich an das ungewohnte Gefühl eines Englischsattels gewöhnen müssen, sollte das Training mit dem Hunter Sattel nicht vernachlässigt werden.
Tipp No 2: Finde das richtige Tempo und den richtigen Rhythmus für dein Pferd
Angelina Siemon: Es geht nicht darum, besonders schnell vorwärts zu reiten, sondern darum, das Pferd an seine maximale Schrittlänge zu reiten. Das Tempo ist dadurch bei jedem Pferd individuell und erfordert ein gerade gerichtetes, ausbalanciertes Pferd mit leichter Schulter. Wichtig ist, den Schwung an der kurzen Seite oder in kleinen Wendungen nicht zu verlieren. Dabei hilft es, wenn man einen stetigen Kontakt zum Pferdemaul mit dem äußeren Zügel hält und sich das Pferd gut in jeden Schritt treiben lässt. Auch ein Hunter Pferd sollte das Bein akzeptieren und nicht davor weglaufen. So fällt es deutlich leichter, das Pferd in den gewünschten Takt zu reiten. Gute Übungen, um den gewünschten Takt zu erreichen, sind vor allem Außengalopp und Schulterherein, um die Schulter zu heben und das Untertreten zu fördern. Vorhandwendung, Hinterhandwendung, Seitengänge und viele Übergänge helfen außerdem, die Rittigkeit zu verbessern und die Balance für einen konstanten Takt zu fördern.
Angelina Siemon and Fancy One Wisely; Picture: Dirk Büttner
Tipp No 3: Die perfekte Oberlinie
Stefania Ugolini: In der Hunter under Saddle macht die richtige Oberlinie oft große Schwierigkeiten. Jedes Pferd hat einen anderen Körperbau, weswegen auch die Oberlinie variiert. Unser Job ist es, herauszufinden, in welcher Position sich das jeweilige Pferd am wohlsten fühlt und am besten präsentiert. Für mich ist es am wichtigsten, dass der Widerrist locker und flexibel ist, sodass das Pferd sich entspannt in eine natürliche Position fallen lassen kann. Ich persönlich arbeite viel an der Verbindung zwischen meinen Händen und dem Bein. Wenn ich mein Pferd mit dem Bein in meine Hände treiben kann und es so in einer sicheren Position halten kann, findet es den Weg in die richtige Haltung meist von ganz allein.
Wenn ein Pferd seinen Kopf zu tief oder zu hoch trägt, liegt das Problem nicht in der Haltung selbst, sondern wird vom Rest des Körpers verursacht. Bei Pferden, die den Kopf gern zu tief tragen, muss daher die Hinterhand aktiviert und die Schulter leicht gemacht werden. Das erreicht man am besten über Schenkelweichen, Travers oder Renvers. Trägt das Pferd den Kopf jedoch zu hoch, kann es sein, dass es im Widerrist nicht weich und flexibel genug ist. Meine Lieblingsübung ist der Jog Slalom – währenddessen treibe ich mein Pferd in meine Hände und stelle seinen Kopf und Hals abwechselnd in beide Richtungen hin und her, bis sich das Pferd entspannt und den Hals fallen lässt.
Tipp No 4: Reite mehr Raumgriff aus jedem Schritt heraus
Stefania Ugolini: Zu allererst muss ich über die Fähigkeiten meines Pferdes genau Bescheid wissen, um das Beste aus ihm herauszureiten. Bevor man die Schritte seines Pferdes verlängern kann, muss man an Rhythmus, Takt und Konstanz arbeiten. Wenn mein Pferd kein guter Traber ist, versuche ich es trotzdem leicht, fließend und raumgreifend laufen zu lassen, ohne dass es an Geschwindigkeit aufbaut. Meine Lieblingsübung ist, Achter im Trab und Galopp zu reiten, was meinem Pferd hilft, einen langen Trabschritt und mehr Schwung zu entwickeln.
Tipp No 5: Das Outfit
Alicia & Debbie (Eigentümerinnen von Custom Collars Boutique, USA) im Interview:
Was sind die aktuellen Trends in Sachen Hunter Jacket?
Es ist sehr erfrischend, dass die Reiter mittlerweile ihren persönlichen Stil in ihr Outfit integrieren. Der Schlüssel ist, eine Balance zwischen dem persönlichen Stil und dem traditionellen Look der Hunter Klassen beizubehalten. Heutzutage stellen wir kaum noch Maßanfertigungen ohne Zierleisten her. Diese Zierleisten können jede Farbe haben und am Kragen, den Taschen und dem Jackenaufschlag platziert werden. Tendiert man dazu, einen etwas konservativen Look beizubehalten, empfiehlt sich eine dünne, gerollte Paspelierung am Kragen und eine breitere Zierleiste, die sehr gut dazu geeignet sind, ein bisschen mehr herauszustechen. Wir raten unseren Kunden, Jacketts mit Zierleisten aus der Distanz zu betrachten, da die Richter das Outfit auch nur aus der Entfernung sehen. Helle Zierleisten eignen sich besonders, um den Bereich um das Gesicht aufzuhellen. Wir bemühen uns, ein passend verziertes Hunt Shirt oder Dickie zu nähen, um das Outfit zu komplettieren. Knöpfe in Gold, Silber oder Messing sind auch eine tolle Möglichkeit, das Jackett aufzuwerten, da sie das Auge auf ein gut angepasstes Jackett lenken und ihm einen eleganteren Look geben.
Maßgeschneidertes Jackett mit rostbraunen Zierleisten und passendem Dickie; Bild: CCB
Welche Farben sind bezüglich des Jacketts und der Zierleisten besonders beliebt?
Zierleiste: Während des letzten Jahres haben wir festgestellt, dass Erdtöne besonders beliebt sind: Rostbraun, verschiedene Braun- und Orangetöne – besonders zu fuchsfarbenen oder braunen Pferden. Eine beliebte und etwas vielseitigere Option sind Zierleisten in Gold und Silber, da man dann unterschiedlich farbige Shirts unter dem Jacket tragen kann. Außerdem passen sie super zu goldenen oder silbernen Knöpfen. Für unsere jugendlichen Kunden fertigen wir besonders häufig Jacketts mit rosa oder blauen Zierleisten.
Jackett: Wir haben viele verschiedene Anfragen für Jackett-Farben und -Muster. Obwohl unsere beliebtesten Farben immer traditionell schwarz, navy oder grau waren, gibt es einen Aufwärtstrend für Jacketts in grün, alle möglichen Blautöne, beige und braun. Ton-in-Ton Stoffe mit leichtem Schimmer waren der Bestseller für viele Jahre, wobei auch bei peppigen Plaidmustern und anderen gemusterten Stoffen die Nachfrage hoch war. Wenn man sich ein Hunter Jackett aussucht, sollte man immer den Richter im Hinterkopf haben. Da Stil und Regeln in jedem Verband unterschiedlich sind, sollte das Outfit auch dem Regelbuch entsprechen und im Zweifelsfall einen klassischen Look beibehalten.
Grau gemustertes Jackett mit passenden braunen Zierleisten
Welche Shirt Trends sind euch besonders aufgefallen?
Shirts haben sich während den letzten fünf Jahren besonders im Hinblick auf Muster, gewagte Farben und Kragendesigns weiterentwickelt. Der Kragen des Shirts ist ein Bereich, mit dem man etwas mehr auffallen kann und den man personalisieren und individuell gestalten kann. Heutzutage gibt es unglaublich viele Designs für jeden Geschmack und jeden Stil. In 2017 war bisher ein seidenunterlegtes V-Design, welches optisch den Hals verlängert und die Aufmerksamkeit auf das Gesicht des Reiters lenkt, am beliebtesten. Außerdem kann man mit einer Investition in ein gutes, weißes Hunt Shirt nichts falsch machen. Weiß ist besonders für die Hunt Seat Equitation geeignet. Man kann es sehr schön mit seidenen Stoffen am Kragen in der Farbe des Jacketts verzieren, um ein konservatives und gut geschnittenes Outfit zu kreieren.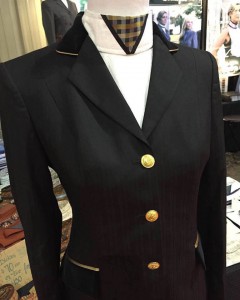 Seidenunterlegtes V Design am Kragen, Bild: CCB
Was ist beliebter – ein Hunt Shirt oder ein Dickie?
Beide haben ihre Vorteile! Ein maßgeschneidertes Shirt ist immer toll für eine große Show! Wir haben aber auch Kunden, die auf der World Show und auf nationalen Shows gewonnen haben, während sie einen unserer Dickies getragen haben. Der Schlüssel ist, ein Dickie zu finden, das den Look eines kompletten Hunt Shirts wiederspiegelt. Ein Dickie ist eine tolle Option für Reiter, die bei hohen Temperaturen showen, da sie sich perfekt mit einem Funktionsshirt als Basis kombinieren lassen, und man nicht überhitzt. Die meisten Leute waren überrascht, wie komfortabel Dickies zu tragen sind. Außerdem sind sie super, wenn der Look schnell und einfach gewechselt werden soll.
Gibt es noch weitere Tipps, die man auf jeden Fall beherzigen sollte?
Nichts kommt gegen einen sauberen und gut sitzenden Look an! Ein Jackett von der Stange, das eng am Körper sitzt und auf die richtige Länge geschnitten ist, schlägt auch ein teures, aber schlecht angepasstes Jackett! Ein schlecht sitzendes Outfit lenkt den Blick vom Pferd auf die Kleidung, anstatt dem Pferd zu schmeicheln. Der einfachste Weg ist, das Jackett zu einem lokalen Schneider zu bringen, um den Schnitt ändern zu lassen und ihm den perfekten Sitz zu geben. Obwohl ein maßgeschneidertes Outfit immer teuer ist, lohnt sich die Investition in ein Jackett, das perfekt für die jeweilige Figur geschnitten ist, da man es über Jahre tragen kann und sich die Trends in den Hunter Klassen sich nicht so oft ändern.
Alicia and Debbie, owners of Custom Collar Boutique, Bild: CCB
Vielen Dank an Angelina Siemon, Stefania Ugolini und Custom Collar Boutique für Eure tollen Tipps!