One great thing about our sport is diversity: There are classes that focus on the horse's talent more than the riders and some were being an excellent equestrian is a must. There are two classes in which the rider's body position is very important: Western Horsemanship and Hunt Seat Equitation. This article is about advice on how to improve your body position on the horse. Congress Champion Jadasa "Dasi" Jablonowski and her clients Mirja Bassing and Daniela Wagner are talking about their daily routines when it comes to practicing Western Horsemanship and Equitation. Furthermore, physiotherapist Laura Pfeifer will introduce some exercises that are helpful when working on that right body position.
Dasi has been successful in the Youth and Amateur Western Horsemanship herself, she also won the Golden Series Horsemanship go-round with VS Secret Code in 2019 as a trainer, but the one thing she is known for is the fact that her clients are a force to be reckoned with in the Youth and Amateur Equitation and Western Horsemanship classes. One highlight for Dasi must have been the Amateur Horsemanship at the Q18 when three of her clients – Daniela Wagner, Lea Henzgen and Mirja Bassing – took home the three medals in the class.
When asked why her clients do so well in the pattern classes, Dasi responds quickly: "I think there are many reasons but the most important one is the fact that my girls love the Western Horsemanship as much as I love it. They work hard and practice a lot. Horsemanship has to be a passion and if you want to succeed you have to go the extra mile. Even if those steps towards the goal are very little." Surely, Dasi's passion for Horsemanship is an important aspect as well: "Horsemanship has always been my favorite when I was showing in the Youth and Amateur division. I am proud to pass that passion on to my girls."
Passion, however, isn't enough, you have to work hard. Dasi doesn't start with the right body position when coaching her clients: "I want to teach them how to ride. They should be able to ride with minimal cues. If this doesn't work, it will be the first thing we're working on. You can't just sit at the horse looking pretty, if you are not able to give any cues. Horsemanship combines great riding skills with a great body position. And if those riding skills aren't there, it will be almost impossible to sit well."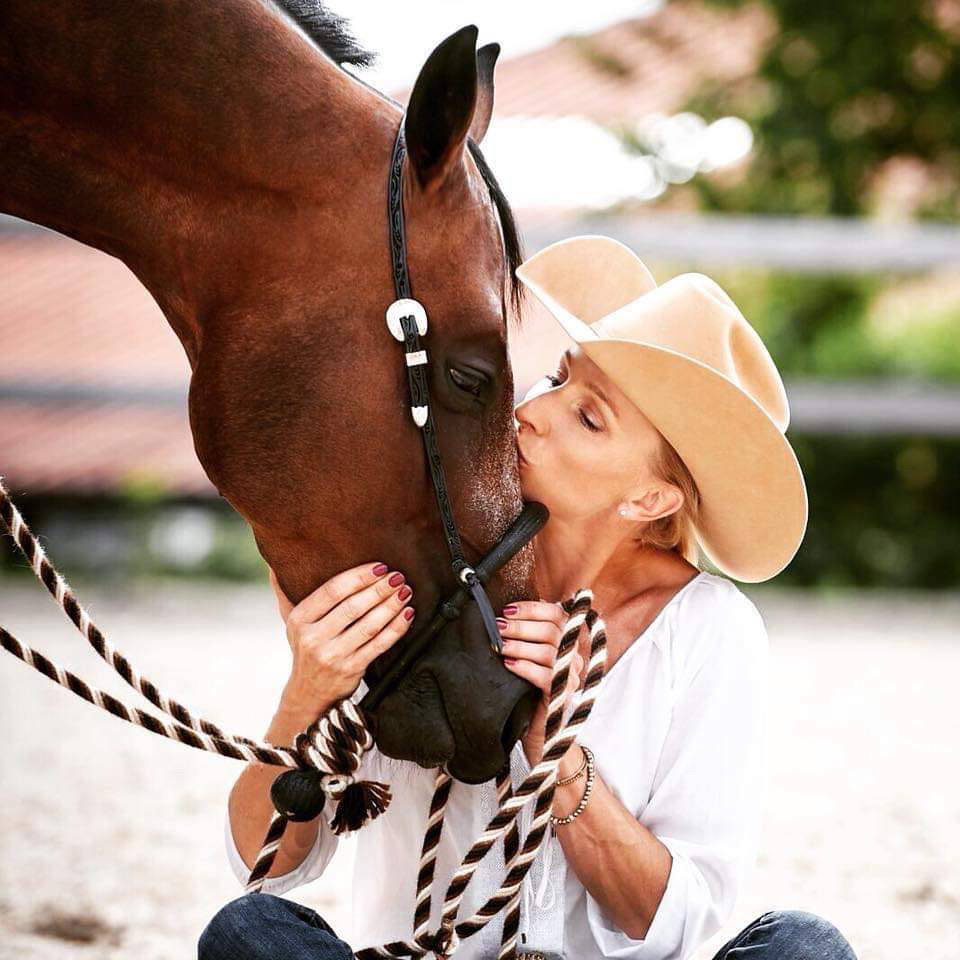 Jadasa "Dasi" Jablonowski
Picture: Rainer Haeckl
Golden Series 2019
Horsemanship Go-Round Winner

All American Quarter Horse Congress 2018
Champion Junior Hunter under Saddle
Champion 2YO Ltd. Open HuS Stakes

All American Quarter Horse Congress 2016
Congress Champion Senior Hunter under Saddle
When it comes to working on the body position, Dasi does different things with each of her clients: "We usually start by working on one aspect that we focus on at all three gaits. If this works out, we will add another. That is how you get perfect step by step. And I have to admit that I'm really picky," Dasi says, laughing.
Her client Daniela immediately comes up with an example of something she works on: "My biggest challenges were not dropping my should and keep my knees on the saddle." Those were the things she worked on: "I used a small whip and put it behind my arms on my back. That gave me an idea of how to hold my arms and prevent my shoulder from dropping." If you don't have a small whip you can use other things as well to improve your body position: "When working on your elbows, you can put anything between elbow and waist. It is important to not pull up the shoulders, otherwise whatever object you use will fall down," Dasi says.
Daniela Wagner-Winter
Q18
Bronze Medalist Amateur Horsemanship

Q19
Int. DQHA Champion Amateur Western Riding
Int. DQHA Champion Amateur Trail
Int. DQHA Champion Senior Western Riding
Bronze Medalist Amateur Horsemanship
Daniela also has some advice for her "knee problem": "I ride without stirrups in order to keep my knee close to the saddle. Push your knees against the saddle and ride as if you had stirrups. Keep your heels down, don't turn your toes to the outside and stretch your legs. I think it is a great exercise to help you with your body strength and once you ride with stirrups again, it will feel easy." Riding without stirrups is one of the key elements, Dasi stresses: "I think I am better at riding Horsemanship without stirrups than with stirrups. If I work my training horses and practice Horsemanship, I usually ride without stirrups. My girls are actually happy whenever the speaker announces to drop the stirrups. It is very important to ride without them and if you don't love it yet, you will learn to love it."
Mirja also rides a lot without stirrups – in order to be prepared whenever the judges call to drop the stirrups: "It is common in all big Horsemanship classes to ride without stirrups at some point. A common mistake that many people – including me – make is to pull up the knees. I try to make sure that my boots are at the same position they would be if I was riding with stirrups. And don't forget about your heels!"
Dasi has some advice for everybody who wants to work on their heels: "Stand on a staircase, but only with the ball of your foot. Put weight on your heels. When riding make sure to only have the ball of your feet in the stirrup! Just like on the staircase, your heel should be the deepest point."
Mirja has another thing she is regularly working on. Something many people surely can understand: "I think it is hard to maintain a straight body position that looks natural. I always struggle, because I am usually a little too stiff. It is hard being a little lose while maintaining a perfect body position. My horse usually realizes when I'm too tense. Breathe in, breathe out, try to relax. That usually does the trick."
It is important to be balanced in the saddle, Dasi says: "It is the basis of having a good body position. That is another point why riding without stirrups is so important – especially at the extended trot. You really learn to adapt to your horse's movement. If that works, we work on the upper body, straight shoulders and the correct position of the legs. The last parts are head and arms."
It helps to structure your practice session. Daniela does that as follows: "First, I work on the horse – transitions, lead changes, bending – afterwards, I focus on my body position and the last part is usually a pattern."
Everyone does their Horsemanship practice differently. Mirja says: "I try to work on my body position every day, but who doesn't? I try to practice Horsemanship every week, focusing on my body position. If a show is coming up, I will practice more often and focus on every detail."
Mirja works a lot on transitions: "It is the hardest part: Making everything look soft and easy. I usually think of a pattern and ride it once. Afterwards, I work on the parts that weren't that great. I practice until it works. This affects my body position as well as the way my horse did the manoeuver. In the end, I try to do the pattern once again."
Mirja Bassing
Picture: Luxcompany
Bavarian Championship 2017:
Golden Series Horsemanship Champion Go Round
Bayerischer Vizemeister Amateur Horsemanship

ECQH 2017
European Champion Amateur Hunt Seat Equitation
Bronze Medal Amateur Horsemanship

Bavarian Championship 2018
Bayerischer Meister Amateur Horsemanship

ECQH 2018
Bronze Medal Amateur Hunt Seat Equitation
Bronze Medal Amateur Western Horsemanship

Q18
All Around Champion Amateur Show 1, 3 und 4
Champion Amateur Western Horsemanship
Champion Amateur Hunt Seat Equitation (under all 5 Judges)
Horsemanship, however is not the only pattern class in which the body position is judged: The "english equivalent" Hunt Seat Equitation required a skilled rider with a great body position as well. The training for the two classes, however, is different, Dasi stresses: "Not only the saddle is different, but the length of the stirrups as well. We practice differently and we always practice Eq with a Hunter saddle. We have to work on two additional things: posting trot – with and without stirrups – and hand-gallop. I can say one thing for sure: If you work on your equitation, you will benefit in the Horsemanship. This is not always the case the other way round."
Mirja is one of the most successful Equitation riders in Europe. She and her horse Only Guns N Roses aka Flip are a force to be reckoned with. Mirja agrees on the fact that Equitation training differs from Horsemanship practice: "The saddle is completely different. Your legs are more bent, because the stirrups are shorter which means my position is entirely different. I have to find my balance again. The saddle is also more slippery than our Western saddles and you have less grip."
Mirja does not only work on her perfect body position for Equitation with deep heels, straight body, tight elbows and closed fists, but also: "I work on posting trot a lot. You have to get the right diagonal without having to look down and check."
Another aspect is the jumping seat that is usually required at the hand-gallop.
I have to make sure my heels are still down. I try to use my knees to keep my body in position, bend my body forward, get out of the saddle a bit. Avoid a hollow back, put back your shoulders. Look forward. I try to let my knees feel the movement of the horse. Your hands should be free, don't pull. You should move them forward towards the horse's head. Making sure to grab a little more rein to prevent them from hanging around. Add a little more speed. If you do all that, you would theoretically be able to jump.

Mirja Bassing
One thing is for sure: In order to do all that one has to be fit. "You have to have a feeling for your body and that of your horse," Dasi stresses. "Fitness is important, because it helps you not to lose your breath, especially during an Equitation class," Mirja adds. "I try to work out two times a week: running, cycling or just a home work-out." One good thing about Corona: Mirja had enough time to do just that. Daniela also goes for a run three times a week and does home work-outs as well.
If you're honest, all this is much easier for young people than for Select riders. Therefore, Dasi works on different things with her Select riders: "I am honest and don't get me wrong: My Select riders know that and they might laugh when reading this. Older people have different limits when it comes to fitness and I respect that. That is why the bar is set a little lower in the Select classes. I don't want to frustrate anybody, I want to motivate them to do their personal best."
In order to do so, having a trainer is helpful. "Ever since I started riding when I was six years old, my teachers and coaches focused a lot on the right body position. Dasi fixed some things and that helped a lot. The first thing she did was lengthen my stirrups. 'That will get your leg in the right position,' she said. Well – it worked!"
Sometimes, it is also helpful to have someone record your ride, Daniela says. "I think it's great if someone records your rides or points out mistakes. That helps you analyze what you have to work on and they might see things you didn't see." Mirja says having a mirror in the arena is helpful as well.
Another thing is for sure: It takes time. "Having a good body position for Horsemanship and Equitation takes years of practice and a lot of ambition," Mirja says. Daniela has been showing since she was eleven years old and she agrees: "Over the years there are always little mistakes you have to work on."
Dasi stresses that you should not underestimate your mindset: "Mental training is important. Think about what didn't work out and make a plan for the next day of what you want to work on. This is very motivating. Because, in the end, I think this is the most important piece of advice: Enjoy it! Enjoy how far you've come and look forward to whatever goal you will reach next. I hope this article motivates many people to view Horsemanship as a challenge – to me, it is one of the coolest challenges in our sport."
Four Exercises to Improve Your Body Position
Laura Pfeifer
Picture by Caro Behnke for The Showlife
Physiotherapist
&
Golden Series Reserve Champion Western Horsemanship
Exercise 1
Be in a squat position – your knees should not overreach your toes – pull up the left and the right heel over and over again. But: Don't put the heel down on the floor, always keep your weight on the ball of the feet. Hold for 30 seconds, take a break, repeat five times.
Exercise 2
Lay down on the floor, put your legs on a bench or a couch. Push yourself up in a bridge position but stretch your legs. Hold it, then start to lift one leg. Hold for 15 seconds, then do the other side. Repeat five times on each side. Try to push up your bottom all the time.
Exercise 3
Same position, but bend your knees in a 90 degree angle. This means you're closer to the couch or bench. Your heels are on the couch, push up again so that only you shoulders touch the floor. Do the same exercise as before, but with bent knees. Try to be stable in your pelvis.
Exercise 4
Do standing scales on one leg. Repeat at least 15 times, then change to the other side. Stand on one leg, pull up your knee and stretch into the standing scale. Pull up your leg again without touching the ground. Make sure to keep your pelvis straight.
Thank you, Dasi, Mirja, Daniela and Laura for sharing your knowledge!
Eine schöne Sache an unserem Sport ist die Vielseitigkeit: Es gibt Klassen, in denen verstärkt das Pferd – und dessen Gangqualität, Gebäude etc. – bewertet wird, und solche, in denen der Fokus eher auf dem Reiter liegt. In Letzteren sind zwei Dinge besonders wichtig: Hilfengebung und Sitz. In diesem Artikel geht es darum, wie man am Sitz für die Western Horsemanship und die Hunt Seat Equitation arbeitet. Congress Champion Jadasa "Dasi" Jablonowski und ihre Kundinnen Mirja Bassing und Daniela Wagner-Winter erzählen von ihrem Training. Außerdem gibt Physiotherapeutin Laura Pfeifer Tipps, wie man auch ohne Pferd an einem guten Sitz arbeiten kann.
Dasi war selbst als Jugendliche in der Horsemanship erfolgreich, hat 2019 aber auch als Trainerin den Golden Series Go-Round in der Horsemanship mit VS Secret Code gewonnen. Vor allem aber sind ihre Kundinnen konstant auf den vorderen Plätzen in der Youth und Amateur Western Horsemanship. Ein Highlight ihrer Karriere als Trainerin war sicher die Amateur Horsemanship auf der Q18: Mit Daniela Wagner-Winter, Lea Henzgen und Mirja Bassing holten drei ihrer Kundinnen die drei Medaillen in der Klasse.
Auf die Frage, weshalb ihre Kundinnen so gut in der Western Horsemanship sind, hat Dasi eine klare Antwort: "Ich denke, das hat einige Gründe, der Wichtigste ist ganz sicher, dass meine Mädels die Horsemanship lieben, wie ich sie liebe. Sie sind extrem fleißig und üben, üben und üben. Horsemanship muss eine Leidenschaft sein und dann darf kein Weg zu weit sein, um die Ziele zu erreichen. Auch wenn es manchmal nur in kleinen Schritten weiter geht." Auch Dasis eigene Leidenschaft und Erfolge in der Klasse sind dabei sicher ein wichtiger Faktor: "Horsemanship war meine absolute Lieblingsdisziplin, als ich Jugendliche war und auch in meinen Amateur-Jahren. Es macht mich stolz, wenn ich diese Leidenschaft an meine Mädels weitergeben kann."
Doch Leidenschaft alleine reicht nicht, Training ist wichtig. Hier setzt Dasi aber erfahrungsgemäß nicht zuerst beim Sitz an: " Mir ist es wichtig, meinen Schülern das Reiten beizubringen. Ich lege sehr viel Wert darauf, dass die Manöver an weichen Hilfen korrekt geritten werden. Wenn das noch nicht geht, arbeite ich erst einmal daran. Es hilft nichts, wenn jemand schön sitzt, aber nicht mehr aufs Pferd einwirken kann. Perfekte Horsemanship ist für mich immer schönes Reiten mit einem schönen Sitz. Und meistens ist es auch unmöglich, wirklich perfekt zu sitzen, wenn keine Rittigkeit vorhanden ist."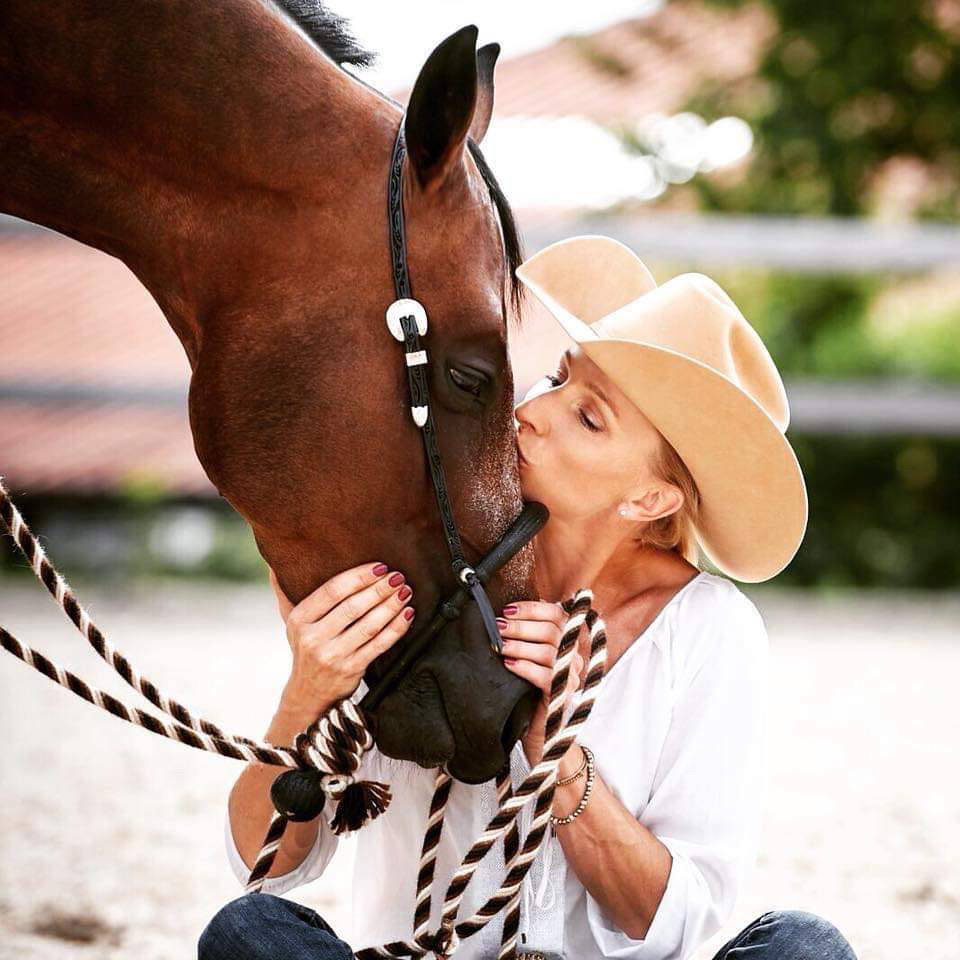 Jadasa "Dasi" Jablonowski
Foto: Rainer Haeckl
Golden Series 2019
Horsemanship Go-Round Winner

All American Quarter Horse Congress 2018
Champion Junior Hunter under Saddle
Champion 2YO Ltd. Open HuS Stakes

All American Quarter Horse Congress 2016
Congress Champion Senior Hunter under Saddle
Wenn es dann doch ums Sitztraining geht, gestaltet Dasi die Arbeit unterschiedlich: "Ich korrigiere meistens nur eine Sache, auf die sich die Schüler dann in allen Gangarten und Manövern konzentrieren können. Wenn die eine Sache gut klappt. kommt eine weitere hinzu. So wird dann Schritt für Schritt alles perfekt – ich muss zugeben, ich bin da sehr pingelig", sagt Dasi und lacht.
Ihre Schülerin Daniela hat da auch gleich ein konkretes Beispiel: "Die größte Herausforderung an meinem Sitz war, dass ich die linke Schulter nicht hängen lasse und dass meine Knie fest am Sattel bleiben." An diesen beiden Dingen hat Daniela dann gearbeitet. Wie das genau ablief, hat sie uns erklärt: "Für meine Schulter, die oft wieder nach unten gewandert ist, habe ich bei jedem Sitztraining eine Gerte genommen und habe diese quer hinter meinem Rücken zwischen beide Arme geklemmt. So hatte ich immer eine gute Linie, wie ich meine Arme halten muss, damit meine Schulter nicht nach unten fällt." Wer keine Gerte zur Hand hat, kann auch eine Bandagierunterlage oder Ähnliches nehmen, sagt Dasi: "Um an den Ellbogen zu arbeiten, hilft es sehr, sich Bandagierunterlagen zwischen Taille und Ellbogen zu klemmen. Wichtig in diesem Moment ist es, nicht die Schulten hoch zu ziehen, um die Bandagierunterlage vom Fallen zu halten."
Daniela Wagner-Winter
Q18
Bronze Medalist Amateur Horsemanship

Q19
Int. DQHA Champion Amateur Western Riding
Int. DQHA Champion Amateur Trail
Int. DQHA Champion Senior Western Riding
Bronze Medalist Amateur Horsemanship
Auch für das "Knieproblem" hat Daniela einen Tipp: "Damit meine Knie am Sattel bleiben, hilft es mir, ohne Steigbügel zu reiten. Die Knie fest an den Sattel drücken und versuchen normal weiter zu reiten, als hätte man Steigbügel – das heißt, die Fersen weiterhin unten lassen, die Zehenspitzen nicht nach außen drehen und die Beine gestreckt lassen. Finde das eine gute Übung, da man dadurch allgemein eine gute Körperspannung bekommt und es dann mit Steigbügeln viel einfacher ist, einen guten Sitz zu haben." Das Training ohne Steigbügel ist eines der wichtigsten Elemente beim Training für einen guten Sitz, betont auch Dasi: "Ich würde sagen, ich kann Horsemanship besser ohne Steigbügel reiten – wenn ich mit meinen Trainingspferden Horsemanship übe, mache ich das sehr sehr oft ohne Steigbügel – und meine Mädels freuen sich auch immer, wenn sie raus aus den Bügeln 'müssen'. Das ist wirklich so unglaublich wichtig und wenn man es noch nicht liebt, wird man es lieben lernen."
Auch Dasis Schülerin Mirja trainiert ohne Steigbügel – genau vor dem Hintergrund, dass es oft in Pattern oder der Railwork abgefragt wird: "Reiten ohne Steigbügel steht auch ab und zu auf dem Programm, da das auch gerne abgefragt wird. Einen Fehler den vermutlich viele – auch ich – gerne dabei machen ist, dass man die Knie hochzieht. Ich schaue immer, dass meine Stiefel möglichst auf der Höhe bleiben, auf der sie wären, wenn ich im Steigbügel wäre. Und dabei nicht die Fersen vergessen!"
Mirja Bassing
Foto: Luxcompany
Bayerische Meisterschaften 2017:
Golden Series Horsemanship Champion Go Round
Bayerischer Vizemeister Amateur Horsemanship

ECQH 2017
European Champion Amateur Hunt Seat Equitation
Bronze Medal Amateur Horsemanship

Bayerische Meisterschaften 2018
Bayerischer Meister Amateur Horsemanship

ECQH 2018
Bronze Medal Amateur Hunt Seat Equitation
Bronze Medal Amateur Western Horsemanship

Q18
All Around Champion Amateur Show 1, 3 und 4
Champion Amateur Western Horsemanship
Champion Amateur Hunt Seat Equitation (unter allen fünf Richtern)
Damit die Fersen nicht nach oben gehen, hat Dasi einen Tipp, den man ganz einfach zuhause ohne Pferd nachmachen kann: "Um den Winkel in der Ferse zu verbessern, kann man sich daheim mit den Fußballen auf eine Treppe stellen und das Gewicht in die Fersen bringen. Bitte auch unbedingt beim Reiten darauf achten, dass die Füße nicht zu weit im Bügel sind. Wie auf der Treppe sollte der Fuß nur mit dem Ballen den Bügel berühren und die Ferse stets tiefer als der Ballen sein."
Mirja hat auch noch einen weiteren Punkt, an dem sie arbeitet – den sicher auch viele gut nachvollziehen können: "Eine natürlich aufgerichtete Haltung zu finden, die nicht zu steif wirkt, ist am schwierigsten. Mein Hauptproblem ist eigentlich immer, eine gewisse Lockerheit zu haben, obwohl man ja weiß, dass man 'perfekt' sitzen soll. Ich bin oft zu stark angespannt. Das überträgt sich auch auf mein Pferd, der da sehr sensibel reagiert. Ab und zu tief durchatmen und den Körper immer mal wieder entspannen, hilft hier schon viel!"
Generell ist es wichtig, ausbalanciert im Sattel zu sitzen, betont Dasi: "Das Fundament für den Sitz ist eine gute Balance im Sattel, die entsteht durch die Verbindung mit dem Sattel. Dafür ist das Reiten ohne Steigbügel – möglichst im Extended Trot – so wichtig. Man lernt,die Bewegung zu sitzen. Darauf baue ich die Körperspannung im Oberkörper mit geraden Schultern und die richtige Beinposition auf. Zuletzt kommen Kopf und Arme."
Eine strukturierte Trainingssession ist ebenfalls hilfreich. Daniela baut ihr Horsemanship-Training wie folgt auf: "Ich teile es meistens in drei Teile ein: zuerst arbeite ich am Pferd – also flüssige Übergänge, Wechsel, die Dehnung – dann an meinem Sitz und zuletzt an der Pattern."
Wie oft jemand Horsemanship trainiert, ist selbstverständlich unterschiedlich. Mirjas Training sieht etwa so aus: "Eigentlich arbeite ich jeden Tag daran, ordentlich auf dem Pferd zu sitzen, aber wer tut das nicht? Allerdings versuche ich, mir alle ein bis zwei Wochen mindestens einmal explizites Horsemanship-Training vorzunehmen und dabei besonders auf meinen Sitz und meine Haltung zu achten. Wenn ich auf ein Turnier hin trainiere, steigere ich Häufigkeit und Genauigkeit. Da versuche ich noch mehr, auf jede Kleinigkeit zu achten."
Eine Sache trainiert Mirja besonders oft: Übergänge. "Denn das ist das Schwierigste: Alles einfach und soft aussehen zu lassen. Meistens überlege ich mir dafür ein Horsemanship-Pattern und reite das durch. Die Stellen, an denen es Probleme gab, nehme ich mir immer noch einmal einzeln vor und übe so lange, bis es klappt. Sowohl was meine Position angeht – beispielsweise nicht nach vorne zu fallen – als auch wie mein Pferd das Manöver ausgeführt hat. Am Ende versuche ich, das ganze Pattern noch einmal ideal zu durchreiten."
Nun ist Horsemanship nicht die einzige Patternklasse, in der es auf den Sitz ankommt. Auch im "englische Äquivalent", der Hunt Seat Equitation, sind Sitz un Hilfengebung besonders wichtig. Das Training für beide Klassen unterscheidet sich aber, betont Dasi: "Der Sitz unterscheidet sich nicht nur im Sattel, sondern ganz besonders auch in der Steigbügellänge. Das üben wir natürlich getrennt voneinander und Eq üben wir immer im Englischsattel. Zusätzlich müssen für die Eq auch Leichttraben – mit und ohne Steigbügel – und der leichte Sitz geübt werden. Was ich aber ganz sicher sagen kann, ist: Alle, die einen sehr guten Eq-Sitz haben, werden in der Horsemanship davon profitieren – umgekehrt nicht zwingend."
Mirja ist eine der erfolgreichsten Equitation-Reiterinnen Europas: Bayerischer Meister, Int. DQHA Champion, Europameister – sie und ihr Pferd "Flip" sind immer ein Paar, das um die vordersten Plätze mitreitet. Auch sie findet, dass sich das Equitation-Training stark vom Horsemanship-Training unterscheidet: "Bei Equitation ist es alleine der Sattel, der komplett anders ist. Die Beine sind durch die kurzen Steigbügel stärker angewinkelt. Dadurch habe ich eine ganz andere Position auf dem Pferd und ich muss erst einmal meine Balance wiederfinden. Außerdem ist der Sattel auch rutschiger als unsere 'normalen' Sättel und man hat weniger Haftung."
Mirja trainiert in der Equitation nicht nur den einen 'perfekten' Sitz mit möglichst tiefen Fersen, aufgerichteter Körperhaltung, angelegten Ellenbogen und aufgestellten, geschlossenen Fäusten, sondern: "Hier kommt schon das Leichttraben hinzu. Natürlich auf dem richtigen Fuß! Ohne herunter zu schauen, um das nachzuprüfen."
Eine weitere Sache, die in Equitation, nicht aber in Western Horsemanship gefragt ist: der Leichte Sitz.
"Beim Leichten Sitz muss ich darauf achten, dass ich die Fersen weiterhin nach unten drücke. Mit den Knien versuche ich, mich in Position zu halten, der Körper ist nach vorne gebeugt und der Po wird aus dem Sattel gehoben. Wichtig ist auch, nicht zu sehr ins Hohlkreuz zu kommen, aber trotzdem die Schultern hinten zu lassen. Mein Blick geht weit voraus. Mit den Knien federe ich leicht in der Bewegung meines galoppierenden oder auch trabenden Pferdes mit. Die Hände muss ich frei tragen und sie gehen etwas weiter nach vorne, Richtung Mitte des Pferdehalses. Gleichzeitig fasse ich die Zügel nach, sodass diese nicht durchhängen und ich dauerhaften Kontakt zum Pferdemaul habe. Außerdem wird mit dem leichten Sitz eine angemessene Tempoerhöhung verlangt. Wenn ich das alles hinbekomme bin ich bereit für den nahenden Sprung."

Mirja Bassing
Klar ist: Für all das muss man fit sein. "Körperliche Fitness und auch ein gutes Gefühl für den eigenen Körper sind schon sehr wichtig. Reiten hat sehr viel mit Gefühl zu tun – für den eigenen Körper und für den Körper des Pferdes", betont Dasi. "Außerdem geht einem nicht so schnell die Puste aus, was besonders beim Equitation-Training wichtig ist", ergänzt Mirja. "Mein Ziel ist es, möglichst zwei mal die Woche Ausgleichssport – Joggen, Fahrradfahren, Workout – zu machen." Dahingehend hatte Corona auch etwas Gutes: Dafür hatte Mirja in den vergangenen Wochen mehr Zeit. Auch Daniela geht etwa dreimal die Woche laufen und macht Home-Workouts.
Ist man gnadenlos ehrlich, ist es für einen jungen, fitten Menschen leichter, Horsemanship und Equitation zu reiten als für Select-Reiter. Dasi geht das Training mit Select-Reitern daher auch anders an: "Ich bin ehrlich: Und bitte versteht das nicht falsch! Meine lieben Selects wissen das auch alle und lachen, wenn sie das lesen, sicher auch. Ältere Menschen haben andere körperliche Limits und diese respektiere ich. Die Meßlatte bei Selects ist sicher ein wenig tiefer. Ich möchte ja niemanden frustrieren, sondern motivieren an seine persönlich beste Leistung zu kommen."
Um das zu schaffen, ist regelmäßiges Training mit einem Trainer eine gute Hilfe. "Seit Beginn meiner reiterlichen Laufbahn – da war ich ungefähr sechs Jahre alt – haben meine Lehrer und Trainer immer Wert auf meinen Sitz und Haltung gelegt. Dasi hat bei mir hier ein bisschen geschraubt und dort und schon hatte ich eine super Position. Ihre erste Amtshandlung war damals – das weiß ich noch wie heute: 'So jetzt machen wir deine Bügel mal zwei Löcher länger. Dann liegt dein Bein besser.' Gewusst wie!"
Manchmal reicht aber schon eine Person, die alles dokumentiert, sagt Daniela: "Ich finde es immer hilfreich, wenn man eine Person hat, die einen auf Fehler hinweist, oder wenn man sich beim Sitztraining filmen lässt, denn so kann man besser analysieren, an was gearbeitet werden muss und sieht Dinge, die man beim Reiten selber vielleicht gar nicht merkt." Mirja empfiehlt neben dem Filmen als Alternative, einen Spiegel in der Reithalle zu nutzen, um den Sitz zu überprüfen.
Klar ist aber letztlich: Einer der wichtigsten Faktoren neben Talent und harter Arbeit ist Zeit. "In einem guten Sitz stecken viele Jahre harter Arbeit, aber auch eigener Ehrgeiz, sich immer weiter verbessern zu wollen", sagt Mirja. Auch Daniela nimmt, seitdem sie elf Jahre alt ist, an Turnieren teil und sagt, dass jahrelanges Training immens wichtig ist: "Es schleichen sich immer wieder Fehler ein, an denen man arbeiten muss."
Dasi betont zuletzt, dass der mentale Aspekt nicht unterschätzt werden sollte: "Eine weitere tolle Übung für zu Hause ist mentales Training. Sowohl reflektieren, was heute nicht so gut geklappt hat, und einen Plan machen, an was man morgen arbeiten will. Da fährt man dann schon voller Vorfreude in den Stall. Denn zum Schluss der wirklich allerwichtigste Tip um besser zu werden: Freut euch! Freut euch über Ziele, die ihr schon erreicht habt und freut euch auf den Weg zu den nächsten Zielen! Ich hoffe, ich kann durch diesen Artikel viele Reiter dazu zu motivieren, Horsemanship als Challenge zu sehen – für mich eine der schönsten Challenges der Westenreiterei!"
Workout für einen guten Sitz
Laura Pfeifer
Picture by Caro Behnke für The Showlife
Physiotherapeutin,
Sectorale Heilpraktikerin,
Manuelle Therapie
&
Golden Series Reserve Champion Western Horsemanship
Übung 1
Aus einer Squatposition – Knie nicht über die Zehen – abwechselnd linke und rechte Ferse hoch in die Luft, sprich hochziehen und wieder absetzen, aber: Nicht ganz auf den Boden absetzen, sprich, man bleibt mit dem Gewicht die ganze Zeit auf den Ballen. Das jeweils 30 Sekunden halten, Pause und minimal fünfmal wiederholen.
Übung 2
Man liegt auf dem Boden und legt die Beine auf eine erhöhte Bank oder ein Sofa. Man drückt sich dann in die Brückenposition, aber mit gestreckten Beinen. Diese Position erst einmal stabil halten und ein Bein abheben. Erneut für 15 Sekunden halten, dann Seite wechseln. Jede Seite fünfmal wiederholen. Versucht, die ganze Zeit mit dem Gesäß oben zu bleiben!
Übung 3
Bei dieser Übung haben wir dieselbe Ausgangsstellung wie zuvor, allerdings sind die Knie um 90 Grad gebeugt. Das heißt, man liegt mit dem Gesäß näher am Sofa. Fersen sind auf dem Sofa, man drückt sich wieder in die Brückenposition, nur noch die Schultern sind am Boden. Wir machen dieselbe Übung wie vorher, nur mit um 90 Grad gebeugten Knien. Versucht, im Becken stabil zu bleiben!
Übung 4
Einbeinige Standwagen sind ebenfalls hilfreich. Davon minimal 15 Stück, dann Wechsel auf die andere Seite. Auf einem Bein stehen, ein Knie zur Brust anziehen, dann langsam nach hinten in die Standwagen strecken. Dann wieder anziehen, ohne das Bein abzusetzen. Man muss darauf achten, das Becken gerade zu halten und stabil zu bleiben.
Vielen Dank an Dasi, Mirja, Daniela und Laura für eure Expertise!