Bavarian Summer Show, Saturday afternoon, Limited Trail. Tough pattern, complicated by flowers and big advertisements on walls integrated in the course. 14 horses are entered in the class — six of them will not make it through the course. These six horses, all of them are young or green, do manage the first few obstacles quite well, but then start to spook because of the big advertisements they are facing. One of the horses even hurts himself on the bridge, which is not build up straight as usual but in a square corner. Frustration starts to spread in the warm-up and in the stands. How do trainers deal with such situations? Remember: A good performance in such prestigious classes can be an important factor for a trainer's career and existence. Three trainers told us how they experienced the day.
Lena Wolff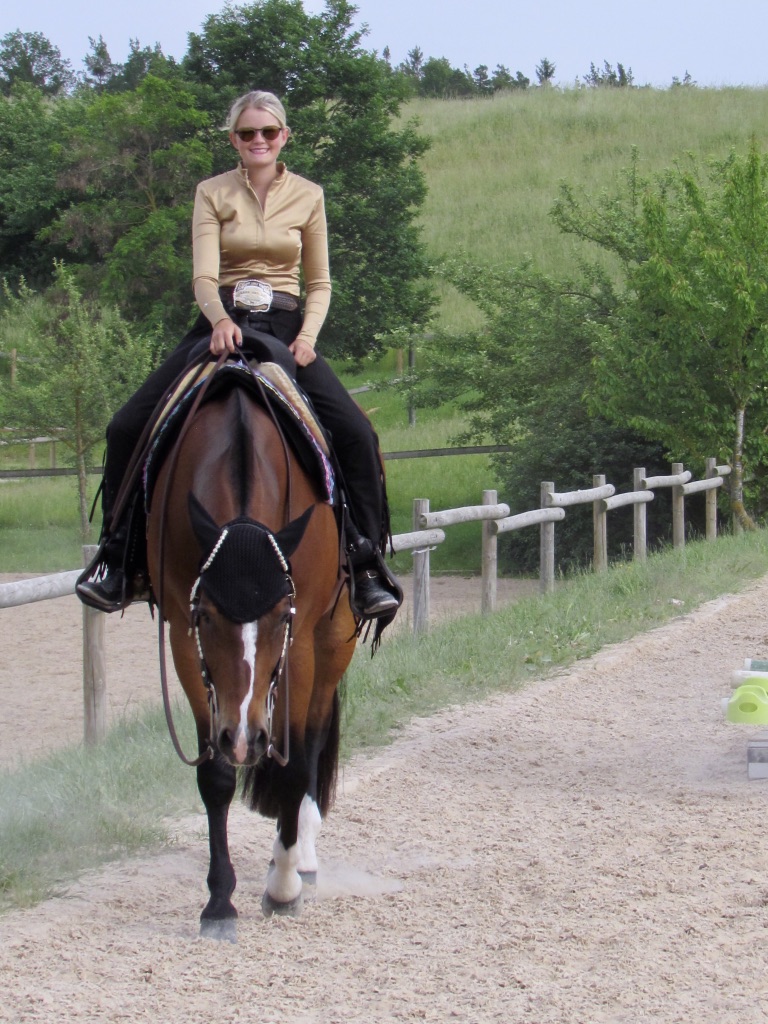 I was really disappointed and frustrated about everything that happened in the Limited Trail. In April, I would have never believed that I would make it into the finals as Tacoma is not really an easy horse. Therefore, his owner Nadine Müller and I were so happy when Tacoma and I ended up in the Top 5 in the go-round. We have practiced so much for the finale and I think we could have placed well — if we had made it through the whole pattern. Here is how I handled the situation: I showed my horse the "spooky" part of the pattern, let him sniff it, pet him, so he would relax and left the class in a calm manner. It was really frustrating as my client invested a lot of time and patience into this horse and I think she would have loved to see a nice performance. Furthermore, I — as a young trainer — could have shown my talent in this class. I am very disappointed by the way the show management handled the situation. Even the judges were mad to give away such bad scores. This has not been fun at all and it sheds a bad light on our sport.
Marina Schwank
It was a tough situation. On the one hand, I was so disappointed that everything went wrong, mostly because we started out very well, receiving +1, +1/2 and +1 on the first obstacles. On the other hand, my client ended up being Reserve Champion and I was so happy for her! The owner of the horse I rode was very sad. I do not really have a "recipe" on how to deal with such a situation. I was very sad and disappointed, but I had to keep moving on, because I had to show in the Golden Series Trail as well. I just hoped it would not happen in the Series Trail again, although the risk was not as high with the Senior horses than with the Green horses. And then they removed the scary signs anyway… This evening was like a rollercoaster ride. Yes, we deal with animals and something like this can happen anytime, but it was frustrating not being able to show what your horse is usually capable of.
Ben Fisher
Not an easy question. To me, the whole situation was a disaster. This was not about Trail. If you build up a course in a way that not even half of the horses in the class get through, it is really bad for our sport. And I have to stress that most of these horses have already proven in the past that they are good trail horses. I usually try do deal with such situations by staying connected with my horse. I do not want the horse to have a bad experience, I want it to leave the arena with a positive feeling. You cannot change the situation, but you can use it to get a better bond with your horse. I really hope the show management learns from this situation. If they don't, the do not seem to care about us competitors at all. I learned my lessons: If the trails will be build up like this next year, I will not attend the show, because this is not a proper situation for a young horse to make positive experiences in the show pen. However, congratulations to the winner who mastered the course — you really deserve it!
________________________________________________________________________
Bavarian Summer Show, Samstagnachmittag, Limited Trail. Anspruchsvolle Pattern, aufgepeppt durch Blumen und große Werbebanner am Ende der Arena. 14 Pferde sind genannt, sechs von ihnen werden es nicht durch den Parcours schaffen. Diese sechs Pferde – wie üblich im Limited Trail sind es eher junge oder unerfahrene Pferde – schaffen es tapfer durch die ersten Hindernisse, scheuen dann aber vor den großen bunten Werbebannern, die mitten im Parcours stehen. Eines der Pferde verletzt sich sogar auf der Brücke, die diesmal nicht gerade, sondern ums Eck gebaut ist. Die Frustration auf den Rängen und im Warm-Up ist groß. Wie geht man als Trainer mit so etwas um? Eine gute Leistung in einer solchen Klasse kann auch immer entscheidend für die Existenz sein. Wir haben drei Trainer gefragt, wie sie den Tag erlebt haben.
Lena Wolff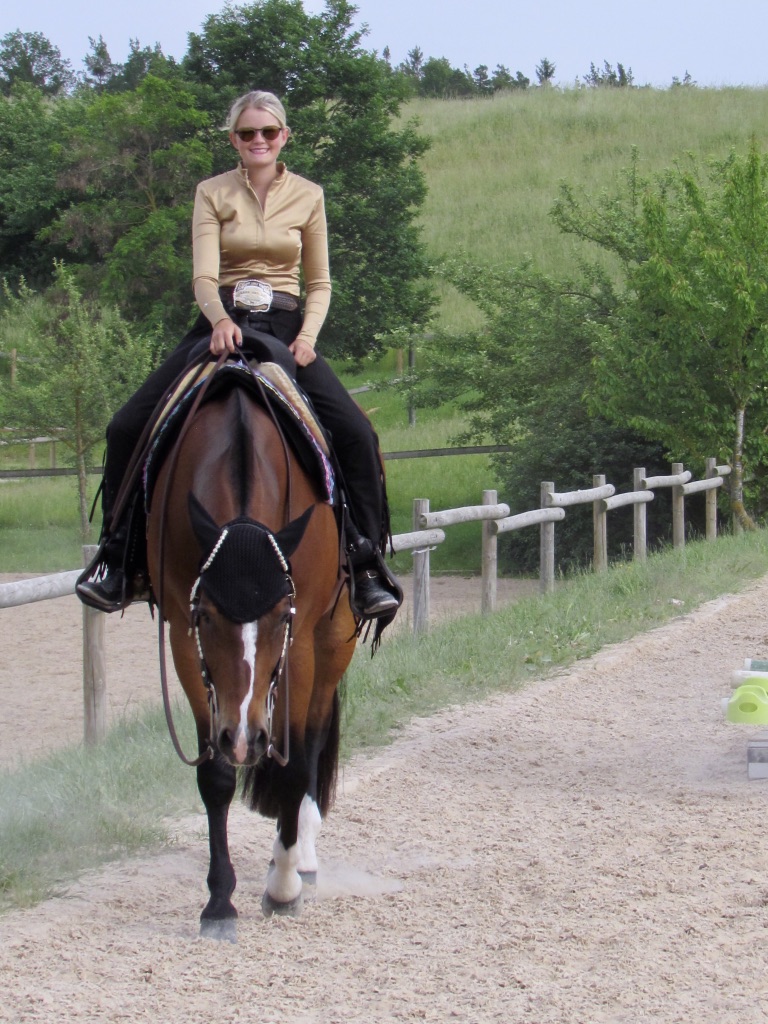 Ich bin sehr enttäuscht und zugleich auch gefrustet über die Ereignisse im Limited Trail. Anfang April habe ich nicht mit einer Qualifikation für diese Klasse gerechnet, da Tacoma wirklich kein einfaches Pferd ist. Umso mehr hat es natürlich die Besitzerin Nadine Müller und mich gefreut, dass wir es unter die Top 5 im Vorlauf geschafft haben. Voller Elan haben wir für das Finale geübt und ich glaube, wir hätten auch gute Chancen gehabt, da unser Anfang sehr gut gelaufen ist, nur traurigerweise haben wir es nicht durch das ganze Pattern geschafft. Wie ich die Sache in der Situation gelöst habe: Ich habe meinem Pferd einfach die "gruselige Stelle" gezeigt, ihn daran schnuppern lassen, habe ihn gestreichelt, damit er sich entspannt und bin dann in Ruhe aus der Prüfung geritten. Das Ganze ist wirklich sehr frustrierend, da meine Kundin wirklich viel Zeit und Geduld in Tacoma investiert hat und sich sicherlich sehr über eine gute Performance gefreut hätte. Auch für mich als junge Trainerin wäre dies eine gute Möglichkeit gewesen, mein Talent zu zeigen. Ich bin sehr enttäuscht, dass nicht während der Prüfung seitens des Show Management gehandelt wurde. Selbst die Richter waren sichtlich genervt, solch unterirdische Scores vergeben zu müssen. So macht es einfach überhaupt keinen Spaß und stellt unseren Sport in kein gutes Licht.
Marina Schwank
Es war eine ganz schwierige Situation für mich. Einerseits war ich sehr enttäuscht, dass das alles schief ging, vor allem weil mein Trail mit Score +1, +1/2, +1 angefangen hat… Andererseits wurde meine Kundin Reserve Champion, was mich für sie sehr gefreut hat. Die Besitzerin meines Pferdes war natürlich auch sehr traurig über die Gesamtsituation. Ein Rezept, wie man mit so etwas umgeht, habe ich nicht. Ich war erst sehr traurig und enttäuscht, aber musste dann nach vorne schauen, weil ich noch den Golden Series Trail zu showen hatte. Ich habe in dem Moment nur gehofft, dass das nicht gleich noch einmal passiert. Wobei ich bei den Senior Pferden die Gefahr nicht so groß sah wie bei den ganzen Green Pferden und dann hatten sie die Schilder ohnehin heraus genommen. Der Abend war eine Achterbahn der Gefühle. Es sind natürlich Tiere und es kann immer etwas passieren, aber wegen so etwas nicht zeigen können, was man kann, ist nervenaufreibend.
Ben Fisher
Tja, das ist keine einfache Frage. Ich habe die Situation als Katastrophe gesehen. Da ging es nicht mehr um Trail reiten. Wenn man einen Trail so aufbaut, dass nicht einmal die Hälfte der Pferde durchkommt und eines sich sogar verletzt bei der Sache, ist das negativ für unseren Sport. Wir reden auch hier von guten Pferden, die durch ihre Qualifikation schon bewiesen haben, dass sie Trail können. Wie ich mit so einer Situation umgehe, ist dass ich zu 100 Prozent nur bei meinem Pferd bin. Ich will meinem Pferd kein schlechtes Erlebnis bieten und versuche, dass mein Pferd mit etwas Positivem aus der Arena kommt. Man kann die Situation nicht ändern, aber man kann es nutzen, um das Vertrauen zu seinem Pferd zu stärken. Ich kann nur hoffen, dass die Veranstalter etwas daraus gelernt haben. Wenn nicht, sieht man, wie wenig wir als Teilnehmer ihnen bedeuten. Ich hab meine Lektion gelernt und entscheiden, dass wenn die Trail nächstes Jahr wieder so konzipiert werden, ich zu Hause bleiben muss, denn so ist es fast unmöglich, einem jungen Pferd gute Erfahrungen zu bieten. Ich gratuliere die Siegerin, die diese schweren Umstände bezwungen hat, ganz herzlich und ihr Sieg ist verdient.