Austrian native Moritz Stummer is mostly known as a successful Youth competitor in combination with his equine partner French Kiss Instant. Recently, Moritz has added another horse to his line-up. Moon Walker One is a 2017 colt, bred by David Maisonnette – just like French Kiss Instant who is 13 by now.
TSL: You have told us in our last interview that you are not sure how your show career will continue after your final exam at high school. That does not exactly sound like a plan that would match a young horse. Why did you decide to buy a weanling?
Moritz Stummer (MS): Actually when we did our last interview, my parents and I had not really discussed the topic yet. I have started looking for prospects by accident during the ECQH and stumbled upon Jared on David's Facebook page. I showed him to my parents and they started to think about the future after Franky will be retired. So we wondered whether this is what I want to do in my future – as a hobby. And I was very sure that it is! If I stop showing now, I fear I will quit forever since there is not much time during university and might not start again. I want to stick with showing horses! We decided to buy a young horse, one we would have from the start. Furthermore, after Franky, I really wanted another horse that was bred by David.
TSL: Why did you choose Jared?
MS: I really liked his expression when I first saw him on Facebook. I also loved his movement. His dam, Page N Machine, was a great show horse and he is sired by RL Best Of Sudden, so what else could one want? My trainer, Sophie Muhr, was convinced as well. It was decided when we first saw him live. He is – as all of David's horses – very easy to handle. I think he has great potential. He is a little star already.
TSL: What's in the future for him?
MS: He will stay in France until next spring when we will bring him to Austria. He will stay on a pasture at our home and can enjoy his life as a young horse. I want to have a horse that I can show for a long time. I think this matches Sophie's philosophy of training horses. He should be sound as long as possible. That is why I do not want to say that he is a Futurity prospect, because this is not my major goal. If he continues to be that good-minded he might not be gelded. Since semen by RLBOS will not be available in the future, not gelding Jared could be a great opportunity.
TSL: Does that mean that Franky is retired now?
MS: Not yet. He is showing signs of age, but it is not necessary to completely retire him yet. I will show him next year and it depends on my studies what will follow after that. But we had to be aware of the fact that he will not be showing forever.
TSL: What are you future plans as a competitor?
MS: Just continue showing as I did before. I am really looking forward to Jared, because nowadays it is really important to have a great mover. Furthermore, a young horse is always a great challenge. I have always loved working with the young ones.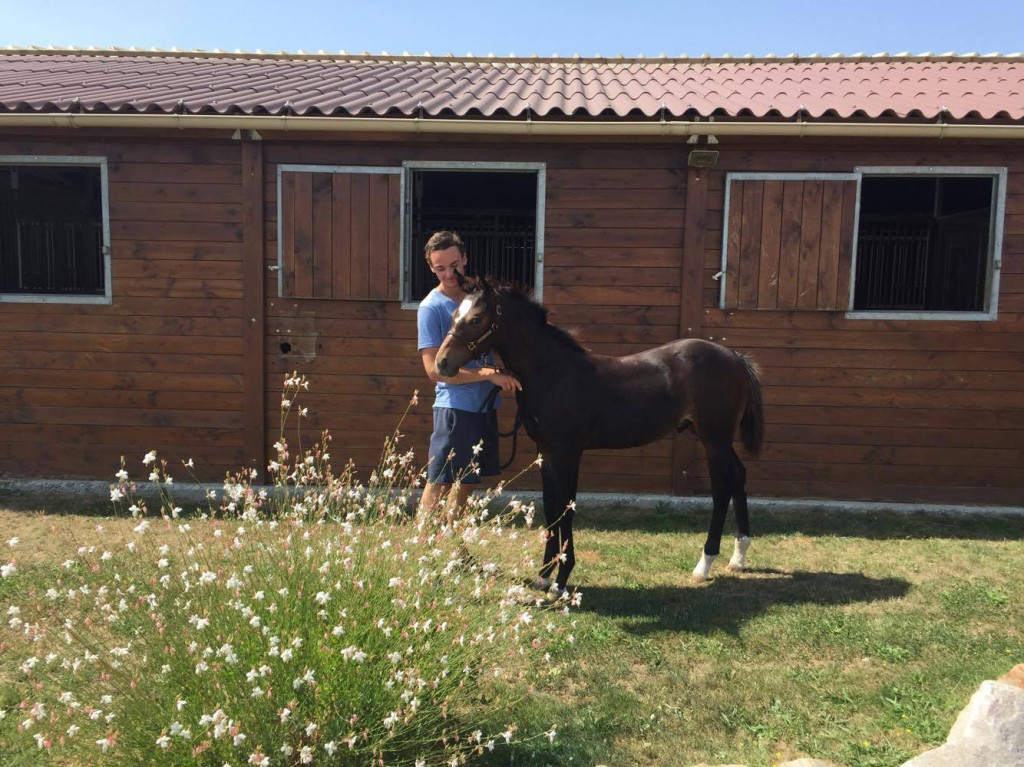 TSL: Did you meet Jared at David's for the first time? What was your first impression?
MS: We have already seen him on Facebook and I have asked David some questions before. He has had some other great horses for sale, but Jared was the reason we booked our flight. He is a very polite horse, but as soon as he gets used to the situation, he is much more self-confident and playful. I loved that because it reminded me of Franky. Both are very fancy horses!
TSL: Anyone you would like to thank?
MS: My parents for supporting this passion of mine and David for selling Jared to my family.
Thank you, Moritz!
---
Der Österreicher Moritz Stummer ist den meisten als erfolgreicher Youth Reiter in Kombination mit seinem vierbeinigen Partner French Kiss Instant bekannt. Erst kürzlich hat Moritz sich ein weiteres Showhorse gekauft und dabei demselben Züchter vertraut: Sein neues Pferd Moon Walker One, ein 2017 geborenes Hengstfohlen, wurde ebenso wie French Kiss Instant von David Maisonnette gezüchtet.
TSL: Du hast im letzten Interview noch gesagt, dass Du nach der Matura noch nicht weißt, wie es mit dem Reitsport weitergeht. Unsichere Zukunftsaussichten passen ja nicht unbedingt zu einem jungen Pferd. Wieso hast Du Dich jetzt doch entschlossen, ein Fohlen zu kaufen?
Moritz Stummer (MP): Damals hatten meine Eltern und ich uns noch gar nicht mit dem Thema befasst, wie es weitergeht. Auf der Europameisterschaft hatte ich eigentlich durch Zufall begonnen, mir junge Pferde im Internet anzuschauen und bin gleich über Jared, Moon Walker One, auf Davids Facebook Seite gestolpert. Den habe ich natürlich gleich meinen Eltern gezeigt und auch sie haben angefangen mit dem Gedanken zu spielen, wie es nach Franky weitergeht. So hat sich dann die Frage gestellt, ob es wirklich das ist, was ich weiter machen möchte, also als Hobby. Für mich war klar, dass es das definitiv ist. Wenn ich jetzt nicht weiter mache, höre ich irgendwann auf, weil die Zeit während des Studiums knapp ist und so weiter und fange dann möglicherweise gar nicht mehr an. Also dran bleiben. Wir haben uns deshalb für so ein junges Pferd entschieden, weil wir dann genau wissen, was wir haben. Außerdem wollte ich unbedingt, nach Franky, noch einmal ein Pferd aus Davids Zucht.
TSL: Wieso hast Du Dich für dieses Fohlen entschieden?
MS: Als ich ihn das erste Mal auf Facebook sah, fand ich gleich, dass er einen tollen Ausdruck hat. Auch seine Gänge waren definitiv überzeugend. Er hat eine ausgezeichnete Mutter, Page N Machine, und einen tollen Vater, RL Best Of Sudden, also was will man mehr? Auch Sophie Muhr, meine Trainerin, war überzeugt. Als wir ihn das erste Mal live gesehen haben, war es ziemlich schnell entschieden. Er ist jetzt schon, wie alle Pferde dort, sehr leicht im Umgang. Ich denke einfach, dass er unheimlich viel Potential hat. Er ist jetzt schon ein kleiner Star.
TSL: Wie sieht denn seine Zukunft aus?
MS: Er wird auf jeden Fall bis nächstes Jahr im Frühling in Frankreich bleiben, bis wir ihn nach Österreich holen. Hier kommt er dann noch einmal auf eine Weide bei uns zu Hause und darf erstmal Pferd sein. Grundsätzlich ist es mein Ziel, nachhaltig ein tolles Showpferd zu erzeugen. Ich denke, dass ich da bei Sophie an der richtigen Adresse bin. Er soll so lange wie möglich gut und gesund leben und laufen können. Ich möchte deshalb auf keinen Fall sagen, dass er mein "Futurity Prospect" ist, weil die Futurity nicht das Haupt-Ziel ist. Wenn er brav und umgänglich bleibt, darf er vielleicht sogar Hengst bleiben. Gerade jetzt, wo man nicht weiß, wie es mit seinem Vater weiter geht, wäre das ziemlich cool.
TSL: Heißt das, Franky geht in Rente?
MS: Nein, erstmal nicht. Wir merken zwar schon immer wieder, dass er ins Alter kommt, aber ihn komplett zu pensionieren ist noch nicht nötig. Nächstes Jahr werde ich ihn auf Turnieren vorstellen und was danach kommt, hängt von meiner Studiumssituation ab. Wir mussten uns aber bewusst werden, dass er nicht ewig hält.
TSL: Wie sehen denn Deine reiterlichen Pläne nun aus?
MS: Erstmal weitermachen wie bisher. Nachdem es heutzutage schon sehr wichtig ist, einen guten Beweger zu haben, freu ich mich natürlich schon sehr auf Jared. Ein junges Pferd ist immer eine Aufgabe. Ich bin mir sicher, dass da noch einmal viel weitergeht. Außerdem hatte ich immer viel Spaß, mit jüngeren Pferden zu arbeiten.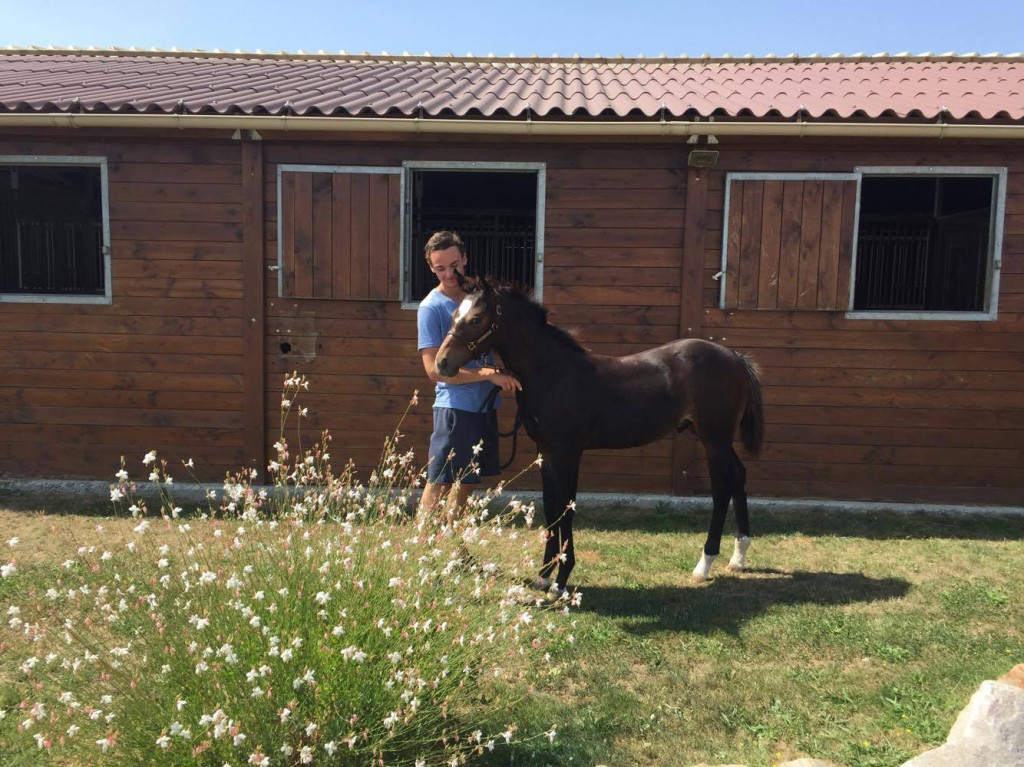 TSL: Hast Du Jared bei David zum ersten Mal gesehen? Wie war Dein Eindruck? Wie ist er charakterlich so?
MS: Wir hatten ihn ja bereits auf Facebook gesehen und ich habe mich natürlich bei David informiert. Er hat derzeit noch ein paar andere tolle Pferde im Verkauf, aber Jared war der Grund, warum wir den Flug gebucht haben. Er ist für sein Alter unheimlich "höflich" und zurückhaltend. Wenn er aber in der Situation sicherer wird, neugierig und ein wenig frech. Das mochte ich total und hat mich ein wenig an Franky erinnert. Ein fesches Pferd ganz einfach.
TSL: Gibt es jemanden, bei dem Du Dich bedanken möchtest?
MS:  Bei meinen Eltern dass sie mich so sehr in dem Sport unterstützen und bei David dafür, dass er mir Jared anvertraut hat.
Danke, Moritz!