"Life is what happens while to you while you're busy making other plans." Wins Cookie Cutter should have been part I of our new series #maremonday. The article should have been published within the upcoming days. But life got in the way – this exceptional mare passed this week.
The fact that Wins Cookie Cutter was supposed to kick off our new series was not a coincidence but a elaborate plan, because the mare's name is one of the first that come to mind when thinking about exceptional broodmares in Europe – if not the name. 
People sometimes use the term exceptional a little too careless when it comes to broodmares – they apply it to great show mares who have their first foal or to broodmares who had a lot of babies but those never showed exceptionally well. Wins Cookie Cutter, however, was both: a successful showhorse and a great producing broodmare.
Hubertus Jagfeld imported the mare from the States in 1996 as a 2-year-old and she started to excel in the Halter classes at an early age. Unfortunately, her show career came to a halt due to an accident when she was just a young horse, so she never showed in performance classes – but during her short career she amassed 100 AQHA Halter points and stood Grand Champion 40 times.
One of her first foals, CR Award by Gators Clear Round, showed successfully in the Futurity and Maturity classes. But the magic cross was with another stallion: Nite Chip, who the Jagfeld family successfully showed for many years.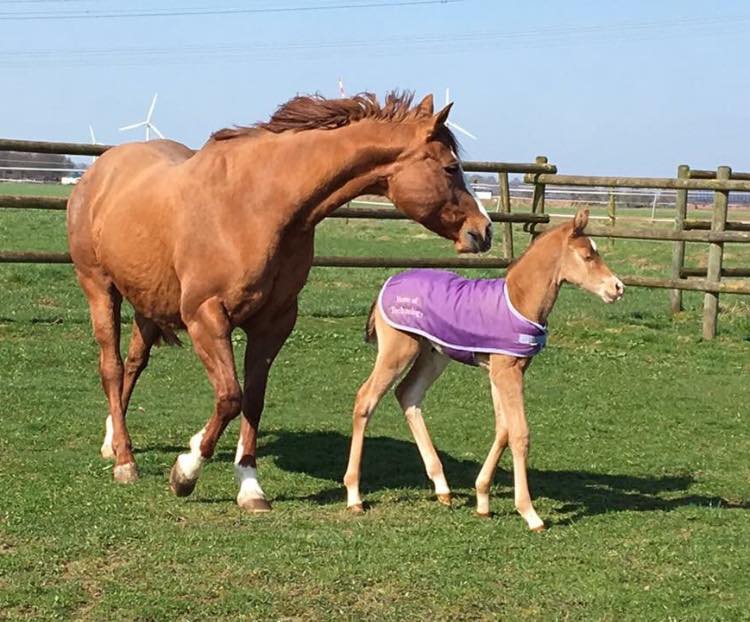 Nite Chip and Wins Cookie Cutter produced offspring that doesn't need an introduction in the European All-round industry, because most of them are household names. Nite Chip and Wins Cookie Cutter produced three Champion of Champions: Midnite Cookie, Toniteismynite and Good Rhythm Tonite. The latter became multiple European Reserve Champion and DQHA Highpoint Champion with Hannah Friedl and is still out there showing successfully just like his full brother Date Nite who became Circuit Champion at the Int. DQHA Championship with Timo Antweiler among many other wins and placings in Futurity and Maturity classes.
Wins Cookie Cutter's offspring Lost My Sockstonite, The Greensideoflife and Mrs Greenbird were crowned DQHA Futurity Champions. The latter two are sired by Green With Invy, another stallion that the Jagfeld family showed successfully and who tragically passed away in 2013 due to a colic.
Lost My Sockstonite and her half-brother Keep My Mama In Mind also became Champion of Champions which means that "Cookie" has produced five of them in total. Keep My Mama In Mind aka Charlie was supposed to be the last foal out of the mare – hence the name, a tribute to the mare that has left her mark in the European allround industry.
But her time as a Mom did not end with Charlie was planned – because the Jagfeld barn suffered another loss in 2019: Chrissy Cox-Domnick's cutting mare Catz Pep passed while giving birth do her baby "Mucki". "Cookie accepted Mucki as it was her own baby and they have been inseparable until her last breath," Alexandra Jagfeld says. Mucki's official name is "About The Cookie Cat", another tribute to this special mare and foster Mom.
Listening to all these stories it does not come as a surprise that the Jagfeld family is devastated by the loss. "Cookie has been a part of our family for 25 years", Alexandra told us. Her mother Christel commented on Facebook: "I lost everything." People from all over Europe have reacted to the mare's passing: "Such a great horse", "We are thinking of you!", "She was really special!" – those are just some of the comments.
The European allround industry has lost an exceptional broodmare, the Jagfeld family lost a family member.
"Life is what happens to you while you're busy making other plans." Eigentlich war Wins Cookie Cutter als Auftakt für unsere neue Serie "#maremonday" geplant. Eigentlich sollte der Artikel in den kommenden Tagen erscheinen. Doch das Leben kam dieser Planung zuvor – denn die Ausnahmestute ist in dieser Woche gestorben.
Dass Wins Cookie Cutter (Conclusive Win x Miss Lucky Allure) der Auftakt dieser Serie sein sollte, war kein Zufall, sondern gut durchdacht – denn die Stute ist eine der Ersten, wenn nicht sogar die Erste, die einem einfällt, wenn man an herausragende Zuchtstuten in Europa denkt.
Häufig wird der Begriff "Ausnahmezuchtstute" etwas achtlos genutzt – entweder für erfolgreiche Showpferde, die dann ein Fohlen bekommen, sich aber nicht als Vererberin bewiesen haben, oder für Stuten, die schon viele Fohlen hatten, aber nie im Sport liefen, beziehungsweise deren Fohlen nur durchschnittlich erfolgreich sind. Wins Cookie Cutter war beides: erfolgreiches Turnierpferd und herausragende Vererberin.
1996 importierte Hubertus Jagfeld die Stute, bereits in jungen Jahren war sie in der Halter erfolgreich. Wegen eines Unfalls begann ihre Karriere als Zuchtstute früher als geplant – während ihrer kurzen Zeit im Showpen holte die Stute 100 AQHA Halter-Punkte und wurde 40 Mal Grand Champion.
Bereits eines der ersten Fohlen, CR Award, von Gators Clear Round, lief erfolgreich in den DQHA Futurity und Maturity-Klassen. Besonders erfolgreich war jedoch die Anpaarung mit Nite Chip, den die Familie Jagfeld selbst jahrelang erfolgreich auf Turnieren vorstellte.
Wins Cookie Cutter und Nite Chip brachten erfolgreiche Turnierpferde vor, die man heute in der Szene nicht mehr lange vorstellen muss, denn die Erfolge sind hinreichend bekannt. Da sind die drei Champion of Champions Midnite Cookie, Toniteismynite und Good Rythm Tonite. Letzterer war mit Hannah Friedl mehrfacher Vize-Europameister und DQHA Highpoint Champion. Er läuft bis heute im Sport, ebenso wie sein Vollbruder Date Nite, der unter Timo Antweiler unter anderem Circuit Champion auf der "Q" wurde und mehrfach in Futurity- und Maturity-Klassen siegte.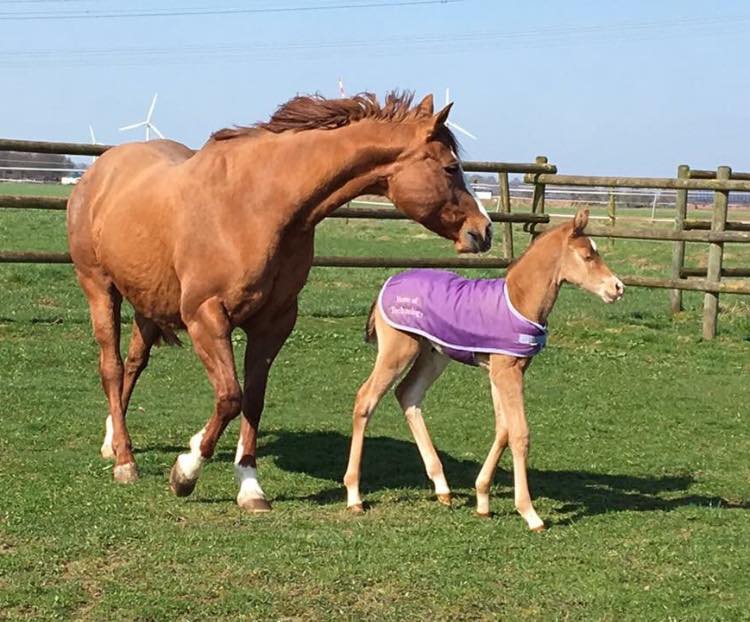 Wins Cookie Cutter ist außerdem die Mutter der DQHA Futurity Champions Lost My Sockstonite, The Greensideoflife und Mrs Greenbird. Die beiden letzteren Nachkommen sind von Green With Invy, der ebenfalls erfolgreich von der Familie Jagfeld vorgestellt und 2013 überraschend wegen einer Kolik eingeschläfert wurde.
Lost My Sockstonite war ebenso wie ihr Halbbruder Keep My Mama In Mind Champion of Champions. Keep My Mama in Mind aka Charlie war das letzte Fohlen aus der Stute und der fünfte Champion of Champions, den "Cookie" hervorgebracht hat. "Keep My Mama In Mind" – ein Tribut an die Stute, die die europäische Allround-Szene so sehr geprägt hat.
Doch mit "Charlie" sollte Cookies Zeit als Mutter noch nicht vorbei sein – denn im Stall Jagfeld kam es im Jahr 2019 zu einem tragischen Verlust: Die Cutting-Stute Catz Pep der Co-Trainerin Chrissy Cox-Domnick verstarb unerwartet bei der Geburt ihres Fohlens "Mucki". "Cookie nahm Mucki sofort an, als wäre es ihr eigenes Fohlen", erzählt Alexandra Jagfeld. "Die beiden waren bis zu Cookies letztem Atemzug ein untrennbares Team." Muckis offizieller Name lautet "About The Cookie Cat" – ein Tribut an die "Ersatzmama" und Ausnahmestute.
Bei all diesen Geschichten ist es nicht verwunderlich, dass der Verlust die Familie Jagfeld schwer getroffen hat. "Cookie war 25 Jahre Teil unserer Familie", sagt Alexandra. Christel Jagfeld kommentiert auf Facebook "I lost everything" – "Ich habe alles verloren". Auch die Anteilnahme aus der Szene ist groß: "So ein tolles Pferd", "Wir fühlen mit euch", "Sie war etwas ganz Besonderes" sind nur einige der Kommentare.
Die europäische Allround-Szene hat eine herausragende Zuchtstute verloren, die Familie Jagfeld ein Familienmitglied.