This is part five of our series "Introducing Designers". We have talked to Nadja Schreiber of the German brand Cherry Dream Showoutfits that is run by her and her Mom.
Who is part of your team?
Cherry Dream Showoutfits is a small family business run by my mother Petra and me, Nadja Schreiber. I have been riding horses since I was six years old. I started riding dressage horses and fell in love with the Western industry when I was 14 years old. We bought my first own horse called FG Cherry Dream six years ago.
Nadja Schreiber
Picture: Stefan Roy Photography
Founder of Cherry Dream Showoutfits
How did you found your business?
My Mom has been sewing clothes for over 30 years now and is very experienced. We started by creating outfits for me. When horse show friends started to ask whether we would do an outfit for them, we decided to make show clothing for others as well. At that time, my first horse FG Cherry Dream got sick, so we decided to name our business after my horse. A few weeks ago, we broaden our range of goods by offering hand-made wraps and pads to put underneath. We will add other items as well, so stay tuned!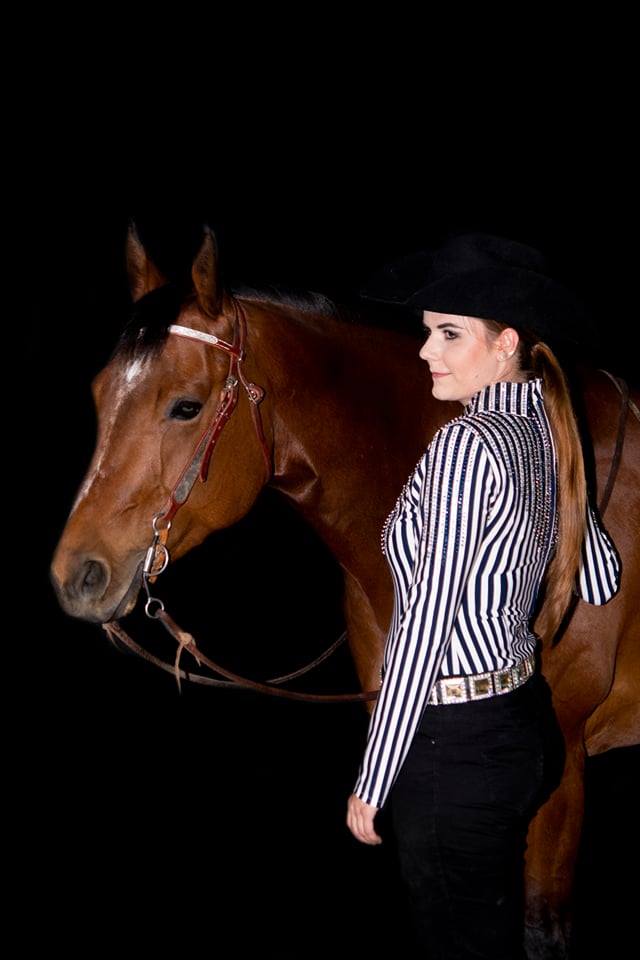 What was challenging when founding the business?
There hardly were challenges, because we had some experience from sewing show clothing for me. So the sewing part was easy. It was new to us to create something according to a client's vision. We also wanted to make sure to not copy from other designers and to manage the time pressure. We are working full-time in other jobs, so we might need some more time than other designers.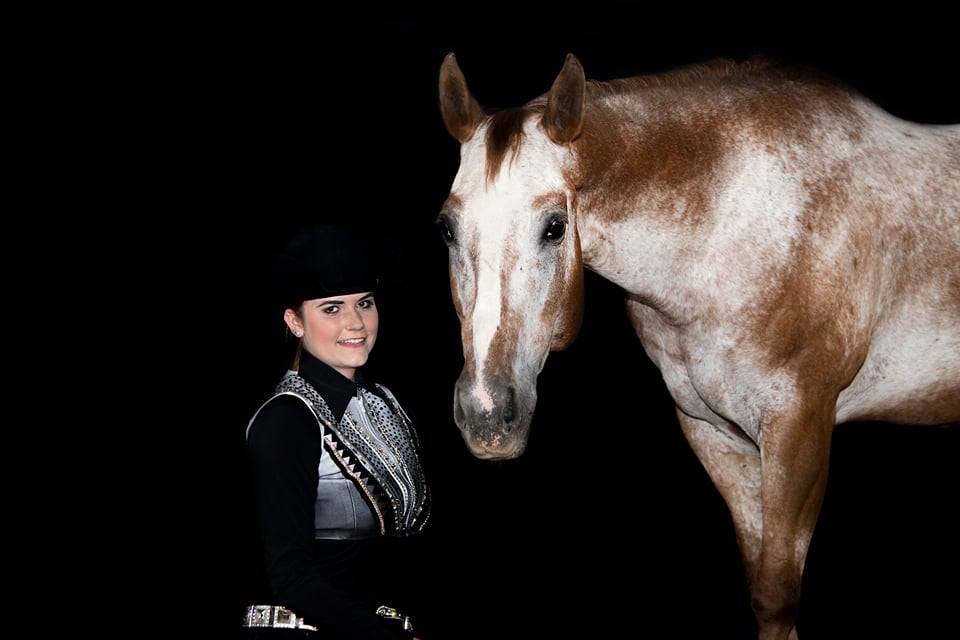 How would you describe your style?
I think our style is very diverse. We try to create everything according to the client's wishes and try the best we can – no matter if it is a simple shirt or a fully beaded vest with a horsemanship shirt. All of our heart goes into our outfits.
How can people order?
You can order via our Facebook page "Cherry Dream Showoutfits". We will talk to you, in order to find out what you want, how much money you can spend and what your budget is. We inform our clients about every step of the way, so that we can make changes quickly if needed. That way, we can also include ideas that have developed along the way.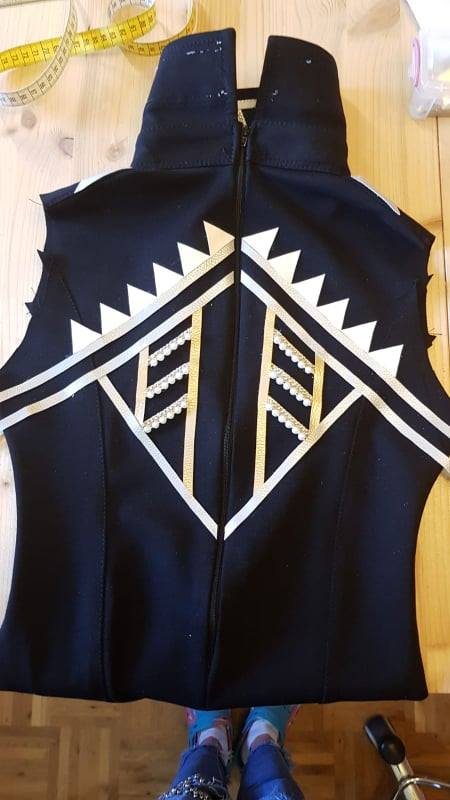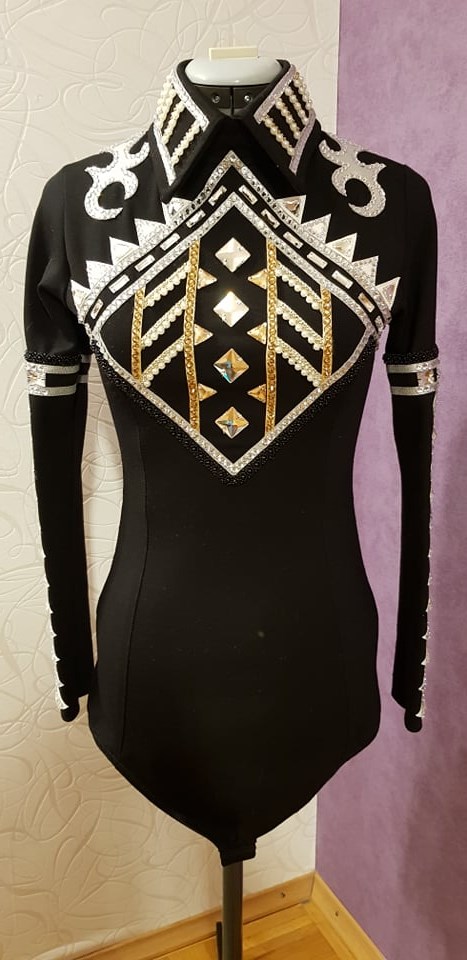 Did you ever make an outfit that was a real challenge?
Yes, there was one jacket that was hard to design. The client had a total different taste than I had. It was really important to be in contact with her al the time and talk about things in greater detail. In the end, I loved the result as well!
Dies ist der fünfte Teil unserer Serie " Introducing Designers", in der wir Showclothing-Designer aus ganz Europa vorstellen. Wir haben mit Nadja Schreiber von Cherry Dream Showoutfits gesprochen. Nadja hat die Marke mit ihrer Mutter gegründet und hat uns erzählt, wie es zu dem Namen kam, wie sie ihren Stil beschreiben würde und wieso ein Outfit eine besondere Herausforderung war.
Wer gehört zum Team von Cherry Dream Showoutfits?
Cherry Dream Showoutfits ist ein kleines Familienunternehmen von meiner Mutter Petra und mir, Nadja Schreiber. Ich reite seit meinem sechsten Lebensjahr, zunächst klassisch Dressur, bis ich mit etwa mit 14 Jahren meine Leidenschaft für das Westernreiten entdeckte. Mein erstes eigenes Pferd FG Cherry Dream kauften wir vor sechs Jahren.
Nadja Schreiber
Foto: Stefan Roy Photography
Mitgründerin von Cherry Dream Showoutfits
Wie kam es zur Gründung der Marke?
Meine Mutter näht schon seit über 30 Jahren selber und bringt daher jede Menge Erfahrung mit. Zunächst haben wir angefangen, Oberteile für mich selber zu entwerfen und zu nähen. Als dann aber Nachfragen von befreundeten Turnierreitern kamen, haben wir uns dafür entschieden, auch im Kundenauftrag zu fertigen. Zu diesen Zeitpunkt erkrankte mein erstes Pferd FG Cherry Dream. Aus diesem Grund wollten wir ihr unseren Firmennamen widmen und somit war Cherry Dream Showoutfits entstanden. Seit einigen Wochen haben wir unser Gewerbe um "Kirschträumchen Horse Tack" erweitert. Hier bieten wir individuelle Bandagen, Bandagierunterlagen und bald noch vieles mehr an.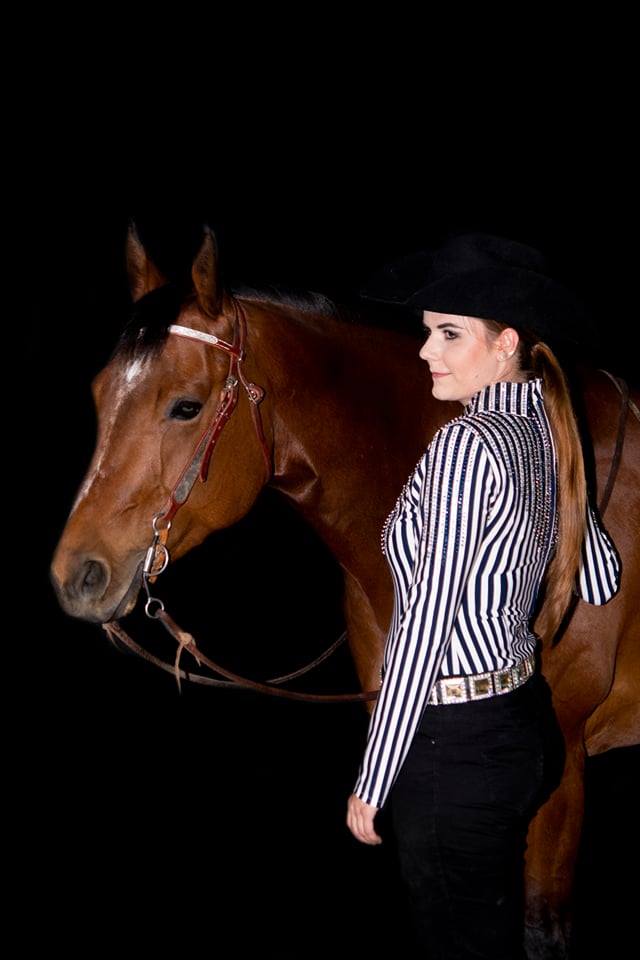 Welche Herausforderungen gab es bei der Gründung des Unternehmens?
Bei der Gründung gab es für uns keine Herausforderung, da wir vorher schon viele Oberteile für mich genäht haben, war das Fertigen selber nichts Neues für uns. Die Herausforderung bei jedem neuen Outfit ist natürlich, dem Kunden gerecht zu werden, dabei keinem Oberteil eines anderen Designers zu sehr zu ähneln und dem Zeitdruck standzuhalten. Wir sind beide noch Vollzeit in anderen Berufen tätig, daher brauchen wir manchmal länger als andere.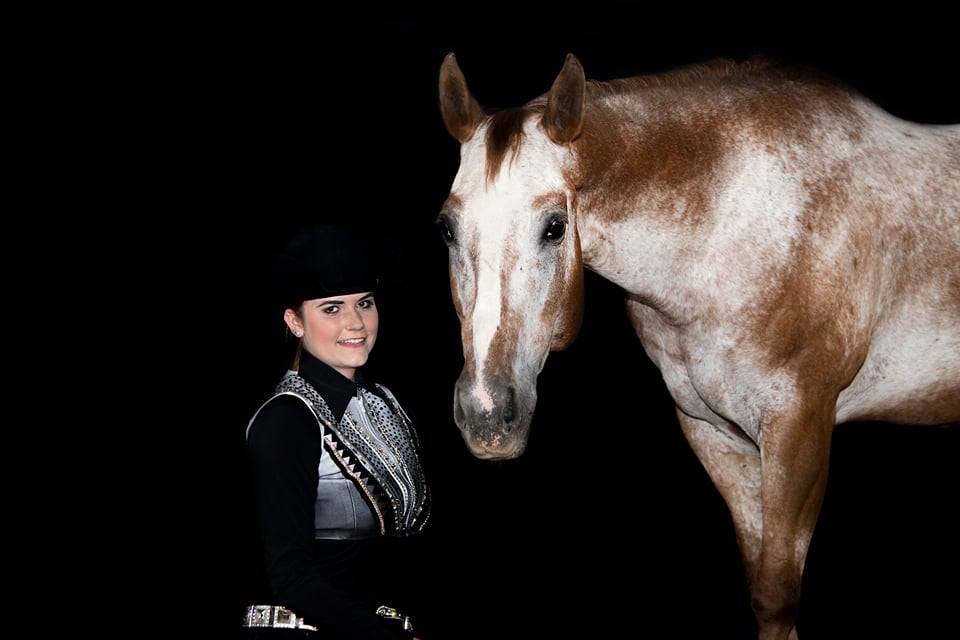 Wie würdest du den Stil beschreiben?
Unseren Stil würde ich als sehr vielseitig beschreiben. Wir versuchen immer, den Wünschen der Kunden gerecht zu werden und alles möglich zu machen. Ega, ob nur ein einfaches Oberteil mit bestrasstem Kragen oder eine komplett bestrasste Weste mit dazu passendem Horsemanshipshirt für darunter gewünscht ist – wir stecken in jedes Oberteil unser ganzes Herzblut und volle Kreativität.
Wie läuft eine Bestellung bei euch ab?
Bestellen kann man über unsere Facebook-Seite "Cherry Dream Showoutfits". Im privaten Gespräch besprechen wir zunächst einmal, was die Kundin sich wünscht und in welchem Zeitrahmen und Budget wir uns befinden. Jeden Schritt in der Entstehung eines Outfits sprechen wir ganz eng mit unseren Kunden ab, sodass Änderungen jederzeit noch möglich sind und auch nachträglich entstandene Ideen noch mit einfließen können.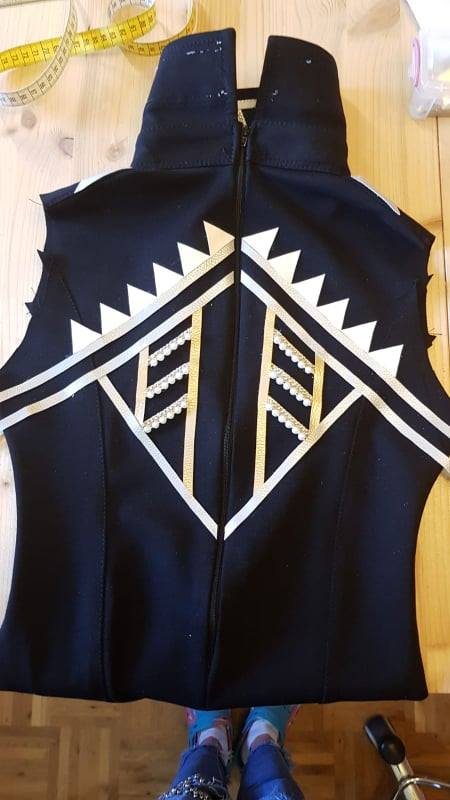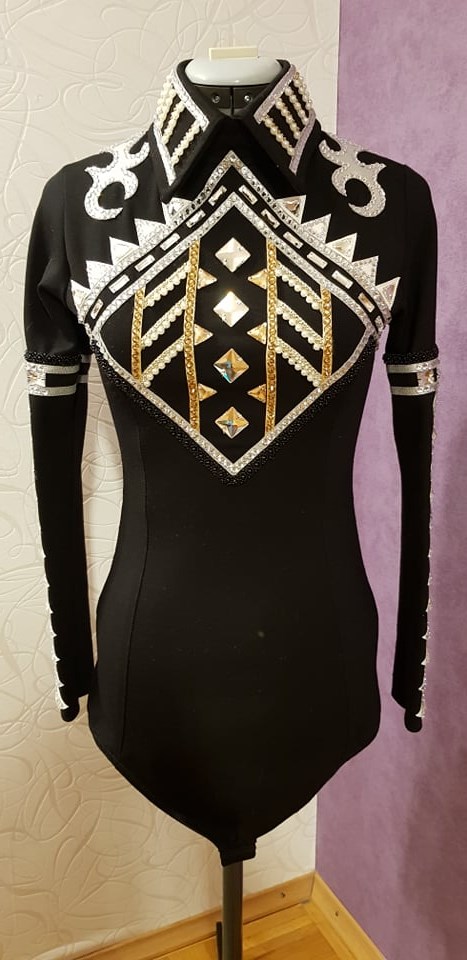 Gab es in Sachen Outfits schon einmal eine richtige Herausforderung?
Ja, tatsächlich gab es ein Jacket, das sehr schwierig für mich zu entwerfen war. Der Geschmack der Kundin wich sehr von meinem ab! Hier war es also besonders wichtig, in engem Kundenkontakt zu bleiben und vieles doppelt zu besprechen. Letzten Endes hat das Ergebnis mich dann aber auch vollends begeistert.