Up next in our series "Introducing Designers" is a show clothing brand from Hungary. We talked to the team of Equus Caballus Sport about their family business.
Can you tell us about your team and how you founded Equus Caballus Sport?
We are Erika and Virág, a mother-daughter duo who started our family-run business in 2012. The idea came up because we keep horses on our farm where we live and we also give riding lessons for children. First, we made basic sports equipment for our horses like blankets, polo wraps and halters. In 2017, my daughter and me founded Equus Caballus Sport. As our business is very small, we can only produce a limited number of outfits – Western Pleasure show jackets, Horsemanship shirts, boleros, vests. That is why we take orders one or two months forward. We have no employee, we arrange and do everything by ourselves. We keep in contact with our customers, make a suggestion for the style of the outfit's material, colors, pattern, do the tailoring pattern, cut out the applications, sew them to the patterns and embellish the outfits with the stones, beads, and rhinestones. Our main policy is that we pay special attention to every customer's demand in high quality design and style.
How would you describe your style? Do you have any key pieces?
We manufacture unique masterpieces which are elegant and artistic. We create the outfits out of high-quality material, stones whose colors fit the fabric, horse, chaps, hat and the show pads.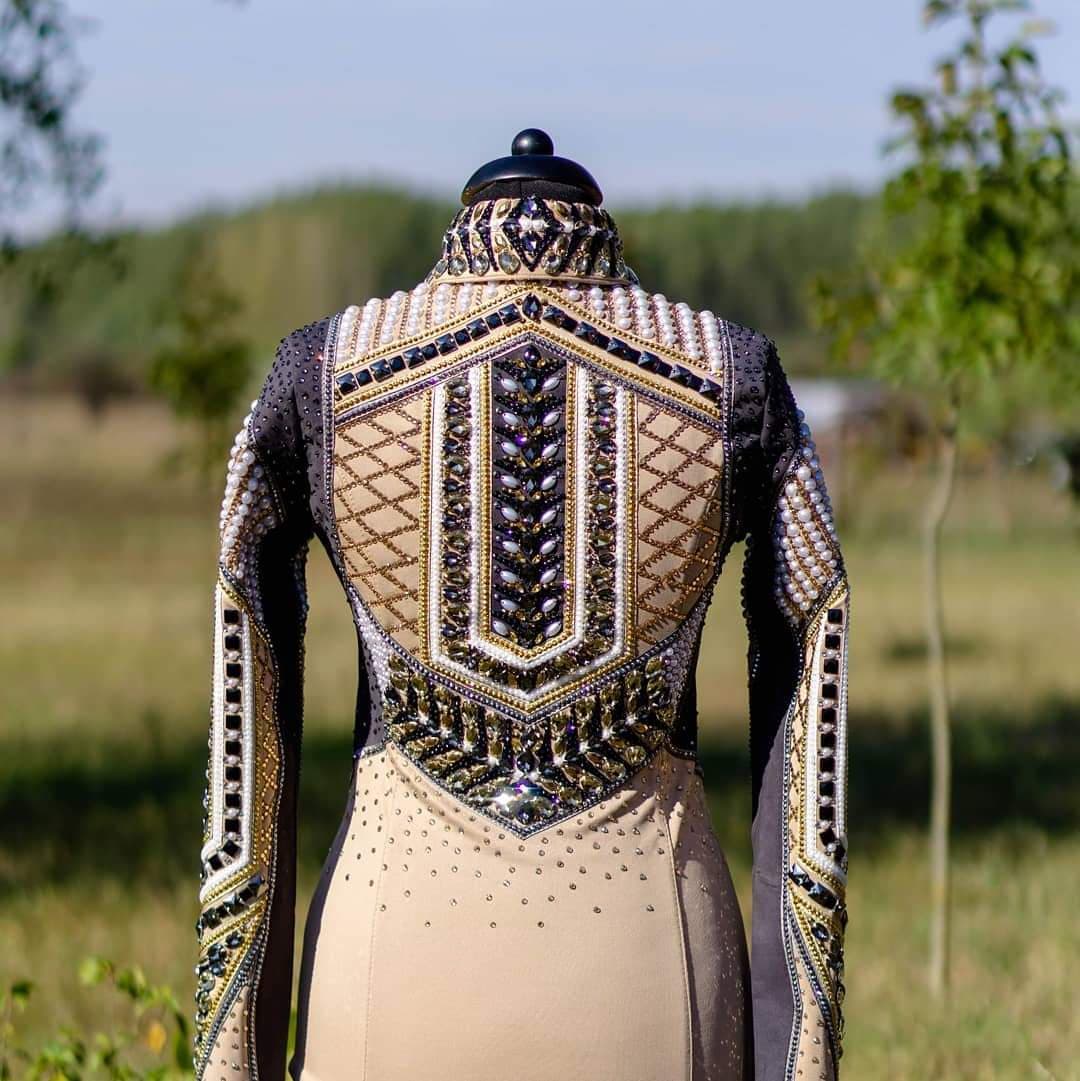 All pictures in the gallery were taken by Mikos Olah
What challenges did you face when founding a business?
When we launched the business, we had to learn what current brand leaders are doing and figure out how we can offer our customers better service. We realized that many European riders cannot afford to pay a lot of money for show outfits. We believe that making a Horsemanship shirt or Showmanship jacket can be made at a very competitive price. It is probably easier for us to produce it like that, because we are very lucky to have very low expenses. We have a workroom in our home, we have no employees, we do every single step of the work process by ourselves, and we have to pay the personal liability for us only.
How does ordering an outfit work and how would you describe your clients?
We always have a good relationship with our customers and we try to do our best for them. When a customer gets in contact with us and would like to order outfits, we are always very excited and delighted to do our best and make high-quality handcrafted clothes for them. The process of making western show clothes is very important. The made-to-measure clothes cannot be compared to clothes off the rack. We created a measurement chart that our customers need to fill out with their accurate measurements. It can help us to tailor the patterns very precisely. Our clients are very helpful and do the measurements by themselves enthusiastically. There are some clients who don't know exactly what they want or they cannot imagine their clothes based on the sketch. In this case, we have to make a suggestion for the style, colors, applications and help them by making a very detailed and colored sketch to imagine their outfits.
---
Als nächstes in unserer Serie "Introducing Designers" ist Equus Caballus Sport dran. Wir haben mit den Inhaberinnen über ihr Familienunternehmen gesprochen.
Könnt ihr euch kurz vorstellen und erzählen, wie ihr Equus Caballus Sport gegründet habt?
Wir sind Erika und Virág, Mutter und Tochter, und haben unser Familien unternehmen 2012 gegründet. Die Idee kam auf, weil wir Pferde auf unserer Farm halten und auch Reitunterricht für Kinder geben. Anfangs haben wir simples Sport-Equipment für Pferde gemacht, also Decken, Bandagen und Halfter. 2017 haben wir dann Equus Caballus Sport gegründet. Unser Unternehmen ist sehr klein, also können wir nur eine kleine Zahl an Outfits pro Jahr herstellen. Wir machen Jackets, Horsemanship Shirts, Westen und Boleros. Aufträge nehmen wir nur mehrere Monate im Voraus an. Wir haben keine Angestellten, sondern organisieren alles selber. Sobald wir in Kontakt mit der Kundin stehen, machen wir einen Vorschlag für das Design, die Farben und den Schnitt. Wir schneidern selber, schneiden die Applikationen aus und fügen dann die Steine und Perlen hinzu. Unser Hauptaugenmerk liegt darauf, dass wir die Ansprüche der Kundinnen an hochwertiges Design erfüllen.
Wie würdet ihr euren Stil beschreiben?
Wir kreieren einzigartige Stück, die elegant und kunstvoll aussehen. Wir machen die Outfits aus hochwertigen Materialien und Steinen, die farblich perfekt zum Grundstoff, dem Pferd, den Chaps, dem Hut und dem Blanket passen.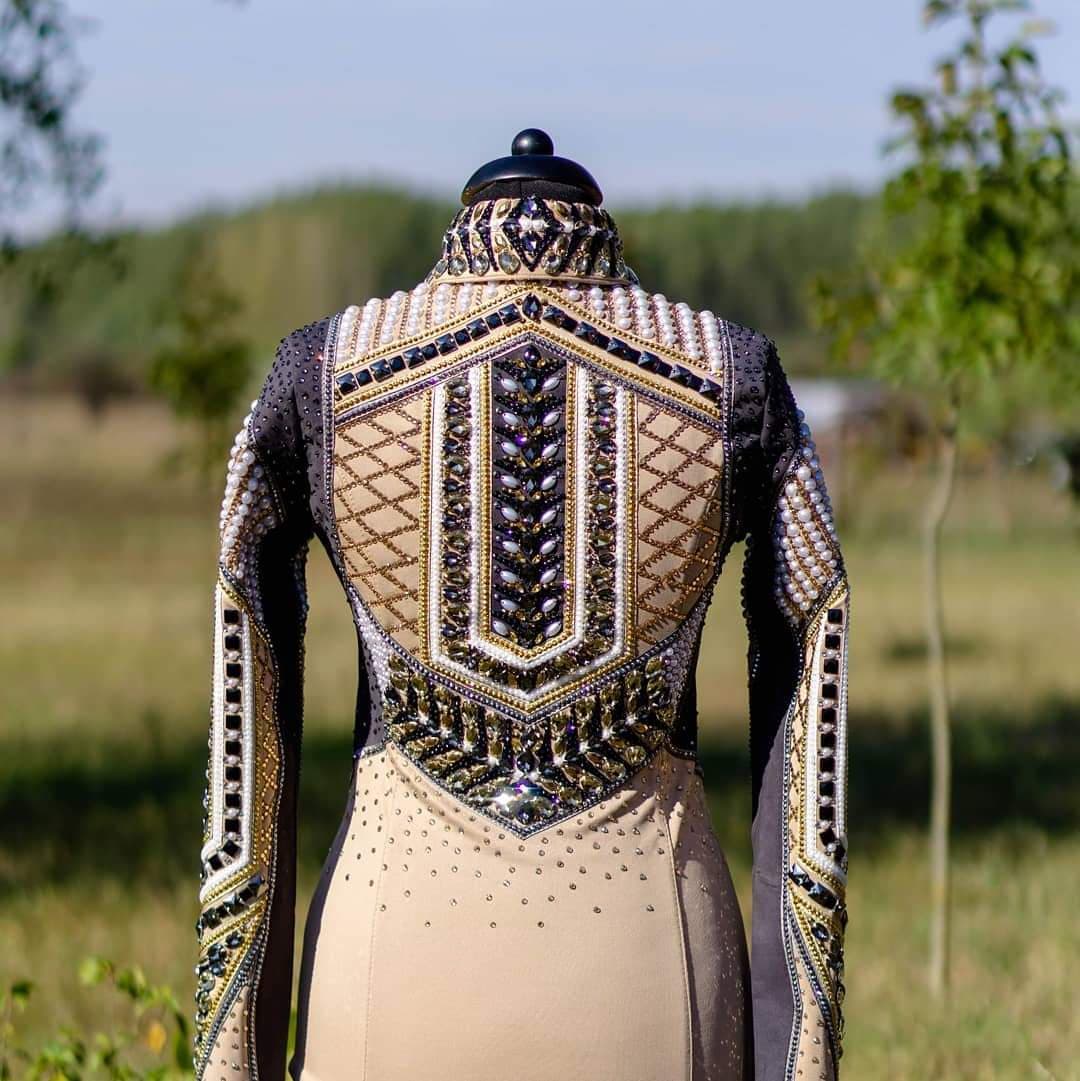 Was gab es für Herausforderungen bei der Unternehmensgründung?
Wir mussten zunächst herausfinden, was die Marktführer in der Branche machen und überlegen, wie wir noch besseren Service anbieten können. Wir haben auch festgestellt, dass viele europäische Reiter nicht so viel für Showoutfits ausgeben können. Unserer Ansicht nach kann man Horsemanship shirts und Showmanship Jacken zu guten Preisen herstellen. Aber natürlich ist es für uns einfacher, da wir wenig Nebenkosten haben. Wir produzieren zuhause, haben keine Angestellten, machen alles selbst und müssen die Privathaftpflicht nur für uns bezahlen.
Wie läuft eine Outfitbestellung bei euch ab?
Wir haben eine gute Beziehung zu unseren Kundinnen und geben unser Bestes. Sobald eine Kundin uns kontaktiert, freuen wir uns immer sehr darauf, ein handgemachtes Outfit für sie zu kreieren. Der Prozess ist uns dabei sehr wichtig. Einzelstücke kann man nicht mit Outfits von der Stange vergleichen. Wir haben eine Liste, in die Kundin ihre Maße einträgt, damit wir das Schnittmuster exakt zuschneiden können. Unsere Kundinnen kommen uns da sehr entgegen und nehmen die Maße selbst. Einige Kundinnen haben keine konkrete Vorstellung, wie ihr Outfit aussehen soll. In dem Fall machen wir einen Vorschlag: Design, Farben, Applikationen. Außerdem fertigen wir eine detaillierte Zeichnung des Outfits an, damit die Kundin sich das besser vorstellen kann.