In this series, we introduce all European designers. While most of them offer spectacular, unique, sparkly master pieces, the business we will introduce in this article has chosen to take a different part: Hansride is a young brand that offers all sorts of shirts, custom-made, DIY and off the rack. We have talked to Jacky Hans about their new family business, what they offer and – she spilled the secret – what's next to come.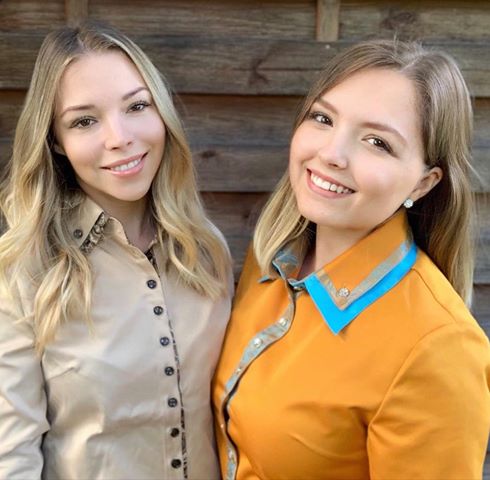 The Team
Hansride
Sabrina Hans (left) and Jacky Hans
"Sabrina is the owner of Hansride, she focuses on business communication. If you ever send us a message via Facebook or Instagram, Sabrina is usually the one who answers them. Jacky is posting pictures and everything else on our Facebook and Instagram pages, thinks of special deals for the clients and takes care of all collaborations. John Lo, Sabrina's boyfriend, is responsible for all technical tasks. He has programmed our website and thinks of new and innovative ways to improve it even more. Our parents support us whenever we need help – they take care of orders, take pictures, pack the outfits and send them away."
How did you found your brand Hansride?
We got the idea when I was searching for the perfect show shirt. Everyone who knows me knows that I can be very picky. I wanted to have a custom-made piece. Those are usually expensive – but the quality never met my expectations. I was complaining in our family chat when my sister, who was on holiday in China with her boyfriend, texted back: "I got something for you." And there it was, just a week later: our first Hansride Classic shirt. We never thought of selling the shirts, but we are glad we did.
Your product range is different to what other designers in the industry offer. What do you sell?
There are many great designers in our industry who offer spectacular, sparkly outfits. We are specializing on DIY products and individual shirts. We want our clients to be happy and that is why we use the best material. We are glad to offer high quality that is still affordable. We want each rider to have the opportunity to create and outfit that matches their imagination or create an outfit that is the base of all other looks they wear. We offer DIY shirts, boleros and vests – more to come. We offer custom made pieces and some off the rack. They are made from two sorts of fabric: one is stretchy, one is a little thicker. The thicker ones are part silk and the stretchy ones are made of a heavier fabric so that you can't see all the wrinkles in the shirt. You can buy shirts off the rack or create your own. We also make scarves out of mulberry silk.
How does one order?
We have a website where we sell our products. It isn't fully done yet and we are always working on it to improve it for our clients. Usually, clients contact us via Facebook or Instagram. Some have a vision of what they want, others want us to inspire them. Should the shirt be matched to a blanket, bolero or vest? In that case, clients send us some pictures. We can make some suggestions, before the client makes a final choice. If the client isn't sure if the colors will match, we send some fabric samples via mail. If our clients want their shirt to match a MamaMia blanket, we will get in direct contact with the girls of MamaMia. If they need a new MamaMia blanket to match their shirt, we collaborate as well. Another step is choosing a pattern. We have tons of possibilities. We make some suggestions and search until the perfect fabric is found. This usually takes up the most time. Flowers, paisley, dots… there is something for everyone. Last but not least, we talk about the size. Custom made or off the rack? It usually takes four weeks until the shirt is done, because our tailor pays attention to every detail. If you need something fast, we always have shirts in stock. And there is the sale for everyone who wants snatch at an offer.
Do you collaborate with other businesses in the industry?
We collaborate with MamaMia, because they offer the best blankets in our opinion. We are glad to offer those blankets as the perfect match to our shirts. We also collaborate with Lena Wolff. She supports us with creative ideas for new shirts. We are in conversation with other companies and trainers and will have more partners in the future.
What are your plans with Hansride? Do you think of expanding your range of goods?
Our initial plan was to find the perfect shirt and look where we are now! It's funny how our little family business developed a life of its own. We have so many ideas we want to bring to life. A secret we can spill: We will offer DIY horsemanship shirts. Our prototype is almost done and we will test it in the upcoming days, before offering it for sale. The biggest addition will be our collection for men – no matter if you like it simple or extraordinary, we will have everything our male equestrians are looking for.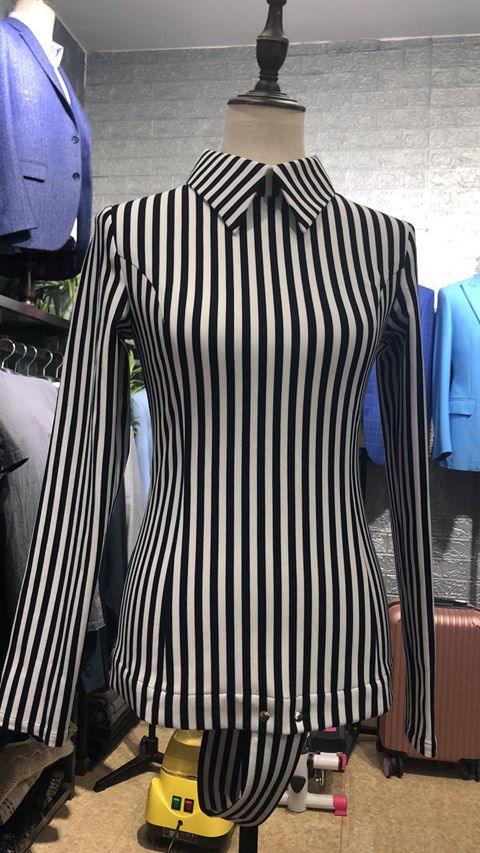 What type of client buys at Hansride?
Every type of client who wants a high-quality, but affordable outfit. We want to give everyone the opportunity to shine: newcomers who do their first show or someone who wants the perfect match for the next championship.
Discount for all TSL readers
If you use the code "theshowlife" you get 5 % off your next order. This code is valid two weeks, starting on May 19th.
[Remark by The Showlife: ad, not paid]
In unserer Serie "Introducing Designers" stellen wir Showoutfit-Designer aus ganz Europa vor. Während die meisten von ihnen mit Steinen und Perlen verzierte, pompöse Outfits anbieten, hat das Unternehmen, um das es in diesem Artikel geht, einen anderen Weg gewählt: Hansride ist eine junge Marke, die Blusen aller Art anbietet – Einzelstücke, Stücke von der Stange, DIY-Stücke. Wir haben mit Jacky Hans gesprochen und sie hat uns erzählt, wie es zur Gründung des Familienunternehmens kam, was sie anbieten und sie hat uns verraten, was als nächstes kommt.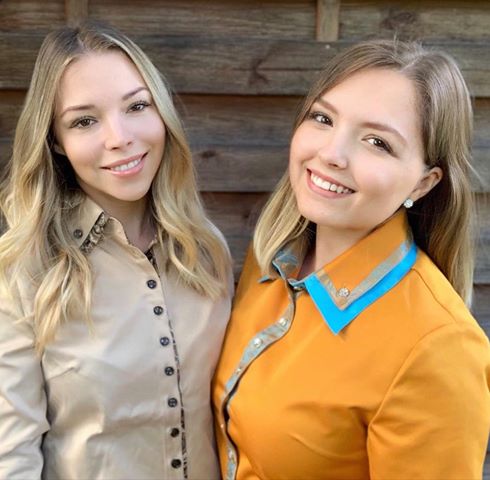 Das Team
Hansride
Sabrina Hans (links) und Jacky Hans
"Sabrina ist Inhaberin von Hansride, ihre Hauptaufgabe ist die Kommunikation. Sie steckt also hinter den meisten Antworten, die ihr auf Facebook und Instagram erhaltet. Jacky postet fleißig Bilder und Texte auf unserer Facebook- und Instagram-Seite, überlege mir Aktionen für unsere Kunden und kümmere mich um Kooperationen. John Lo, Sabrinas Freund, ist für die Technik zuständig. Er hat die Website programmiert und arbeitet noch an weiteren innovativen Ideen. Mama und Papa Hans unterstützen, wo gerade Hilfe benötigt wird – egal, ob bei der Bestellung, beim Fotografieren und Verpacken oder Versenden der Outfits."
Wie kam es dazu, dass ihr eure Marke Hansride gegründet habt?
Es begann, wie wohl bei jedem Turnierreiter, mit der Suche nach der perfekt passenden Bluse. Jeder, der mich kennt weiß, dass dies einfacher klingt, als es ist. Es kam also nur eine Maßanfertigung in Frage. Diese sind oft teuer und qualitativ leider nicht immer so hochwertig, wie ich es mir für den Preis wünsche. Ich beklagte mich also im Familienchat über diese scheinbar endlose Suche, als meine Schwester, die gerade mit ihrem Freund im Urlaub in China war, die Diskussion mit der Aussage "Ich bringe dir etwas mit" beendete. Und da war sie nun eine Woche später: unsere erste Hansride Classic Bluse! Die Blusen zu verkaufen, war eigentlich gar nicht die Idee, wir sind aber froh darüber, dass wir es versucht haben.
Ihr bietet ein etwas anderes Sortiment an als die meisten Designer. Was genau bekommen die Kundinnen bei euch?
Es gibt so viele tolle Designer auf dem Markt, die pompöse Outfits herstellen. Wir haben uns auf DIY-Produkte und individuelle Blusen spezialisiert. Wir wollen für alle bezahlbare Produkte anbieten. Wir legen besonderen Wert auf die Zufriedenheit unserer Kunden und verwenden deshalb nur die besten Materialien. Wir sind stolz darauf, stets Qualitätsprodukte zu einem erschwinglichen Preis anzubieten. Wir freuen uns, anderen Westernreitern die Möglichkeit zu bieten, ihre Showoutfits an ihre Wünsche anzupassen oder die Grundlage eines tollen Outfits zu schaffen. Unsere DIY-Palette besteht aus Classic Blusen, Bolero und Westen – weiteres ist in Planung. Wir bieten Blusen in Standard- und Custom-Maßen an. Der Stoff ist wahlweise aus festem oder stretchigem Material. Einige unserer festen Stoffe haben einen Seidenanteil und die stretchigen Modelle sind aus schwerem Stoff, sodass sich nicht jede Sitzfalte abbildet. Die Blusen sind entweder fertige Modelle oder werden individuell zusammengestellt. Außerdem fertigen wir Halstücher an, die aus 100 Prozent Maulbeerseide bestehen.
Wie läuft eine Bestellung bei euch ab?
Wir haben eine Website, über die unsere Produkte gekauft werden können. Diese ist noch im Aufbau und wird ständig erweitert. Die meisten Kundinnen schreiben uns über Facebook oder Instagram. Viele haben schon eine genaue Vorstellung von ihrer Traumbluse, Andere lassen sich von uns inspirieren. Soll die Bluse zu einem Blanket oder einem Bolero oder einer Weste passen? In diesem Fall schicken unsere Kundinnen uns Bilder. Hierzu können wir bereits ein paar Vorschläge machen, bevor es zur finalen Farbauswahl kommt. Sollte man sich bei einer Farbe nicht sicher sein, schicken wir unserem Kunden Stoffproben zu, um den richtigen Farbton zu finden. Eine Besonderheit bieten wir unseren Kunden an, wenn die Bluse auf ein MamaMia-Blanket angepasst werden soll, denn dann stimmen wir die Farben direkt mit MamaMia ab. Soll für die Bluse ein neues Blanket angeschafft werden, finden wir auch hier das perfekte MamaMia-Blanket für unsere Blusen. Dann fehlt noch die Musterauswahl. Hier haben wir hunderte Möglichkeiten. Wir treffen also eine kleine Auswahl und suchen so lange weiter, bis das passende Muster gefunden ist. Dies nimmt oft die meiste Zeit in Anspruch. Es gibt viele mögliche Farbkombinationen und Muster – von Blumen über Paisley bis hin zu Punkten oder schimmernden Mustern ist für jeden Geschmack etwas dabei. Zu guter Letzt besprechen wir die Größe – soll es Custom-Maß sein oder eine unserer Standardgrößen? Die Lieferzeit beträgt etwa vier Wochen, da die Bluse von unserer Schneiderin in liebevoller Handarbeit genäht wird. Wenn es einmal schnell gehen soll, haben wir ein paar Blusen auf Lager. Für Schnäppchenjäger bieten wir einige Blusen im Sale an.
Kollaboriert ihr mit anderen Unternehmen?
Wir haben eine Kooperation mit MamaMia, die unserer Meinung nach die besten Blankets anbieten! Wir sind froh darüber, diese Blankets als #perfectmatch zu unseren Blusen anbieten zu können. Eine weitere tolle Kooperation haben wir mit Lena Wolff. Sie unterstützt uns mit kreativen Ideen beim Entwerfen neuer Modelle. Wir sind mit weiteren Unternehmen und Trainern im Gespräch und werden demnächst noch weitere Kooperationspartner dazugewinnen.
Was sind eure Pläne mit Hansride – denkt ihr beispielsweise darüber nach, euer Sortiment zu erweitern?
Unser Plan war, die eine passende Bluse zu finden und nun kommen wir mit dem Planen kaum hinterher. Die Selbstständigkeit, die Hansride als kleines Familienunternehmen entwickelt, ist enorm. Unsere Kreativität ist noch lange nicht ausgeschöpft. An dieser Stelle können wir schon verraten: Unsere DIY-Produkte werden wir um Horsemanshipshirts erweitern. Der Prototyp steht in den Startlöchern und wird in den nächsten Tagen auf Herz und Nieren getestet, bevor er dann in den Verkauf startet. Die wohl größte Erweiterung wird unsere "for men"-Collection. Egal ob schlicht oder ausgefallen – bei uns werden demnächst auch Männer ihre Traumhemden finden.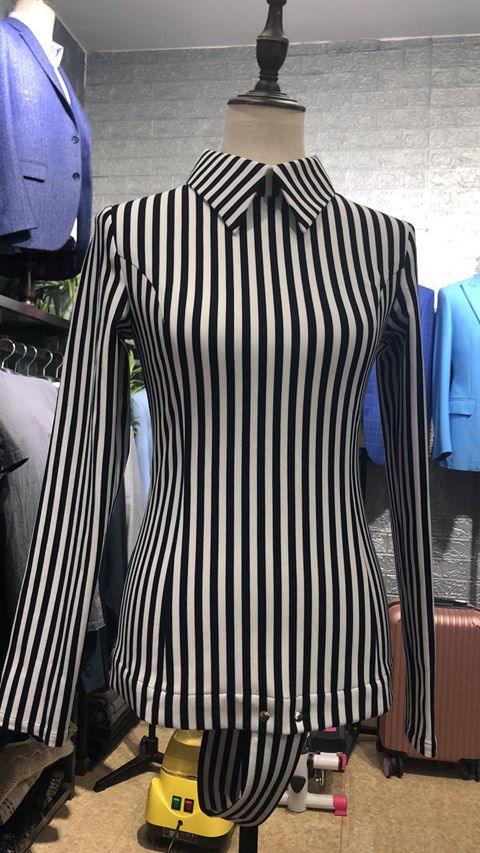 Welcher Typ Kundin oder Kunde passt zu Hansride?
Zu uns passt jeder Kunde, der schlichte oder ausgefallene Oberteile zu bezahlbaren Preisen mit toller Qualität sucht. Denn uns ist wichtig, dass jeder die Möglichkeit hat, ein schickes Outfit zu kaufen – egal ob man auf dem allerersten Turnier glänzen oder auf der Meisterschaft ein #perfectmatch zu seinem Showoutfit tragen möchte.
Aktion für alle Leser von The Showlife
Mit dem Code "theshowlife" bekommen alle Leser 5 % Rabatt auf ihre Bestellung. Der Code ist ab dem 19. Mai 14 Tage gültig.