In this part of our series "Introducing Designers" we talked to the lady who eleven years ago went on a mission to make the Reining industry more fashionable. Given the fact that these days people like Americana Champino Ann Fonck wear her designs, you can say she made it: Sonja Haiden of La Bombastic.
Sonja, how did you start riding?
My love and passion for horses ignited when I was a child. Friends of my family had a small farm with a few animals, including two Haflinger horses. It didn't take long until I managed to climb on one of them. I was five years old at the time. Afterwards, I started to ride for fun. Many different horses and lots of English tack. I still love Haflinger horses and thoroughbreds. At some point, Chris Kellner, a show photographer in Austria and long-time colleague, convinced me to switch to Western riding with my thoroughbred mare. After I started, I was hooked. I purchased a Reining horse and competed at shows.
Sonja Haiden
Founder of La Bombastic
When and why did you found La Bombastic?
After doing five years of fashion school, it was obvious that I was the one to design show clothing for me and my friends. Back then, 20 years ago, you were really fashionable if you wore a slinky with a few rhinestones on the collar. In 2000, I made my first pair of chaps for me and my friends. It was just a hobby.
In our barn back then were two lovely ladies who started to call me Bombastic: Nina Leiner and Nadja Hammer who are both still very successful competitors. Somehow, people continued to call me Bombastic rather than my real name. One day, I attended Sylvia Rzepka's birthday party and thought: If people like her don't know that my name is Sonja and just call me Bombastic, I might call my label that. In 2011, I founded La Bombastic.
How would you describe your style?
I think you can always see a designer's signature in an outfit, but I wouldn't call that style. The market has changed within the past years: new trends, brighter colors, different sorts of hats and chaps. I think a designer should evolve, but also stay true to his or her personal "designer's signature".
How can people order?
I try to make this as easy and personal as possible. To me, it's work. To my clients, it's a hobby and fun. That is why I want to make the whole process of ordering fun as well. Usually, people contact me via Facebook, Instagram or at a show. I try to find out at which level the client shows, who she is, how many horses she has to show. Those little pieces of information turn into one big idea. Then, the planning starts. I usually only do minimal sketches, because I want every piece to evolve while being in close contact with the client. This piece is growing while we put our ideas into it.
You do Reining outfits as well. How is that different from creating outfits for all-round riders?
Since I started my horse show career with Reining classes and did the all-round events after that, I know many people in the European Reining industry. There are and back then already were many great designers in the all-round industry, so my intention was to make Reining more fashionable. And I think that has worked out quite well in the past nine years. By now, you can see many pretty outfits in a Reining class that would be fancy in a Western Pleasure class as well. Since I showed Reining myself, I know that you need a little more freedom of movement in your outfit. I think that is the main difference.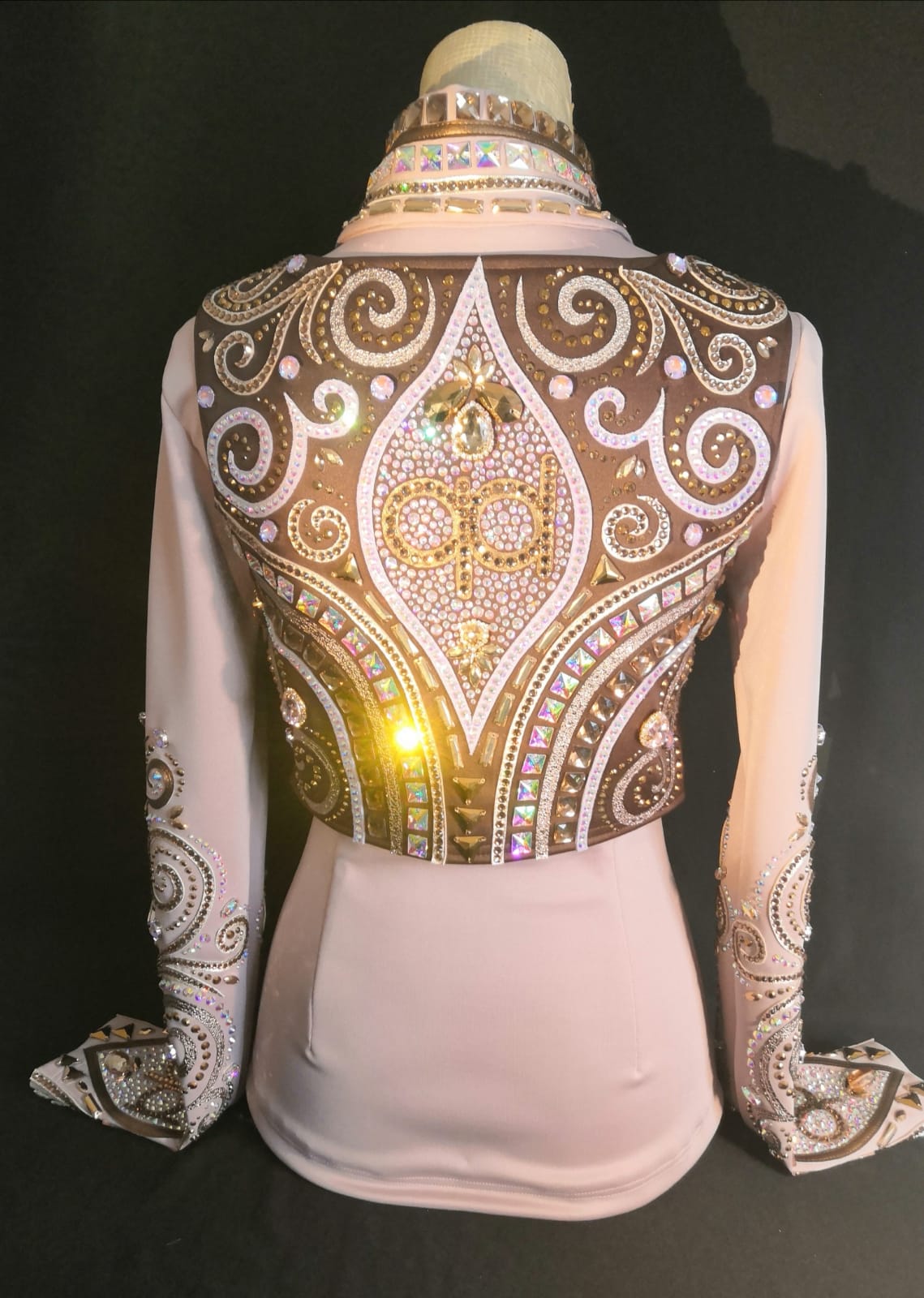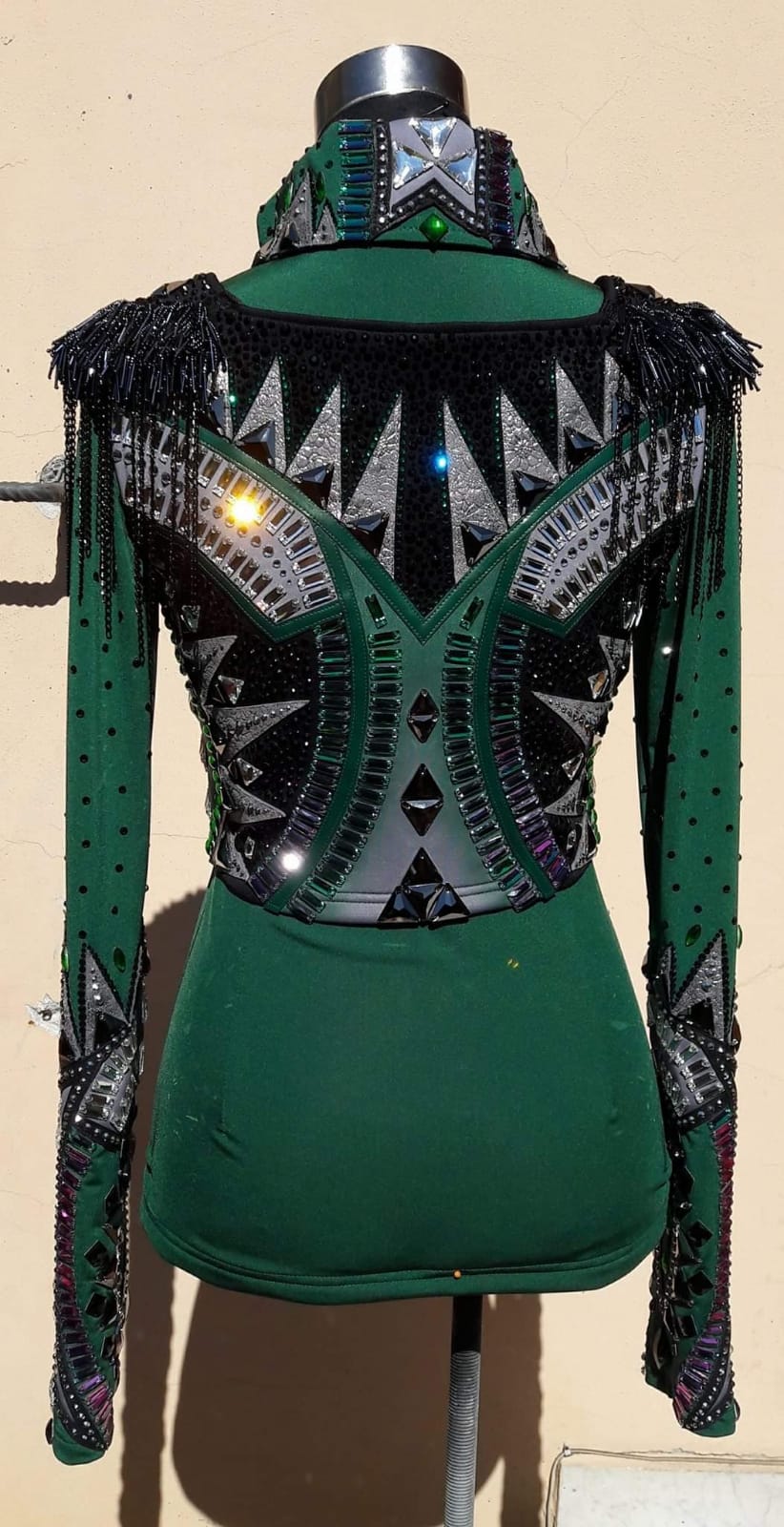 Did you ever create an outfit that was a real challenge?
To me, every outfit is a challenge. The client has to be happy, feel comfortable and give off some positive vibes. To achieve that is my job and my challenge.
Introducing Designers: La Bombastic
In dieser Folge unserer Serie "Introducing Designers" geht es um die Frau, die sich vor elf Jahren vorgenommen hat, "die Reiningszene auf Hochglanz zu polieren". Angesichts der Tatsache, dass heutzutage Reiterinnen wie Americana Champion Ann Fonck ihre Outfits tragen, hat sie es offensichtlich geschafft: Sonja Haiden von La Bombastic.
Sonja, wie bist du zum Reitsport gekommen?
Meine Liebe und Passion für Pferde wurden schon geboren, als ich ein kleines Kind war. Freunde der Familie hatten einen kleinen Hof mit vielen Tieren, unter anderem zwei Haflingern. Es dauerte nicht lang, bis ich es irgendwie schaffte, auf Kora, einen der Haflinger, zu krabbeln, um sie zu reiten. Damals war ich fünf. Viele Jahre lang war ich begeisterter "Wald und Wiesen"-Reiter. Damals noch mit Englisch-Ausrüstung und sehr viel verschiedenen Pferden. Mein Herz hängt immer noch an den Vollblütern und Haflingern.
Nachdem mich Chris Kellner – Show-Fotograf in Österreich und mein langjähriger Arbeitskollege – im Jahr 2000 dann doch noch überzeugen konnte, dass ich mit meiner damaligen Vollblut-Stute doch umsatteln sollte und das Westernreitabzeichen bestreiten soll, war es geschehen: Die Turnier-Atmosphäre hat mich verzaubert. Kurz darauf hatte ich mein erstes Reiningpferd und 2003 ritt ich meine ersten Shows.
Sonja Haiden
Gründerin von La Bombastic
Wie kam es dann zur Gründung von La Bombastic?
Nachdem ich fünf Jahre Modeschule mit Meisterprüfung absolviert habe, lag es mehr oder weniger auf der Hand, dass mich Stallkolleginnen um Outfits baten. Damals – vor 20 Jahren – war man mit einem Slinky mit fünf Steinchen am Kragen schon voll vorn dabei. 2000 habe ich die ersten Chaps für mich und Freunde genäht. Und kurz darauf folgten die ersten Slinkys, Jacken und Western. All dies jedoch nur als Hobby für mich persönlich und Freundinnen.
Im damaligen Stall wurde ich von zwei sehr netten Damen Bombastic getauft: Nina Leiner und Nadja Hammer – beide sind bis heute aktiv und erfolgreich im Turniersport. Und dieser Name wurde in der Reiter-Szene, vor allem der Reining, besser angenommen als mein Taufname. Auf einer Geburtstagsparty von Sylvia Rzepka ging mir ein Licht auf: "Wenn Trainer wie Sylvie nicht einmal wissen, dass ich Sonja heiße, sondern mich nur als Bombastic kennen, dann wird das wohl mein Labelname. Allerdings kam es erst viele Jahre später – 2011 – zur Entscheidung, La Bombastic in ein Gewerbe umzuwandeln.
Wie würdest du deinen Stil beschreiben?
Ich denke, dass man bei vielen Designern ganz genau die Handschrift in einem Outfit lesen kann – was ich allerdings nicht als Stil beschreiben würde. Der Markt hat sich in den letzten 15 Jahren so stark verändert: neue Trends, viel mutigere Farb-Kombis, mehr Mut zu farbigen Chaps und Hüten. Ein Designer sollte sich mit dem Trend entwickeln, aber seinem Stil dennoch treu bleiben.
Wie läuft eine Bestellung bei dir ab?
Ich versuche, die Abwicklung mit den Kundinnen so easy und persönlich wie nur möglich zu gestalten. Für mich ist es Arbeit. Für die Kundinnen geht es um Freizeit, Hobby und Spaß. Daher versuche ich auch, den Kontakt und die Abwicklung so einfach wie möglich zu halten. Meist kommt es zum ersten Kontakt über Insta, Facebook oder direkt auf der Show. Ich versuche in erster Linie, heraus zu finden, wer die Kundin ist, was sie reitet, welches Level, wie viele verschiedene Pferde sie showt. Viele Informationen, die dann zu einer Idee verschmelzen. Und dann geht es an die Planung. Ich bin bekannt für meine minimalen Skizzen, da ich während der Entstehung jedes Teiles ganz eng in Verbindung und Kontakt mit der Kundin stehe. Daher braucht man keine bis ins letzte Detail geplante Skizze. Wir lassen das Teil in Zusammenarbeit gemeinsam wachsen.
Du fertigst auch viele Reiningoutfits – was ist hier anders als bei den Outfits für Allround-Klassen?
Da ich ursprünglich durch Reining in die Turnierszene gestoßen bin und erst nach ein paar Jahren zur Allrounderin wurde, habe ich natürlich viele Kontakte in die Reiningszene. Und in der Allroundszene gibt es und gab es schon so viele gute und talentierte Designer. Also war mein Plan, mal die Reiningszene ordentlich auf Hochglanz zu polieren. Was mir, denke ich, in den letzten neun Jahren wohl durchaus gelungen ist. Mittlerweile laufen auf den großen Reiningshows Outfits, die ohne Weiteres in eine Pleasure dürften.
Da ich selbst Reining geritten bin, weiß ich genau was und welche Bewegungsfreiheit man für diese Disziplin benötigt. Der Unterschied liegt, denke ich, nur darin. Ein Outfit für die Reining muss etwas mehr Bewegungsfreiraum lassen als eine Pleasure-Jacke.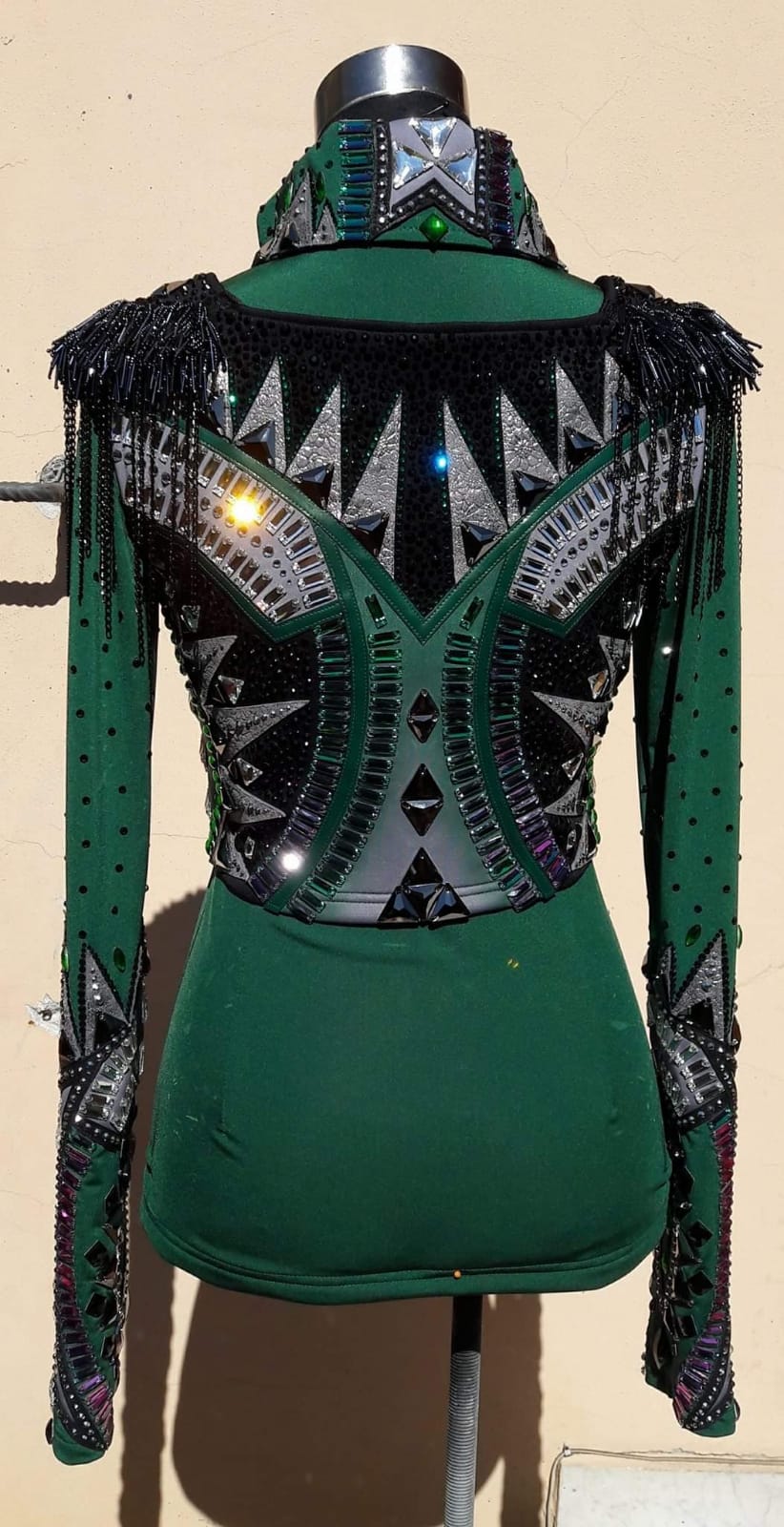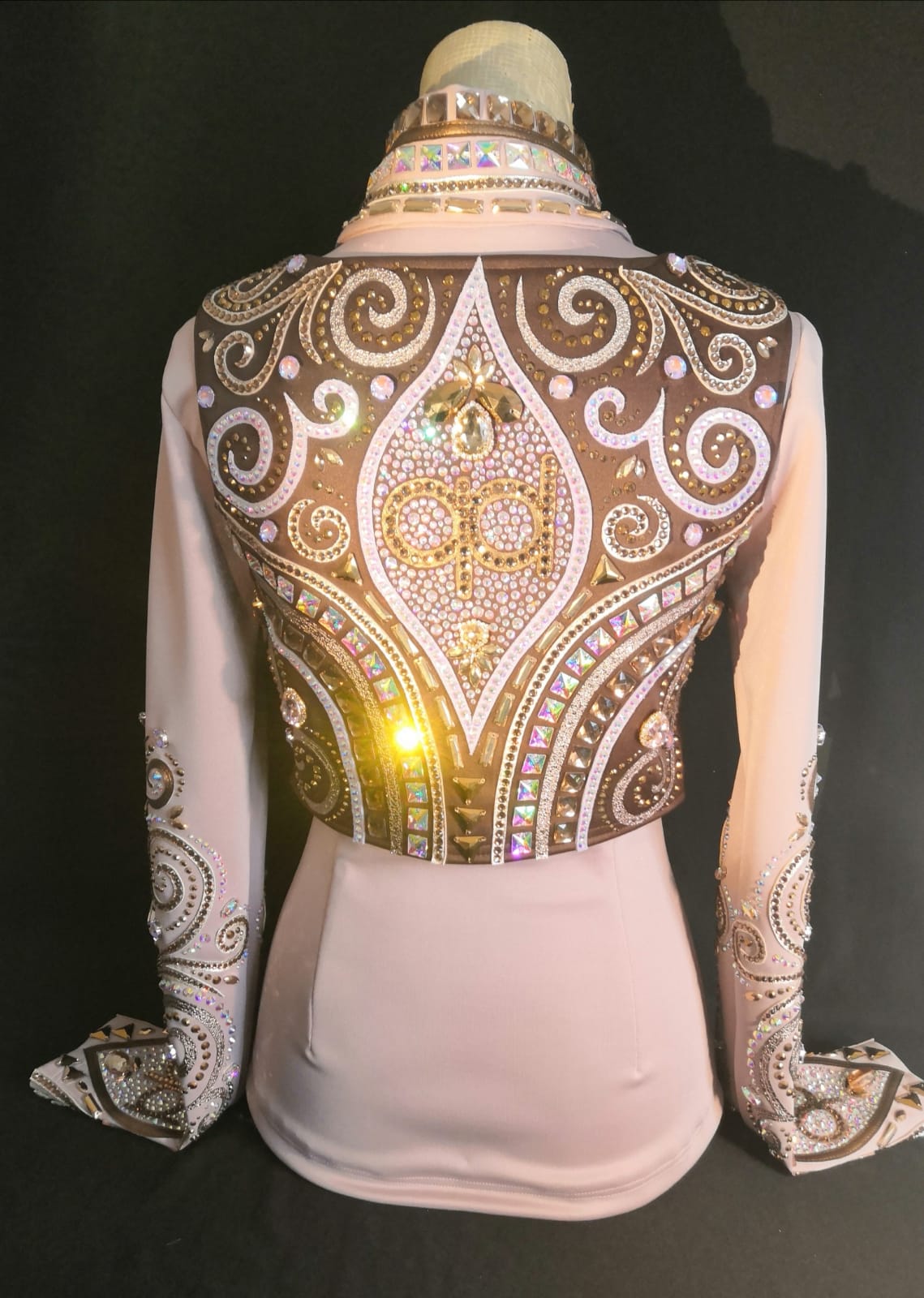 Gab es schon einmal ein Outfit, das eine riesige Herausforderung war?
Für mich ist jedes Custom Made eine Herausforderung. Die Kundin muss zufrieden sein, sich wohlfühlen und mit einem guten Gefühl in die Arena reiten. Das ist mein Job, also auch meine Herausforderung.