It is not unusual to see horses being sold over the winter, it is common practice in the European allround industry. Mostly, however, if the horse has a different owner, the trainer changes as well. This case is different: Trainer and Congress Champion Jadasa Jablonowski sold her mare KM Best Looking to her client Nina Müller. Dasi has been very successful with "Demi" over the past years: The team took home several medals at the ECQH and the International DQHA Championship.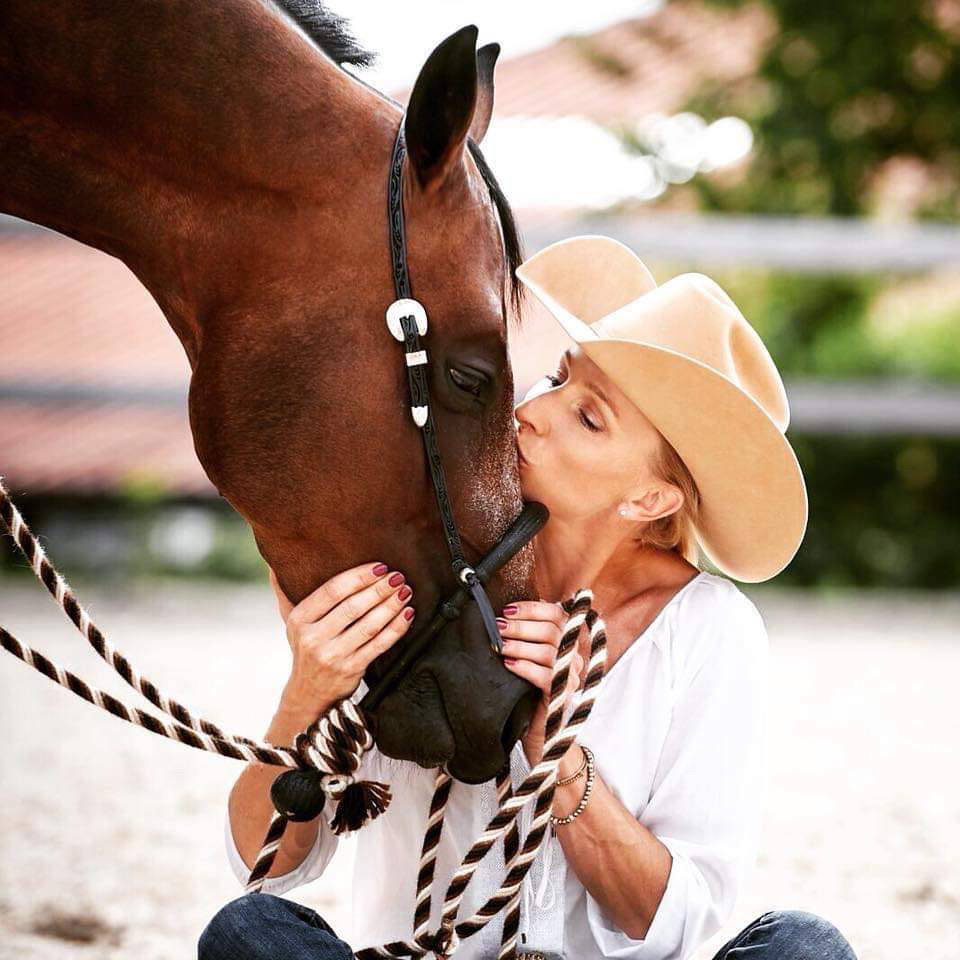 But, as Dasi has told us, the plan of selling Demi one day was present in a way: "I always knew that I am a professional and I knew that Demi might be sold to a non-pro one day." The fact that Nina became Demi's new owner was not planned: "Nina and Demi are a perfect match. I am happy that Demi will remain at the barn and that I can accompany them along their way. It was a win-win-win situation," Dasi says.
Before she found her perfect match, Nina had to go through some hard times: A year ago, her successful mare Victoria Blues was laid to rest. "She was very special to me," Nina recalls. Being in such a situation, most people would not think about buying another horse while grieving about another one. Nina felt the same way: "We tough of getting a new horse, but I just didn't feel like it." She decided to take a break.
The fact that she met Demi was no coincidence given the fact that the mare belonged to Nina's trainer: "Dasi let me ride her during the past year in order to try some exercises," Nina told us and added: "That way, I could get to know her without being biased – and it has worked out form the start, I have always liked her." Nina said that she wants to thank Dasi for the opportunity to purchase Demi.
Dasi and Demi have been a time for quite a while – the new goal is to turn Nina and Demi into a team. "My goal is to feel comfortable with her at the shows," Nina stressed. A top priority for Dasi as well: "It is very important that they can grow together as a team." The plan is for Dasi to continue showing Demi: "Especially in trail to get her used to the class." However, Dasi stressed, this is just a plan: "We will make the first steps and see where they will take us."
Nina has some plans for her other horses PQH Vested In Mags (Maggie) and Good Impulses (Paul) as well: "Maggie is having a baby this year, we are very excited," Nina says. Paul has been injured a lot, but he is getting better: "He might be at some shows this year."
With Demi, for sure, the future seems bright — mainly because the mare is very funny and usually entertains everybody with her quirks, Dasi let us know: "I am happy that Nina loves that as much as I do!"
---
Dass im Winter oft Pferde den Besitzer wechseln und neue Teams zustandekommen, ist üblich in der Allround-Szene. Oft gehen mit dem Besitzerwechsel auch ein Trainer- und Stallwechsel einher. Nicht jedoch in diesem Fall: Trainer und Congress Champion Jadasa Jablonowski hat ihre Stute KM Best Looking an ihre Kundin Nina Müller verkauft. Dasi war mit "Demi" selbst mehrere Jahre in Europa erfolgreich: Die beiden holten zahlreiche Medaillen auf dem ECQH und dem International DQHA Championship.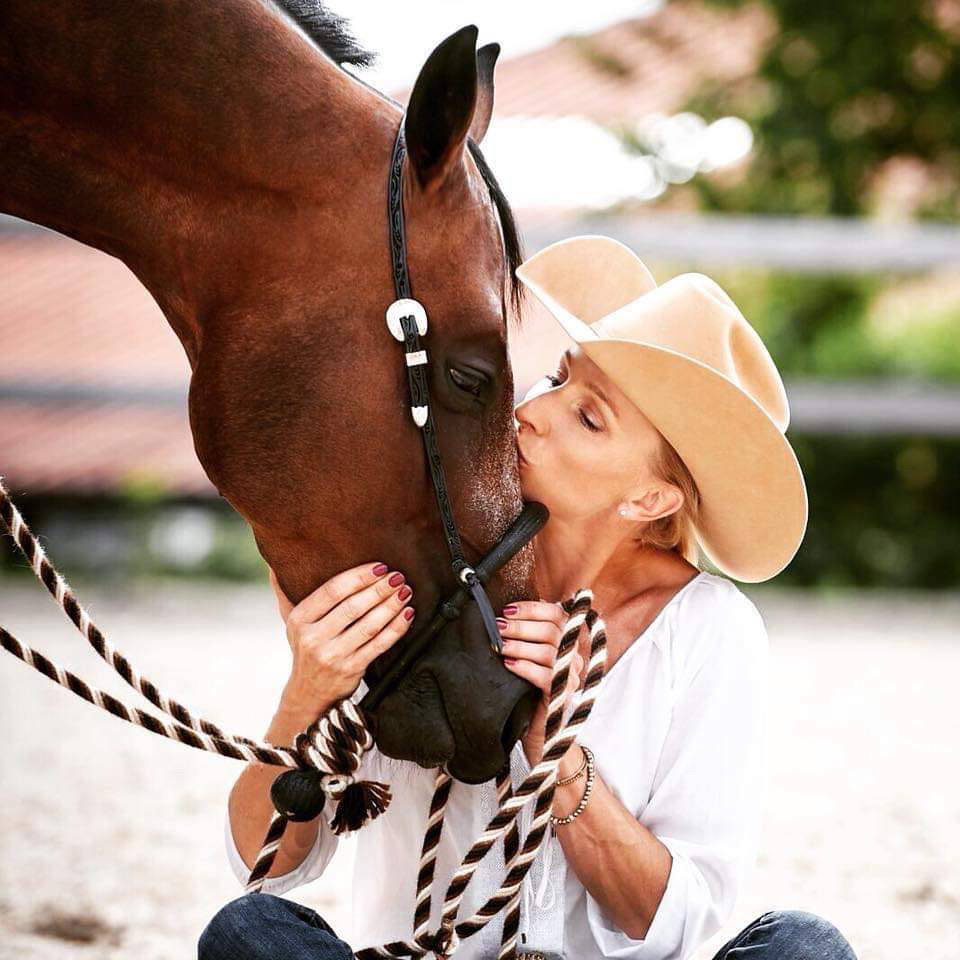 Trotzdem, erzählt Dasi, war der Verkauf von Demi immer im Hinterkopf: "Nachdem ich Profi bin, war mir immer bewusst, dass Demi früher oder später einen Non-Pro finden wird." Dass mit Nina eine Kundin Demis neue Besitzerin wurde, sei nicht geplant gewesen – es habe einfach gut gepasst. "Nina und Demi passen extrem gut zusammen. Für mich ist es toll, dass sie im Stall bleibt und ich die beiden auf ihrem gemeinsamen Weg begleiten kann. Eine Win-Win-Win-Situation", sagt Dasi.
Für Nina ging dieser glücklichen Fügung aber eine schwere Zeit voraus: Vor einem Jahr musste sie ihre erfolgreiche Stute Victoria Blues einschläfern lassen: "Sie war ein ganz besonderes Pferd für mich", erzählt Nina. Ein neues Pferd ist da nicht unbedingt das, woran viele nach einem solchen Schicksalsschlag denken. Nina ging es ähnlich: "Natürlich hatten wir überlegt, gleich wieder ein Pferd zu kaufen, aber ich habe das erst einmal überhaupt nicht gefühlt." Nina entschied sich, eine Pause einzulegen.
Dass sie in Kontakt mit Demi kam, war zu erwarten – schließlich stand die Stute in dem Stall von Ninas Trainerin: "Dasi hat mir im vergangenen Jahr öfters die Möglichkeit gegeben, Demi zu reiten, um unterschiedliche Übungen auszuprobieren", erzählt Nina und ergänzt: "So habe ich sie ganz unbefangen kennenlernen können und es hat von Anfang super geklappt und ich habe sie schon immer sehr gemocht." Sie sei Dasi sehr dankbar für die Möglichkeit, Demi zu kaufen.
Dasi und Demi sind schon ein Team – das neue gemeinsame Ziel ist nun, dass auch Nina und Demi ein Team werden. "Mein persönliches Ziel ist es, dass Demi und ich uns auf den gemeinsamen Shows wohlfühlen", betont Nina. Und auch Dasi ist dies wichtig: "Die oberste Priorität wird sein dass Nina und Demi sich gemeinsam entwickeln." Trotzdem sei geplant, dass Dasi die Stute weiterhin showt. "Dieses Jahr besonders im Trail, um Kilometer auf die Uhr zu bekommen." Trotzdem, betont Dasi, sei das nur ein grober Plan: "Jetzt gehen wir erst einmal die ersten Schritte und dann sehen wir weiter."
Für Ninas andere Pferde PQH Vested In Mags (Maggie) und Good Impulses (Paul) gibt es ebenfalls schon Pläne: "Maggie habe ich letztes Jahr decken lassen. Wir sind schon sehr gespannt auf das Baby", erzählt Nina. Paul hingegen habe leider eine schwere Zeit mit vielen Krankheiten hinter sich, er sei aber auf einem guten Weg: "Mal sehen, vielleicht wird er auch auf dem ein oder anderen Turnier dabei sein."
Die Zukunft mit Demi steht schon einmal unter einem guten Stern: Denn neben ihren sportlichen Qualitäten begeistert die Stute laut Dasi vor allem durch ihren lustigen Charakter: "Dieses Pferd bringt uns wirklich jeden Tag zum lachen. Die ist so ein Sonnenschein und Quatschkopf. Und ich bin froh dass Nina das genauso an ihr liebt wie ich!"