picture: Julia von Gierke
By now, many people know the flashy overo stallion Only Krymsun who has moved from the US to Europe a few years ago. Joanna Rohwer has purchased the double-registered stallion by One Hot Krymsun out of Glow In The Rock that was once owned by Yarnelle Farms. You can find a detailed article on the stallion here. Joanna has told us why she made the decision to purchase the stallion and about her plans.
Joanna, can you tell us about yourself?
My name is Joanna Rohwer, I am from Hesse, a part of Germany. I got in contact with the allround industry through a friend when I was 14 – my parents, however, did not really understand why I would want a Quarter Horse: Our barn was full with hunter jumpers. So it took a while until my dream was fulfilled, I continued doing hunter jumping. When I was 24, I bought a Quarter Horse mare named SpookstersFSTEdition from Simone Schmidt. "Spooky" is a Reining/Cowhorse bred mare – it had to be a "real" Quarter Horse, you know – and we started showing in the Reining. I soon realized that this was not the event for us. I started looking for an allround trainer, because I got to know the allround events through shows in Denmark and Northern Germany. I met Wencke Rohwedder and started working with her. I also went to clinics with Thorsten Haier, Christen Jagfeld… Because of Wencke's great training, Spooky and I were really successful at EWU and AQHA shows. I was addicted to the allround events, so more – Allround-bred – horses moved in.
But why the decision to buy a stallion?
I fell in love with Only Krymsun the first time I met him at the Kurzrock's place. I never thought about breeding horses or anything the like, but I immediately told Björn and Antonia to sell "Ollie" to me if he ever was for sale. I never imagined it would happen, but in December 2019 it did and I took the chance.
Why did you want to buy this stallion and not any other?
What makes him special is the fact that he has got it all: conformation, presence, movement and the biggest heart. He passes on all that to his babies. I know, because my mare had one by him last year. I also received many messages from people – especially from the US – who love their Ollie babies.
Do you plan on showing him?
I do plan on showing in general, but nothing is quite sure yet. Ollie can enjoy being a stud at our place – so far, I do not plan on showing him. I enjoy riding him outside or in the arena – he is a dream to ride. You will, however, see me at shows, that is for sure.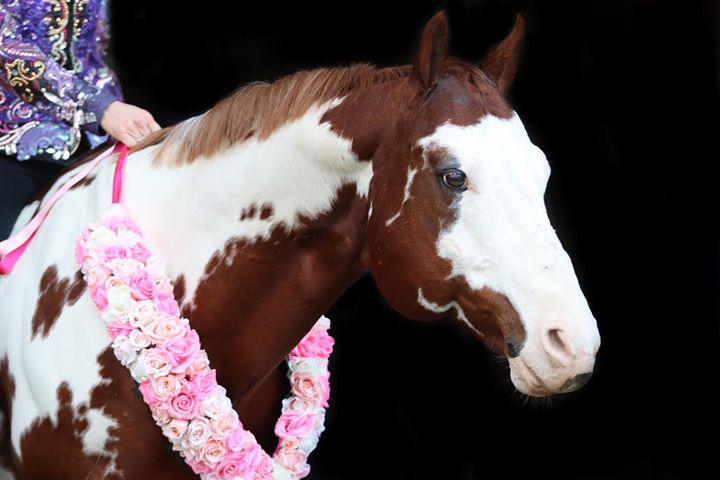 So what happens to your other horses?
I still have Spooky and she will have a forever home with me, as well as Wisely Sweet Melody. Both will be bred this year again. I had to sell my young horses HC Black Burner and One Radical Melody, because I am so occupied with my studies at university. I wanted them to be trained and taken care of, but did not have the time with studying, working, managing our barn, working at university… but they were sold into great homes, so I could not be happier.
---
Mittlerweile kennen viele den sorrel-overo Hengst Only Krymsun, lebt er doch schon einige Jahre in Europa. Nun hat Joanna Rohwer den doppelt-registrierten One Hot Krymsun-Nachkommen gekauft. Einen detaillierten Artikel zum Hengst findet ihr hier. Joanna hat uns erzählt, wie es dazu kam und wie es weitergeht.
Joanna, kannst du dich erst einmal kurz vorstellen?
Ich bin Joanna Rohwer, komme aus dem schönen Dornburg in der Nähe von Limburg an der Lahn in Hessen. Den ersten Kontakt zur Western-Szene hatte ich über eine Freundin mit 14, seitdem war ich begeistert, aber der Wunsch nach einem Quarter Horse rief bei meinen Eltern wenig Begeisterung hervor, da der Stall gut gefüllt war mit Springpferden. So blieb der Traum vom ersten Quarter Horse noch einige Jahre unerfüllt und ich weiterhin Springreiterin.
Mit 24 erfüllte ich mir dann meinen Traum vom Quarter Horse mit meiner Stute SpookstersFSTEdition die ich bei Simone Schmidt kaufte.
Spooky ist eine Reining/Cowhorse gezogene Stute – es musste ja ein typisches Quarter Horse sein – und wir versuchten uns zunächst in der Reining, was sich aber für uns beide nicht so als das Richtige herauskristallisierte. Somit waren wir auf der Suche nach einem Allround Trainer, da ich diese Disziplinen durch die Turniere in Dänemark und Nordeutschland kennengelernt hatte. Glücklicherweise lernten wir Wencke Rohwedder kennen, bei der wir dann trainierten. Außerdem besuchten wir mehrere Kurse bei Thorsten Haier, Christel Jagfeld … Durch das leidenschaftliche Training von Wencke konnten wir viele Erfolge auf EWU- und AQHA-Turnieren verbuchen. Da ich dann vollkommen 'addicted' im Allaround Bereich angekommen war, folgte der Einzug der weiteren Pferde, mit denen ich im Allaround Bereich gestartet bin.
Wie kam es aber letztlich zu der Entscheidung, einen Deckhengst zu kaufen?
Ich habe mich damals bei einem Besuch bei Familie Kurzrock direkt in Only Krymsun verliebt – ohne den Gedanken an Zucht oder Sonstiges – und habe damals schon sofort zu Antonia und Björn gesagt, sollten sie ihn wieder verkaufen wollen, sollen sie bitte direkt Bescheid geben. Ich habe nie damit gerechnet, dass dies passiert, aber im Dezember 2019 war es soweit und ich habe direkt zugesagt.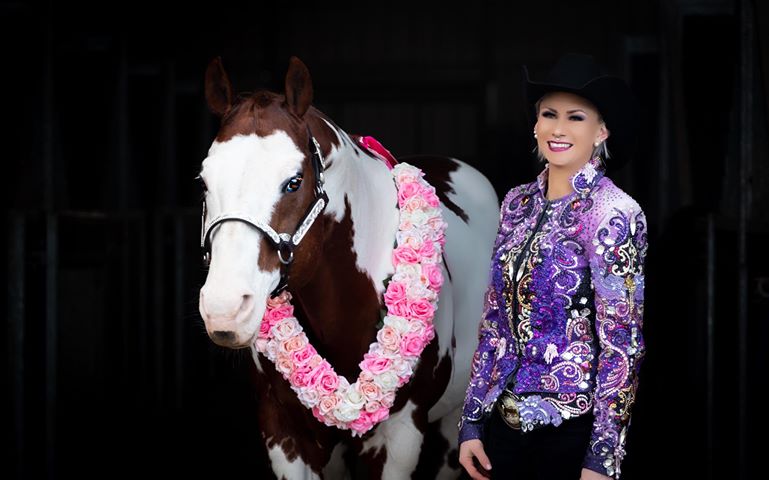 Wieso wolltest du ausgerechnet diesen Hengst haben? Was ist für dich das Besondere an ihm?
Das was ihn unheimlich besonders macht, ist die Tatsache, dass er soviele Vorzüge in sich vereint. Er hat ein tolles Gebäude, eine tolle Ausstrahlung, hervorragende Bewegungen und das absolut größte und beste Herz und einen Charakter aus Gold. Das gibt er auch zu 100 Prozent an seine Nachkommen weiter, was ich letztes Jahr mit einem eigenen Fohlen aus meiner Stute erleben durfte. Mich erreichen außerdem viele Zuschriften, insbesondere aus den USA, von begeisterten Besitzern der 'Ollie-Kids'.
Hast du denn vor, ihn zu showen?
Generelle Showpläne sind vorhanden, aber noch nicht sicher. Ollie darf ganz sein Deckhengst-Dasein bei uns genießen, vorerst habe ich nicht geplant ihn, zu showen, sondern genieße unsere Runden auf dem Platz, der Halle oder im Gelände, er ist einfach ein Traum. Aber mich werdet ihr bald wieder auf Turnieren sehen.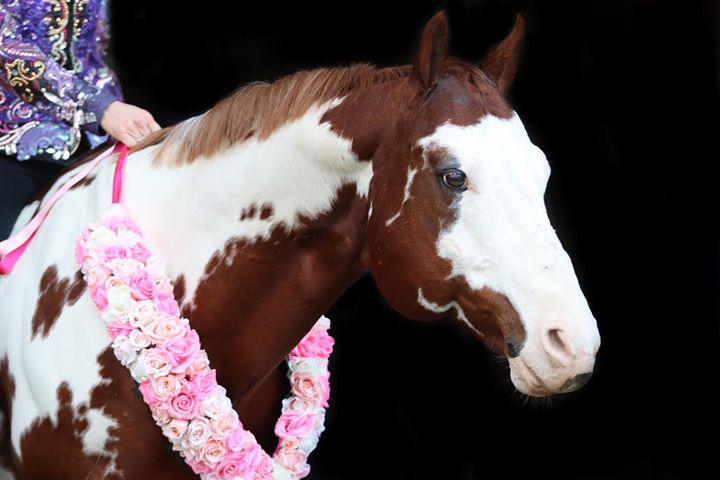 Was geht es denn dann mit deinen anderen Pferden weiter?
Ich habe noch immer meine weltallerbeste Spooky, die auch für immer bleiben wird, sowie Wisely Sweet Melody. Beide werden dieses Jahr wieder belegt. Meine anderen jungen Pferde HC Black Burner und One Radical Melody habe ich aus Zeitgründen für das Tiermedizin Studium leider hergeben müssen, da es zeitlich einfach nicht vereinbar war und ich wollte, dass sie gefördert werden. Mir hat wirklich die Zeit gefehlt zwischen Studium, lernen, den Hof managen, arbeiten an der Uni…Aber beide haben es gut getroffen, sodass ich mich glücklich damit schätze, dass sie beide ein schönes Zuhause gefunden haben.