TSL: Congratulations on your new horse, Julia! As with any other person who has recently bought a horse, we would really like to know everything about this purchase! Can you tell us a bit about your new yearling mare?
JK: Paige was bred by Dunja Klein just like her full-brother Krymsuns Affair aka Jason. She is an own daughter of OHK, out of Lil Chips Hot Affair. We do not know yet what her show name will be. She was born on April 1st, so she is a April Fool's joke. She is quite tall for a yearling, has long legs and will hopefully be as tall as her brother. Paige is very good-minded and calm, a darling filly! I really wanted to buy a mare, because I am dreaming of breeding my own foal in the future. Actually, I have always like geldings better, but since I have such a good trainer in Franca Bartke, I think I can handle a mare as well.
TSL: Sounds like breeding will be a big issue  in your future.
JK: Yes, definitely, but I do not have concrete plans yet. Those are dreams of the future which will not be definite until 2023.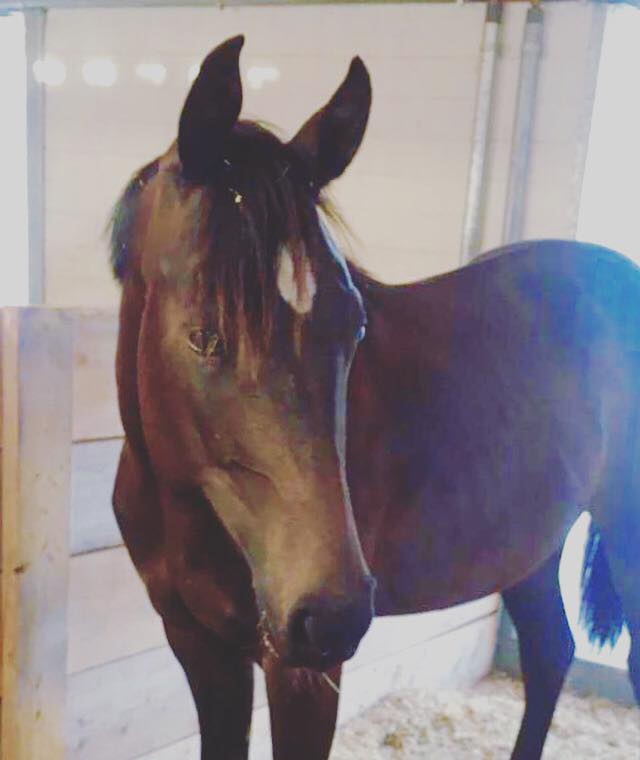 TLS: Krymsuns Affair, Jason, is a well-known show horse in Europe. Despite his absence from the show pen, everyone knows him because of his numerous wins with Arne Kühn. Was that one reason why you bought this young mare?
JK: I've met Jason for the first time when we visited Dunja. He has not been ridden for almost two years at that point and Arne just hopped on and did some lead changes – even without a bridle! That was really impressive! Furthermore, Jason is a successful show horse. So I think Paige has the best qualifications. She is already as good-minded as her brother.
TSL: What are your future plans for Paige apart from breeding?
JK: For now, Paige can enjoy her life as a yearling at Dunja's place. The facility is dream-like and although it is a 400 km drive for me, I know that Dunja will take great care of her. Depending on how she grows, Franca and I will decide if Paige will do a Trail in Hand or Halter class next year. Until then she will stay with her friends and a little pony mare called Fuchsi. We will not ride her before 2019. She might do a 3-year-old Longe Line that year as well. I think she could be a great horse for Hunter under Saddle! I am really happy that Dunja sold me that horse and I am excited to see if Paige will be as 'cool' and successful as her older brother. To me, it is most important that she is healthy and sound. Thanks a lot once again to Arne and Franca who drew my attention to Paige. I am excited for the future!
TSL: You already own another Junior horse: HC Sooo Wisely aka Gibbs. Were you looking for another young horse or was it an "impulse purchase"?
JK: I decided to buy Paige because I want Gibbs to be shown this year and 2018 and give him a break in 2019. That year it will be Paige's turn: Longe Line, Halter, Trail in Hand. My daughter will turn five this year and she could show Gibbs in 2020 in Walk Trot classes. I really want a good-minded, broke horse for her show debut. Thereby I could concentrate on Paige who will then turn four. That's the plan, but you never know…
Thank you, Julia!
---
TSL: Julia, herzlichen Glückwunsch zum neuen Pferd! Auch bei Dir interessiert uns natürlich erst einmal brennend, wer dieses neue Pferd denn ist. Kannst Du uns ein wenig von ihr erzählen?
JK: Paige wurde wie Jason [Krymsuns Affair, Anm. d. Red.] auch von Dunja Klein gezüchtet. Sie ist eine Tochter von One Hot Krymsun aus der Lil Chips Hot Affair. Einen offiziellen Namen hat sie noch gar nicht. Paige ist am 1.4. geboren, also ein kleiner Aprilscherz. Sie ist jetzt als Jährling schon sehr groß mit schönen langen Beinen und wird wahrscheinlich ähnlich groß wie ihr Bruder werden. Sie hat einen wahnsinnig ruhigen und angenehmen Charakter und ist einfach ein Schatz. Ich wollte unbedingt eine Stute, da es schon immer mein Traum war, mal ein eigenes Fohlen zu haben. Eigentlich waren mir Wallache bisher immer lieber, aber da ich ja jetzt Franca Bartke als Trainerin an meiner Seite habe, sehe ich hier auch kein Problem mit einer Stute.
TSL: Das heißt, das Thema Zucht wird in ferner Zukunft relevant sein?
JK: Ja, auf jeden Fall, allerdings habe ich noch keine konkreten Vorstellungen. Das ist Zukunftsmusik und wird sicherlich nicht vor 2023 spruchreif.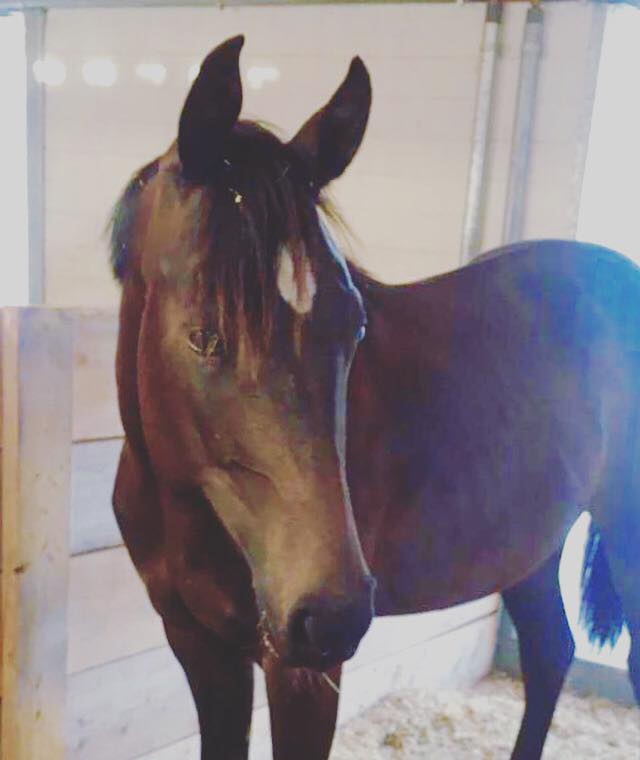 TSL: Jason ist ein sehr bekanntes europäisches Showpferd, das trotz einer längeren Pause vielen durch die Erfolge mit Arne Kühn im Gedächtnis geblieben ist. War dies mit ein Grund, weshalb Du Dich für diese junge Stute entschieden hast?
JK: Jason habe ich bei Dunja das erste Mal richtig persönlich treffen können. Er war damals fast zwei Jahre nicht mehr geritten und Arne setzte sich einfach auf ihn, ritt los und wechselte ihn. Das Ganze dann sogar noch ohne Kopfstück. Das war sehr beeindruckend! Außerdem ist ein tolles Showpferd! Für Paige sind also sozusagen alle Vorraussetzungen gegeben. Charakterlich ist sie ihrem Bruder jetzt schon sehr ähnlich.
TSL: Wie sieht Paiges Zukunft abgesehen von einer späteren Karriere als Zuchtstute aus?
JK: Paige soll jetzt erstmal ihr Leben als Jährling bei Dunja weiterhin genießen. Der Stall ist ein absoluter Traum und auch wenn sie über 400 km von mir entfernt ist, weiß ich, dass es ihr bei Dunja an nichts fehlen wird. Je nachdem, wie schnell sie weiter wächst und sich entwickelt, schauen Franca und ich nächstes Jahr, ob wir eventuell mal Trail in Hand mit ihr machen oder sie haltern. Ansonsten bleibt sie jetzt erstmal bei ihren Freunden und ihrer kleinen Pony Freundin Fuchsi. Angeritten wird sie frühestens Anfang 2019. Dann kann sie auch gerne mal eine 3-year-old Longe Line laufen. Ich denke, sie könnte auch mal ein tolles Hunter Pferd werden. Ich bin sehr froh, dass Dunja mir dieses tolle Pferd anvertraut hat und ich freue mich, wenn sie nur annähernd so cool und erfolgreich wie ihr Bruder wird. Aber am wichtigsten vor allem anderen ist natürlich, dass sie gesund bleibt. Großen Dank auch noch einmal an Franca und Arne, dass ihr mich auf Paige aufmerksam gemacht habt. Ich freue mich auf die Zukunft!
TLS: Abgesehen von Paige hast Du ja schon ein junges Pferd: HC Sooo Wisely, genannt Gibbs. Hast Du überhaupt nach einem jungen Pferd gesucht oder war das ein Zufallskauf?
JK: Die Idee mit Paige kam dadurch, dass Gibbs, mein Investing Wisely Wallach, diese und nächste Saison laufen soll und in 2019 dann etwas Pause bekommt. Also nur zwei bis drei Turniere im Jahr. Da wäre dann Paige am Zug mit Longe Line, Trail in Hand usw. Außerdem ist meine Tochter dieses Jahr dann fünf und könnte Gibbs in drei Jahren auch mal Walk Trot showen und hätte ein tolles braves Pferd für den Einstieg. Und ich würde mich dann mehr auf Paige konzentrieren, die dann vier ist. So war die Idee. Natürlich steckt man nicht drin und weiß, was die Zukunft letztendlich alles bringt.
Vielen Dank, Julia!