Grey horse with an exceptional pedigree, owned by Fei Ehmann – many European equestrians will definitely associate this description with the well-known mare Only A Glamourgirl (Invitation Only x Goodbars Glamourgirl). Since November, however, "Bella" is not the only horse that matches this description. Most people in Europe might already know that Amateur competitor Fei Ehmann has purchased a new horse, once again out of the late and great Goodbars Glamourgirl. A five-year-old mare by Lazy Loper called Loves To Lope aka BB. As this mare is a full sister to The Silver Foxx, a horse that has done very well in the Western Riding classes in the States, we wanted to know more about "BB" and how she did so far in training with Nina Leiner.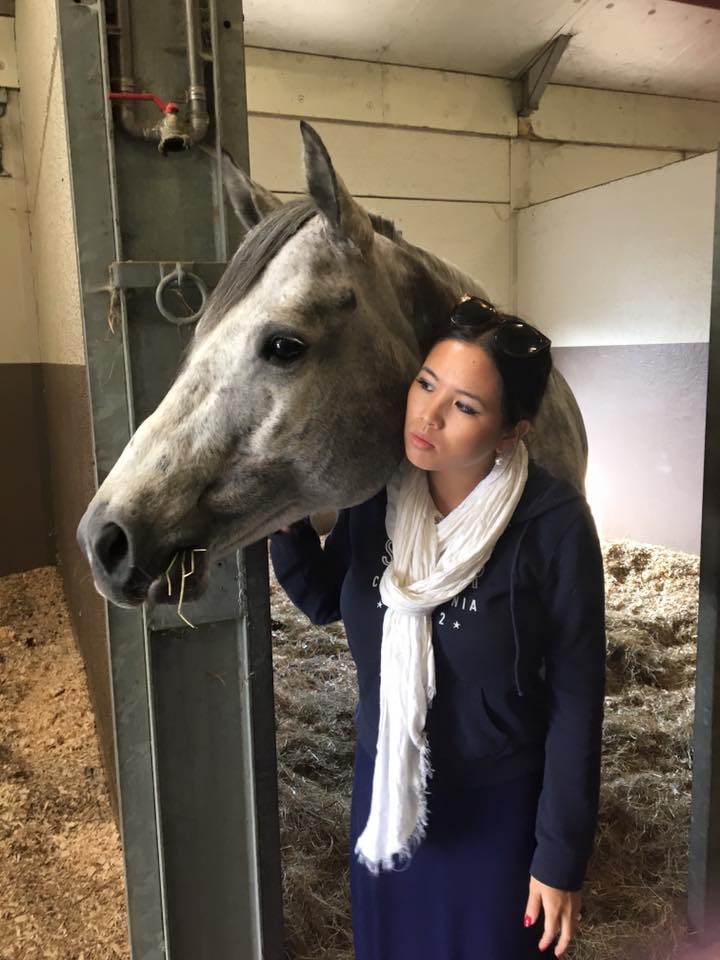 TSL: Fei, you already own four horses, among them the famous Only A Glamourgirl. Why did you decide to buy another horse?
Fei Ehmann (FE): The decision came at the Q17 in Aachen, when it became clear that the epiphyseal fusion in the knees of my 3-year-old GIRLS GOT MOTION is not fully completed yet. We will therefore wait six months or maybe until fall of 2018 until we start her under saddle. "Julia" is currently living at a facility in the Czech Republic so she can grow and the epiphyseal fusion is completed. So, I do not have a prospect for the under saddle classes right now, Bella is turning nine this year and will be retired soon. But I want a horse I can show under saddle as I already have another 2-year-old GIVE ME ALL YOUR LUVIN by RL Best of Sudden – who was bred by David Maisonnette just like Julia – for the in hand classes, but since we do not know how "Bali" will perform at a show and what her future looks like, I was really looking for a horse I can ride. We started looking for a horse in Europe, but could not find anything, mainly, because most horses did not pass the vet check. By accident, I contacted Tim Delf who bred Bella and asked whether other offpspring out of Goodbars Glamourgirl would be for sale. One I could show under saddle. Tim told me that Carol Thomsen who I know as well had a Lazy Loper mare out of GG. Carol was a motivated seller as she had too many horses already. The mare was not officially for sale, but since Carol wanted to reduce her stock, she was willing to sell the horse. Actually, by buying this horse, I overrun my budget, but her vet check was excellent, so I decided to go for it! Furthermore, I do know some of the Glamourgirl babies – Bella, Fiona who is owned by Lenka Zdráhalová – and I know that they are very good-minded. A good friend who lives in the States, Maegan Alexander, tried out the mare for me and told me that this horse would be the perfect match. So we bought LOVES TO LOPE aka BB.
TSL: So, did your presumptions come true, is BB as good-minded as Bella?
FE: She is even better! She travelled such a long way during her flight with Equiflight from the States to Austria, but was very well behaving and relaxed from day one. BB is not used to the cold weather, but we never have to lunge her or anything. But, I have to admit, that her front leg is not as excellent as Bella's. On the other hand – BB's jog is ten times better. BB definitely convinced me by her amazing character. She has a great will to please, is never a diva, never says No, is never spooky and you can put any rider on her. By now, almost all of my friends have ridden her: Lenka, Laura Pfeifer, Moritz Stummer…BB does not care at all! She loves people and follows them like a dog.
TSL: What are your plans for the upcoming season with her?
FE: Our first show will be the Bavarian Championship. I do think that the Spring Show is too early. I want to take Bella and BB to the Bavarian Championship, because bringing only one horse to the Spring Show is too much effort.
TSL: And how is BB doing in the daily practice with Nina Leiner?
FE: We are currently working on lead changes and she will show in Western Riding at her first show. She is a great lead changer despite her young age. BB does know how to do Trail, but is not very experienced in Western Pleasure and Showmanship yet. Horsemanship, on the other hand, works out great already! Nina will show her in the Junior classes and I will show her in the Amateur and the Golden Series Western Pleasure. Nina says that BB is a jackpot – you do not always find a horse like that. She is exceptionally good-minded and a total Bella-look-a-like but with less diva behavior, much more down to earth. You can see that we are very happy with her so far! I hope Julia will be ready next year to show under saddle, but I will keep BB as well as she has grown on me so much already!
TSL: Thank you, Fei!
---
Ein Schimmel mit herausragender Abstammung im Besitz von Fei Ehmann – die meisten europäischen AQHA Reiter werden bei dieser Beschreibung sofort an die erfolgreiche Stute Only A Glamourgirl (IO x Goodbars Glamourgirl) denken. Seit November bekommt "Bella" allerdings Konkurrenz aus den eigenen Reihen und ist nicht mehr das einzige Pferd, auf das diese Beschreibung passt. Viele wissen sicher schon, dass Amateurreiterin Fei Ehmann ein neues Pferd gekauft hat – wieder einmal aus der mittlerweile verstorbenen, sehr bekannten Stute Goodbars Glamourgirl. Das neue Pferd: Eine fünfjährige Stute von Lazy Loper, die auf den Namen Loves To Lope hört und BB genannt wird. Da diese Stute außerdem eine Vollschwester zu The Silver Foxx ist, der sich in den USA mittlerweile einen Namen als erfolgreiches Western Riding Pferd gemacht hat, mussten wir natürlich mehr über BB erfahren, vor allem, wie sie sich in den ersten Monaten in Österreich bei Nina Leiner im Training geschlagen hat.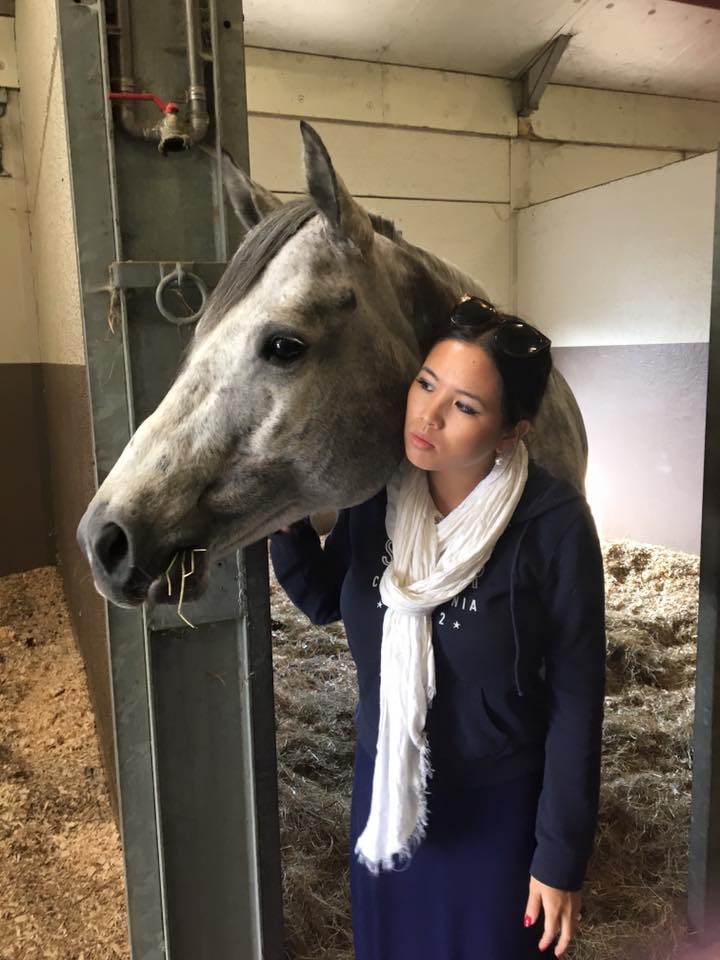 TSL: Fei, Du hast ja schon vier Pferde, darunter die europaweit bekannte Only A Glamourgirl. Wieso hast Du entschieden, noch ein Pferd zu kaufen?
Fei Ehmann (FE): Die Entscheidung, ein neues Pferd zu kaufen, fiel in Aachen, da klar wurde, dass Julias, Girls Got Motions, Kniefugen noch nicht richtig zu sind und wir somit noch ein halbes Jahr, beziehungsweise bis zum Herbst 2018, mit dem Einreiten warten werden. Julia steht momentan in Tschechien, damit sie in Ruhe wachsen kann und sich die Kniefugen schließen können. Ich hätte deshalb also kein Nachwuchspferd gehabt, Bella wird ja auch schon neun und bald in Rente gehen. Deshalb wollte ich unbedingt ein Pferd haben, das ich auch unter dem Sattel showen kann und nicht nur an der Hand. Ich habe ja noch eine Zweijährige GIVE ME ALL YOUR LOVIN von RL Best Of Sudden, die wie Julia auch von David Maisonnette gezüchtet wurde, aber auch sie ist eben auch noch jung und man weiß nicht, wie sich ihre Zukunft entwickelt. Also haben wir in Europa nach einem neuen Pferd zum Showen gesucht, hier aber nichts gefunden, beziehungsweise viele Pferde sind einfach nicht durch den Vet-Check gekommen. Ich habe dann – mehr durch Zufall – noch einmal mit Tim Delf, der auch Bella gezüchtet hat, geschrieben und gefragt, ob eines der Babys aus Goodbars Glamourgirl for sale ist. Ein gerittenes natürlich, ich wollte kein junges Pferd. Tim hat sich dann zurückgemeldet und erzählt, dass Carol Thomsen – die ich auch gut kenne – eine Lazy Loper Stute aus GG hat. Da Carol zu viele Pferde hatte, wollte sie ohnehin gerne einige verkaufen. Die Stute von Lazy Loper stand eigentlich nicht offiziell zum Verkauf, aber Carol war bereit sie zu verkaufen, um den Bestand zu verkleinern. Eigentlich war das Pferd über meinem Budget, aber der Vet-Check verlief einwandfrei. Zudem kenne ich ja mittlerweile viele Glamourgirl Babys – Bella, Fiona von Lena Zdráhalová – wusste ich, dass sich diese Pferde auch immer gut benehmen. Eine gute Freundin von mir aus den USA, Maegan Alexander, ist die Stute dann für mich Probe geritten und meinte, das sei das perfekte Match. Deswegen haben wir LOVES TO LOPE aka BB dann letztlich gekauft.
TSL: Und haben sich deine Vermutungen bewahrheitet, ist BB auch so brav wie Bella?
FE: Sie ist sogar noch braver. Das Pferd hatte so einen langen Flug mit Equiflight nach Österreich hinter sich, war aber trotzdem vom ersten Tag an dort so entspannt. BB ist das kalte Wetter hier ja eigentlich nicht gewohnt, trotzdem müssen wir sie nie ablongieren. Ganz ehrlich muss man aber auch sagen, dass sie nicht das herausragende Vorderbein hat wie Bella. Dafür ist ihr Jog zehnmal besser. BB macht ihr Defizit beim Vorderbein definitiv durch ihren Charakter wett. Sie ist außerdem sehr bemüht, hat keine Allüren, sagt nie "Nein", ist nie nervös, man kann jeden auf sie draufsetzen. Mittlerweile saßen fast alle meine Freunde auf ihr: Lenka, Laura Pfeifer, Moritz Stummer… Das stört dieses Pferd überhaupt nicht! Sie ist auch sehr verschmust und rennt einem hinterher wie ein Hund.
TSL: Was ist denn nun für die kommende Saison mit BB geplant?
FE: Unsere erste Show wird die Bayerische Meisterschaft sein. Mir persönlich ist die Spring Show einfach zu früh. Ich möchte auf die Bayerische dann Bella und BB mitnehmen, die Spring lohnt sich auch für ein Pferd nicht.
TSL: Wie macht sich BB den momentan bei Nina?
FE: Momentan arbeiten sie viel an Western Riding, wir werden sicherlich auch im Mai schon eine Western Riding nennen. Sie ist sehr talentiert beim Wechseln, obwohl sie erst fünf ist. Sie ist auch schon "fertig" im Trail, dafür in Showmanship noch nicht so. Pleasure geht auch noch nicht komplett am losen Zügel. Dafür ist sie in der Horsemanship schon sehr stark. Sie wird mit Nina die Junior Klassen gehen und mit mir die Amateur und die Golden Series Pleasure. Nina sagt auch immer, dass BB wie ein Sechser im Lotto ist, so ein Pferd muss man aus den USA erstmal kriegen. Sie ist so sauber im Kopf. Außerdem ein Abbild von Bella, allerdings mit weniger divenhaftem Verhalten, einfach ein viel bodenständigeres Pferd. Sie hat schon viel von Lazy Loper. Wir sind also bisher sehr, sehr glücklich mit ihr. Ich hoffe, dass Julia dann nächstes Jahr dann ready ist und wir sie reiten können, aber ich werde BB auf jeden Fall trotzdem behalten, einfach, weil sie mir jetzt schon so ans Herz gewachsen ist!
TSL: Danke, Fei!