In our series "New Faces", we introduce people that are new to the Western Riding industry in Europe – whether they show on the AQHA, APHA, ApHC, VWB or EWU circuit or any other association. This time, we'd like to introduce Luca Kempfer, an AQHA Youth competitor. We talked to her about the first steps in our industry, her horse and her plans.
Luca, can you introduce yourself?
My name is Luca Kempfer, I am 14 years old and live close to Hanover, Germany. I am currently in 8th grade.
How did you get involved with horses?
When I was six years old, my Mom signed me up for riding lessons where I rode Icelandic Ponies most of the time. Through me, my Mom also got involved with horses and we bought a Connemara Pony. "Valentin" is now my Mom's pony. A friend of my Mom introduced me to Western Riding two years ago. By then, I was allowed to ride Kati Schulze's mare UE ImaSundayZippo and show her in the L1 Youth Showmanship.
Tell us about your first shows!
My first show was the Spring Warm Up 2019 in Wenden. The whole team of Alexander Eck Performance Horses was there. I was really nervous before my class, but the whole atmosphere and the time with the team were just great! Throughout my first season, I won some ribbons in Showmanship and could even show in Aachen.
You have your own horse by now. What are your plans?
After the 2019 season, we were searching for a horse for me, together with Alex. We finally found TL One hot Investment aka Haley, a seven-year-old AQHA mare by Investing Wisely. Haley spent some months in training with Alex in 2020 and I showed her as well, and by now she's living at our place.
I really want to show in some performance classes in 2021 as well as doing Showmanship and Halter. I am so happy the Bavarian Championship will take place by the end of June! Planning can be hard during those times… My biggest dream is to show my own horse in Aachen this year.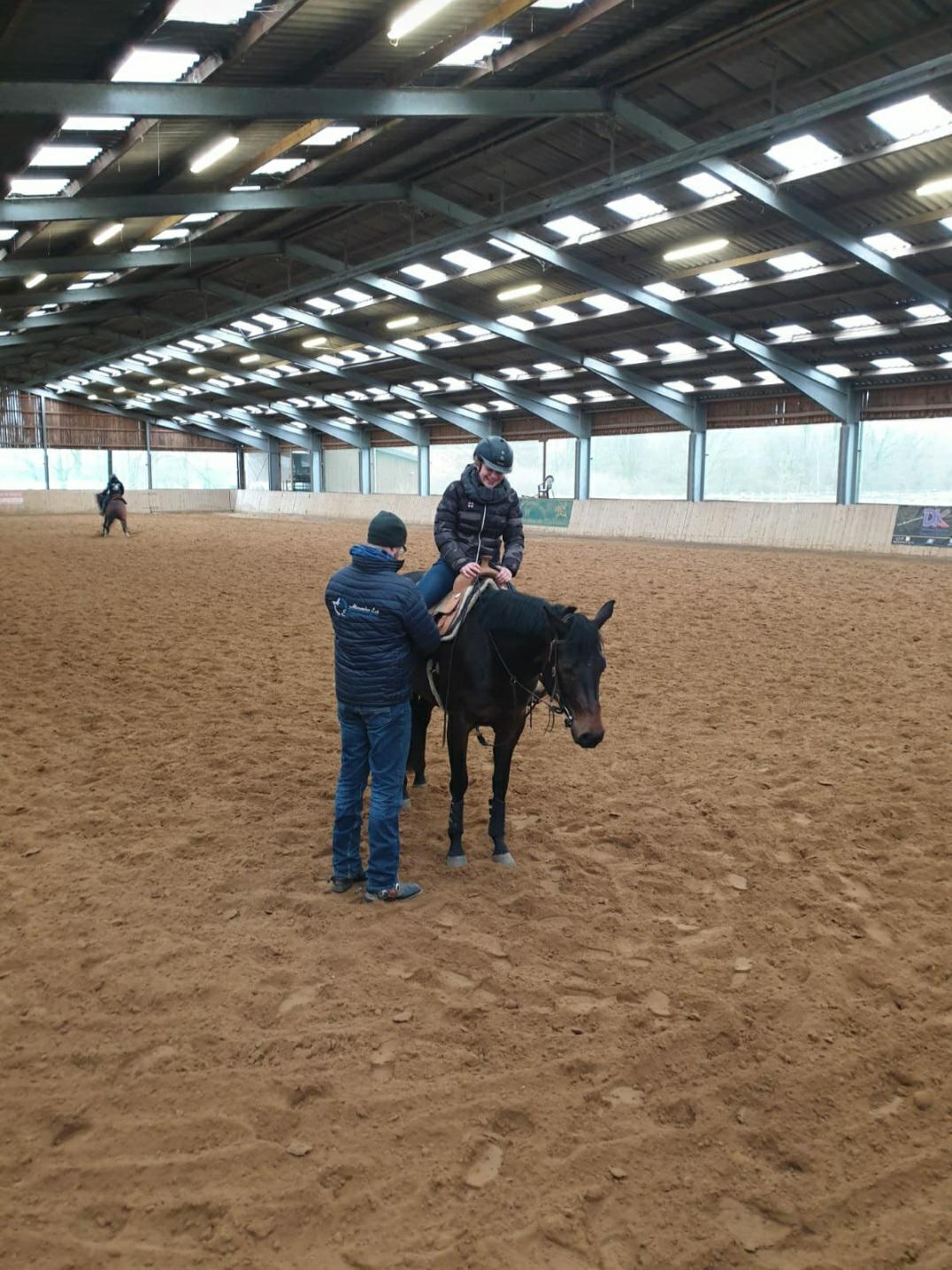 What does your daily training look like?
Due to home schooling, I currently have a lot of time I usually spend at the barn. I try to make our training as fun as possible: We do Showmanship, lungeing, Hunter under Saddle or going for walks beside our usual training. Kati and I meet in the afternoon and ride together.
Due to the pandemic, we could take any lessons with Alex in the past months, so we switched to online lessons. It works out quite well, but I really hope things will get back to normal soon!
New Faces: Luca Kempfer
In unserer Serie "New Faces" stellen wir neue Reiterinnen und Reiter in unserem Sport vor. Dieses Mal geht es um Luca Kempfer, die erst seit Kurzem auf AQHA-Turnieren startet. Wir haben mit ihr über ihren Start im Sport, ihr Pferd und ihre Ziele gesprochen.
Kannst du dich mal kurz vorstellen?
Mein Name ist Luca Kempfer, ich bin 14 Jahre alt und komme aus der Nähe von Hannover. Ich besuche die 8. Klasse einer Gesamtschule.
Wie bist du zum Reitsport gekommen?
Als ich sechs Jahre alt war, hat meine Mutter mich in einer Reitschule angemeldet. Dort bin ich einige Jahre auf Islandpferden geritten. Durch mein Interesse an den Pferden hat auch meine Mutter mit dem Reiten begonnen und kurze Zeit später haben wir uns ein Connemara Pony gekauft. Valentin ist mittlerweile ausschließlich das Pony meiner Mutter. Vor etwa zwei Jahren bin ich über eine gute Freundin meiner Mutter ans Westernreiten gekommen. Ich durfte regelmäßig die Quarter Stute von Kati Schulze reiten und auch meine ersten Turniererfahrungen in den L1 Youth Showmanship Klassen machen.
Kannst du uns über deine ersten Erfahrungen vom Turnier erzählen?
Mein erstes Turnier war das Spring Warm Up 2019 in Wenden. Dort bin ich mit dem Team von Alexander Eck Performance Horses hingefahren. Vor meinem ersten Turnierstart war ich sehr aufgeregt, aber das ganze Drumherum und der Zusammenhalt unserer Truppe haben mich sehr begeistert! Im Laufe der Saison konnte ich auch einige Showmanship-Schleifen mit nach Hause nehmen und durfte sogar in Aachen starten.
Mittlerweile hast du ein eigenes Pferd richtig? Wie sind eure Pläne?
Nach der Saison 2019 haben wir uns gemeinsam mit meinem Trainer Alex auf die Suche nach einem eigenen Pferd für mich gemacht. Schlussendlich haben wir meine Quarter Horse Stute Haley aka TL Onehot Investment gefunden. Haley ist eine sieben Jahre alte Stute von Investing Wisely. Nach einigen Monaten bei Alex und Turnierstarts in 2020 ist Haley mittlerweile bei uns zuhause.
Für die Saison 2021 habe ich mir vorgenommen, neben Halter und Showmanship auch einige Reitklassen zu starten. Ich freue mich sehr, dass die Bavarian Summer Show Ende Juni stattfinden kann! Planen ist in diesem Jahr ja leider etwas schwierig. Mein größter Traum ist es allerdings, dieses Jahr mein eigenes Pferd in Aachen zu showen!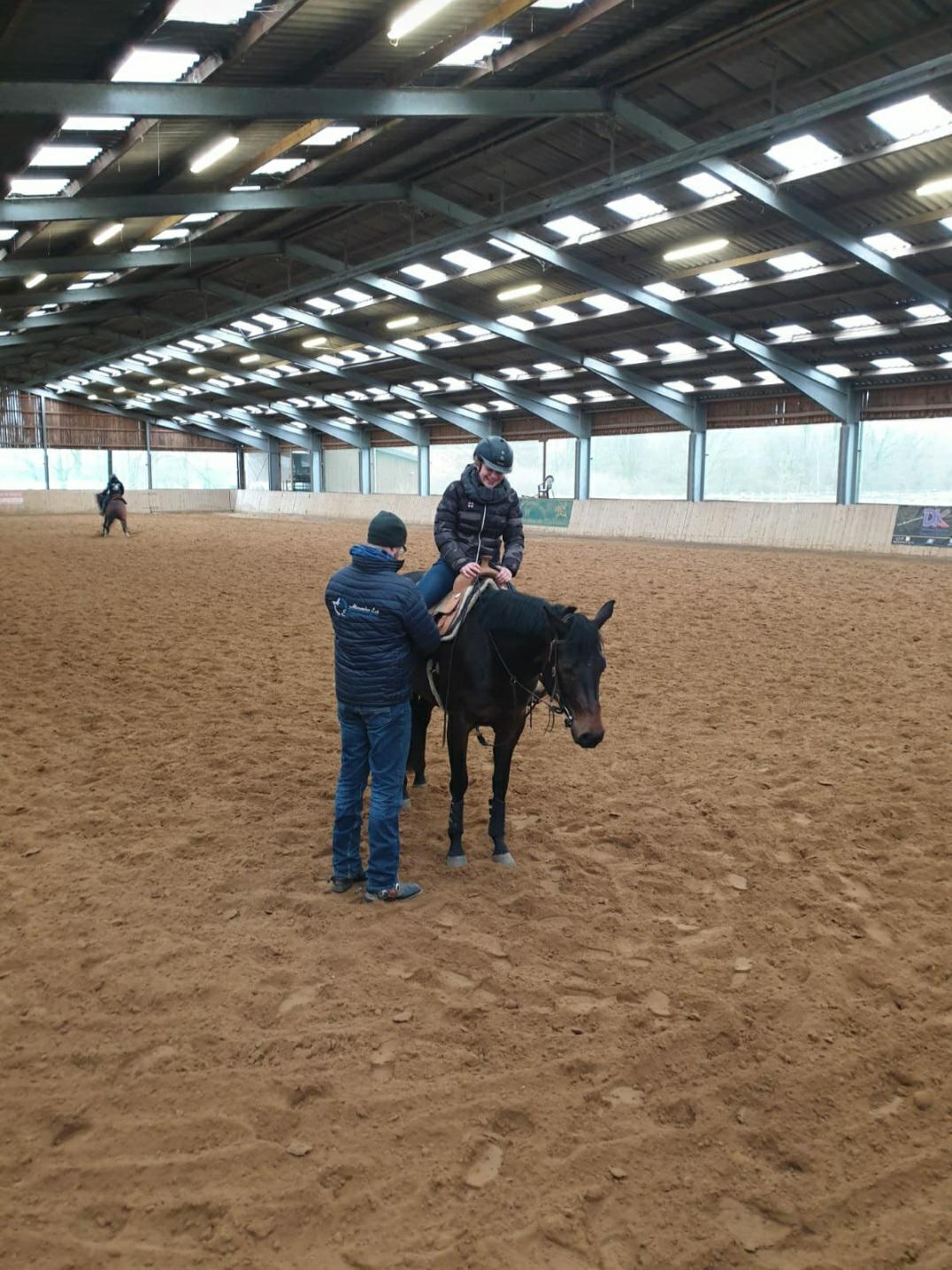 Wie sieht euer tägliches Training aus?
Durch Homeschooling und Wechselunterricht, habe ich momentan sehr viel Zeit, die ich gerne im Stall verbringe. Ich versuche viel Abwechslung in unseren Alltag zu bringen. Hierzu gehören Showmanship-Training, Longe, mit Hunter-Sattel reiten oder einfach mal nur spazieren gehen. Oft treffe ich mich nachmittags mit Kati und wir reiten gemeinsam.
Durch die Corona-Situation ist es ja leider in den letzten Monaten nicht möglich gewesen, zum Unterricht zu Alex zu fahren, weshalb wir uns mit Onlineunterricht angefreundet haben. Das funktioniert auch ziemlich gut! Hoffentlich kehrt bald mehr Normalität ein!