TSL: Congratulations, Michelle! Can you tell our readers a bit about yourself and how you got involved with the AQHA/APHA industry?
Michelle Vanrusselt (MV): Hi, I'm Michelle Vanrusselt, I am 20 years old. I live in Belgium. I train and show under the guidance of Christel Poels at Rawhide Ranch, Herentals. She has always been there for me and I am really grateful for everything she has done for me in the past 13 years. I've been riding horses since I was five years old. I started showing at AQHA shows when I was eight.
TSL: You had the chance to show in the States. How did you plan and organize this?
MV: When I was 16 Mark Shaffer asked me to fly over to the States to show one of his horses at the ApHC Youth World Show. Which I decided to do. This is how I met Scott Suggs, he trained Mark's horses at that time. Scott and I clicked immediately, we understood each other like no other. So, he took me under his wings. I traveled a lot back and forth to learn more during the past four years, each time for two to three months. Right now Scott and his wife Jennifer are still my rocks when I'm in Texas. Last year, I met Brian Isbell and his clients Ann and Lilli Woodruff, they gave me the opportunity to show at this year's APHA congress and World Show. Those were the best experiences I've had in a long time.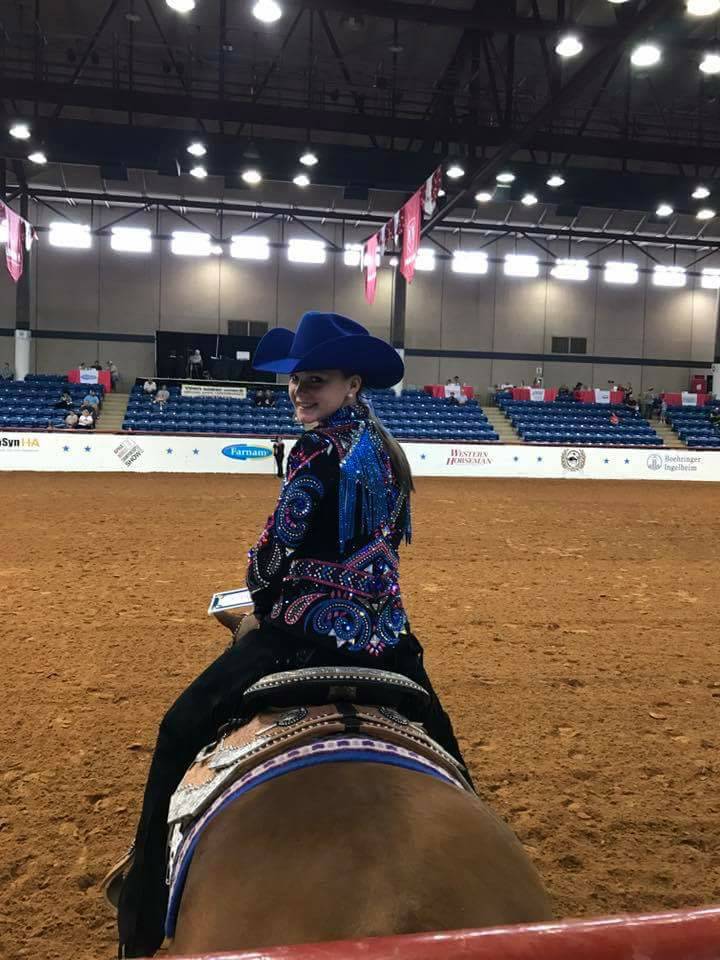 TSL: You did very well at this show…
MV: We had a great show. We became World Champion in the Hunt Seat Equitation and in the Western Pleasure as well as Reserve World Champion in the Trail and 4th in the HUS. That made us Reserve All Around Champion in the Novice Amateur. My unanimous win in the pleasure was a thrill. Hunter was such a good boy. In the Equitation he was really good, too. The pattern wasn't easy, there were lots of transitions. But I think the most challenging part of the pattern classes is to stay connected with your horse. If you don't do everything in connection with your horse, it doesn't look nice and smooth. Your own body position is really important too. And I think I did pretty well on both of those factors.
TSL: If I am right, you have won the Youth Western Horsemanship at the Q16? Seems like you do especially well at pattern classes. What do you like about these classes?
MV: Yes, I did. What I really like about the pattern classes is that you always need to have that connection with your horse to accomplish things. It's probably also the hardest part of it, because this is where most problems start for most people. It doesn't always have to be easy for me, I like the challenge a lot.
TSL: Can you tell a bit about your experience in the States – what were your favourite moments?
MV: Being able to show at the Congress and World Show was my most favorite part. Of course, the moment you find out that you win is amazing. There are so many participants and it's just a thrill to experience that. What I like too is that everyone is really kind. Nobody will walk by without saying hello.
TSL: How did your friends at home react when they found out that you have won a World Championship title?
MV: My friends at home are really excited for me and are proud of me. They all miss me and I miss them too. But they all want me to follow my dreams and want me to do what I am good at. In this way I would like to thank my trainer Christel Poels one more time. Because of her professional help and training I am the rider that I am today. And I am just extremely grateful for all the help and opportunities Christel, Scott, Jennifer, Brian, Ann and my parents gave me.
Thank you and congrats again, Michelle!
---
TSL: Herzlichen Glückwunsch, Michelle! Kannst Du unseren Lesern ein wenig von Dir erzählen und wie du zur AQHA/APHA gekommen bist?
Michelle Vanrusselt (MV): Hi, mein Name ist Michelle Vanrusselt, ich bin 20 Jahre alt und lebe in Belgien. Ich trainiere mit Christel Poels auf der Rawhide Ranch in Herentals. Sie war immer für mich da und ich bin sehr dankbar für alles, was sie in den vergangenen 13 Jahren für mich getan hat. Ich reite, seitdem ich fünf Jahre alt bin und bin auf meiner ersten AQHA Show mit acht Jahren gestartet.
TSL: Du hattest die Möglichkeit, in den USA zu showen. Wie kam es dazu?
MV: Als ich 16 war, hat Mark Shaffer mich gefragt, ob ich eines seiner Pferde auf der ApHC Youth World Show vorstellen möchte. Was ich dann auch gemacht habe. Dadurch habe ich Scott Suggs kennengelernt, er hat zu dem Zeitpunkt Marks Pferde trainiert. Scott und ich haben uns auf Anhieb gut verstanden und er hat mich unter seine Fittiche genommen. Ich bin während der letzten vier Jahre sehr oft hin und her geflogen, um mehr zu lernen – jedes Mal für zwei, drei Monate. Auch jetzt sind Scott und seine Frau Jennifer immer noch meine Anlaufstelle, wenn ich in Texas bin. Letztes Jahr habe ich Brian Isbell und seine Kundinnen Ann und Lilli Woodruff kennengelernt und sie haben mir die Möglichkeit gegeben, dieses Jahr auf dem APHA Congress und der World Show zu showen. Das war das tollste Erlebnis, das ich seit langem hatte.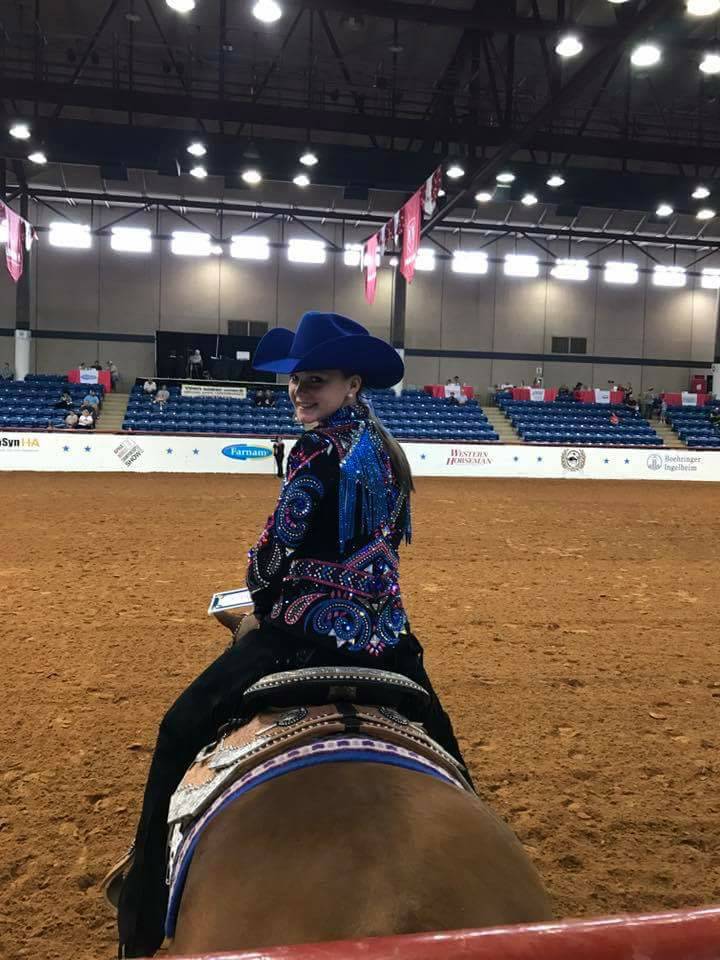 TSL: Und Du warst zudem noch erfolgreich..
MV: Wir hatten eine tolle Show! Wir wurden World Champions in Equitation und in Western Pleasure, außerdem Reserve Champions im Trail und Vierte in der HuS. Was uns dann schließlich zum Reserve Allround Champion Novice Amateur machte. Mein Sieg bei allen Richtern in der Pleasure war das Highlight! Hunter war so toll. In der Equitation war er auch richtig gut! Die Pattern war nicht einfach, es gab viele Übergänge. Aber ich denke, dass die größte Herausforderung bei den Patternklassen ist, eine Einheit mit dem Pferd zu bilden. Wenn man das nicht gut, sieht das Gesamtbild nicht harmonisch aus. Der Sitz ist natürlich auch sehr wichtig. Ich denke, dass ich diese beiden Ansprüche gut erfüllt habe.
TSL: Wenn ich mich nicht täusche, hast Du auf der Q16 auch die Youth Horsemanship gewonnen? Sieht so aus, als wärst Du in den Patternklassen besonders begabt. Was gefällt Dir an diesen Klassen?
MV: Ja, genau. Was mir wirklich gefällt, ist, dass man eine Einheit mit dem Pferd bilden muss, um wirklich erfolgreich zu sein. Das ist sicher auch die größte Schwierigkeit und das, woran viele Leute scheitern. Es muss für mich nicht immer einfach sein, ich mag Herausforderungen.
TSL: Kannst Du uns ein wenig von der Zeit in den Staaten erzählen? Was waren Deine liebsten Momente?
MV: Das Showen auf dem Congress und der World Show! Natürlich war auch der Moment, in dem ich wusste, dass ich gewonnen habe, der Wahnsinn. Es waren so viele Teilnehmer in den Klassen und es einfach nur toll, das zu erleben. Was ich auch sehr mag, ist, dass alle wirklich nett sind. Keiner läuft an dir vorbei ohne Hallo zu sagen.
TSL: Wie haben Deine Freunde zuhause auf Deinen Erfolg reagiert?
MV: Sie haben sich sehr gefreut und waren sehr stolz. Sie vermissen mich alle und ich vermisse sie auch. Aber sie wollen alle, dass ich mir meine Träume erfülle und das mache, worin ich gut bin. Ich möchte an dieser Stelle auch meiner Trainerin Christel Poels noch einmal danken. Wegen ihrer professionellen Hilfe und ihrem Training bin ich zu der Reiterin geworden, die ich heute bin. Ich bin sehr dankbar für all die Möglichkeiten, die mir Christel, Scott, Brian, Jennifer, Ann und meine Eltern gegeben haben.
Vielen Dank und Glückwunsch noch einmal, Michelle!