In our latest series, we want to introduce people that are new – new to a certain circuit, such as AQHA, new to breeding, new to the industry in general. We will start with the story of Léna Detaille and her new four-legged partner.
Lena, tell us a bit about yourself and how you got involved with horses.
My name is Lena. I'm 19 years old and I live in Belgium. I used to own ponies – Shetlands and Falabella – when I was a child, I spent my time with them everyday after school. Horses were my passion since I was a child. Whenever I spend time with them, I don't think about anything else. I started Western Riding when I was nine years old. I used to own a Paint pony, I sold her and after that, I bought an Appaloosa gelding with who I won six medals out of eight classes at the European Championship of Appaloosa in 2019. I had to stop showing him because of his health. So I decided to look for a Quarter Horse mare.
And you found one…
My new horse is a three-year-old mare. Her name is VS RED PASSION aka Blu. She is by VS CODE BLUE and out of DONTSKIPTHEPASSION, a full sister to the Congress Champion DONT SKIP PASSION. I don't know how to thank Nikol Pavlicovà – it was her who found Blu. I met Nikol in August on Instagram and she helped me to find my dream horse and she did it! She sent me some videos of Blu and I fell in love with her. I went to Italy to try her and meet her. I met with Karin Prevedel and I really want to thank for her for welcoming me and for this amazing girl. I am proud to have bought a horse from Karin Prevedel, because I like her way of training and she is a household name in the European allround industry.
When I saw Blu, I directly knew it was her. She is so good-minded, gorgeous and talented. She is the sweetest horse I have ever seen. I'm so happy we bought her because she has all the qualities that I wanted. I love going to horse shows even if it's only as a groom. I like preparing everything and meeting new people – but whenever I have to show I get stressed. But I am sure, that Blu will help me with her mind and capacities.
What are your plans with Blu?
I will ride her at home a few months to learn more about her and create a relationship with her. I will do clinics and maybe shows if we are ready. This year is different due to the coronavirus and I want to take my time with her. I really want to enjoy and trust her.
Next year, I hope we will be able to show and I would like to show at the European Championship, Q22, VWB shows and maybe at some other shows. I would like to show her in Western Pleasure and Showmanship at first. My dream is to win a Western Pleasure class with her. Karin might show her next year as well. I will see how she will improve. But I hope our future will bright. I experienced a lot of disappointment with my gelding and I hope the future will be better with Blu.
In unserer neuen Serie "New Faces" wollen wir gerne Menschen vorstellen, die neu sind – neu in einem bestimmten Verband, neu in der Zucht, generell neu in unserem Sport. In diesem Artikel geht es um Léna Detaille und ihr neues Pferd VS Red Passion.
Lena, stell dich doch kurz vor.
Ich heiße Lena, bin 19 Jahre alt und komme aus Belgien. Früher hatte ich Shetland- und Falabella-Ponys und als Kind habe ich jeden Tag nach der Schule Zeit mit ihnen verbracht. Pferde waren einfach schon immer meine Leidenschaft. Wenn ich bei ihnen bin, kann ich alles andere vergessen. Ich habe mit neun Jahren mit dem Westernreiten angefangen. Ich hatte ein Paint Pony, das haben wir dann verkauft und einen Appaloosa-Wallach gekauft. Mit ihm habe ich sechs Medaillen in acht Klassen auf der Europameisterschaft der Appaloosa im Jahr 2019 gewonnen. Aus gesundheitlichen Gründen kann man ihn aber nicht mehr showen. Daher habe ich angefangen, nach einer Quarter Horse Stute zu suchen…
… und du hast auch eine gefunden.
Genau – mein neues Pferd ist eine dreijährige Stute. Sie heißt VS Red Passion und wird Blu genannt. Sie ist von VS Code Blue aus der DontSkipThePassion, einer Vollschwester zum Congress Champion Dont Skip Passion. Ich kann mich nicht oft genug bei Nikol Pavlicovà bedanken – sie war diejenige, die Blu für mich gefunden hat. Wir haben uns im August über Instagram kennengelernt und sie hat es wirklich geschafft, mein Traumpferd zu finden. Nikol hat mir ein paar Videos von Blu geschickt und ich habe mich sofort verliebt. Ich bin also nach Italien zu Karin Prevedel gefahren und habe sie Probe geritten. Ich bin wirklich stolz, ein Pferd aus Karins Programm zu haben, da ich ihre Trainingsweise mag und sie außerdem eine Größe im europäischen Sport ist.
Als ich Blu gesehen habe, wusste ich sofort, dass sie das richtige Pferd ist. Sie ist so brav, talentiert und so hübsch. Sie ist einfach das süßeste Pferd, das ich je gesehen habe. Ich bin froh, dass wir sie gekauft haben, denn sie vereint alles, wonach ich gesucht habe.
Ich liebe es auf Turniere zu fahren, auch nur als Helferin. Ich bereite gerne alles vor und lerne neue Leute kennen. Aber das Showen selbst stresst mich ein wenig. Ich hoffe also, dass Blu mir da ein wenig helfen kann.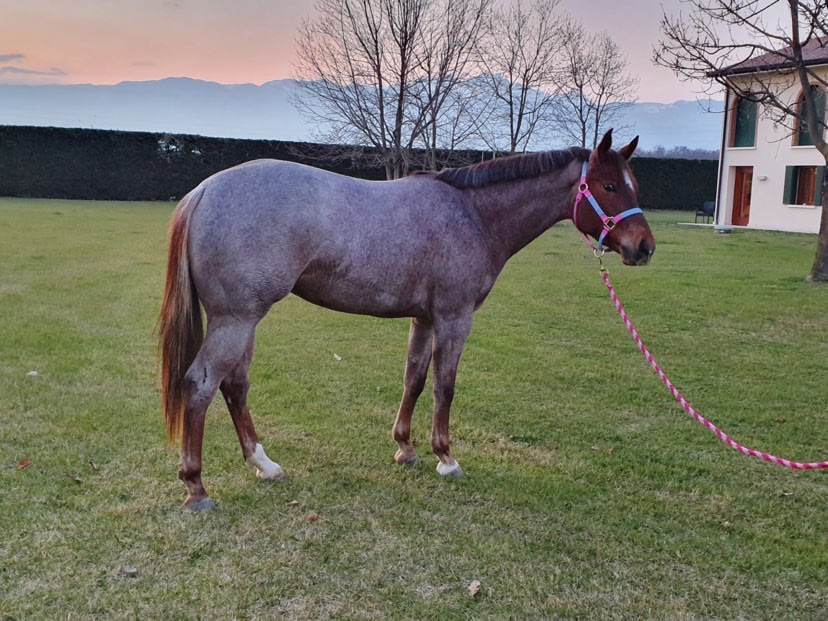 Was sind denn eure Pläne?
Ich werde sie einige Monate zuhause reiten, um sie kennenzulernen und eine Beziehung aufzubauen. Sobald wir so weit sind, reiten wir Kurse und Turniere mit. Dieses Jahr ist ja ohnehin alles anders wegen der Corona-Pandemie, also lasse ich mir Zeit. Ich will jeden Moment mit Blu genießen und Vertrauen aufbauen.
Nächstes Jahr würde ich gerne auf der EM, der Q, den VWB-Turnieren und einigen kleineren Turnieren starten, zunächst in Western Pleasure and Showmanship. Mein Traum ist es, eine Pleasure-Klasse mit ihr zu gewinnen. Karin showt sie vielleicht auch, je nachdem, wie sie sich verbessert. Da ich viele Enttäuschungen mit meinem Wallach durchleben musste, hoffe ich auf eine schöne Zukunft mit Blu.