Be unprepared.
What classes am I showing in again? Where is my stall? How do I have to be equipped for this class? Make sure you have an answer to such questions before going to the show. Know your schedule to avoid any confusion. If you are showing for the first time, take a few hours beforehand to read the associations's rulebook. It will help you understand rules and requirements for the classes you are showing in. For some shows, they publish a map of the show grounds beforehand, that will be helpful as well. Take a look at our TSL packing list to make sure you don't forget any of your horse show essentials.
Be late to your class.
As we all know from "real life", being late is rude. Same goes for horse shows: People will start looking for you, other's who are on time have to wait and you will cause a delay within the – usually quite packed – show schedule. Timing at horse shows can be hard, so ask a trainer for help or check in regularly with the doorman. At some shows, the management offers a schedule with detailed starting times.
Leave your stuff laying around.
Sounds obvious as well – if you leave your stuff around, you do not only come off as messy, but it annoys everyone around you are well. Remember that leaving your stuff laying around is not only annoying, but can be dangerous at a horse show – e.g. in the warm-up pen or the stall aisle – as well. A horse could step on it or someone could stumble and fall. To keep things organized, use a grooming bag you can take to the warm-up pen and store your stuff in boxes in the barn aisle.
Leave the arena, after going out of pattern or your horse spooks.
Going out of pattern happens to the best. Do make sure you don't, check out our advice on how to remember pattern. If it happens anyway, don't just leave the arena. An experience like this can be frustrating, but be graceful and finish the pattern in the best possible way. Same goes for all the situations in which your horse spooks or you fall in Showmanship or anything the like.
Be cranky about your placing.
No matter, how you have placed and whether you are really happy about it, you make a happy face and say thank you for the ribbon to the awards manager handing them out. Remember that there are many, many people who would love to be able to ride and be in your place. Also make sure to congratulate others on their placings!
Judge people.
Fun fact: You are at this show to be judged, by people who have been trained and educated at this. You shouldn't be the one judging other people. On the one hand, because you never know who might be sitting close to you in the stands and overhear this, on the other hand, because you don't know what other people are going through. Your "OMG, did you see how she loped off?" might be another person's big improvement, because the horse had trouble loping off in the past or because she was scared of loping off at all.
Shame others.
This is even worse than judging someone, but the person might now hear it themselves. Openly shaming someone for their look, their outfit or their run is just a no-go – especially if you don't know that person (well). Even worse if that happens on social media. Criticizing is the trainer's job first and foremost, but if you have to say something to someone to make them be a better competitor that is totally fine. If you want to bring them down, keep your "opinion" to yourself.
Yell or cry in the warm-up.
Horse shows are emotional. We all know that and it is okay to cry or yell – just don't do it in the warm-up pen or any other place people can see it. Go to your tack room or your car. Ideally, you don't feel the urge to cry and yell – in this article with trainer Judith Wagner, we talked about how to make a horse show a positive experience.
Get drunk.
Horse shows are fun. Wins should be celebrated. And for some people that includes having a drink or two with their friends – which is totally okay. At some shows, however, people tend to get wasted and are hungover the next morning. As tempting as a little partying may seem, ask yourself: Do I really want to spend so much money on a horse show and be hungover and not able to compete in they way I intended to? Not to mention that this can give you a bad reputation – especially if you are a trainer.
Be uncommunicative, arrogant or harsh.
Going to a horse show for the first time can be exciting – and you will be nervous, that's for sure. But no matter, how nervous you are, remember to be open and friendly, especially towards the show staff. There will be a point in time where you need their help or any information and it will pay off to have built up a good relationship with them. On the other hand, if you are an experienced exhibitor, others might walk up to you and want to talk to you because you are an idol to them. Be friendly, even if you don't know them. A champion's attitude always manifests itself in how you treat others, especially those that are new and shy.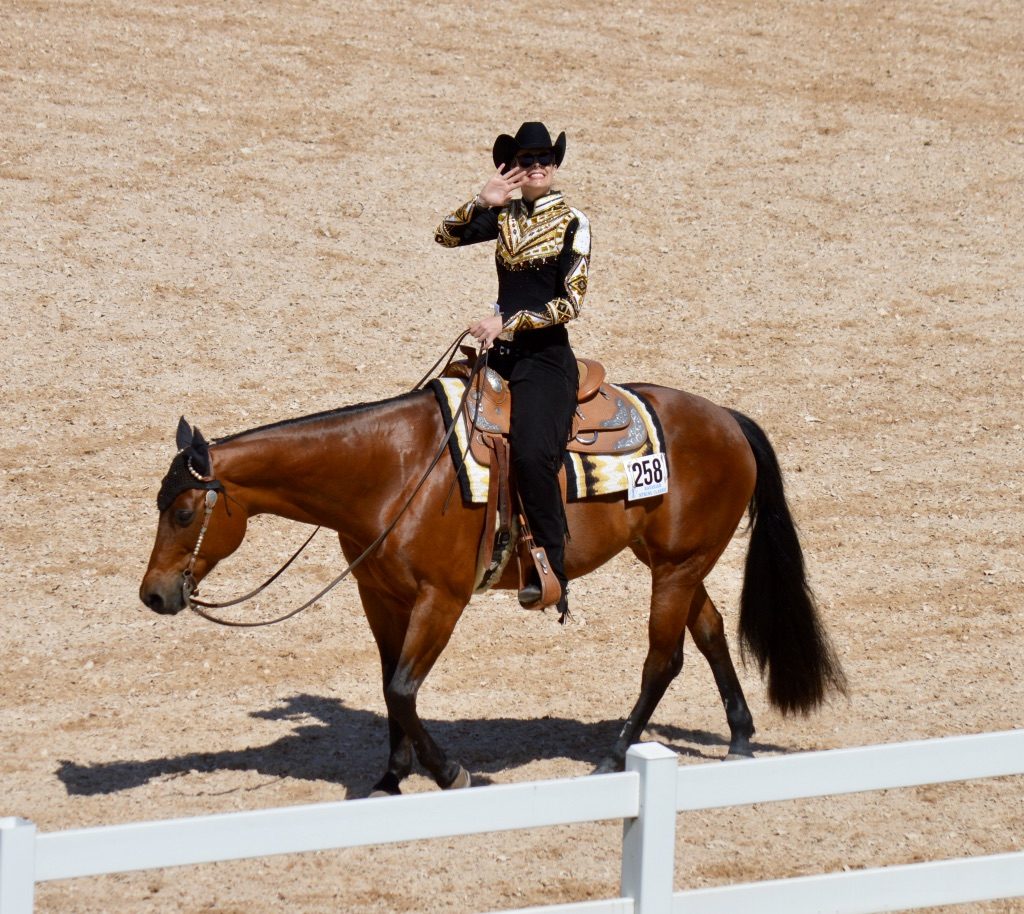 Zehn Dinge, die man auf dem Turnier nicht tun sollte
Unvorbereitet sein.
In welcher Klasse starte ich noch einmal? Wo ist meine Box? Was brauche ich alles für meine Starts? Achte darauf, diese Fragen vor dem Turnier zu klären – so gibt es den weniger Probleme und Verwirrung. Den Zeitplan kann man vorab genau studieren und gerade Neueinsteiger sollten sich vor dem Turnier Zeit nehmen und das Regelbuch einmal durchlesen. So kennt man die Anforderungen für die Klasse genau und weiß auch, was Fehlerpunkte gibt und was nicht. Die meisten Veranstalter posten vorher auch einen kurzen Übersichtsplan, auch das ist hilfreich. Damit ihr nichts vergesst, schaut doch einmal auf unsere TSL-Packliste.
Zu spät zur Klasse kommen.
Das sollte allen klar sein: Unpünklichkeit ist unhöflich. Auch auf dem Turnier gilt das. Man verzögert durch Unpünktlichkeit nicht nur den Start anderer, die pünktlich waren, sondern sorgt vor allem für eine Verzögerung im Zeitplan – der meistens ohnehin sehr voll ist. Pünktlich zur Klasse da zu sein, ist aber gar nicht so einfach: Bittet daher einen Trainer um Hilfe oder frag regelmäßig beim Doorman nach, wie weit man gerade im Zeitplan ist. Auf manchen Turnieren gibt es auch detaillierte Zeitpläne mit fixen Startzeiten.
Das eigene Equipment herumliegen lassen.
Klingt auch erst einmal einleuchtend: Lässt man sein ganzes Equipment herumliegen, wirkt man unordentlich und nervt die anderen. Auf dem Turnier baut man so aber auch eine neue Gefahrenquelle, gerade in der Stallgasse oder im Warm-Up-Bereich. Pferde könnte darauf treten oder jemand könnte stolpern. Nehmt euch daher einen Grooming Bag für den Abreiteplatz mit und verstaut euer Equipment in Boxen oder Ähnlichem in der Stallgasse.
Die Klasse einfach verlassen, wenn man out of pattern ist oder das Pferd sich erschreckt.
Dass man sich verreitet, passiert den Besten. Damit das nicht passiert, könnt ihr ja einmal unsere Tipps durchlesen, wie man sich Pattern besser merken kann. Eines ist aber klar: Passiert das doch, oder das Pferd erschrickt sich, sollte man nicht sang- und klanglos die Halle oder den Platz verlassen. Beendet die Pattern so gut wie möglich – das zeigt Klasse und ist auch für das Pferd ein lehrreicheres Erlebnis.
Sich nicht über die Platzierung freuen.
Egal, wie man platziert wurde und ob man sich darüber freut: Lächeln und sich für die Schleife zu bedanken, muss sein. Denkt immer daran, dass es viele, viele Menschen gibt, die gerne an eurer Stelle wären und einfach mitreiten würden. Außerdem sollte man anderen zu ihren Erfolgen immer gratulieren – egal, ob man die Bewertung persönlich so für richtig hält oder nicht.
Über andere urteilen.
Fun Fact: Ihr seid auf dem Turnier, um bewertet zu werden, von Richtern, die dafür eine Ausbildung gemacht haben. Es ist nicht eure Aufgabe, über andere zu urteilen. Außerdem wisst ihr nie, wer auf der Tribüne in der Nähe sitzt und vielleicht alles mithört, und vor allem gilt: Ihr steckt nicht in den Schuhen der anderen Person und wisst nicht, was sie vielleicht durchgemacht hat. Für euch ist es ein "OMG, hast du gesehen, wie sie angaloppiert?", für die Person ist es möglicherweise ein großer Fortschritt, weil das Pferd damit schon immer Schwierigkeiten hatte oder die Reiterin lange unter Angst vor dem Angaloppieren litt.
Andere heruntermachen.
Noch schlimmer als das Lästern hinter dem Rücken anderer ist, sie öffentlich bloßzustellen. Das gilt auch für jeglichen Post auf Social Media. Jemanden wegen seines Outfits, seines Aussehens oder seines Pferdes herunterzumachen, geht gar nicht, vor allem, wenn man die Person nicht einmal kennt. Den Reiter oder die Reiterin zu kritisieren, ist Aufgabe der Trainer und Trainerinnen. Natürlich kann man konstruktive Kritik an anderen üben, sollte sich jedoch fragen: Mache ich das, damit die andere Person besser wird, oder, um sie klein zu halten? Gilt Letzteres, sollte man seine "Meinung" einfach für sich behalten.
Lautes Schreien oder Weinen im Warm-Up.
Turnier sind emotional und wir alle haben schon einmal geweint oder geschrien. Trotzdem sollte man darauf achten, dass an einem zurückgezogenen Ort wie dem Tack Room oder dem eigenen Auto machen – nicht auf dem Abreiteplatz. Idealerweise kommt keine Frustration auf, sodass man auch nicht schreien oder weinen muss – über dieses Thema haben wir mit Judith Wagner in diesem Artikel gesprochen.
Sich betrinken.
Turniere machen Spaß. Und Erfolge sollte man feiern. Dass dabei auch einmal angestoßen wird, ist vollkommen in Ordnung. Allerdings gibt es auch immer Menschen, die über die Stränge schlagen. So verlockend ein bisschen Party auch sein mag, sollte man sich doch fragen: Will ich wirklich so viel Geld in ein Turnier investieren, um am nächsten Tag verkatert zu sein und nicht gut reiten zu können? Dass das außerdem nach außen hin – besonders bei Trainern – nicht gut wirkt, steht wohl außer Frage.
Wortkarg, arrogant oder unfreundlich sein.
Auf ein Turnier zu fahren, ist spannend – besonders wenn man ein Neueinsteiger ist. Viele Reiter sind nervös und gestresst. Trotzdem sollte man daran denken, nett und freundlich zu sein, vor allem zum Showteam. Irgendwann kommt der Punkt, an dem man Hilfe braucht und eine gute Beziehung zu denen, die das Turnier auf die Beine stellen, ist dann von Vorteil. Ist man schon lange dabei und auch erfolgreich auf Turnieren, kann es vorkommen, dass man von Leute angesprochen wird, für die man eine Art Idol ist. Seid freundlich zu diesen Menschen, auch wenn ihr sie nicht kennt! Ein wahrer Champion zeigt sich darin, wie er mit anderen umgeht, vor allem mit denen, die neu in der Szene sind.