Anne Corell
"My favourite moment of the 2017 show season was our 4th place finish in Amateur Showmanship at the ECQH – we came to the show for the first time this year!"
Arne Kühn
"My most emotional moments were the first time I got back on Krymsuns Affair  after his long absence from the show pen and when he and Franca Bartke claimed their NSBA European Champion in Hunter Under Saddle!"
Hannah Friedl
"To be honest: My most emotional moment of this show season was the fact that I could hardly show at all. Due to my job and university I simply could not make it to all the big shows and I missed showing so much! The few shows I did were definitely not enough to satisfy my horse show addiction!"
Alena Schmid
"My favourite moment wasn't just one – the most important ones for me were all the moments I shared with my horse show family, all the unique friendships and all those times when you are watching one of your biggest idols in the World Show livestream. I am so thankful for all the friendships that have developed through showing horses – what would we all do without our horseshow friends?"
Sofie Gawinski Lindholm
"My favourite moment of 2017 was that I had the chance to show some awesome horses in Australia – my last show season as a Youth. I won the Showmanship class at the big Australian Quarter Horse Congress. That was a huge experience and a great end to my Youth career."
Sophie Gillioz
"My most emotional moments in 2017 were: meeting the baby of my once-in-a-lifetime-horse Cany. Seeing this beautiful baby being her legacy was a very emotional moment. Cany literally presented him to me when she was ready. What an amazing moment! Another very emotional moment was being crowned Bavarian Champion in VWB Amateur Showmanship at Halter while Agathe [Coppey] won the Novice Amateur Showmanship at the same show. All the work we did in Showmanship with Wanda [Zipped N Certain] made her the Showmanship Queen of the year. I could not be more proud!"
Joanna Rohwer
"The saddest moment was when I lost my soulmate RR Chocolate Time in September, two days after my birthday. I have imported her from the States in November 2016 and she had such a great and sensible personality. I'm still really upset about this loss."
Julia Ruscheinski (soon to be Pirkenseer)
"My favourite moment was having my engagement pictures taken together with my fiancée and my Quarter Horse Sweet Hot Brownie!"
Laura Pfeifer
"You can see my favorite moment on this very picture: It was taken by Leonie Fischer on the stands in Kreuth during the ECQH when my Dad was announced European Champion Select Amateur Showmanship with my horse Fashionable Irons aka Katy. I realized that very moment that it was much more emotional for me seeing my Dad win than winning a class myself. He really deserved this and it was amazing to share this experience with him from 'the outside perspective', being the audience who cheers someone on in the stands while he was standing in the line up. I had to cry so much and I was glad that my best friend ran up the stands and cried together with me – truly the best moment in 2017!"
Vera Ledneczki
"My favourite moment of the 2017 show season were the gold medals I won at the European Championship of Appaloosas with my self-trained mare DS Chinese Girl. This was our very first European Championship and we won the Senior Trail and the Green Trail! I could not have asked for a better show season!"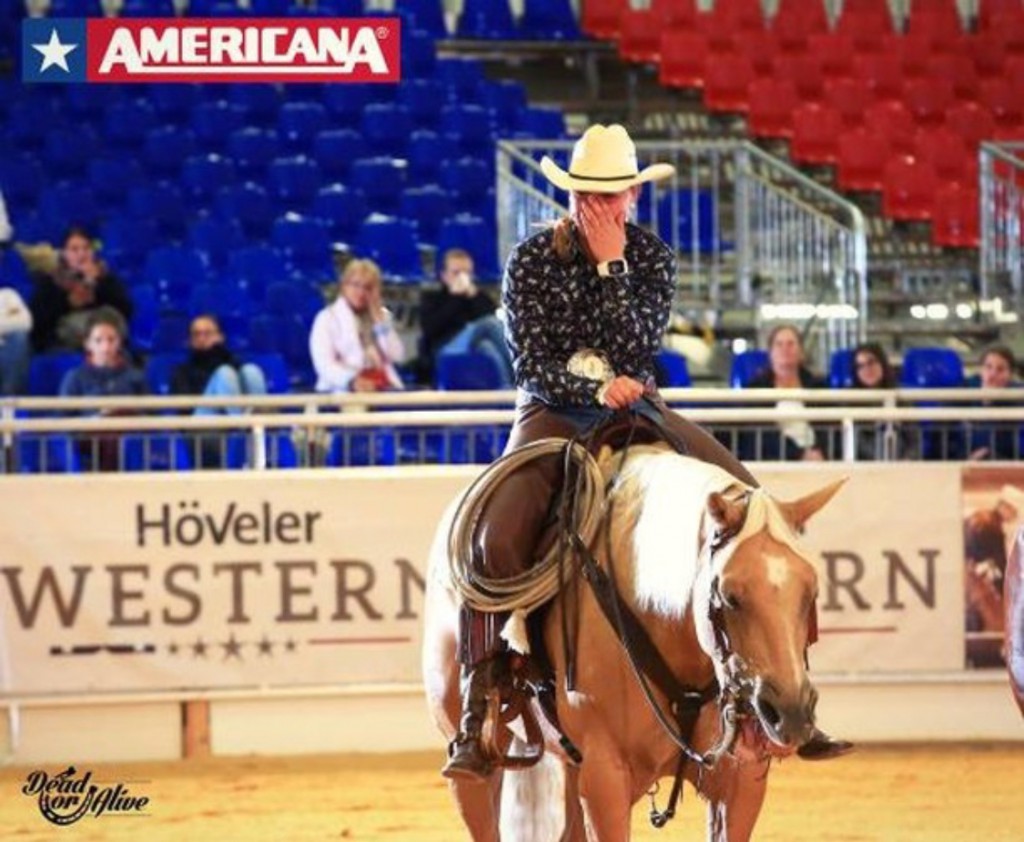 Melena Skala
"My favourite moment in 2017 was winning the Americana No Leaf Young Trainer Contest. It was the first show season for my horse and I would have never dreamt of winning such a big competition!"
Dóra Göcze
My most emotional memory is showing "Pretty Little Gambler" aka "Jack" for the last time in the In-Hand events as a 2 year old this October. It was quite bittersweet… He won everyting that was possible and more: 2x Gold, 1x Silver 2x Bronze European Champion, Silver German Champion, Young Horse of the Year in Denmark, several times Grand and Reserve Champion and currently leading the Solid Paint Bred Honor Roll in In Hand Trail Open. I had soooo much fun showing him in these events, he has always been perfect in the showpen, but now it is time to move on and show him as a riding horse!
Jessica Möstl (Goes West)
"Das Outfit von Goes West zum ersten Mal auf dem Titelblatt!"
Sabrina Fehrenbach
"My favourite moment of the 2017 show season was when my mare's offspring scored a 213 in the Open 3y0 Futurity!"
Kati Schulze
"The best moment in 2017 was when we finally decided to buy my Youngster Iota Wisely Invested. It was a dream come true and I just love my awesome boy! Can't wait to show him in the In Hand classes next year!"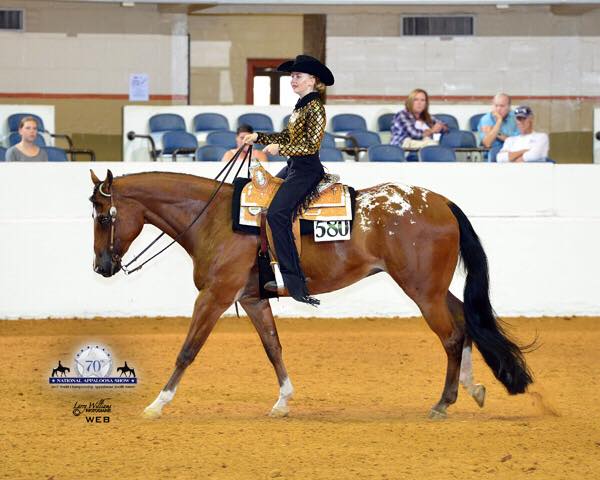 Zoe Long
"Finishing Top 5 at the Appaloosa Youth World Championship was not only the best moment in 2017, but in my entire life! I was especially happy about my Top 5 placing in the Horsemanship since it is a very challenging event and I did not know my horse that well!"
Moritz Stummer
"The best thing this year was all the fun we had at shows and during practice – it is great to be part of such a fun and successful team!"
Livvie Van Lanen
"This past fall was my first World Show as an Amateur! Even though I made some unfortunate mistakes in some of my patterns, I ended up Top 10 in the Amateur Trail! I was extremely happy to be in the Top 10 in a tough class, my first year out of youth."
Denise Vanova
"My favourite moment of the 2017 show season was when I won the Youth Western Pleasure at the European Appaloosa Championship with my Halter bred gelding – it was an unbelievable moment! We also ended up being the Youth Allround Champion!"
Laura Katzer
"My personal favourite moment was when my trainer trusted me to show his horse! Unfortunately, my own horse had had an accident and had to pause for some months, but I had the opportunity to show Jac That Out. We won several titles, but our biggest win was the Austrian Young Rider Allround title and the Austrian Young Rider Ranch Riding Reserve Champion. It was at the second show we did together and I could not be more thankful for what this horse has done for me!"
Lilly Görgen
"Participating at the FEI World Championship in my first year showing Reining was just a dream come true! I started riding that horse in February 2017 after my trainer asked whether I wanted to show him. Showing in Kreuth during the Easter weekend had been amazing already – although everything was quite new for me, we had a great ride – but when I found out I made it on the team in July, I just started crying out of joy!"
Sandra Röcker
"My most emotional moment was when my gelding PM Jack Red Revolution and I were crowned 'Rheinlandmeister' in the Senior Trail. I've trained Foxy on my own since he was a three-year-old. Those are the moments when all the hard work pays off!"
Lena Wolff
"My most emotional moment was the awards presentation for the "Jungpferde" events at the German Open 2017. My horse Jos Investment Dream was crowned the Reserve Champion in Jungpferde Trail for 5-year-olds. I was so proud! He is the first horse I trained by myself from the start and a second place finish in such a deep class is simply more than amazing!"
Elisabeth Kämpfer
"The best moment for me was sitting on my mare UM Sweet About Me for the first time. She is my first horse and I was able to work with her from early on, so getting on her back for the first time was a memorable moment for sure!"
Katharina Skalnik
"Unfortunately, we had a very bad start in 2017 due to my mare having some serious problems with her back and front feet. However, after her recovery and two months of training we managed to score a 216 in our Non Pro Futurity finals, ending up 4th. My Hollywoodtinselstep has made a dream come true!"
Tilman Wagner
"My favourite moment of 2017 was when I finally picked up my mare from the pasture after a two year break because of studying abroad. It was tough for me not being able to ride for such a long time and I'm even happier that this little girl keeps on pushing every day since we started training again. This horse is all I could ever wish for and I always love to be around her. Can't wait to show her again in 2018 and see all my friends!"
and here are our favourite moments:
Sophie:
"My favourite moment of the 2017 show season was being crowned Allround Champion Novice Amateur in show 1 at the ECQH. The ECQH was the first show ever at which I showed my five-year-old gelding HC A Gleam Of Hope in the allround events. We did our first Equitation class together, among other things. I told my trainer, Arne Kühn, beforehand that the only thing I really wanted was one of those pretty buckles and he said: 'Okay, go ahead and work hard then!'. We had a great show, but to be honest, none of us would have thought that 'Joey' and I would end up as Allround Champion Nov. Amateur in show 1 and we were, therefore, even happier about the result! This is the first buckle I have ever won with Joey which makes it really special!
The Showlife wishes each and everyone of our dear readers a Happy New Year!