Yes, showing is fun – but have you ever dreamed of going on an adventure with your horse? Susanne Maeder from Switzerland is doing that on a regular basis. She explores the Alps with her Quarter Horse.
Can you introduce yourself and your horses to our readers?
My name is Susanne, I am 40 years old and live in the Swiss Alps. Before, I have lived in Portugal for 15 years and that's where I got my first Quarter Horses. Of those two only one is still alive, 25-year-old Classical Bandit. I did a lot of trail rides to the mountains with this one until three years ago. We also own a Warmblood mare called La Isla Bonita, she is my husband's horse. Five years ago, we got Andys Dry Whiz aka Lio, a Quarter Horse gelding. He was a yearling when I got him. We also adopted Just A Grove, an Irish Thoroughbred, last year.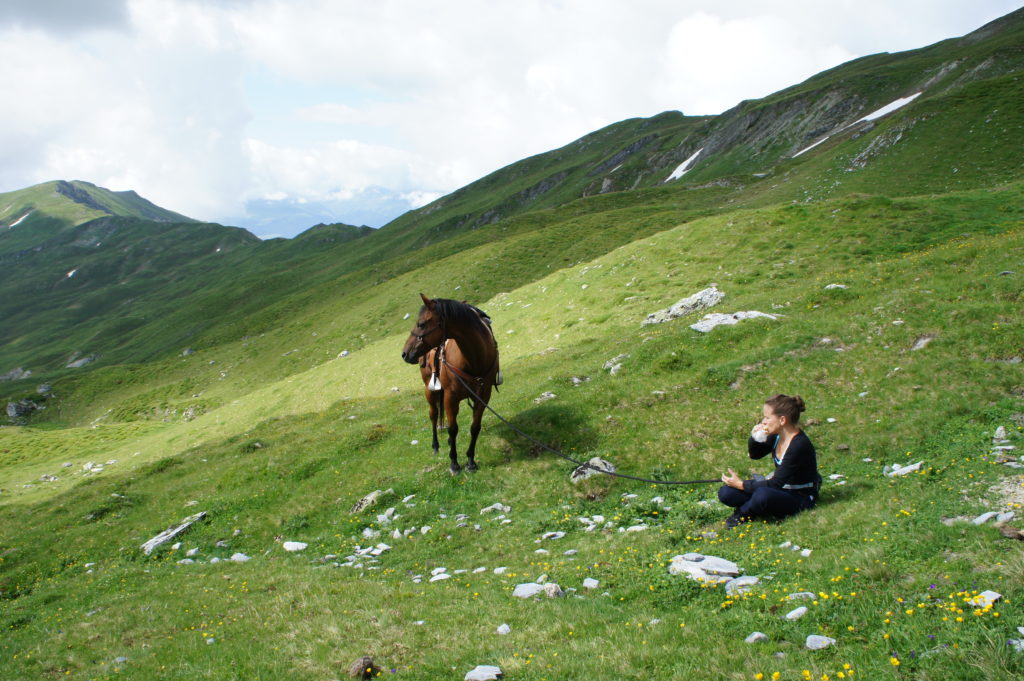 When looking at your Instagram account, I noticed a lot of great pictures of you and your horses in the Alps. Tell us about your trail rides.
My trail rides are normal trail rides, usually they take around two hours, sometimes I go for a longer trail ride like many other riders do. The biggest difference, I guess, is the landscape. You will hardly find a path that's plain and you can just ride a straight line. The only plain path we have is heavily frequented by bikers etc., so I started to choose the paths that lead up into the mountains. This is partly due to the fact that Bandit doesn't like vehicles. There's a certain silence in the mountains, you get a great view, you realize how good our horses are at climbing and every ride is a little adventure that will strengthen the bond between human and horse.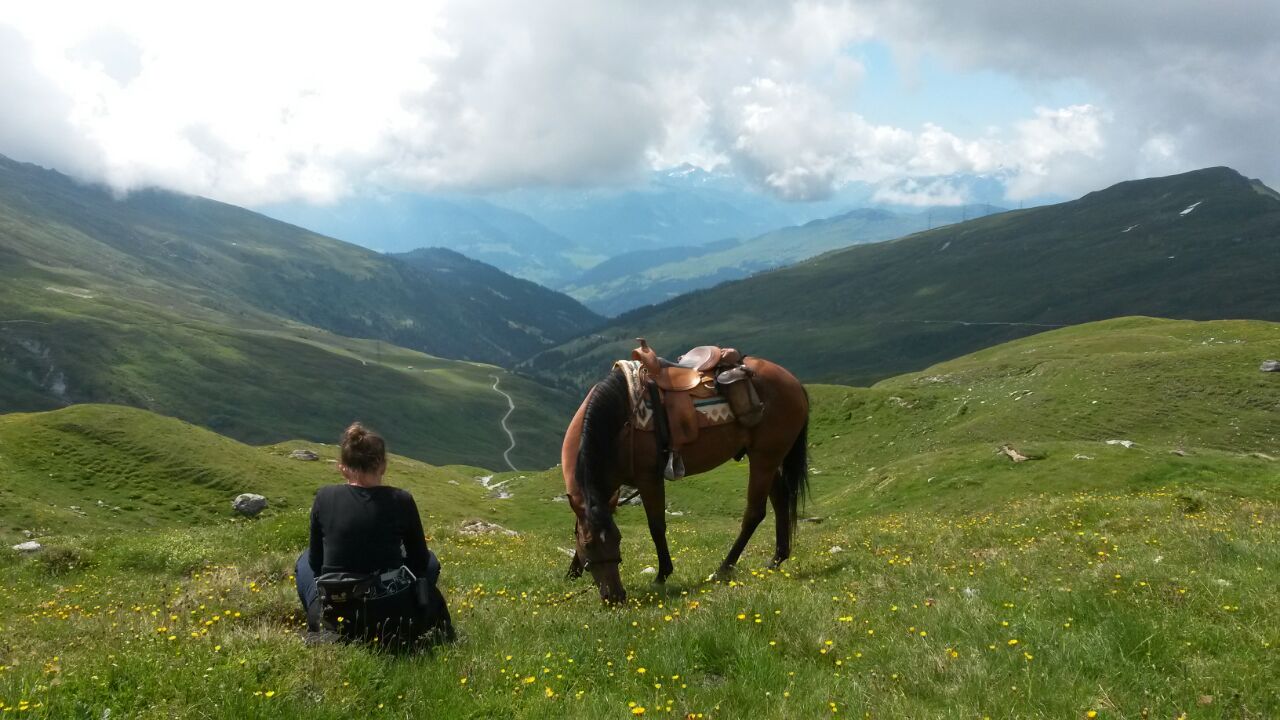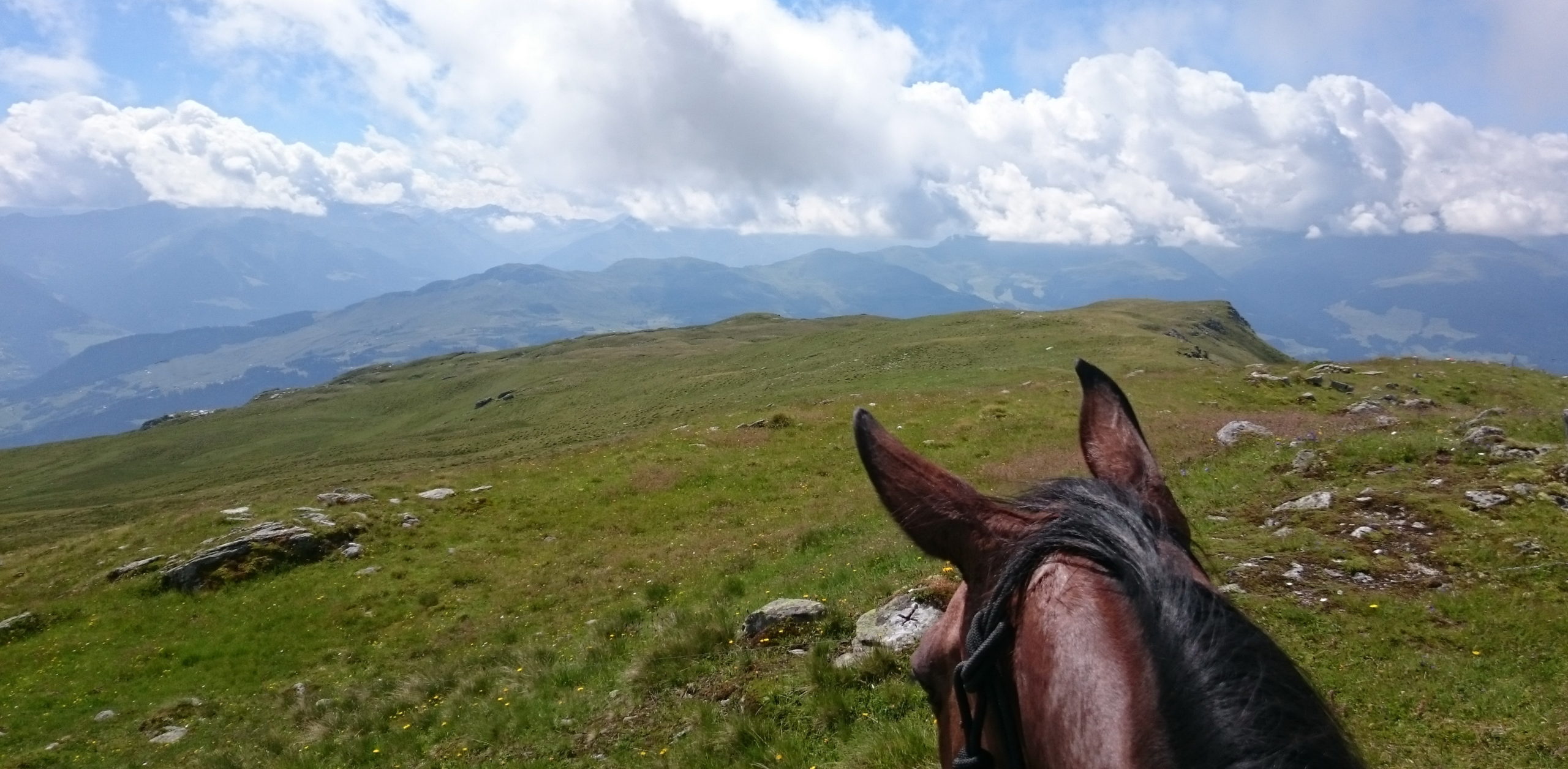 Which one was the best tour?
I think one of the most beautiful tours was a trail ride I did with Bandit. It was our first real adventure. The landscape is breathtaking and the route is quite safe. You spent a lot of time on a ridge and the view is amazing. Feels like being on top of the world!
Were there any rather dangerous moments?
Oh, yes, a lot of times. Although it depends on how you define "dangerous". Until a few years ago, I just looked up my routes on maps and searched the internet to find out what other people who were hiking or cycling the trail said. Then I just went. However, sometimes, I encountered an obstacles that would be easy to pass for a human – ladders, small bridges – but not a horse. It was hard to find another way, so I had to turn around and go back home. As I got older – and more responsible, I guess – I started to walk the routes beforehand to see what they're like. I did some trails with my horse and while doing it swore I'd never do it again. Mostly, because the paths were too muddy and my horses sank in. It's supposed to be fun and a swampy trail is one of the least fun and most dangerous things for a horse – and we have them a lot in the Alps. If we pass a tight or steep path, I usually lead my horse, because that way, I am a little more in control.
Did you prepare your horse for those rides or did it just happen, so to speak?
Since our pastures are quite steep as well, my horses are quite fit and sure-footed. And any shorter routes are quite steep as well. I think I just started at some point with Bandit. I saw a route on a map, I liked it and rode off. It took us eight hours but until today it has been one of the most beautiful and spectacular rides ever. Eight hours sounds like a lot, but remember that we ride at a walk 95 percent of the time and I lead the horse for a large part of the tour, when we go downhill. That strategy combined with breaks works well so that my horses are hardly ever exhausted when we get home. 
Do you have a dream, something you want to experience with your horses?
Yes, I absolutely want to go to the beach with Lio. I never did it when I was living in Portugal. I guess, it wasn't interesting for me back then. I regret that now. But Lio is still young and one day, we will fulfil my dream. Just lope on and on and on until we don't want to anymore. That's my dream, because you cannot really do it here.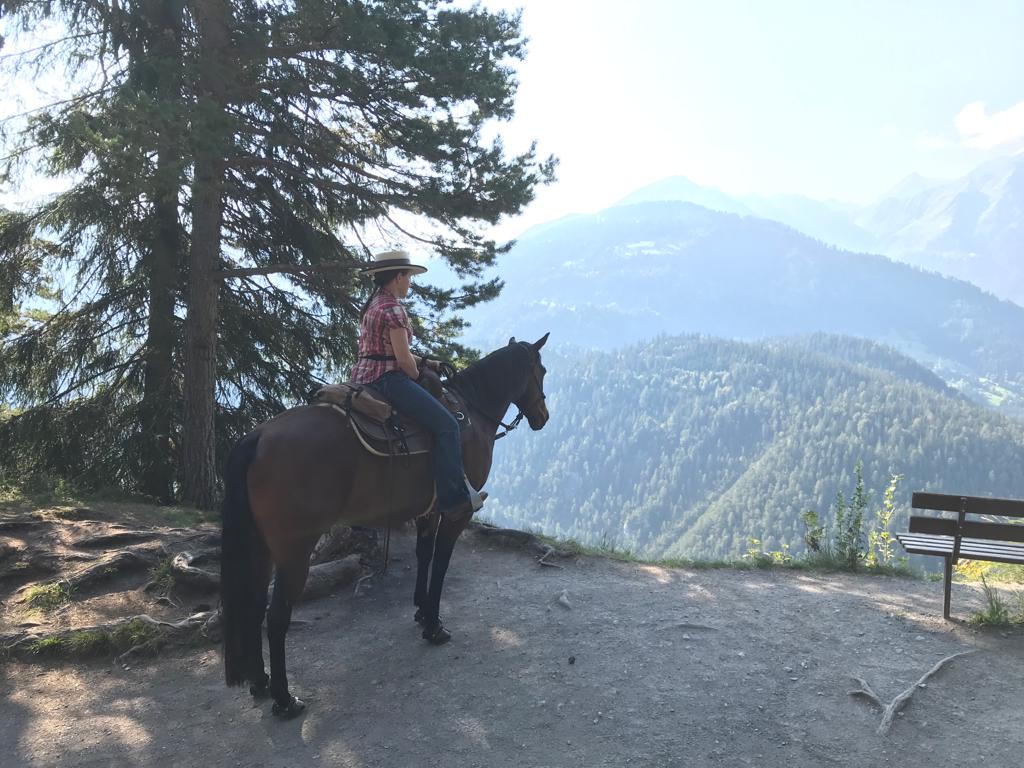 Ja, Turniere sind toll – aber manchmal steht einem doch eher der Sinn nach einem kleinen Ausritt. Bei Susanne Maeder und ihrem Quarter Horse wird so ein kleiner Ausritt schnell mal zum großen Abenteuer. Die beiden reiten regelmäßig durch die Schweizer Alpen.
Kannst du dich und deine Pferde einmal unseren Lesern vorstellen?
Ich bin Susanne, 40 Jahre alt und lebe seit 13 Jahren in den Schweizer Bergen. Zuvor war ich 15 Jahre in Portugal, wo ich auch zu meinen zwei ersten Quarter Horses kam. Mittlerweile lebt davon nur noch der 25-jährige Classical Bandit. Mit ihm habe ich bis vor drei Jahren sehr viele Bergtouren unternommen. Ebenfalls schon sehr lange bei uns ist La Isla Bonita, eine Warmblut-Stute, die meinem Mann gehört. Vor fünf Jahren kam noch Andys Dry Whiz (Lio) dazu, ebenfalls ein Quarter Horse, den ich als Jährling kaufte und letztes Jahr Just A Groove, ein achtjähriges Irisches Vollblut, das ich als Beistellpferd aufnahm.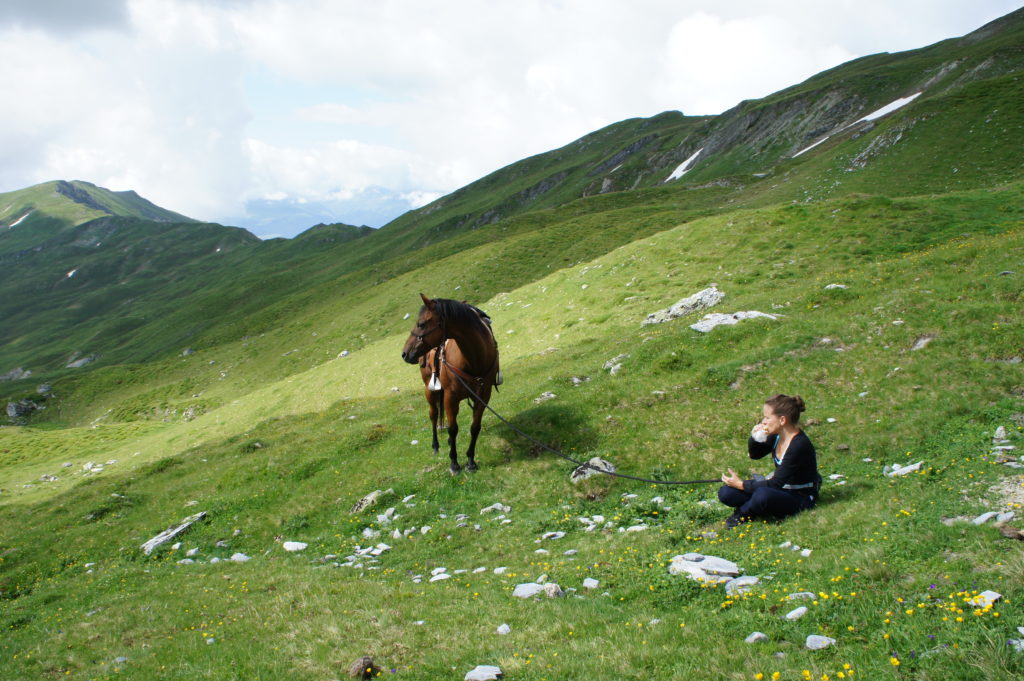 Wenn man deinen Instagram-Account anschaut, sieht man ja tolle Bilder – du bist mit deinen Pferden viel in den Alpen unterwegs. Erzähl doch einmal von deinen Touren.
Meine Touren sind eigentlich ganz normale Ausritte, mal ein bis zwei Stunden und manchmal Tagesritte wie sie jeder Reiter so macht. Der einzige Unterschied ist wohl einfach das Gelände hier… Geradeaus gibt's nicht wirklich. Und da die einzige gerade Strecke unten im Tal auch von Fahrradfahrern etc. sehr rege genutzt wird, fing ich ziemlich bald an, mich mehr nach oben zu orientieren. Das verdanke ich wohl auch Bandit, der bis heute keine Fahrzeuge mag. In den Bergen herrscht Ruhe, man wird meist mit einer grandiosen Aussicht belohnt, man erkennt wie geländegängig unsere Pferde eigentlich sind und es ist einfach jedemal ein kleines Abenteuer welches total zusammen schweißt!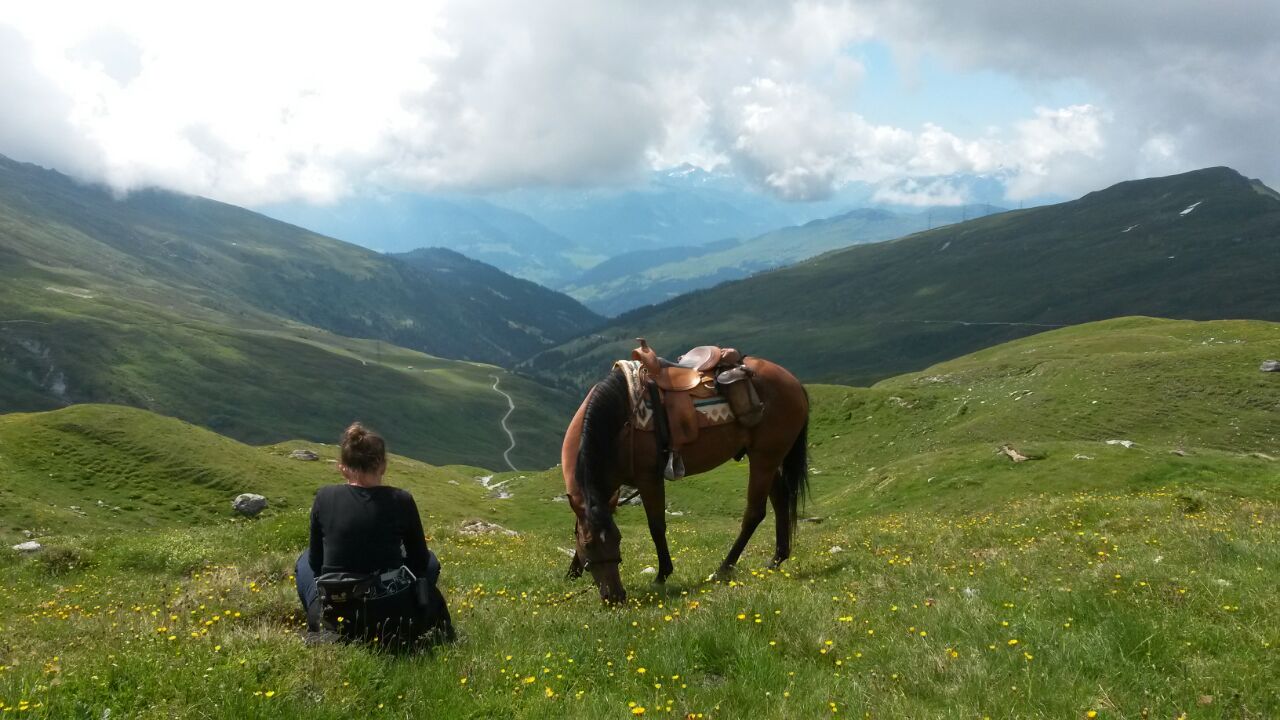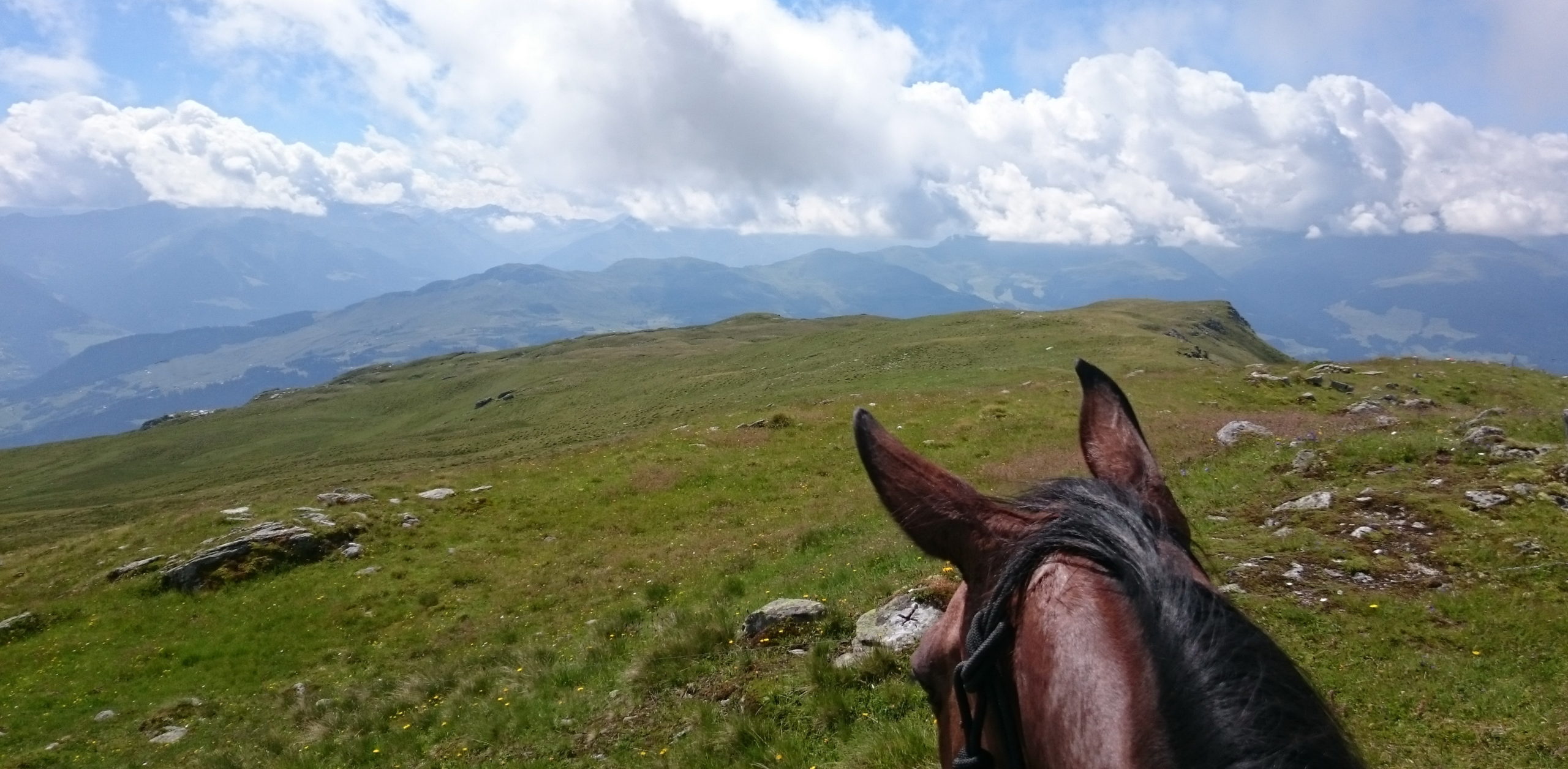 Was war für dich die schönste Tour?
Eine der Schönsten war sicher die erste längere Tour, die ich mit Bandit gemacht hab. Das erste gemeinsame richtige Abenteuer. Aber nicht nur aus dem genannten Grund finde ich sie eine der Schönsten, auch landschaftlich ist diese Route total spektakulär und dazu noch ziemlich ungefährlich. Einen großen Teil der Strecke geht man auf einem Hügelkamm mit Sicht rundherum auf Berge. Man fühlt sich so richtig on top of the world!
Gab es auch einmal abenteuerliche oder sogar gefährliche Momente?
 Oh ja, ziemlich oft. Der Begriff gefährlich wird aber natürlich von jedem etwas anders ausgelegt. Bis vor einigen Jahren habe ich mir neue Routen einfach auf Wanderkarten zurecht gelegt, wenn möglich im Internet recherchiert, was Wanderer und Biker so dazu berichten und ging dann los. Allerdings kamen mir so sehr oft beispielsweise Brücken, die absolut nicht für 500 Kilogramm gebaut worden sind oder kleinere Felswände mit eingelassenen Leitern, wo sich Wanderer daran hochziehen können, oder zu schmale Durchgänge in die Quere. Oft wurde es dann sehr schwierig und zum Teil auch gefährlich, einen geeigneten Umweg zu finden. Mittlerweile – man wird ja auch älter und vernünftiger – wandere ich neue Routen, wenn irgend möglich, vorher zu Fuss ab. Auch sonst gibt es durchaus einige Trails, die ich einmal ritt und mir danach geschworen hatte, es nie wieder zu tun, meist weil der Weg für Pferde zu sumpfig war und sie wirklich tief einsanken. Es soll ja schlussendlich dem Pferd und mir Spass machen. Sumpfiges Gelände finde ich persönlich eines der mühsamsten und gefährlichsten Dinge mit Pferden und auch wenn man es nicht denken würde, die Alpen sind voll davon. Extrem steile Passagen oder sehr enge Pfade, die zur einen Seite praktisch senkrecht abfallen, führe ich in der Regel, da ich so doch noch etwas mehr Kontrolle über das Pferd habe, sollte etwas Unvorhergesehenes passieren.
Hast du deine Pferde auf die Touren vorbereitet oder sie einfach Stück für Stück herangeführt?
Da unsere Weiden größtenteils sehr steil sind, haben meine Pferde schon dadurch eine gewisse Grundkondition und Trittsicherheit. Und auch unsere kurzen eher alltäglichen Runden sind alle sehr steil.
Ehrlich gesagt ging ich damals mit Bandit einfach mal los. Ich habe auf einer Wanderkarte eine Route gesehen, die ich interessant fand, und zog los. Es wurden acht Stunden daraus, aber lustigerweise ist das bis heute eine meiner schönsten und spektakulärsten Routen. Acht Stunden – das klingt nach sehr viel, aber man muss sich vor Augen führen, dass da eigentlich zu 95 Prozent im Schritt geritten wird und die Hälfte davon, also bergab, führe ich. Damit und mit Fresspausen zwischendurch habe ich trotz der vielen Höhenmeter nie erschöpfte Pferde nach Hause gebracht.
Hast du noch ein Traumziel oder etwas, das du mit deinen Pferden gerne erleben willst?
Jaaa, ich möchte unbedingt einmal ans Meer mit Lio. Leider habe ich das, als ich in Portugal lebte, total verpasst. Naja, wenn man es vor der Nase hat, ist es nicht so interessant. Jetzt bereue ich das sehr. Aber Lio ist ja noch jung und irgendwann werden wir diesen Traum zusammen verwirklichen. Mal einfach geradeaus galoppieren, bis wir keine Lust mehr haben, davon träume ich. Etwas, das hier leider überhaupt nicht möglich ist.