Picture in the middle: Rainer Haeckl
You've all watched and admired them – and you've always wondered what they're like in real life. No, we're not talking about movie stars or singers but about four-legged celebrities. In this series, we will give you an insight on the personalities of famous show horses. Part I is about KM Best Looking, an Int. DQHA Champion, NSBA European Reserve Champion and FEQHA Bronze medalist. Trainer Jadasa Jablonowski and owner Nina Müller told us five facts about "Demi".
#1
Demi is a total clown. We are pretty sure that she wants to entertain us. One of her tricks is picking something up with her mouth – and nothing is safe! It started with lead ropes, brushes, hoof picks and so on…
But now we've gotten to a point where she will take the manure scoop, lift it up and carry it around. That's why we always use those emojis to describe her: ? and ?.
#2
Demi was born in the States and didn't know any snow. So when she saw snow for the first time, she refused to leave the barn. Everything was white! But by now she loves snow! She will dive into it, dig around and even eat it. If she sees a pile of snow, she will pull over like a stubborn little pony.
#3
She does not like soft brushes. It's okay if you use them on her head, but she prefers it if you use a rubber curry comb on the rest of her body. She can't get enough of it!
#4
When she was a two-year-old she somehow managed to slip underneath every fence and go visit her best friend Moony. If she was with him, she was happy. After a few days, we decided to turn them out together. Our fences have not been broken every since.
#5
Otto is her best dog friend. No wonder – he is a clown himself. She always crouches down to touch him with her nose. She isn't even upset if he jumps between her legs while we ride her. Friends are allowed to do that!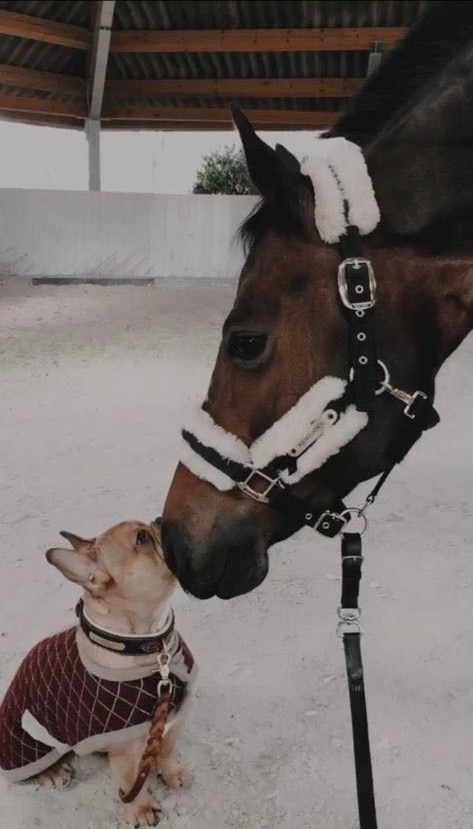 Ihr habt sie schon tausend Mal im Livestream gesehen, vielleicht aus der Ferne bewundert und würdet nur zu gern wissen, wie sie so sind. Nein, die Rede ist nicht von Musikern oder Schauspielerinnen, sondern von vierbeinigen Stars. In dieser Serie geben wir euch die Möglichkeit, etwas mehr über bekannte Pferde zu erfahren. In Teil I geht es um KM Best Looking: Int. DQHA Champion, NSBA European Reserve Champion, FEQHA Bronze-Medaillen-Gewinnerin. Außerdem gewann sie bereits mehrere DQHA Highpoint-Titel. Trainerin Jadasa Jablonowski und Besitzerin Nina Müller haben uns ein paar Fakten zu "Demi" verraten.
#1
Demi ist der pferdgewordene Clown. Wir sind uns sicher, sie bringt uns einfach gerne zum Lachen. Einer ihrer Tricks ist, alles in den Mund zu nehmen – nichts ist vor ihr sicher! Angefangen hat es mit Führstricken, Bürsten, Hufauskratzern und so weiter…
Inzwischen nimmt sie im Vorbeigehen sogar den Mistboy ins Maul und trägt ihn ein paar Meter mit. Deswegen hat sie in unserer Kommunikation eigene Emojis: ? und ?.
#2
Demi ist in den USA geboren und kannte deswegen keinen Schnee. Als sie das erste Mal Schnee gesehen hat, wollte sie vor Angst gar nicht aus dem Stall gehen. Alles war weiß! Inzwischen liebt sie Schnee! Sie taucht bis zu den Augen in ihn ein, scharrt wie eine Wilde in ihm herum und isst ihn sogar. Wenn sie einen Schneehaufen sieht, zieht sie in die Richtung, wie ein kleines dickes Pony!
#3
Putzen mit weichen Bürsten findet sie doof. Am Kopf ist es noch okay. Am restlichen Körper will sie lieber nur mit einem Gummistriegel gerubbelt werden. Davon kann sie nicht genug bekommen.
#4
Als sie zwei Jahre alt war, ist sie durch jeden Koppelzaun geschlüpft. Die wollte zu ihren besten Freund Moony. Wenn sie dann bei ihm stand, war ihre Welt in Ordnung. Nach ein paar Tagen haben wir beschlossen, sie gleich zusammen raus zu stellen. Seitdem bleiben die Zäune heil.
#5
Otto ist ihr bester Hundefreund. Kein Wunder, er ist selbst ein Clown. Sie macht sich immer ganz klein, um ihn mit der Nase zu berühren. Sie stört es nicht einmal, wenn er beim Reiten zwischen ihren Beinen herumspringt. Freunde dürfen das!