It is one of each equestrian's biggest fears: Your horse is injured. We would do anything to make our four-legged friends feel better. However, we tend to forget about our own injuries or little ailments. Most of us are Amateur riders, who might be sad if we cannot compete, but making a living does not depend on whether we are able to ride or not. With trainers or members on an equestrian team, the situation is different. Gina Victoria Ulveie who has recently shared her experience with US equestrian teams in another article on The Showlife, was recently injured and could not ride for several months.
TSL: Gina, can you tell our readers how you got injured and what consequences you had to face after the injury?
Gina Ulveie (GV): In September last year, I played soccer and tore my ACL, LCL and both meniscus in my left knee, and had to go through surgery two weeks after. The first months after surgery were difficult as I had to keep my knee completely straight in a brace while slowly trying to put some weight on it. Needless to say, I could not ride for a long while, which was hard for me, as riding horses is not only a hobby for me – I'ts my life. What keeps me going!
TSL: You are member of an Equestrian Team at SAU and had to take a break – how did the team react and will you be able to continue riding for the team once you have fully recovered?
GV: My equestrian team, especially my coach Carla Wennberg has been extremely supportive in this whole process – she was even there when I woke up from surgery! She knows what it is like to be out of the saddle due to injuries, and she helped me to stay positive and keep my head up. While being injured I still tried to help my team organize our horse shows and led team workouts. I always tried to be there for them, for example by recording their rides, because we are a team: Although I cannot contribute by getting points riding at the shows, I could be there to support my teammates. On January 16th, I finally got cleared to ride! Now I am taking lessons regularly again, and have competed at two shows!
TSL: How did the injury influence your life – physically and psychologically?
GV: I felt like I was able to handle the physical pain fairly well, a lot of that is because of those around me. My roommate and my friends did all they could to make sure I was as comfortable as possible. Campus security even drove me from my dorm to classes! However, the hardest part about the injury has been not being able to ride. I came into my sophomore year more motivated than ever, I was ready to do whatever it takes to get where I wanted to get. It is challenging when you have the motivation and opportunities to be successful, but your body is not working.
TSL: How did you feel when you got back on a horse? Were you a little scared or were you just happy?
GV: Happy is an understatement! Six weeks after surgery, I asked my doctor if I could start riding, so you can imagine after four months, I was more than ready. The first 15 minutes of riding felt a little weird, as my left leg – the injured one – did not feel as strong and stable as the other one. Once I focused on sitting straight and putting by weight down through my heels I started to feel more normal. In these situations, you truly realize how powerful muscle memory is; I felt like my body remembered how to ride faster than my brain.
TSL: What would you recommend to other riders who have to undergo surgery? Do you have any tips on how to deal with such a situation?
GV: First of all, take rehab very seriously. I made sure I paid attention to my diet so that I got all the nutrients I needed for my knee to recover. I always tried to do the exact thing the doctor and my athletic trainer told me to do. Some stretching exercises can be very painful, but like my athletic trainer told me: Pain is temporary – range of motion is forever. Mentally speaking, to get a perspective on things really helped me. When you come to realize that you have to let go of the goals you have set, it can be very hard. However, if you put your focus on your long term goals, you will see that having that time off can give positive outcomes. Everything happens for a reason, and sometimes the only thing you can do is to analyze what you can learn from a difficult situation. I am now more motivated than ever to become a better rider, and I take no ride for granted. I appreciate the opportunities that I have even more now than ever before. When you plan on riding for the rest of my life, four months off is not really the end of the world!
TSL: Thank you for your honest answers, Gina!
---
Es ist der Albtraum jeden Reiters: Das Pferd ist verletzt. Wir Reiter würden alles tun, damit es unseren Pferden in so einem Fall schnellstmöglich besser geht. Dabei vergessen wir gerne auch mal, dass auch menschliche Verletzungen eine reiterlicht Karriere stoppen können. Die meisten von uns Reiten als Hobby, selbst wenn es im großen Sport ist – das heißt, wir sind möglicherweise todtraurig, wenn wir uns verletzen, aber davon hängt nicht unsere Lebenssituation ab. Bei Trainern oder auch Reitern, die zu einem Equestrian Team gehören, sieht die Sache schon etwas anders aus. Gina Victoria Ulveie, die in einem anderen The Showlife-Artikel ihre Erfahrungen zu Equestrian Teams geschildert hat, hat sich ernsthaft verletzt und konnte lange Zeit nicht reiten.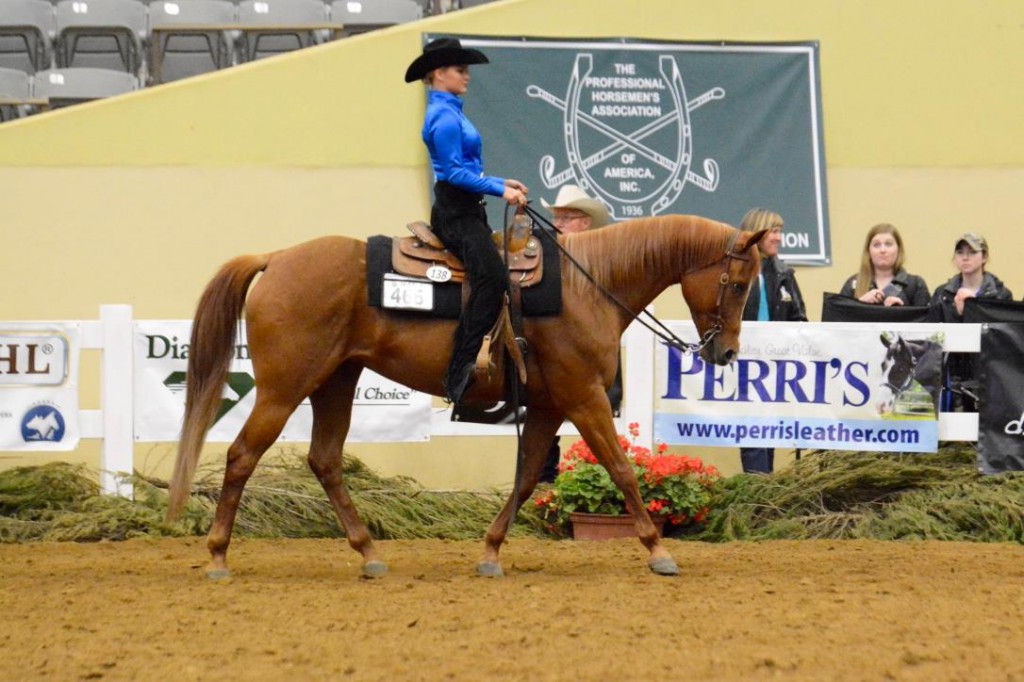 TSL: Gina, kannst Du unseren Lesern erzählen, wie es zu der Verletzung kam und welche Konsequenzen sie hatte?
Gina Ulveie (GU): Im September 2017 habe ich Fußball gespielt und mir dabei mein Kreuzband, das Knieaußenband und den Meniskus verletzt. Zwei Wochen später wurde ich operiert. Die ersten Monate nach der OP waren hart – ich musste mein Knie komplett gerade halten, es war geschient, und musste es gleichzeitig wieder nach und nach belasten. Dass ich lange Zeit nicht reiten konnte, war also klar. Das war sehr hart für mich, da Reiten für mich nicht nur ein Hobby ist – es ist mein Leben!
TSL: Du bist Teil eines Equestrian Teams an der St Andrews University und musstest natürlich erst einmal aussetzen. Wie hat das Team reagiert?
GU: Mein Team, vor allem meine Trainerin Carla Wennberg, war eine große Unterstützung. Carla war sogar da, als ich nach der OP aufgewacht bin. Sie weiß, wie es ist, länger verletzt zu sein und. hat mir geholfen, positiv zu denken und den Kopf nicht hängen zu lassen. Während der Verletzung habe ich dem Team geholfen, die Turniere zu organisieren und habe die Workouts geleitet. Ich habe immer versucht, für das Team da zu sein und beispielsweise einzelne Ritte zu filmen. Wir sind schließlich ein Team – auch wenn ich nicht mit um Punkte reiten kann, kann ich mein Team unterstützen. Am 16. Januar durfte ich dann endlich wieder reiten! Jetzt habe ich wieder reguläres Training und bin sogar schon auf zwei Shows geritten.
TSL: Wie hat die Verletzung dich beeinflusst – physisch und psychisch?
GU: Ich hatte das Gefühl, dass ich mit den körperlichen Schmerzen gut umgehen konnte, da ich auch viel Unterstützung von außen erhalten habe. Meine Mitbewohnerin und meine Freunde haben alles getan, damit ich mich besser fühlte. Die Campus Security hat mich sogar vom Schlafzimmer zum Unterricht gefahren. Das Schlimmste an der Verletzung war wirklich, dass ich nicht reiten konnte. Ich war Anfang des Jahres so motiviert und wollte alles tun, um meine Ziele zu erreichen. Es ist eine große Herausforderung, wenn man motiviert ist, alle Chancen hat, aber der Körper nicht mitmacht.
TSL: Wie war es, als du wieder reiten konntest? Warst du einfach nur glücklich oder war auch etwas Angst dabei?
GU: Glücklich ist untertrieben! Bereits sechs Wochen nach der OP habe ich meinen Arzt schon gefragt, ob ich reiten darf – vier Monate später konnte ich es kaum noch erwarten. Die ersten 15 Minuten haben sich etwas komisch angefühlt, da mein linkes Bein, das verletzt war, nicht so kräftig war wie das andere. Nachdem ich aber darauf geachtet habe, gerade zu sitzen und das Gewicht auf die Fersen zu verlagern, hat es sich nach und nach wieder normal angefühlt. In diesen Situationen merkt man, wie gut sich der Körper an Bewegungsabläufe erinnert. Ich hatte das Gefühl, mein Körper war schneller wieder "da" als mein Kopf.
TSL: Was würdest du anderen Reitern, die auch operiert werden müssen, empfehlen? Hast Du Tipps, wie man mit solchen Situationen umgeht?
GU: Erstens, nehmt die Erholungsphase ernst! Ich habe immer darauf geachtet, mich an die Ernährungsvorschriften zu halten und alle Stoffe zu mir zu nehmen, die mein Knie zur Heilung brauchte. Außerdem habe ich immer das getan, was mein Arzt und mein Trainer gesagt haben. Viele der Dehnübungen waren sehr schmerzhaft, aber wie mein Trainer so schön sagte: Schmerz ist kurzweilig, Bewegungsunfähigkeit langwierig. Mit Hinblick auf meine Psyche habe ich immer darauf geachtet, eine positive Einstellung zu bewahren. Wenn man merkt, dass man seine Ziele vorerst ad acta legen muss, ist das hart. Wenn man aber den Fokus auf die Langzeitentwicklung legt, merkt man, dass so etwas auch positive Folgen haben kann. Die Dinge passieren aus einem Grund und alles, was man manchmal tun kann, ist aus solch einer Situation zu lernen. Ich bin jetzt noch motivierter, eine bessere Reiterin zu werden und ich sehe jeden Ritt als Geschenk. Ich kann die Möglichkeiten, die ich habe, noch mehr wertschätzen. Wenn man plant, sein ganzes Leben zu reiten, sind vier Monate aussetzen nicht das Ende der Welt!
TSL: Danke für Deine ehrlichen Antworten, Gina!