They sit or stand there. Day by day, no matter how cold, late or early it is. Just to capture our favorite memories at a show. The photographers that do their job at our shows only have a few minutes in the show pen to take ideal pictures of our performance. Fortunately, they are also available on any other time of the year to take more time – sometimes hours – and get the perfect shot of us with our four-legged friends. Ever dreamed of doing such a shooting? Below, you will find some of the industry's finest photographers and all the information on doing shootings with them.
Mirja Bassing & Only Guns N Roses, picture: Jasmin Ziegler
Sophie Schonauer & Specks Peach Bars, picture: Jasmin Ziegler
Jasmin Ziegler – Jasmin Ziegler Fotografie
Style: "I focus a lot on the relationship between rider and horse. My main aim is to capture moments of trust and harmony between both. It is really important to me to take the time the shooting needs, to be patient and to work with a minimum of equipment, i.d. one camera, one objective and natural light."
Price: "Shooting prices start from 199,- Euro, VAT included, plus travel expenses. You can find all prices and offers at my website."
Distance: "I travel all around Germany, Austria and Switzerland, but if someone lives further away, we will find a way to manage this!"
Products: "After the shooting the client can pick his or her favorite pictures from an online gallery. I will retouch them afterwards and the client is able to download them. A shooting for 199,- Euro includes five pictures, but the client is, of course, always allowed to reorder more pictures."
Copyright: "The client has the right to use the pictures privately, but the right of utilization lies with me. It is not allowed to further sell the pictures, but within private use everything is permitted."
Expenditure of time: "I don't limit down the time for a shooting. I'll take as much time as the client and the animal need and until everyone is happy, so that really depends."
Availability at shows: "Since I don't live far away from the Ostbayernhalle, I've been there quite a few times to do some shootings, and I've planned on going there in 2017 as well. But I will also attend any other shows, if a client wants me to do so."
Contact: info@jasmin-ziegler.de, Facebook, Instagram
Corrie Fuhr – Art'n'Light
Manuela Räder & Its Easy Being Green, picture: Art'n'Light, Corrie Fuhr
Picture: Art'n'Light
Style: "Very natural and vivid. I do not only want to catch a moment, but personality as well. Since I've started out as a photographer during the time of analog photography, my credo is to take the picture in a way it does not have to be retouched afterwards. I also put a lot of emphasis on correct lighting and avoiding color faults."
Price: "Shootings start at 99,- Euro, but it depends on the type of the shooting."
Distance: "I wouldn't limit that down to a specific area. If the client wants me to come to Italy, I'll travel to Italy. Whoever pays, can choose the location. At the moment, I'm mainly doing shoots in Bavaria and the Odenwald area."
Copyright: See picture below: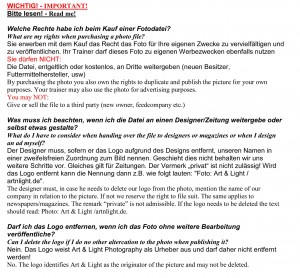 Available at shows: "I'm not doing shows as a show photographer anymore, but if someone wants me to do a shooting at a show, that is, of course, possible."
Contact: info@artnlight.de or 0173-9505520
Annika Wolfraum – Annika Wolfraum Photography
pictures: Annika Wolfraum
Style: "I offer individual shootings with or without animals and work as a photographer at weddings or other special occasions in the greater Rhein-Main area. My style is characterized by a romantic mood without being cheesy. I like to play with backlighting and focus on strong pictures with a lot of expression. My aim is to capture the bond between the person and their animal or picture the animal's character as the owner sees it!"
Price: "I have two packages to offer. The smaller one costs 79,- Euros and includes one hour of shooting and three high end retouched digital files. The bigger one costs 159,- Euro and includes approximately two hours of shooting as well as ten high end retouched digital files. Travel expenses are 0,35 Euro per kilometer."
Area: "I offer the possibility to shoot outdoor at the location of your choice or indoor in my home studio in Frankfurt on the Main/Schwanheim. It is, of course, possible to shoot anywhere you want as well after prior agreement."
Product: "The client receives his pictures as a digital file and is able to produce as many copies or products of his choice."
Copyright: "The packages include private copyright, but it is possible to purchase further copyright for advertising and so on. You can find detailed information in the AGB section on my website."
Expenditure of time: "It usually takes one to two hours depending on the client's experience – that is why the packages include these time spans – but it is always possible to book more time!"
Availability at shows: "Usually I only do private shootings and don't work as a show photographer, but if anyone wants to do their shooting there, that is possible!"
Contact: Website: www.annika-wolfraum.de, Facebook or via 0152 / 01978460.
Tom Hautmann – Foto Hautmann
"Full service solution" by Tom Hautmann – pictures, logo and flyer design
Logo design for RB Show Horses by Tom Hautmann
Lil Freckled Playboy, picture: Tom Hautmann
Style: "Athletic and strong. I try to capture a horse's expression and strength in my pictures. The horse's conformation should always be pictured in a way that it fits the breeding standard of the respective race. Many of my pictures are close-ups in which I focus on highlighting the head, neck and hind quarters perfectly. Just recently I have decided to do more emotional shootings as well in the future. I always want to evolve and create new things. However, the most important thing to me is that the shooting is fun for everyone!"
Area: "I am willing to go everywhere. Sometimes further distances require more planning and the distances I travel should always be in an appropriate relation to the work that has to be done, but in the past this has never been a problem! I also want to stress that I would travel everywhere to shoot any horse – no matter if it is a "normal" horse or an international champion!"
Price: "I want to keep it simple – no packages or complicated discounts. The price is 149, – Euro per horse. If there are more than five horses to shoot per day, I bring a day rate into account. I don't take pictures of more than seven horses per day, but for the shooting of those horses you could not ask for more! The pictures can be taken in either way you want – portraits, while being ridden, tacked or untacked…"
Product: "You will receive five pictures per horse, but you can reorder any time you want."
Expenditure of time: It depends on the horse – mostly on whether it wants to keep his ears forward or not – but usually it takes around 45 to 90 minutes. It also depends on the extent of the shooting.
Other offers: I also offer logo design for flyers, ads etc. Whatever you will need to promote you stallion, trainer or barn, can be done with me. You could call it a full service solution – I can do the pictures, design your flyer or similar and add an individual logo as well. You don't have to do anything yourself, whether it is calling a graphic designer or the print office. Just get a cup of coffee and wait for the postman to deliver your advertising material!
Contact: To me, personal contact is really important, because I feel it is easier to develop individual ideas via talking to each other. Therefore I'm really happy, if you walk up to me at a show and just talk to me. If that is not possible, you can contact me via e-mail (info@foto-hautmann.de) or via Facebook.
GERMAN:
Sie sitzen oder stehen einen Showtag nach dem anderen, oft an derselben Stelle. Egal, ob spätnachts oder am frühen Morgen. Einzig und allein mit der Intention, unsere schönsten Momente auf den Shows festzuhalten. Meistens bleibt den Photographen auf unseren Shows dazu nur wenig Zeit. Ein paar Minuten, schon muss das perfekte Bild im Kasten sein. Glücklicherweise besteht aber für all diejenigen, die schon immer von einem tollen Shooting mit Pferd geträumt haben, die Möglichkeit, die meisten der Photographen in unserer Szene auch an anderen Tagen im Jahr zu engagieren. Im folgenden Artikel stellen wir einige dieser Photographen kurz vor und lassen sie erzählen, wie ein Shooting bei ihnen abläuft, was es kostet und vieles mehr.
Jasmin Ziegler – Jasmin Ziegler Fotografie
Sophie Schonauer und Specks Peach Bars, Bild: Jasmin Ziegler
Mirja Bassing und Only Guns N Roses, Bild: Jasmin Ziegler
Stil: "Bei der Pferdefotografie liegt mein Fokus auf der Beziehung zwischen Pferd und Mensch. Hierbei halte ich Momente des Vertrauens und der Harmonie auf meinen Bildern fest. Ganz wichtig sind mir dabei genügend Zeit, Geduld und das flexible Arbeiten mit wenigen Mitteln (eine Kamera + ein Objektiv + natürliches Licht)."
Preis: "Meine Shootingspreise für Privatkunden beginnen ab 199 Euro inkl. MwSt – zzgl. Anfahrt/Reisekosten. Alle Angebote findet man auf www.jasmin-ziegler.de."
Gebiet: "Ich bin in ganz Deutschland, Österreich und Schweiz für Shootings unterwegs. Auch weiter entfernte Ziele sind kein Problem."
Produkte: "Nach dem Shooting kann sich der Kunde aus einer Online-Galerie mit allen entstandenen Bildern seine Lieblingsbilder aussuchen. Diese bearbeite ich anschließend und stelle sie ihm dann in Originalgröße zum Download bereit. Im Shootingpaket für 199 Euro sind fünf Bilder enthalten – weitere Bilder können nachbestellt werden."
Copyright: "Das Urheberrecht liegt bei mir. Der Kunde bekommt beim Kauf ein einfaches Nutzungsrecht für den privaten Bereich. Ein Weiterverkauf der Bilder durch den Kunden ist nicht erlaubt. Ansonsten gibt es im privaten Bereich keine Einschränkungen."
Zeitaufwand: "Eine zeitliche Einschränkung gibt es bei mir nicht. Ich nehme mir soviel Zeit wie Mensch und Tier brauchen und bis alle mit den Ergebnissen zufrieden sind. So können schon in dreißig Minuten alle Bilder im Kasten sein oder auch erst nach zwei Stunden."
Shootingmöglichkeit auf Turnieren: "Da ich nicht weit entfernt von der Ostbayernhalle in Kreuth wohne, war ich in den letzten Jahren immer wieder für tolle Privat-Shootings abseits des Turniergeschehens dort. Auch für 2017 sind hier einige Besuche geplant. Natürlich komme ich aber auch zu anderen Orten – eben immer dorthin, wo ich gebucht werde!"
Kontakt: info@jasmin-ziegler.de, Facebook, Instagram
Corrie Fuhr – Art & Light Photography
Bild: Corrie Fuhr, Art & Light
Manuela Radlern & Its Easy Being Green, Bild: Corrie Fuhr
Stil: "Natürlich und lebendig. Ich möchte mit meinen Fotos nicht nur den Moment festhalten, sondern auch die Persönlichkeit einfangen. Das Foto kann technisch noch so perfekt sein, wenn es keine Seele hat, wirkt es leblos. Da ich noch zu analogen Zeiten gelernt habe, ist mein Motto: Fotografiere das Motiv so, dass es beim Fotografieren schon fertig ist und nicht hinterher stundenlang in Photoshop bearbeitet werden muss. Ich bin kein Fan von zu Tode retuschierten und bearbeiteten Fotos. Zudem lege ich sehr viel Wert darauf, dass meine Fotos korrekt belichtet sind und keine Farbstiche haben. Eigentlich eine Selbstverständlichkeit, aber viele scheinen da in der Tat keinen Wert mehr darauf zu legen."
Preis: "Das kommt auf die Art und den Umfang an. Shootings starten bei mir ab 99.-€."
Gebiet: "Das ist nicht begrenzt. Wenn ein Kunde möchte, dass ich nach Italien komme, dann fahre ich nach Italien. Wer zahlt, bestimmt die Location. Hauptsächlich bin ich aber in Bayern und im Odenwald unterwegs."
Copyright: siehe Bild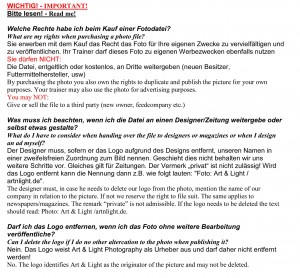 Shootingmöglichkeit auf Turnieren: "Ich bin aus privaten Gründen momentan nicht mehr auf Shows unterwegs. Aber es war immer möglich, ein Shooting während einer Show zu machen und wenn jemand heute ein Shooting auf einer Show wünscht, dann komme ich dem natürlich gerne nach!"
Kontakt: info@artnlight.de oder 0173-9505520
Annika Wolfraum – Annika Wolfraum Photography
Bilder: Annika Wolfraum Photography
Stil: "Ich biete individuelle Fotoshootings für Mensch und Tier, Hochzeitsreportage, fotografische Begleitung besonderer Anlässe und mehr im Großraum Rhein Main. Meinen Stil zeichnet eine romantische, aber dennoch nicht unrealistische Stimmung durch ein Spiel mit dem Gegenlicht aus. Kräftige, ausdrucksstarke Bilder mit Seele. Mir liegt am meisten daran, die emotionale Bindung von einem Besitzer zu seinem Tier einzufangen und zu unterstreichen oder auch den Charakter eines Tieres abzubilden- so wie es sonst nur sein Besitzer mit dem Herzen sieht!"
Preis: "Ich habe zwei Pakete, das ,,kleinere" liegt bei 79€ und beinhaltet eine Stunde Shooting inklusive drei high end retuschierter digitaler Dateien. Das ,,Große" liegt bei 159€ und beinhaltet circa zwei Stunden Shooting inklusive zehn high end retuschierter digitaler Dateien. Die Fahrtkosten betragen 0,35€ pro gefahrenem Kilometer."
Gebiet: "Man hat die Möglichkeit ein Outdoorshooting an einem Ort der Wahl oder ein Indoorshooting in meinem Homestudio in Frankfurt am Main/Schwanheim zu buchen. Aufträge an weiter entfernten Orten können nach Absprache natürlich auch gerne realisiert werden!"
Produkt: "Der Kunde bekommt bei mir seine Bilder zunächst in digitaler Form (im Paketpreis enthalten), sodass er sich unbegrenzt Abzüge und andere Produkte seiner Wahl bei der Firma seines Vertrauens anfertigen lassen kann – gerne aber auch über mich!"
Copyright: "Im Paketpreis enthalten sind private Nutzungsrechte, es können aber auch kommerzielle, redaktionelle und andere Nutzungsrechte erworben werden (ganz genau nachzulesen auch in meinen AGBs auf meiner Website)."
Zeitaufwand: "Ein bis zwei Stunden je nach eigener Erfahrung- deswegen sind diese Zeiten in den Paketen eingerechnet – bei Sonderwünschen kann aber auch gern Zeit dazu gebucht werden."
Shootingmöglichkeit auf Turnieren: "Normalerweise werde ich für Einzelshootings gebucht, der Turnierfotografie ganz abgeneigt wäre ich aber auch nicht – und sicherlich nicht kleinen spontanen Shootings – das sind doch meist die echtesten Momente!"
Kontakt: Gerne über das Kontaktformular meiner Webseite www.annika-wolfraum.de oder auch über Facebook oder telefonisch 0152 / 01978460.
Tom Hautmann – Foto Hautmann
Logodesign von Tom Hautmann für RB Show Horses
Lil Freckled Playboy, Bild: Tom Hautmann
Full Service Lösung von Tom Hautmann
Stil: "Den generellen Stil meiner Fotos würde ich kurzum mit den Worten "sportlich – aussdrucksstark – kraftvoll" beschreiben. Bei meinen Fotoshootings versuche ich die Ausdrucksstärke und die Kraft eines Pferdes in meine Bilder zu packen. Dabei kommt es mir besonders auf eine korrekte Körperhaltung an und natürlich darauf, dass das Pferd seiner Rasse entsprechend präsentiert wird. Die meisten meiner Portraits sind ziemlich "close" geschnitten – der Kopf, die Halsung und die Hinterhand sollten perfekt in Szene gesetzt werden. Über diesen sportlichen Stil hinaus möchte ich in Zukunft aber öfter auch die Gelegenheit nutzen, um die emotionale Seite der Pferdefotografie zu zeigen. Über das Fotografische hinaus ist mir jedoch ein Thema extrem wichtig: Der Spaß bei einem Fotoshooting darf nicht zu kurz kommen. Ich lege viel Wert auf eine lockere Atmosphäre und gehe bei meiner Arbeit mit viel Geduld vor."
Gebiet: "Ich fahre überall hin. Natürlich muss man dazu sagen, dass die Anzahl der zu fotografierenden Pferde im Verhältnis zum Anfahrtsweg stehen sollte und größere Termine mehr Organisation benötigen. Die Erfahrungen der letzten Jahre waren damit aber immer positiv! Ich möchte auch betonen, dass ich für jedes Pferd den Weg auf mich nehme – egal, ob Freizeitpferd oder Quarter Horse, das im internationalen Spitzensport dabei ist."
Preis: "Ich halte das einfach – es gibt keine komplizierten Rabatte oder Pakete. Pro Pferd kostet das Shooting 149,- Euro. Bei mehr als fünf Pferden pro Tag rechne ich über eine Tagespauschale ab. Ich shoote nie mehr als sieben Pferde pro Tag, aber dabei bleiben keine Wünsche offen! Portraits, freilaufend auf der Koppel oder unter dem Sattel, alles ist in diesem Preis inbegriffen."
Zeitaufwand: "Das hängt vom Pferd ab und wie es auf das "Animationsprogramm" reagiert. Natürlich kommt es auch auf den Umfang des Shootings an, aber meisten kann man mit 45 bis 90 Minuten pro Pferd rechnen."
Weitere Angebote: "Ich biete außerdem Logodesign, Promotionsmaterial, Visitenkarten etc. Da ich inzwischen auch die Zusammenarbeit mit zuverlässigen Druckereien pflege, kann ich auch in dieser Hinsicht beste Qualität und eine schnelle Auftragsabwicklung garantieren. Man kann also von einer full service Lösung sprechen. Alles, was für die eigene Werbung benötigt wird, kommt aus einer Hand. Meine Kundschaft muss keinen Kontakt zu Grafikdesignern oder Druckereien herstellen. Alles was zu tun ist, ist ein fertiges Design freizugeben, sich eine Tasse Kaffee einzuschenken und auf den Postboten zu warten, der das fertige Druckprodukt daheim abliefert!"
Kontakt: "Ich mag den Kontakt mit Menschen, daher kann man mich jederzeit ansprechen oder anrufen. Ich bin auch überzeugt, dass es im persönlichen Gespräch einfacher ist, kreative Ideen zu entwickeln und schneller einen Draht zum Kunden herzustellen. Alle, die lieber schriftlichen Kontakt suchen, können mich per Mail (info@foto-hautmann.de) oder Facebook kontaktieren."