Mira Dickel and her gelding Glowing Dee Dee could celebrate countless wins in the show pen, experienced so many memorable moments and were one of the most successful teams on the EWU and AQHA circuit. This year, unfortunately, Mira had to say goodbye to her beloved "Glowy". The red roan gelding by Justa Tad Rad was 15 when he passed away. Mira told us their story.
When I was 15, Kreuth was an unknown world to me, full of elegant horses and sparkling outfits. It was right there, in the midst of this crowded horse show life when I met my champion from Sweden: Glowing Dee Dee. My beautiful, elegant Quarter Horse gelding that was also a little psycho at times.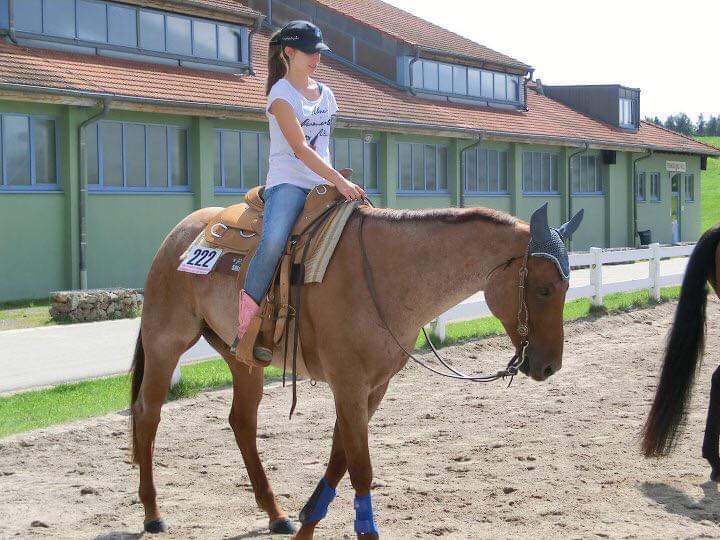 That was when it all started: a friendship, full of success and memorable moments, that I will never forget.
One of my most vivid memories is my first ride on Glowy. I remember the trainer, seller and other interested buyers standing on the side of the arena, watching my every move on him. I tried to remain calm and not show my feelings, but my heart was pounding. Never before have I been on such a talented, sensitive horse. And what was that spur stop everyone was talking about? I immediately fell in love with GlowGlow and could take him home, smiling all the time.
We understood each other despite not speaking the same language. We became a team that always kept its cool and that shared a special bond. Glowy carried me through any class and made me the rider I am today. He taught me confidence and ambition. He was never mad when I pulled him out of his stall at 3 a.m. and put oil on his face to enter a Showmanship class. What made him special? He always gave 120 percent for me and I gave him all the love and attention he needed in return. He was my little psycho who always gave a sniff at rain and who hated all the flowers in Kreuth.
We became multiple German Champions, European Reserve Champion twice, multiple Regional Champion and were part of the EWU Rhineland squad. In the end, however, it is not the medals and trophies, but all the memories we share. He was the kind of horse you would never forget. A thousand little stories that we shared will live on forever inside of me.
Glowy passed away on April 7th this year, while laying in my lap. It was the hardest moment, but: Glowy, you will be my champion forever. Thank you for everything you taught me, for you big heart and the effort you made. I will miss you so much! Run free!
____________________________________________________________
Mira Dickel konnte mit ihrem Wallach Glowing Dee Dee zahlreiche Erfolge feiern, unvergessliche Momente erleben – und musste sich dieses Jahr von ihm verabschieden. Der red roan Wallach von Justa Tad Rad wurde 15 Jahre alt. Uns hat Mira ihre Geschichte mit "Glowy" erzählt.
Mit 15 Jahren war Kreuth eine für mich noch unberührte Welt, voller anmutiger Pferde und funkelnder Outfits. Hier in all dem Trubel, traf ich das erste Mal auf meinen schwedischen Champion: Glowing Dee Dee. Mein wunderschöner, eleganter und leicht geistig gestörter Quarter Horse Wallach.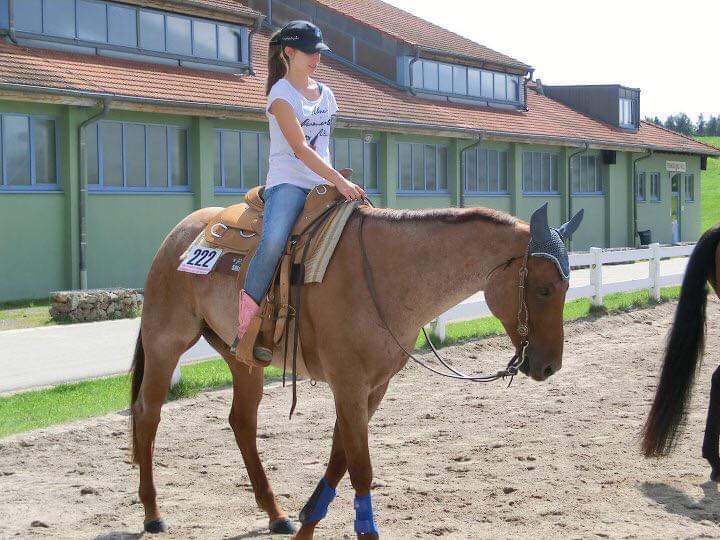 Und hier fing es an. Der Beginn einer Freundschaft, von Erfolgen und Momenten, an die ich mein ganzes Leben erinnern werde.
Eine sehr lebendige Erinnerung ist mein erster Ritt auf Glowy. Ich erinnere mich nur zu gut wie Trainer, Verkäufer und andere Kaufinteressentin am Rand standen und mich argwöhnisch beäugten.
Ich versuchte, es mir nicht anmerken zulassen, aber mein Herz schlug mir bis zum Hals. Noch nie saß ich auf einem Pferd, welches so sensibel und talentiert war. Und was war eigentlich dieses "spur stop" von dem alle redeten? Ich verliebte mich sofort in GlowGlow und mit dem breitesten Lächeln durfte ich Glowy mit nach Hause nehmen.
Wir fingen an uns zu verstehen, obwohl wir nicht dieselbe Sprache sprachen. Wir wurden zu einem Team, welches nichts aus der Ruhe brachte und sich so verbunden war. Glowy trug mich durch jede Prüfung und machte mich zu der Reiterin, die ich heute bin. Er brachte mir Selbstvertrauen und Ehrgeiz bei. Er war mir nie böse, wenn ich ihn um 3 Uhr nachts aus der Box zog, sein Näschen voll mit Öl einschmierte, um Showmanship zu starten.
Was ihn ausmachte? Er gab immer 120 Prozent für mich und ich gab ihm im Umkehrschluss alle Liebe und Aufmerksamkeit, die er brauchte. Er war mein kleiner Psycho, der immer seine Nase rümpfte, wenn es regnete, und Blumen in Kreuth ganz besonders schlimm fand.

Mit Glowy wurde ich mehrfache Deutsche Meisterin, zweifache Vize-Europameisterin, mehrfache Landesmeisterin und vertrat das Rheinland im Bundeskader.
Aber im Ende sind es nicht die Medaillen und Pokale, sondern die Erinnerungen, die wir daraus mitnehmen. Er war genau jenes Pferd, welches man nie vergisst. Tausend kleine Geschichten, die ich mit ihm teilte, werden für immer in mir weiterleben.
Am 07. April 2019 schlief Glowy auf meinem Schoß ein. Es war der schwerste Moment für mich aber: Glowy, Du bist und bleibst für immer mein Champion! Danke für alle deine Lehren, für dein großes Herz und deinen Einsatz. Ich werde dich so unbeschreiblich vermissen ❤️! 111 Run free!
____________________________________________________________