You love your show outfit. But you are planning on going to a big show and you want to have a really sparkly, spectacular jacket, but cannot afford it? Why not rent one? Yes, that is possible thanks to a new Austrian company called SiA – Show it Again which was founded by Beate Straßegger and Natascha Falk. They are currently offering pieces by Italian designer Anna Omodeo. We have talked to Beate and asked all the questions!
SiA – Show it Again
Picture: Fabi's Photographie
The company was founded by Natascha Falk (left) and Beate Straßegger.
Why did you decide to found SiA?
Natascha and I – Beate – wanted to wear high quality outfits at the horse shows, but we didn't want to wear the same jacket for five years. But as we all know, high quality outfits by La Collezione di Anna or Piccola Rosa are quite expensive – because of their top-notch quality and design.
But we think that there are many people out there who cannot afford such outfits or are only travelling to a few shows per year, so an expensive outfit wouldn't make sense. And I am pretty sure that there are many riders out there who love to change their style and wear something else every now and then.
At some point, one of us said: "Why is there no way to rent such an expensive outfit?" Well… that was how SiA was born.
It took us some months to get the first set of outfits and blankets ready and have a full concept. Anna Omodeo has been supporting us from day one and is busy as a bee to get new outfits ready.
We are happy that our website is online now and we love all the positive feedback we receive!
So renting an outfit – how does that work?
We want it to be as easy as possible. Our website is online now, you can find all the outfits listed there, including measurements, prices and a guide how the whole thing works.
If you click on the button "rent now" a little document will pop up. You can fill in your data, e.g. the outfit you want to rent and when you need it.
We will read your request, create a contract and you have to pay beforehand.
We will then send the outfit away, it comes in a big aluminium box. Once the show is over, you can send it back via GLS. We always include a return label.
You don't have to pay for shipping if you live in Germany or Austria. If you live in another European country, you have to pay for one-way-shipping.
Each aluminium box contains a little guide: It answers questions such as "How to apply the armpit pads" or "Where to put the return label" – hopefully that guide answers all your questions.
We will be at some shows – especially in Kreuth and Austria – so we can simply take the outfit with us.
You don't have to rent the outfit through our website, you can also send a message via WhatsApp, e-mail or Facebook.
You can find pictures of all outfits and information on Facebook as well.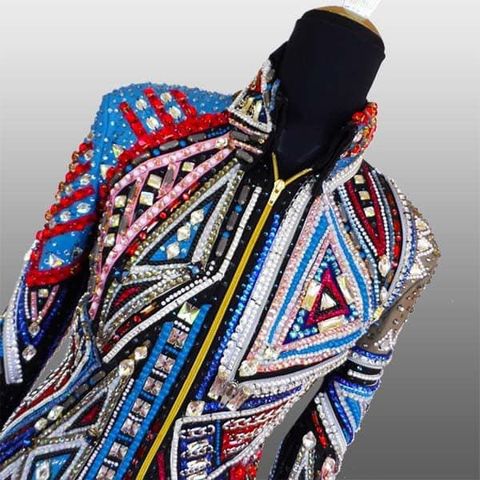 How many outfits do you currently have?
We currently have ten outfits in size XS to L. Anna is busy as a bee to create new ones. We initially planned on starting the business in 2021, but since there are some shows this year, we thought, we'd start with a smaller selection of outfits, but give people a chance to get to know SiA.
We will have 15 to 20 outfits in 2021, including different sizes. We want to offer some jackets in size L to XL/XXL, because those are hard to find on the market.
What if someone does any damage to the outfit?
Since the outfits are shipped in an aluminium box, the transport is quite secure. Every person who rents an outfit can use the box at the show – they are really functional!
We are aware that stones can fall off or that make-up can leave some stains – don't worry about that! We always clean the outfits afterwards, we include pads for the armpits and we can fix little damages by ourselves. After every season, we will return the outfits to Anna, who will make them look as good as new!
We do not cover any damage that is caused by irresponsible behavior. One example: If you put on hoof black while wearing the outfit and the horse moves because of one little fly, it can happen that you spill hoof black all over the outfit. This is the sort of damage you cannot fix and you will have to pay for it. If the outfit is stolen, you have to call the police.
Do you plan on collaborating with other designers as well?
We are currently working with Anna exclusively. We are good friends and love Anna because of her honest personality. You can also find her character in her designs.
We are planning on offering an option where riders can offer their own jackets as well. That way they can earn a little money if they don't need their outfit. We are currently working on the details.
So how much is renting an outfit?
It depends on the outfit: It starts at 40 Euro per day if we are at the show. If you want an outfit and a blanket, it will be around 190 Euro, shipping included.
One example: If the show starts on Monday and ends on Sunday, the outfit will arrive a few days prior to the show and you have to send it back on Monday or Tuesday after the show. You will have to pay a fee for one week.
Showoutfits mieten – mit SiA geht das
Du liebst dein Showoutfit aber irgendwie würdest du auch gerne mal etwas anderes tragen? So ein richtig teures, glitzerndes Jacket, das du dir eigentlich gar nicht leisten kannst? Wie gut wäre es, wenn man sich einfach Outfits mieten könnte! Das dachten sich auch Beate Straßegger und Natascha Falk – und haben deshalb "SiA – Show it Again" gegründet. Sie bieten Outfits der italienischen Designerin Anna Omodeo zur Miete an. Wir haben mit Beate gesprochen und Antworten auf alle Fragen bekommen.
SiA – Show it Again
Foto: Fabi's Photographie
Gegründet wurde das Unternehmen von Natascha Falk (links) und Beate Straßegger.
Wie kamt ihr auf die Idee, SiA zu gründen?
Natascha und ich – Beate – wollen ausschließlich hochwertige Outfits auf den Shows tragen, aber eben auch Abwechslung haben und nicht fünf Jahre dieselbe Weste oder Jacke in den Klassen anziehen. Es ist bekannt, dass etwa die Outfits von La Collezione di Anna oder auch Piccola Rosa mehrere tausend Euro kosten, sie sind in Qualität und Design allerdings unschlagbar.
Vielleicht showt man aber nur ein paar Mal im Jahr, sodass sich der Kauf nicht wirklich rentiert. Viele können sich ein Outfit in dieser Preisklasse auch einfach nicht leisten, oder möchten so wie wir einfach die Möglichkeit haben, viele verschiedene Outfits auf den Turnieren zu tragen.
Irgendwann hat eine von uns beiden gemeint: "Boah, kann nicht endlich jemand diese hochpreisigen Outfits vermieten?". Zwei Dumme, ein Gedanke… die Idee von SIA war geboren.
Es hat noch viele Monate gedauert, bis die ersten Outfits und Blankets fertig waren und das gesamte Konzept stand. Anna Omodeo hat unser Vorhaben von Anfang an unterstützt und arbeitet auf Hochtouren für uns.
Jetzt sind wir happy, endlich offiziell online zu sein und freuen uns über das enorm positive Feedback, das uns erreicht.
Ein Outfit mieten – wie genau funktioniert das?
Wir wollen alles so einfach wie möglich gestalten. Am 21. August ging unsere Homepage online, dort findet man alle Informationen und Outfits im Detail mit Maßangaben, den unterschiedlichen Mietpreisen und den Ablauf.
Über den Button "jetzt mieten" kommt man zu einem kurzen Anfrage-Formular. Dort gibt man die wichtigsten Daten ein, etwa um welches Outfit es sich handelt und von wann bis wann man es gerne mieten möchte.
Die Anfrage wird prompt von uns bearbeitet, ein Mietvertrag wird erstellt, die Miete vorab bezahlt.
Das Outfit samt Blanket macht sich pünktlich, sicher verpackt in einer sehr stabilen Alu-Kiste auf den Weg zur Kundin.
Ist die Zeit mit dem Outfit vorbei, geht es per GLS wieder zurück zu uns. Das Retouren-Etikett legen wir bereits fix und fertig bei.
Der Hin- und Rückversand für Österreich und Deutschland ist vollkommen kostenlos. In alle anderen EU-Länder können wir aktuell nur den Hinversand übernehmen.
In jeder Kiste befindet sich auch ein kleiner Guide, darin steht beispielsweise, wie man die Achselpads richtig anbringt, wo man das Rücksende-Etikett hinklebt etc., sodass keine Fragen offen bleiben.
Für viele Shows – vor allem in Kreuth und Österreich – können wir eine persönliche Übergabe organisieren, oder wir sind direkt selbst vor Ort.
Man muss nicht über unsere Website mieten, uns kann man jederzeit anrufen, eine WhatsApp schicken, per Mail oder auch über Facebook kontaktieren.
Auf Facebook findet man ebenso zu allen Outfits ein Album samt Maßen und Mietpreisen.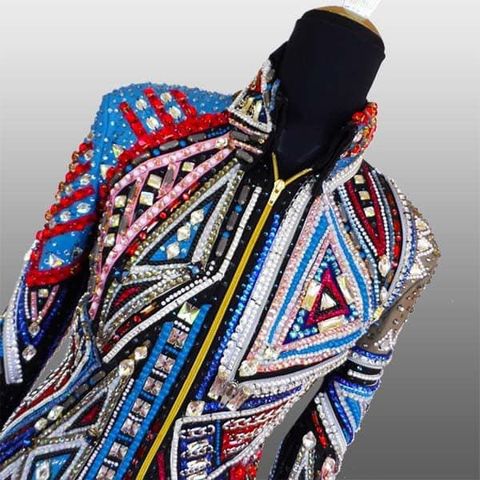 Wie viele Outfits habt ihr aktuell?
Wir haben aktuell zehn Outfits in den Größen XS bis L. Anna näht sich bereits die Finger wund, damit wir schnellstmöglich Nachschub bekommen.
Ursprünglich hatten wir den Start erst für die Saison 2021 geplant, um gleich mit einer größeren Auswahl starten zu können, da aber in diesem Jahr nun doch noch einige Turniere stattfinden, wollten wir zu mindestens "Hallo, da sind wir" sagen. So können sich die Leute bereits ein Bild von den Outfits und unserer Arbeit machen.
Ab 2021 sind wir dann mit rund 15 bis 20 Outfits in verschiedenen Größen aufgestellt. Wir wachsen nun stetig und kontinuierlich.
Geplant sind auch einige Allround Jacken in L bis XL/XXL, denn hier ist der Markt sehr klein bestückt.
Wie sichert ihr euch gegen Schäden ab?
Der Transport ist durch eine sehr robuste und stabile Alukiste gesichert, weder Regen noch "grober" Umgang kann dem Outfit hier etwas anhaben. Die Kiste darf jeder Mieter während des Turniers für alles Mögliche nutzen, sie ist unheimlich praktisch.
Wir wissen, dass die Outfits durch das Tragen Steine verlieren und durch das Make-up Flecken am Kragen entstehen. Keine Sorge deshalb!
Wir reinigen die Outfits nach jedem Mieter gründlich, legen dem Mieter auch Achselpads zum Verwenden bei, kleinere Reparaturen können wir glücklicherweise selbst vornehmen.
Nach der Turniersaison bekommt Anna sämtliche Outfits und "möbelt" sie wieder komplett auf, für die nächste Saison.
Was allerdings nicht abgedeckt ist, sind grobfahrlässige Schäden:
Ein Beispiel: Du hast Stress am Turnier, bist fertig angezogen und stellst fest, du hast vergessen die Hufe beim Pferd zu blacken. Du machst es schnell und jeder weiß, eine einzige lästige Fliege am Pferdefuß reicht und schon hat man das Hufblack überall, auch auf dem Outfit. Ein Schaden dieser Art ist fast irreparabel und wird der Mieterin verrechnet. Sollte das Outfit gestohlen werden, ist eine polizeiliche Anzeige Pflicht.
Werdet ihr in Zukunft auch mit anderen Designern als Anna arbeiten?
Aktuell arbeiten wir exklusiv mit Anna Omodeo zusammen. Wir haben ein sehr freundschaftliches Verhältnis zueinander. Was uns auch so an Anna gefällt, ist, dass sie so ungekünstelt ist und geradeaus ehrlich und das macht sich in ihren einzigartigen Designs einfach bemerkbar.
Geplant ist allerdings, dass die Reiterinnen die Möglichkeit haben, uns ihre hochwertigen Outfits – eventuell auch nur zeitweise – zum Vermieten zur Verfügung stellen und sich dadurch ihre Turnierkasse ein wenig füllen. Hier sind der Vertrag und die Detailabklärungen gerade in Arbeit.
Wie teuer ist das Ganze denn?
Unsere Mietpreise variieren je nach Outfit ein wenig: Sie starten bei 40 Euro für einen Tag, beispielsweise wenn wir direkt vor Ort am Turnier sind. Für ein Outfit inklusive passendem Blanket und Hin- und Rückversand bezahlt man rund 190,- pro Woche.
Ein Beispiel: Das Turnier dauert von Montag bis Sonntag. Das Outfit kommt natürlich mehrere Tage vor der Show an und ist am Montag oder Dienstag darauf wieder an uns zu retournieren. Der Mietpreis gilt hier trotzdem nur für eine Woche.