picture by Jasmin Ziegler Fotografie
Show season is just around the corner. And one thing is for sure: Things will be different during the pandemic, maybe even more stressful. This seemed to be the perfect opportunity to address a topic that is sometimes overlooked in our industry: self-care at horse shows. We have talked to Judith Wagner who is not only a horse trainer, but runs her own podcast and is frequently including topics such as self-care and psychotherapy into her posts on social media.
Judith Wagner
Picture by Tom Hautmann
Let's start with the physical aspects: What should I take care of when going to a horse show?
When talking about the physical aspect, we have to include things such as drinking enough, eating enough and applying sunscreen. Be kind to you body and give it what it needs. We always take care of our horses and make sure that they – as the athletes that they are – get enough high-quality feed and are taken care of in order to perform on a high level. But don't forget that you are part of this team as well and should be taken care of.
So what about our mental health. How can someone make sure to take care of themselves at a show?
Preparation is key. I like to ask myself – in all areas of life: What is the woman like that I want to be? Apply this to the show and ask yourself: Who is the exhibitor I wanna be? Do I want to be someone who is hectic and all over the place and maybe even unfair to her horse? Or do I want to be someone who knows that she can only perform well if she takes care of herself? Do I want to have a great time with my horse and my team?
So I have to ask myself: What do I need to achieve this? Because that is different for everybody.
You have to think about that before going to the show, because once you're caught in that mixture of stress, tension and loss of sleep, it is hard to think about self-care.
Reflecting things it key when it comes to the show. Stop at times and ask yourself: Am I still the rider I wanna be? Or am I falling back into old and unhealthy patterns of behavior? What do I need now? What is important?
Routine is something that can help. Whenever I am on my way to the show office, the bath room or the barn, I stop for a minute, breathe in and ask myself those questions. I can visualize a perfect show day and those moments in which I might lose focus of my own self-care just as I can visualize a perfect ride.
Social Media is an important aspect in our sport, especially at shows. What is something one can do in order to get a positive experience on social media rather than a setback?
Oh, yes, a very important aspect! It seems weird now if I say you shouldn't compare yourself to others – given the fact that showing is all about being compared to others. But in the end it comes down to this: focus on yourself! What's something you can do better than yesterday or in the previous class? This is a more helpful mindset than comparing yourself to others.
Set your own goal: What do I want for myself and the horse at the show? What is important this time? What do I want to focus on? Then ask yourself: How do I reach that goal? Am I on the right track to reach this goal?
You should also ask yourself which people on your feed have a positive influence on yourself and which don't. We always make sure that our horses are happy, but we often look at things that make us feel bad – and we know it! You can also mute some people on social media while being at a show.
There are many people on social media that spread positivity and can inspire you. Choose those as your go-to profiles on social media.

Judith Wagner
It is your decision what your feed looks like. And I don't want to judge, because I now that even positive people can make you feel bad, because you're just not in the mood or you start comparing yourself to them and feel bad. Listen to yourself and be consequent!
Do you have an exercise or some advice for any situation in which all that horse show chaos is just too overwhelming?
Sounds simple, but: breathe! Three deep breaths can help you break out of a vicious circle. It does not only help you with your mindset, but adds to the fact that your body relaxes. The latter is really important given the fact that our horses are sensitive and can feel it if our body is tense. We all know how you can transport tension on to your horse.
Whenever I am overwhelmed I like to ask myself: What is my one percent today? That means: What can I do one percent better than yesterday?
It is not about changing the world – thinking like that might actually keep you from doing that – it is about many, many little steps.
If you have asked yourself before, what you want to be like, you can also ask yourself: What would this rider I aspire to be do in that situation? How would she behave? What advice would she give?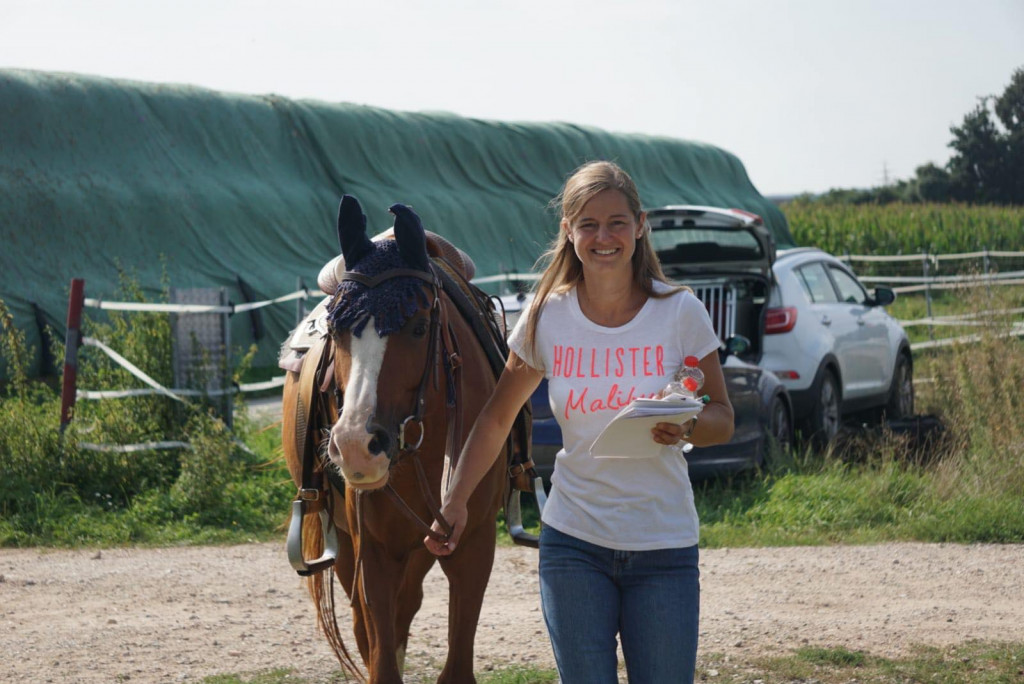 A little bit of stress and chaos is normal at a show. What is your personal limit?
I think everyone reaches a limit whenever they are mentally or physically harmed. Do not take a panic attack or a sunstroke too easy! It also adds a risk to riding.
We also reach a limit whenever others start to suffer: the horse, the team mates or the partner who has taken the time to come to the show. If they can't stand me, it's time to change something.
Remember: We cannot change what happens, but we can change how we react to it.

Judith Wagner
I tend to see stress as a good thing for my class. I view it as something that prepares me for the class. This is important because it makes me feel like I am in control.
As you said: Shows are stressful. But what if stress adds to the fact that I am more awake and focused? This still means that I am in control of my emotion and my behavior. As soon as I see stress as something that stops me, I let stress control me instead of vice versa.
I think you should include "self care" into your horse show preparation – just like washing the horse, banding or warming up. If you include it into your preparation, it is easier to keep track, if your self-care doesn't work out as planned.
Horse shows are stressful – but you are in control of how much they stress you out.

Judith Wagner
Self-Care auf dem Turnier
Judith Wagner
Picture by Tom Hautmann
Fangen wir doch mal bei den körperlichen Punkten an: Worauf sollte man am Turnier achten, dass es einem gut geht?
Dabei gibt es zwei Komponenten: die körperliche und die mentale. Zur ersten gehören solche Dinge wie ausreichend zu trinken, genügend zu essen und sich bei entsprechendem Wetter auch einzucremen. Auf Shows sollte man wirklich gnädig mit sich sein und versuchen, seinem Körper zu geben, was er braucht. Bei unseren Pferden ist es uns oft ganz bewusst, dass sie als Sportler auch entsprechend gefüttert und versorgt sein müssen, um Höchstleistung zu bringen. Aber das dürfen wir auch auf uns übertragen. Schließlich gehören wir auch zum Team.
Zum Thema Psyche: Wie kann man sicherstellen, dass das der Punkt "Self Care" auf dem Turnier nicht zu kurz kommt?
Hier ist eine gute Vorbereitung echt hilfreich! Ich frage mich gerne – in allen Bereichen: Wie ist die Frau, die ich sein möchte? Auf die Show bezogen: Wie ist die Turnierreiterin, die ich sein möchte? Möchte ich die sein, die total hektisch alle um sich herum anfährt und womöglich dann auch zu ihrem Pferd unfair wird? Oder möchte ich die sein, die sich bewusst ist, dass sie auch nur dann Höchstleistung bringen kann, wenn sie gut auf sich achtet. Möchte ich, neben all dem Stress, eine schöne Zeit haben, mit meinem Pferd und meinem Team?
Und dann natürlich die nächste Frage: Was brauche ich, um das zu sein? Denn das ist schließlich bei jedem anders.
Solche Gedanken können wir uns allerdings am besten im Vorfeld machen. Denn ist man erst einmal in dem Strudel aus Stress, Anspannung und Schlafmangel, ist das schon wahnsinnig schwer.
Auf der Show ist Achtsamkeit dann das A und O. Immer wieder inne zu halten und sich zu fragen: Bin ich noch diese Turnierreiterin? Oder gerate ich vielleicht in alte oder einfach ungesunde Muster? Was brauche ich jetzt? Was ist jetzt wirklich wichtig?
Hierbei helfen zum Beispiel Routinen. Immer, wenn ich zur Meldestelle, Toilette oder meinem Pferd laufe, bleibe ich kurz stehen, atme tief durch und frage mich das. Genauso, wie man einen Ritt visualisieren kann, kann man auch einen Tag grob visualisieren und so zum Beispiel Momente identifiziere, in denen Gefahr besteht, den Aspekt "Self Care" zu vernachlässigen.
Social Media spielt auch eine große Rolle in unserem Sport, auch auf den Turnieren. Was kann man tun, dass einen die Netzwerke nicht herunterziehen, sondern positiv stimmen?
Oh ja! Ein wichtiger Punkt! Im Bezug auf Turniere, bei denen man ja wortwörtlich dafür bezahlt, mit anderen verglichen zu werden, klingt es irgendwie komisch, zu sagen, man solle sich nicht mit anderen vergleichen. Doch letztendlich geht es genau darum: Den Fokus bei einem selbst zu lassen. Was kannst Du besser machen als gestern oder in der letzten Prüfung? Das ist viel hilfreicher als die Orientierung an Anderen.
Da hilft es vielleicht, sich vorher ein ganz eigenes Ziel zu setzen – unabhängig von Mitreitern. Worum geht es mir für mich und das Pferd bei dieser Show? Was ist nur dieses Mal wichtig? Worauf will ich mich dieses Mal konzentrieren? Und dann sollte man eher fragen: Wie nah komme ich diesem Ziel? Bin ich auf dem Weg zu diesem Ziel?
Und letztendlich gilt es auch, zu spüren, welche Personen in deinem Feed dir guttun und welche nicht. Für unsere Pferde tun wir alles, damit sie in bester Stimmung sind, und selbst schauen wir uns oft Dinge an, von denen wir ganz genau wissen, dass wir uns danach schlecht fühlen. Man kann manche Personen zum Beispiel auch für die Zeit der Show auf stumm stellen.
Es gibt so viele Leute in den Netzwerken, die positive Energie senden und hilfreiche Tipps. Vielleicht wählt man lieber gezielt solche aus.

Judith Wagner
Aber letztendlich ist jeder selbst dafür verantwortlich, was in seinem Feed zu sehen ist. Das ist übrigens völlig wertungsfrei, manchmal wirken auch super nette und positive Menschen auf einen einfach so, dass man sich danach schlecht fühlt. Vielleicht, weil man gerade nicht in einer solchen Stimmung ist oder man sich beim Vergleich mit ihnen immer abwertet. Da gilt es, sich selbst gut zu beobachten und dann konsequent zu sein.

Hast du vielleicht eine Übung oder einen Tipp, den man in dem ganzen Turnierstress ganz kurz nachmachen kann, wenn einem alles über den Kopf wächst?
Klingt jetzt total ausgelutscht und banal, aber: Atmen! Dreimal tief durchatmen hilft einem manchmal schon aus dem Teufelskreis heraus zu kommen und wieder "klar" denken zu können. Es hat nicht nur positive Auswirkung auf unsere mentale Verfassung, sondern hilft, auch sich körperlich zu entspannen. Und das ist vor allem in Betracht dessen, dass wir einen sehr sensiblen Teamkollegen haben, wirklich wichtig. Wir alle haben es wahrscheinlich schon mal gespürt, wie schnell sich die eigene Anspannung aufs Pferd überträgt.
Was ich auch sehr mag, wenn man sich total überfordert fühlt, ist die Frage: Was ist mein eines Prozent? Konkret bedeutet das: Was kann ich heute nur ein Prozent besser machen als gestern oder vorhin?
Es geht nicht darum, gleich Berge zu versetzen, das lähmt einen manchmal nur noch mehr. Sondern um viele kleine Schritte.

Judith Wagner
Wenn man sich vorher Gedanken gemacht hat, wie man gerne sein möchte, hilft auch die Frage: Was würde der Turnierreiter, der ich sein möchte, jetzt tun? Wie würde er sich verhalten? Welchen Tipp würde er mir geben?
Ein bisschen Stress auf Turnieren ist normal. Wo liegt für dich die Schmerzgrenze?
Zum einen natürlich an dem Punkt, an dem ich psychisch oder physisch Schaden davontrage. Mit Panikattacken oder einem Sonnenstich ist wirklich nicht zu spaßen! Noch dazu wird dadurch natürlich auch Reiten an sich zum Risiko.
Außerdem dann, wenn Andere darunter leiden: sprich mein Pferd, meine Teamkollegen oder vielleicht mein Partner, der sich extra die Zeit nimmt, um mich zu unterstützen. Wenn ich nicht mehr auszuhalten bin, ist es an der Zeit, etwas zu ändern.
Auch hier gilt: Wir können nicht immer am Geschehen an sich etwas ändern, wohl aber, wie wir darauf reagieren.

Judith Wagner
Prinzipiell hat mir manchmal schon allein der Gedanke geholfen, dass der Stress, den ich gerade spüre, mich nur vorbereitet auf die Prüfung. Ich versuche also, ihn positiv zu sehen anstatt negativ. Denn das macht bezüglich meiner Kontrollempfindung einen Unterschied.
Dass es auf einer Show zu Stress kommen wird ist, wie Du bereits sagst, kaum auszuschließen. Ich kann mir also beispielsweise denken, dass ich dadurch vielleicht wacher bin und mich das zusätzliche Adrenalin unterstützt. Dann habe ich immer noch volle Kontrolle über mich, meine Emotionen und mein Verhalten. Sobald ich den Stress aber als etwas Negatives sehe, das mich lähmt und schlechter werden lässt, bin ich abhängig davon, wie viel Stress es gibt. Das bringt einen gewissen Grad an Kontrollverlust mit sich, was uns wiederrum noch mehr stresst.
Allgemein würde ich einfach sagen, dass es sehr hilft, den Punkt "Self Care" bei der Turniervorbereitung und Planung einfach direkt mit zu beachten. So selbstverständlich, wie das Waschen, Zöpfeln oder Abreiten des Pferdes ist. Dann ist es deutlich leichter auf dem Turnier zu bemerken, wenn es nicht so läuft wie geplant mit der Self Care.
Ein Turnier ist Stress, das ist klar, aber wie sehr dich das stresst, das hast du selbst in der Hand!

Judith Wagner