For many years, most allround riders only would have had two answers when asked what saddle they ride in: Harris or Blue Ribbon. Today, however, they have gotten serious competitions and this time it is not from the States but from Austria: CR Saddlery. The team around boss Toni Mayrhofer and his wife Michaela – who tragically passed away last year – has developed the brand into a household name in the European allround industry. We have talked to them about the business, the tragic loss of Michi and what is next to come.
Can you tell us how the brand CR Saddles was invented?
It started in the 80s when Toni was visiting a saddlery in California. Hence the name "California Ranch" or "CR" in short. He got in touch with this fascinating craft and decided to try it himself – but only as a hobby. When his wife Michi entered his life, she taught herself how to punch leather and they both decided to found a business.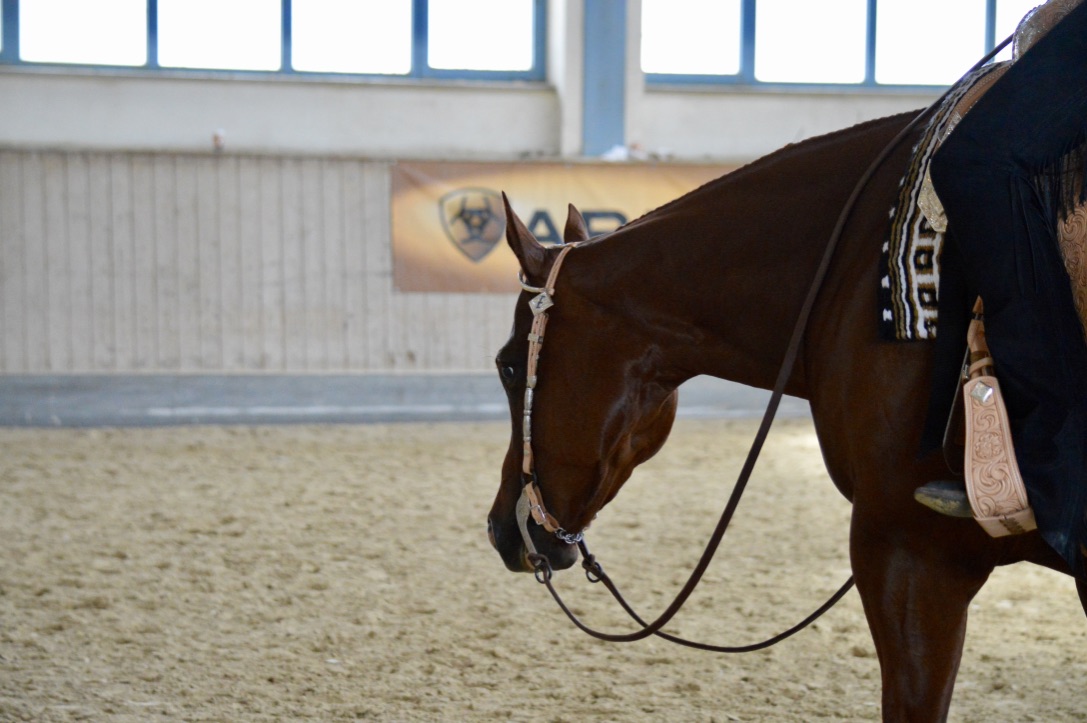 When looking at the European Allround industry one can get the impression that your brand has become a serious competition for industry leaders such as Blue Ribbon or Harris. What's your opinion on that?
We always wanted to manufacture saddles that fit our modern way of riding, especially for the allround events. We are very proud of the saddle tree we created especially for this modern way of riding. This saddle tree is patented. Gesa Meier-Bidmon, Matteo Sala and many more have supported us during the process: They shared their knowledge, tried out our prototypes and made suggestions for improvement.
Last year, your team suffered a terrible loss: Your boss Michaela Mayrhofer passed away way too early. What has changed since then?
Losing Michi was terrible. But since we are a small business and very close to each other, we managed to lift each other up and get through this dark time. We were overwhelmed by the numerous messages and support we received from everyone – such as the lovely article on The Showlife. We managed to adapt to the new tasks we were facing and we want to continue this business they way Michi would have done it.
Let's get to a far more delighting topic: In April, you posted a partly pink saddle with unicorn conchos on Facebook. Are special orders like those normal? And what parts of the saddle can be individualized?
Oh, yes, this saddle got a lot of attention. We posted it on April Fools by accident and people thought it was just a joke. We had lots of fun creating this saddle, but orders are these are rare. We put a lot of heart into each saddle and create it the way the client wants it. We will try to fulfill any wish as long as we are able to. We love creating special things!
You introduced a new tooling recently. What else is new?
Since we are always looking for inspiration we found a new manufacturer of punching tools and included this new pattern into our range. We want to adhere to our clients' standards and that is why we always try to create new designs. We have some pictures on our website, so people can get inspired and step by step we create the saddle.
You collaborate with European trainers a lot. How important is this for your brand?
It is very important! That way, we can get a lot of expertise that goes into our craft. We are currently working on a new projects and collaborate with many riders to get the most perfect result.
Vor vielen Jahren gab es für die meisten Allround-Reiter nur zwei Antworten, wenn sie nach ihrem Sattel gefragt wurden: Harris oder Blue Ribbon. Seit einiger Zeit haben diese beiden US-Marken jedoch ernsthafte Konkurrenz bekommen – und dieses Mal nicht aus den Staaten, sondern aus Österreich: CR Saddles. Das Team um Toni und Michaela Mayrhofer – die vergangenes Jahr viel zu früh verstorben ist – hat uns erzählt, was sich seit Michis Tod verändert hat, wie die Marke entstand und wie sie weiterentwickelt wird.
Erzählt doch einmal kurz, wie kam es zur Entwicklung der Marke CR Saddles?
Unsere Geschichte hat Anfang der 80er Jahre begonnen, als Toni eine Sattlerei in Kalifornien besucht hat. Daher auch unser Name "California Ranch". Dort hatte er zum ersten Mal Kontakt mit dem Handwerk, welches zuerst nur zu einem Hobby wurde. Als Michi in sein Leben trat, hat sie sich die Kunst des Punzierens angeeignet und die beiden entschieden, zusammen ein Gewerbe anzumelden.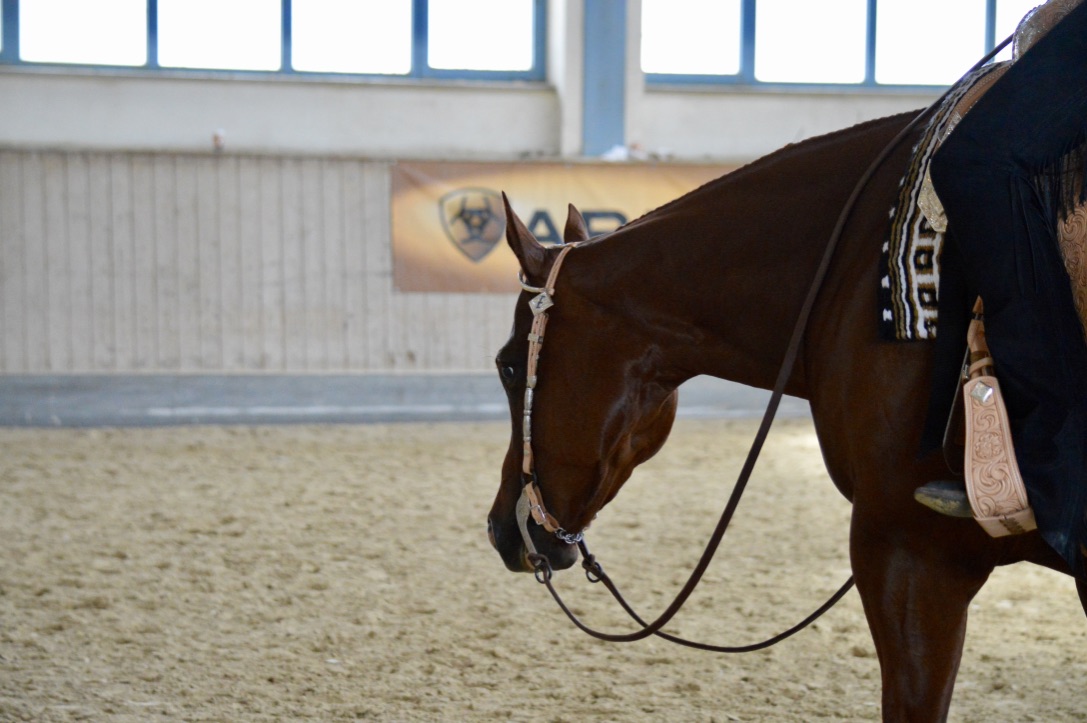 Man hat den Eindruck, dass ihr gerade in der Allround-Szene in den vergangenen Jahren Größen wie Blue Ribbon und Harris starke Konkurrenz gemacht habt. Könnt ihr selbst einschätzen, woran das liegt?
Unser Ziel war es, einen Sattel zu bauen, der unserer modernen Allround-Reitweise gerecht wird. Unser Markenzeichen ist der patentierte Sattelbaum, der speziell für diesen Zweck von uns entwickelt wurde. Eine sehr große Hilfe in der Entstehung waren Gesa Meier-Bidmon, Matteo Sala und einige weitere. Sie brachten viel Wissen mit, haben unsere Entwürfe mit getestet und Verbesserungen vorgeschlagen.
Letztes Jahr musste das ganze Team einen schweren Schicksalsschlag verkraften: Eure Chefin Michaela Mayrhofer ist viel zu jung verstorben. Was hat sich dadurch im Unternehmen verändert?
Der Tod von Michi war für uns ein sehr großer Verlust. Da wir ein kleines Unternehmen sind, stehen wir uns alle sehr nahe, was uns geholfen hat, mit dieser Situation umzugehen. Überwältigend waren die lieben Worte und Nachrichten, wie auch euer toller Bericht, die uns von allen Seiten erreicht haben. Wir sind mittlerweile recht gut in unsere neuen Aufgaben hineingewachsen und möchten die Firma in Michis Sinne weiterführen.
Kommen wir zu einem fröhlicheren Thema: Im April habt ihr einen besonders auffallenden Sattel mit Einhorn-Conchos gepostet. Wie oft macht ihr solche Sonderanfertigungen? Was kann man sich denn alles individualisieren lassen?
Unser Einhornsattel hat wohl recht viel Aufsehen erregt. Zufällig haben wir ihn am 1. April gepostet und einige dachten, es wäre ein Scherz. Es hat uns sehr viel Spaß gemacht, diesen Sattel zu machen, wobei solche Wünsche eher selten vorkommen. In jedem Sattel steckt sehr viel Liebe fürs Detail und er wird extra für den Kunden gefertigt. Dadurch können wir alle Wünsche erfüllen, vorausgesetzt sie sind für uns technisch möglich. Wir freuen uns immer, etwas Besonderes zu zaubern.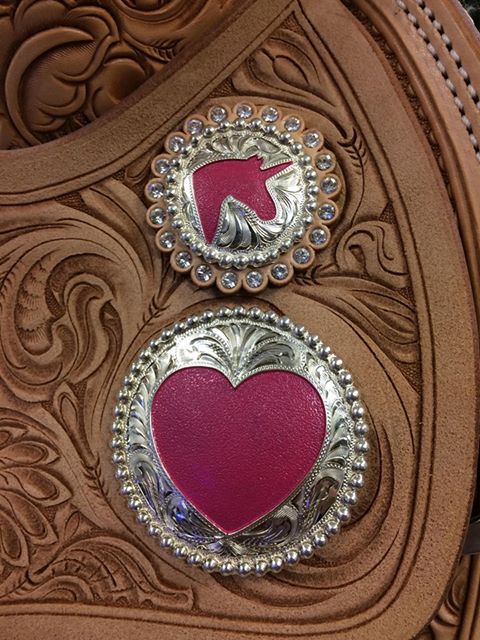 Vor kurzem habt ihr ein neues Tooling vorgestellt. Gibt es sonst Neuerungen in eurem Sortiment?
Da wir immer auf der Suche nach Inspiration sind, haben wir einen neuen Hersteller für Punziersiegel gefunden und das neue Muster in unser Sortiment mit aufgenommen. Wir möchten den Ansprüchen unserer Kunden immer gerecht werden und so entstehen neue Designs. Auf unserer Website haben wir einige Beispielbilder, um ein paar Ideen zu bringen und Stück für Stück entsteht der fertige Entwurf.
Ihr arbeitet viel mit Trainern zusammen, auch in der Entwicklung der Sättel. Wie wichtig ist euch das und welche Erkenntnisse zieht ihr daraus?
Uns ist die Zusammenarbeit mit Trainern sehr wichtig! So bekommen wir möglichst viel Wissen, um das Beste aus unserer Arbeit heraus zu holen. Im Moment tüfteln wir an einem größeren Projekt, bei dem wir wieder eng mit unterschiedlichen Reitern zusammenarbeiten, bis das perfekte Ergebnis entsteht.