---
Being at a horse show requires a lot of thinking and organization beforehand. Once you have arrived your mind is filled with patterns, training schedules and draw lists. Of course, you also always try to make sure your horse is taken care of and that it has a clean stall, water, hay and other feed. What most people tend to forget is to take care of themselves. But as for any other athlete nutrition is really important for equestrians. Successful AQHA competitors Laura Pfeifer, who is a trained physiotherapist, Hannah Friedl, and Fei Sim have shared their advice on eating healthy at the show with us.
Amateur rider Laura Pfeifer is lucky: "My Dad owns a trailer with a little kitchen and a fridge, therefore we try to bring as much fresh food as possible to the show before it has even started," she tells us. But we all know that showing can be stressful and that there is hardly time left to prepare a proper meal. "My Mum is simply the best, because she prepares some meals beforehand. They are all healthy but filling as well – salads, pasta, rice with chicken… It is also very important that they can be warmed up quickly." Fortunately, the Pfeifer family's trailer has a microwave as well. Laura also stresses that none of the meals is too heavy and that they are all already individually portioned. "I really try to avoid eating at the snack bar, but instead warm up something in the trailer or cook a meal myself." Laura also emphasizes that eating her Mum's food helps her to stay fit at the show: "They contain all the vitamin I need and there is no change in my nutrition routine, because I eat my Mum's meals at home as well."
Laura admits that eating healthy at the show can still be challenging: "Especially all those in-between snacks such as chips or candy are sometimes hard to avoid!" In order to not eat too much of those snacks, Laura tries to adhere to a certain eating routine: "I try to eat at least one proper meal a day. If that is dinner, I make sure I do not eat too late. I have asserted in the past that I am much more sluggish and have stomach pain if I eat too late at night." Being a showmanship champion herself, Laura knows that especially an hour of showmanship training can be really tough if you have eaten a pizza or anything the like before.
As most people know, eating carbs at night is not the best strategy to maintain a healthy way of eating: "If I eat pasta or anything the like, I usually eat it for lunch," Laura says. Fei agrees: "If I eat unhealthy, I do this at breakfast or lunch. I definitely avoid carbs at night!" Of course, snacks are okay as well – as long as they are healthy: "My recommendation would be oatmeal or any kind of cereal. I also make sure that I eat two pieces of fruit per day – an apple, a banana or any fruit of the season", Laura tells us. Vegetables are of course okay as well: "I actually eat a lot of the carrots that we buy for the horses," Hannah laughs. Fei admits that she is not the type of person to eat those classic snacks such as chips or candy: "What I like to eat is any whole-grain bread with a little bit of ham. I also recommend to buy lots of fruit – if there is anything left, you can treat your horse!"
Hannah who has stayed in the US with Highpoint Performance Horses a few years ago knows that it can be really challenging to eat healthy especially if you are busy all day: "We really try to buy fruit and salad during the show – especially in summer – if we have time to go to the supermarket. And as we all know a few days into the show these salads are all sold out at the store in Rieden, because everyone wants to have them!" Hannah claims that eating is not only connected to your physical abilities – it also has a lot to do with your emotional condition: "If you are nervous before your class and you do not want to eat, don't eat! But if it makes you feel better, you should definitely eat something, no matter what!" From her experience in the US she knows that as a trainer or intern you very often have to rely on others in order to get food: "Luckily, the clients often brought us something to eat while we were working!" That means: If you do not have time to get food yourself, ask someone to bring something with them or to buy ingredients at the store for you!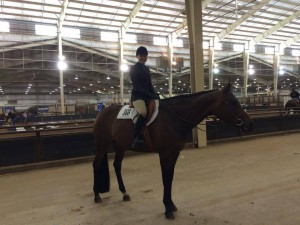 Hannah in OKC with Naturally Graceful, owned by BBQH; picture: private
Fei adds that with respect to buying food there is a simple strategy to avoid non-healthy snacks: "If you go shopping, do not buy anything that is not healthy, because if there is nothing 'bad' to eat in your tack room, you have to eat the healthy snacks!" Whenever Fei has no time to prepare something to eat by herself she says that it is better to pick up some food at the local restaurants instead of going to the snack bar: "I usually choose fish or meat with vegetables or salad. You can also pick up two meals at a time in order to have something at hand for the next day that you can warm up. That definitely makes it easier to plan your meals!" Fei knows that having a plan is crucial if you want to maintain a healthy diet: "Without a plan you will simply grab any food that comes your way," she states.
Drinking is very important if you want to be a good athlete. Although this is common knowledge, most people tend to forget to drink as soon as they are stressed out by the show routine. "My advice would be to always have water at hand. It can be a real waste of time if you have to search for your water bottle, that is why I always keep one in my grooming bag and one by horses' stalls. If you do not like plain water you can put a slice of lemon in your bottle to add a bit of flavor," Laura recommends.
Despite all the effort, Fei admits that she has put on weight after every show in the past: "When I get home from a show, I usually need a week to get back to my usual shape. After shows my meal plan definitely has to be a little stricter than before!" But she also tries to stay in shape while being at the show: "I always pack my running shoes, because I always try to have a negative calorie balance – that means that if I go running, I can allow myself to eat a little bit more."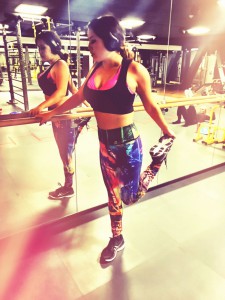 Fei works out almost every day of the week, pictures: private
Maintaining a healthy diet does of course not mean that you cannot treat yourself every once in a while. To Hannah every show is sort of a holiday despite all the work: "Therefore I allow myself to eat a little less healthy and treat myself." Laura also states: "Of course, I also eat chocolate sometimes or drink a glass of sparkling wine every once in a while – especially if there is something to celebrate!"
GERMAN
Als erfolgreicher Reiter weiß man, dass das Turnierleben viel Organisation und Planung erfordert. Bereits Wochen zuvor ist man damit beschäftigt und kaum angekommen, ist der Kopf voll von Pattern, Trainingsplänen und Startlisten. Und natürlich wird sich darum gekümmert, dass es dem Pferd an nichts fehlt. Ein sauberer Stall, ausreichend Wasser, Heu und anderes Futter, das ist selbstverständlich. Was viele dabei vergessen, ist auf ihr eigenes Wohlbefinden zu achten. Dabei ist Ernährung für Reiter ebenso wichtig wie für alle anderen Leistungssportler. Die erfolgreichen Turnierreiterinnen Laura Pfeifer, die ausgebildete Physiotherapeutin ist, Hannah Friedl und Fei Sim haben uns ihre Tipps zum Thema "Gesunde Ernährung auf dem Turnier" verraten.
Amateur Reiterin Laura Pfeifer kann sich glücklich schätzen: "Mein Vater hat einen großen Trailer, der zum Teil Wohnwagen ist. Darin sind auch eine kleine Küchenzeile und ein Kühlschrank, weshalb wir versuchen, bereits zur Show so viel frische Nahrungsmittel wie möglich mitzubringen", erklärt sie. Trotzdem wissen wir alle, wie stressig es sein kann, während des Turniers eine anständige Mahlzeit zuzubereiten: "Meine Mama ist die Beste, denn sie kocht einige Gerichte für uns vor. Alles, was sie vorbereitet, ist gesund und dennoch sättigend – Salate, Pasta, Reis mit Hühnchen und Ähnliches. Dabei achtet sie auch darauf, dass man das Essen schnell aufwärmen kann." Glücklicherweise gibt es im Trailer auch eine Mikrowelle. Keines der Gerichte ist zu reichhaltig oder schwer und alles ist einzeln portioniert, sodass genau eine Person pro Portion satt wird. "Ich versuche es zu vermeiden, dass ich im Restaurant esse und wärme mir stattdessen etwas auf oder koche selbst." Laura betont außerdem, dass das Essen ihrer Mutter ihr hilft, auf der Show fit zu bleiben: "Darin sind alle Vitamine, die ich brauche, enthalten. Außerdem verändert sich meine Ernährung dadurch nicht, da ich dann dasselbe esse wie zuhause."
Laura gibt aber auch zu, dass es schwierig sein kann, sich auf dem Turnier ständig gesund zu ernähren: "Es ist vor allem schwer, Snacks wie Chips oder Süßigkeiten zu vermeiden!" Um nicht zu viele dieser Zwischenmahlzeiten zu essen, versucht sie, eine gewisse Essensroutine beizubehalten: "Ich versuche, zumindest eine ordentliche Mahlzeit pro Tag zu essen. Falls das erst abends ist, achte ich darauf, dass ich nicht zu spät esse. Ich habe in der Vergangenheit festgestellt, dass ich sonst am nächsten Morgen träge bin und Bauchschmerzen habe." Als Showmanship Champion – unter anderem 2015 Golden Series Champion Showmanship – weiß Laura, dass gerade eine Stunde Showmanship Training doppelt anstrengend sein kann, wenn man davor eine Pizza oder Ähnliches isst.
Wie die meisten wissen, ist die Aufnahme von Kohlenhydraten am späten Abend nicht unbedingt förderlich für eine gesunde Ernährung: "Wenn ich beispielsweise Nudeln esse, dann lieber mittags", so Laura. Fei, die unter anderem Int. DQHA Champion in Amateur Western Pleasure ist, sieht das ebenso: "Wenn ich mich ungesund ernähre, dann beim Frühstück oder beim Mittagessen. Kohlenhydrate am Abend versuche ich wirklich zu vermeiden." Auch Zwischenmahlzeiten sind natürlich in Ordnung, solange sie gesund sind. Für Laura ist klar, welche Snacks für Sportler gut sind und welche nicht: "Ich würde Haferflocken oder anderes Müsli empfehlen. Außerdem achte ich darauf, pro Tag mindestens zweimal Obst zu essen – Äpfel, Bananen, oder was eben gerade Saison hat." Natürlich ist Gemüse ebenso empfehlenswert: "Ich muss zugeben, dass ich auch oft unseren Pferden die Karotten wegesse!", erzählt Hannah. Fei sagt von sich selbst, dass sie die klassischen Snacks wie Chips oder Süßigkeiten ohnehin nicht so gerne mag: "Was ich gerne esse, ist Vollkornbrot mit einer Scheibe Schinken oder Ähnlichem. Ansonsten würde ich auch empfehlen, viel Obst einzukaufen – wenn etwas übrig bleibt, freut sich das Pferd drüber!"
Hannah war vor einigen Jahren Teil des Teams von Highpoint Performance Horses in den USA und weiß, wie schwierig gute Ernährung auf dem Turnier ist – vor allem, wenn man den ganzen Tag beschäftigt ist: "Wir versuchen trotzdem Obst und Salat einzukaufen – gerade im Sommer – wenn wir Zeit haben, zum Supermarkt zu fahren. Wie wir alle wissen, sind diese Salate in dem kleinen Supermarkt in Rieden meist nach einigen Tagen deshalb ausverkauft, weil die nun einmal jeder haben will!" Hannah ist klar, dass Ernährung nicht nur mit dem Körper zusammen hängt, sondern auch mit der Psyche: "Wenn man vor dem Start nervös ist und nichts essen möchte, sollte man nichts essen. Fühlt man sich dadurch aber besser, sollte man etwas essen, egal ob gesund oder nicht." Nach ihrer Zeit in den USA weiß sie, dass man sich manchmal auch auf andere verlassen muss, wenn man selbst nicht die Zeit hat, Essen zu besorgen. Das gilt natürlich besonders für diejenigen, die auf den Shows arbeiten, sei es als Trainer oder Ähnliches: "Glücklichweise haben uns die Kunden oft etwas zu essen mitgebracht während wir gearbeitet haben!", so Hannah. Daraus lässt sich schließen: Hat man selbst keine Zeit, zu kochen oder etwas zu kaufen, kann man zumindest jemanden bitten, etwas mitzubringen oder einzukaufen.
Hannah & Naturally Graceful (im Besitz von BBQH) in OKC, Bild: privat
Fei hat eine simple Strategie, was den Essenseinkauf während der Shows betrifft: "Wenn man einkaufen geht, sollte man erst gar nichts Ungesundes kaufen, denn wenn nichts in der Tackbox liegt, das ungesund ist, wird man automatisch zum gesunden Snack greifen!" Anstatt bei einem der Imbissstände einzukaufen, holt Fei sich während der Show lieber etwas bei einem der umliegenden Restaurants: "Meistens nehme ich Fisch oder Fleisch mit Gemüse oder Salat. Wenn man sich gleich zwei Gerichte holt, ist man auch gleich für den nächsten Tag gerüstet und muss da schon einmal nicht planen." Schließlich ist Planung bei einer gesunden Ernährung ein Muss: "Ohne Plan wird man immer das essen, was einem gerade in den Weg kommt", erklärt Fei.
Auch die Flüssigkeitszufuhr ist für Sportler besonders wichtig. Obwohl das eigentlich bekannt ist, vergessen doch viele Reiter zu trinken, sobald sie der Showstress im Griff hat: "Ich würde raten, immer Wasser griffbereit zu haben. Man verschwendet wertvolle Zeit, wenn man sich erst auf die Suche nach etwas zu trinken machen muss. Deshalb habe ich immer eine Wasserflasche im Grooming Bag und eine bei den Pferdeboxen. Wer normales Wasser nicht so gerne mag, kann ein oder zwei Scheiben Zitrone in die Flasche tun, das gibt etwas mehr Geschmack", empfiehlt Laura.
Trotz all der Tricks und Bemühungen, gibt Fei zu, dass sie nach den Shows oft ein bis zwei Kilo mehr wiegt: "Nach den Shows brauche ich meistens eine Woche, bis ich wieder zu meinem normalen Trainingszustand zurückgefunden habe. Dann muss ich auch was meine Ernährung angeht wieder strenger mit mir sein." Allerdings versucht Fei trotzdem auch während der Turniere in Form zu bleiben: "Ich packe immer meine Laufschuhe ein, da einer meiner Tricks ist, immer eine negative Kalorienbalance zu haben. Das heißt, wenn ich eine gewisse Zeit laufe, kann ich mir dann auch erlauben, etwas mehr zu essen!"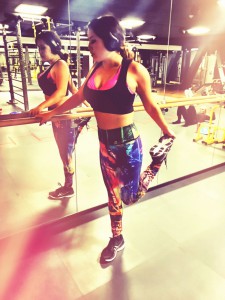 Fei trainiert in ihrer Freizeit sehr viel – fast jeden Tag in der Woche; Bilder: privat
Auf die Ernährung zu achten, heißt natürlich nicht, dass man sich nicht auch mal etwas gönnen darf. Für Hannah ist jedes Turnier trotz Arbeit so etwas wie Urlaub: "Ich erlaube mir deshalb, etwas weniger gesund zu essen und gönne mir auch mal etwas." Auch Laura ist nicht immer streng, was die Ernährung angeht: "Natürlich esse ich zwischendrin auch mal etwas Schokolade oder trinke ein Glas Sekt – gerade, wenn es etwas zu feiern gibt!"
Vielen Dank, Laura, Fei und Hannah!