Blaze Em On
BY: Blazing Hot
OUT OF: Regal Asset
OWNER: Sara D'Imperio
TSL: Sara, can you tell us how you ended up buying Blaze Em On?
Sara D'Imperio (SD): He was born and raised in Texas, and he was trained and shown by Tom Chown. He flew to Italy back and forward two times and after that I bought him.
TSL: What is his character like?
SD: Blaze is the smartest horse I have ever owned and ridden. He is sensitive, gentle and very respectful to people. He was always very calm before and during the shows just like a real champ! He loves to be surrounded by people but you need to show him some respect, too, otherwise he gets mad and he leaves you alone.
TSL: If you had three words to describe him, what would they be?
SD: Trustworthy: He was better in the show pen than in the practice pen. He knew his job, he knew he had to be a star, and he behaved like one! Grateful: Since we retired him he has been very grateful for our choice. It is hard to explain but he has been showing us all his gratitude for his retirement. Smart: I always had to teach him stuff only one time and that was enough for him to understand and do everything perfect. He doesn't like to do things wrong thus he pays a lot of attentions to all the details.
TSL: Can you tell us something about Blaze Em On that most people do not know?
SD: I bought Blaze when he was nine. He was my 18th birthday present from my grandparents. I was looking for a new all-around horse and it happened at Prevedel's ranch. I went there with the thought to buy another horse so when I saw Blaze loping around the arena I knew he was going to be the one. He looked like an etoile [the French word for star], his grace and impact in the arena were simply amazing. I just fell in love. At that moment, he was only doing Western Pleasure. After I bought him, I left for the States for seven months, I kept him in training for the European Championship and he was shown by Karin Prevedel in Senior Western Pleasure. After that show, I decided to bring him home and when I came back from the States, I started to train him in Trail and Western Riding by myself. I didn't have a trainer during that time, and even if I was still Youth, everything was so easy to teach. In fact, after only six months, I showed him in the first Western Riding class and we scored a 76 ½. I remember that the judges came over to congratulate us, I was thrilled!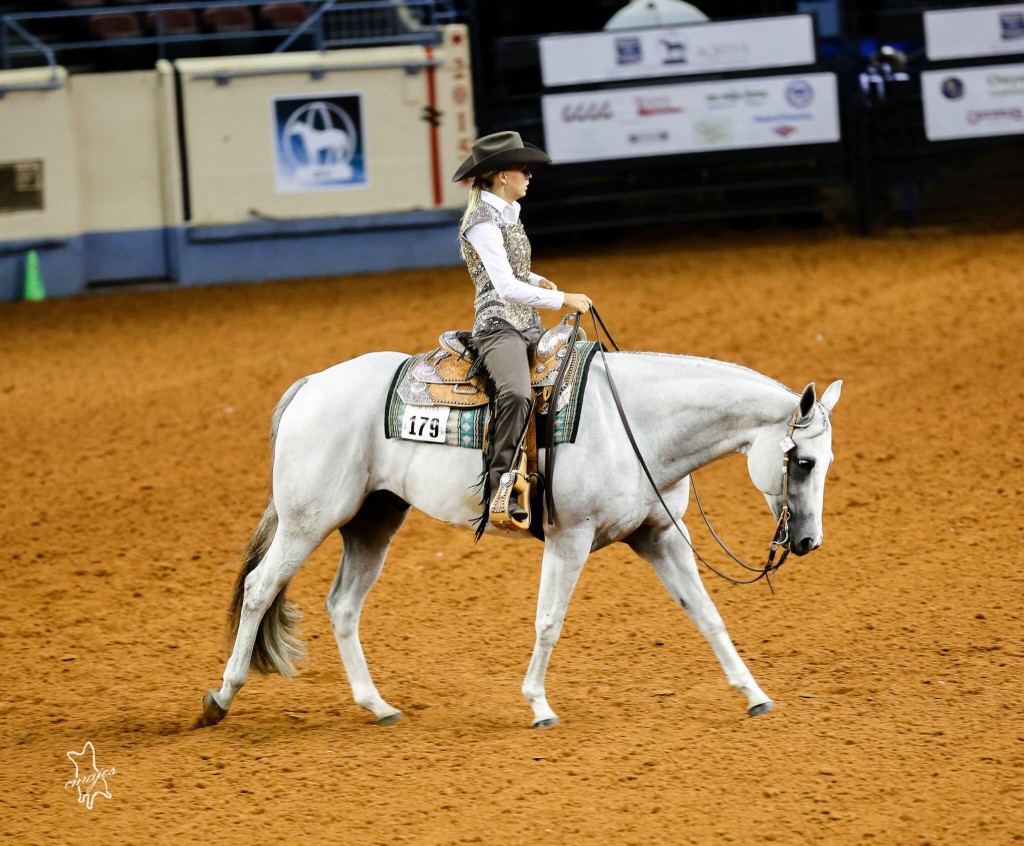 TSL: What is his offspring like? Do you have one horse sired by him that you would consider a favorite?
SD: His offspring are his exact copy. The have the same intelligence and attitude towards their job. A lot of customers told me they are so easy to train but you need to respect them otherwise they let you know! Like their dad! They are also very versatile, they are doing well in all the AQHA events, with no exceptions! Besides the offspring I own myself – who I'm totally addicted to – I love all of Blaze's offspring and I like to get photos and updates from the owners about their achievements at the shows, but most of all about their routine at home. It fills my heart with so much joy! I love to think that I can give other people the chance to own a part of my Blaze. My very own favorite is Blaze Ngo aka KingLouis. He is out of Go Ahead And Pass and he was born and raised in Italy. In 2016, I decided to fly him over to the States and start a new experience! I showed him at the major events in Arizona and Nevada and with the last show we did we already qualified for the AQHA World Show 2018 in two events! Louis was my little project for 2017 and I can proudly say that he exceeded all my expectations! But if I have to name one of the other offspring I would say Grey Asset out of Bonnified Asset, because he's the one that made Blaze World Champion Producer in 2015! Words cannot describe how excited I was when Moa Berglund and Grey walked through the Gateway of Champions in Oklahoma and they brought home the World Champion title in L2 W. Riding and the Bronze Globe in the L3! During that show Grey was still owned by Stefano Giacomazzi and Eleonora Bordellin and he was under the guidance of Matteo Sala and the High Point Performance crew. All in all, I would say that Blaze's offspring is kind of human! They want to make you happy and they try hard every single moment to be your joy!
Make sure to like Blaze Em On on Facebook, juliea.photography on Instagram and EM Design & Photography on Facebook!
---
Blaze Em On
VON: Blazing Hot
AUS DER: Regal Asset
BESITZER: Sara D'Imperio
TSL: Sara, kannst Du uns erst einmal erzählen, wie du zu Blaze Em On gekommen bist?
Sara D'Imperio (SD): Er ist in Texas geboren und aufgewachsen und wurde damals von Tom Chown trainiert und vorgestellt. Blaze ist seitdem zweimal von Italien hin und zurück geflogen und dann habe ich ihn gekauft.
TSL: Wie ist Blaze Em On charakterlich?
SD: Er ist das klügste Pferd, das ich je besessen und geritten habe. Er ist sensibel, freundlich und Menschen gegenüber sehr respektvoll. Er war während und vor der Prüfung immer gelassen, eben wie ein richtiger Champion. Er ist sehr gerne von Menschen umgeben, aber man muss ihm auch Respekt entgegen bringen, sonst wird er unleidig und geht.
TSL: Wie würdest Du Blaze in drei Worten beschreiben?
SD: Vertrauenswürdig: Er war im Show Pen immer besser als beim Warmreiten. Er kannte seinen Job, er wusste, dass er wie ein Star auftreten musste und so verhielt er sich dann auch. Dankbar: Seitdem wir ihn in Turnierrente geschickt haben, haben wir das Gefühl, dass er für diese Entscheidung sehr dankbar war. Das ist hart zu beschreiben, aber so kommt es uns vor. Klug: Ich musste ihm neue Manöver immer nur einmal zeigen, danach wusste er, was zu tun war und hat es dann auch gemacht. Er macht nicht gerne Fehler und achtet sehr auf Details.
TSL: Gibt es denn Details über Blaze, die die meisten Leute nicht kennen?
SD: Ich habe Blaze als Neunjährigen gekauft. Meine Großeltern haben ihn mir zum 18. Geburtstag geschenkt. Ich habe nach einem neuen Allroundpferd gesucht und habe es letztlich bei Prevedels gefunden. Ich bin dort mit der Intention ein neues Pferd zu kaufen hingefahren und als ich ihn in der Halle galoppieren sah, wusste ich, dass Blaze mein Pferd ist. Er sah aus wie ein Star, seine Anmut und der Eindruck, den er auf mich machte, waren einfach nur großartig. Ich habe mich sofort verliebt. Zu dieser Zeit war Blaze auf Western Pleasure spezialisiert: Ich bin, nachdem ich ihn gekauft hatte, für sieben Monate in die Staaten geflogen und habe ihn in Europa im Training für die EM gelassen. Karin Prevedel hat ihn in diesem Jahr dann in Senior Western Pleasure geshowt. Danach habe ich Blaze nachhause geholt und mit Trail- und Western Riding Training angefangen. Ich hatte zu der Zeit keinen Trainer und war selbst noch Youth und trotzdem war es leicht, ihm das alles beizubringen. Nach nur sechs Monaten habe ich ihn zum ersten Mal in Western Riding geshowt und unser Score war eine 76,5! Ich erinnere mich noch heute daran, wie die Richter zu mir kamen, um mir zu gratulieren – ich war überglücklich!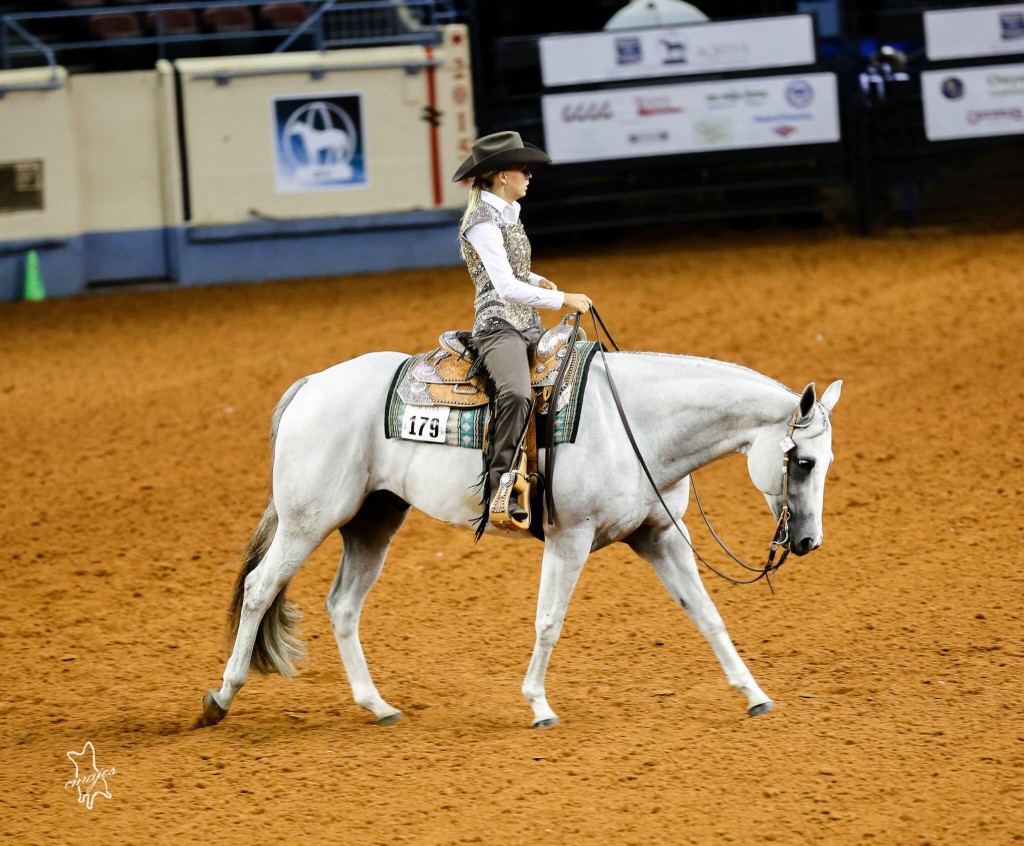 TSL: Wie ist Blaze's Nachzucht? Gibt es darunter Pferde, die Du persönlich zu Deinen Favoriten zählst?
SD: Seine Nachzucht ist immer eine Kopie von Blaze. Sie sind ebenso intelligent und lieben ihren Job! Viele Kunden haben mir erzählt, dass Fohlen von Blaze sehr leicht zu trainieren sind, man sie aber auch respektieren muss, sonst wird man es bereuen. Genau so ist Blaze auch! Seine Nachzucht ist auch sehr vielseitig, sie sind in allen AQHA Disziplinen erfolgreich – ohne Ausnahme! Neben den Fohlen, die ich selbst besitze – und vergöttere – mag ich natürlich auch alle anderen Babies von Blaze und ich freue mich immer, wenn ich Bilder und Neuigkeiten von den stolzen Besitzern bekomme – nicht nur von Shows, sondern auch von den kleinen Erfolgen im Alltag. Ich mag den Gedanken, dass ich anderen Leuten die Chance geben kann, ein kleines Stück von Blaze zu besitzen. Mein persönlicher Favorit ist Blaze Ngo, genannt King Louis. Er ist aus der Go Ahead And Pass und ist in Italien geboren und aufgewachsen. Ich habe ihn aber in den USA auf großen Shows in Arizona und Nevada geshowt und nach der letzten Show haben wir uns in zwei Disziplinen für die AQHA World Show 2018 qualifiziert. Louis war quasi in 2017 mein kleines Projekt und ich kann mit Stolz sagen, dass er all meine Erwartungen übertroffen hat! Aus der restlichen Nachzucht ist einer meiner Favoriten definitiv Grey Asset aus der Bonnified Asset – dieses Pferd hat Blaze zum World Champion Producer gemacht. Das war 2015. Ich kann nicht in Worte fassen, wie sehr ich mich gefreut habe, als Moa Berglund und Grey durch den Gateway Of Champions in OKC gelaufen sind – als AQHYA World Champions in L2 Western Riding und Bronzegewinner in L3 Western Riding. Damals gehörte Grey noch Stefano Giacomazzi und Eleonora Bordellin und wurde von Matteo Sala und dem Team von Highpoint Performance Horses trainiert. Alles in allem muss ich sagen, dass Blaze's Fohlen irgendwie menschlich sind. Sie wollen ihren Reiter glücklich machen und bemühen sich immer, dass man Freude an ihnen hat.
Schaut unbedingt mal bei Blaze Em On auf Facebook vorbei, likt juliea.photography auf Instagram und EM Design & Photography auf Facebook!