Direkt zur deutschen Version
This time, our #stallionsunday is about Double Goodness, a multiple German Champion, Golden Series winner and Maturity Champion. But the funniest thing about this article is the fact that Double Goodness is not a stallion anymore.
Lena, can you tell our readers about DJ and why you decided to geld him?
In 2008, when I was still a Youth rider, I was coached by Sandra Schaub. My Mom fell in love with her mare – and DJ's dam – Goodness Im Great. When Sandra told my Mom that she would breed the mare to A Good Machine and that the foal would be for sale if it was a colt, we didn't knew that we would gain new family member. Buying DJ was one of the best decisions ever. I can always count on him. He can have weeks off and as soon as I hop on, he just does his job. Since we bought him when I was still a Youth kid and and we did not get as many inquiries for him as a breeding stud as we hoped, we decided to geld him. That way, he can go on the pasture with other geldings and all in all it's less stress. I do want to say, though, that he never behaved badly as a stallion.
What does his daily routine look like?
DJ enjoys life in the pasture or on the paddock with his other four-legged-friends. After last season, he got a long break and did nothing. When the corona crisis came, we only went for long trail rides, he got a Bemer treatment every day and lots of treats. I am starting to practice now, because I am hoping to take him to some shows in Kreuth in August.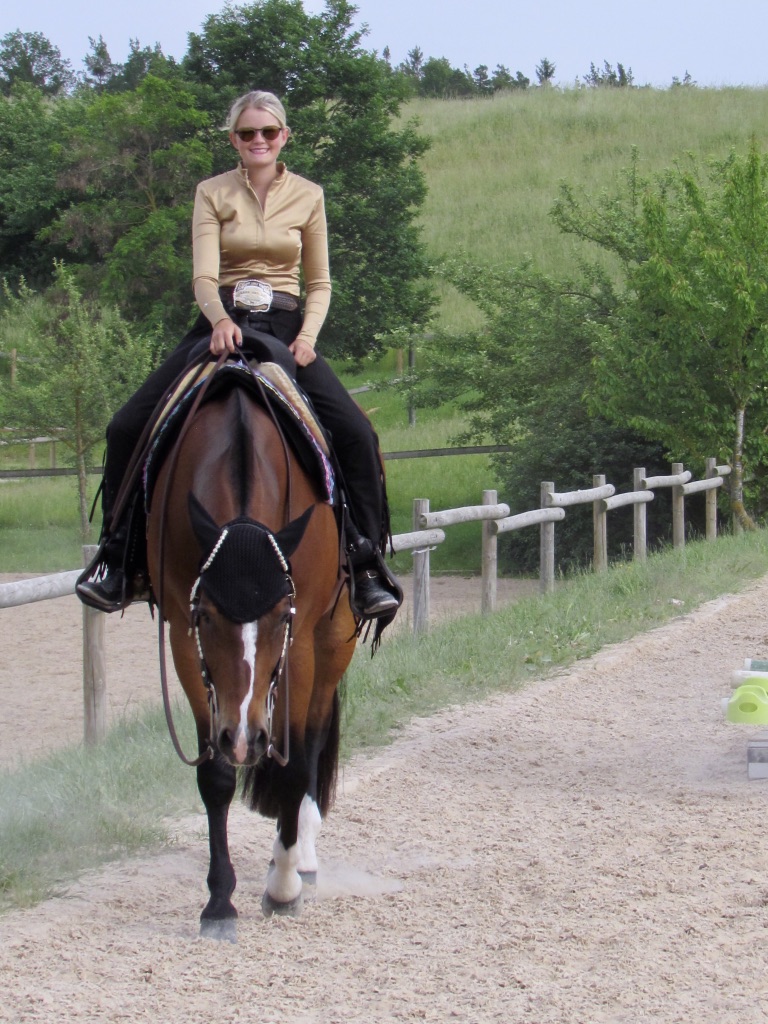 Do you have any foals of him at your barn?
Yes, three: Goodtobearailblazor, a two-year-old gelding that we sold to my client Nadine Müller, Goodontherail, a yearling mare and a few weeks ago "Willow" was born. All there of them are out of Railblazorette.
What is the main trait of his foals?
Easy to say: DJ's foals are all very calm. They are happy horses with a friendly character and usually look like him a lot – at least those we own. He is quite tall and passes that on to his babies as well which I like a lot.
You and DJ seem to have a special connection.
Yes, absolutely. He taught me a lot. We worked with different trainers over the years, but DJ is the best teacher. He lets me know what I am doing wrong and will forgive any mistake. I could ride him in the woods, bareback, when he was a four-year-old stallion. We also do lots of other fun things: ride backwards, toilet paper challenge, ride without tack… Whenever I am sad, he walks up to me, puts his head in my arms like he wants to calm me down or console me. I can always rely on him, whether it is at home or in the show pen. He is my once-in-a-lifetime-horse.
He is not a stud anymore, but you still offer semen. What are the conditions?
Since we have a limited amount of some left, we have decided to offer it to breeders whose mares have a show record. The mare owners have to bring the mare to the breeding station in Zweibrücken, Germany. We have made bad experiences in the past – the mares have not been monitored in the right way or the semen was heated in the wrong way – so that is why. If you are interested, you can contact me or my Mom Carolin Wolff.
How long are you allowed to sell the semen? Are there any time limits?
We can sell it as long as DJ is alive and two more years after his death. But we hope that this won't happen for a long time.
If you had to describe DJ as a gelding and a stud…
I would say that as a stud he was charismatic, friendly and ambitious. As a gelding he is a lovely, irreplaceable horse that loves to cuddle.
Dieser #stallionsunday ist gar kein richtiger Stallion Sunday: Denn der mehrfache Deutsche Meister, Golden Series Champion und Maturity Champion Double Goodness im Besitz von Lena Wolff ist mittlerweile Wallach.
Lena, erzähl unseren Lesern doch von DJ und wieso ihr euch entschieden habt, ihn legen zu lassen.
Da muss ich ein bisschen weiter ausholen: Als ich 2008, noch als Jugendliche, bei Sandra Schaub trainiert habe, hat sich meine Mama in DJs Mama Goodness Im Great verliebt. Als Sandra ihr erzählte, dass die Stute von A Good Machine tragend ist und falls es ein Hengstfohlen sein wird, dieses zu verkaufen ist, ahnten wir noch nicht, dass wir bald um ein neues Familienmitglied bereichert werden. Dass Mama DJ gekauft hat, war wohl eine der besten Entscheidungen. Er ist ein absolutes Verlasspferd! Er kann Wochen lang Pause haben, man setzt sich auf ihn und er läuft und macht sein Ding. Da wir ihn gekauft haben, als ich noch Youth starten durfte und die Nachfrage an Sperma leider nicht so hoch war, haben wir uns 2015 entschieden, ihn legen zulassen. So kann er mit seinen Kumpels auf die Wiese und hat auch allgemein weniger Stress. Obwohl ich betonen möchte, dass er nie hengstig oder schwer zu händeln war.
Wie sieht DJs Alltag als Nicht-Mehr-Deckhengst aus?
DJ geht jeden Tag mit seinem Freund auf den Paddock oder auf die Wiese. Er hatte nach der letzten Saison eine lange Winterpause, in der ich ihn wirklich in Ruhe gelassen habe. Dann kam Corona und wir sind fast nur Ausreiten gegangen, er hat seine tägliche Bemer-Wellness-Behandlung bekommen und auch das ein oder andere Leckerlie. Jetzt fange ich wieder langsam mit dem Training an, in der Hoffnung, dass wir im August nach Kreuth fahren können.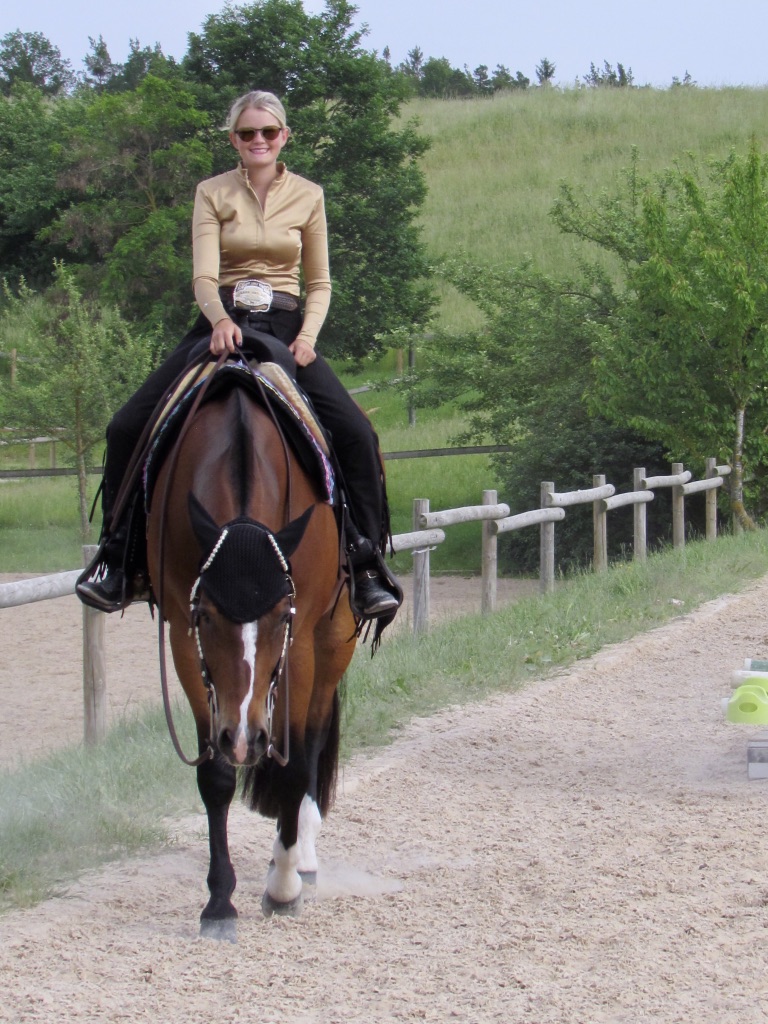 Habt ihr selbst Fohlen von ihm zuhause?
Ja, wir haben drei Nachkommen von ihm. Goodtobearailblazor ist ein zweijähriger Wallach, den wir an meine Kundin Nadine Müller verkauft haben. Goodontherail ist eine Jährlingsstute und dann ist vor ein paar Wochen noch unsere Willow zur Welt gekommen. Alle drei Fohlen sind aus unserer Railblazorrette.
Was macht deiner Ansicht nach seine Fohlen aus?
Das ist einfach zu beantworten: DJs Nachkommen sind durchwegs entspannt. Sie ruhen sehr in sich, bestechen durch ihr freundliches Wesen und sehen ihm oft sehr ähnlich. Zumindest die, die wir an unserem Stall stehen haben. Außerdem vererbt DJ seine Größe sehr gut – was mir persönlich gut gefällt.
DJ und du, ihr scheint eine besondere Verbindung zu haben.
Das beschreibt es ganz gut. Ich habe sehr viel von ihm gelernt. Natürlich wurden wir auf unserem Weg von unterschiedlichen Trainern begleitet, doch DJ ist mein bester Trainer. Er zeigt mir genau, wenn ich etwas falsch mache, und verzeiht mir jeden Fehler. Ich konnte ihn schon als vierjährigen Hengst ohne Sattel ausreiten und auch sonst kann ich wirklich jeden Blödsinn mit ihm machen: Beispielsweise kann ich ihn verkehrt herum reiten, Toiletten-Paper-Challenges ohne Sattel und ohne Trense reiten. Wenn ich schlecht gelaunt bin, kommt er an und legt seine Kopf in meine Arme, als würde er mich beruhigen oder trösten wollen. Ich kann mich zu 100 Prozent auf ihn verlassen, egal ob in der Show oder zuhause. Er ist mein Once-in-a-lifetime-Horse – das steht fest.
Da er nun nicht mehr Hengst ist, aber es trotzdem noch Samen gibt – wo können interessierte Stutenbesitzer sich melden und gibt es Bedingungen?
Da es nur noch eine limitierte Anzahl an Sperma gibt, haben wir beschlossen, dass wir ausschließlich an Besitzer von Stuten mit Showrecord verkaufen. Auch müssen die Besitzer die Besamungsstation in Zweibrücken anfahren. Wir haben es leider zu oft erlebt, dass Stuten nicht richtig überwacht oder der Samen falsch warm gemacht wurde. Interessenten können sich gerne bei mir oder meiner Mama Carolin melden.
Wie lange dürfte man Stuten denn noch besamen lassen? Gibt es da eine zeitliche Grenze?
Wir dürfen DJs Samen so lange verkaufen, bis er verstirbt und dann noch zwei weitere Jahre nach seinem Tod. Der hoffentlich noch ganz, ganz weit in der Zukunft liegt!
Wenn du DJ als Hengst und als Wallach beschreiben müsstest, welche drei Worte würdest du jeweils wählen?
Als Hengst: ausdrucksstark, freundlich, ehrgeizig. Als Wallach: kuschelig, liebenswürdig, unersetzlich.