picture: BellaVie PhotoArt
Since it's Sunday and Valentine's Day, we had to publish another part of our series "#stallionsunday". This time, we have featured N Somnia. Owners Meinou de Ruijter and Dolf Desmedt have shared some details about this stallion who is a full brother to the famous Get Some Sleep.
Meinou, can you tell us the "hard facts" about N Somnia?
Our stallion N Somnia, his barn name is Moonshine, was born in the States at BSB Quarter Horses in 2013. His sire is Too Sleepy To Zip and the sire of his dam is Zippin Bonanza Flash. He is a bay stallion and 1,68 m tall. He is the full brother to Get some Sleep aka Duke. We bought Duke in 2011. This exceptional horse won over 100 Western Pleasure classes in Europe.
When and how did you get Moonshine?
During a show in Kreuth in 2013, when Duke won the Golden Series Western Pleasure by the way, we got news from BSB Quarter Horses that a full brother to Duke was born. We bought that foal immediately: Moonshine had to be ours!
Has he been shown?
When he was a yearling, he went to Jay and Kristy Starnes to receive his first education. One year later, he came to Europe and was under the guidance of Mark Shaffer, who actually also took care of Moonshine before he left for Jay's and Kristy's. Afterwards, Nina Leiner was his new trainer. Unfortunately, due to an accident in the pasture, he had a major injury on a leg. We did our best to fix this problem with some surgeries. In the end, however, the injury was too severe to put him back in a training program… Luckily, he was still able to breed, so his breeding career could take off! But before we started with breeding, it was absolutely necessary for us that these three criteria were fulfilled: His movement, his behavior and his X-rays (neck, back and legs) had to be perfect. If one of the three had not been satisfying, the breeding career would have been over before it started… Anyway, he succeeded in all of them.
What does his daily routine look like?
During a normal day, he is staying outside on the first big pasture of the barn which is about 1.5 h big. At night, we bring him inside. But if the weather is nice, he stays outside in his stable over there. He knows exactly when he has to breed. The trailer is coming and the special breeding bandages are put on. Most of the time, Dolf's father is bringing him to the breeding station. Because of this, Moonshine really likes him. During the unloading and the breeding itself, Moonshine stays calm and easy to handle. We are lucky that his semen stays in the same condition for four days. Therefore, it is no problem to ship his fresh semen throughout Europe. We also have frozen semen available. But we prefer to work with fresh semen, because it is much more easy to handle and less expensive in veterinarian costs for the mare owners. We enroll him in the SSA programs from Holland, Germany (NSBA and DQHA) and Austria every year.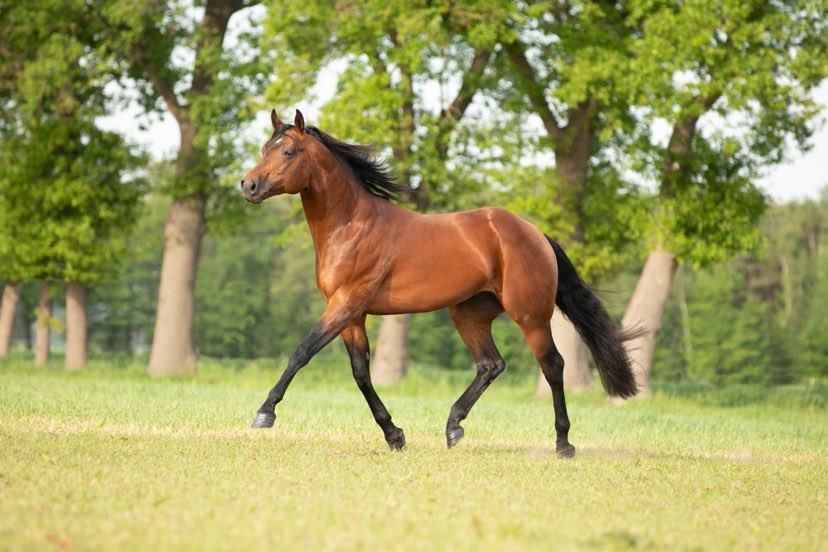 What are his babies like? Any characteristics that stand out?
What we see in his offspring – for three years now – is that all of the foals are correct in confirmation – in both body and legs – and have a willing mind. We did some x-rays on some foals and they were all fine. Another thing that is showing up is that Moonshine is adding his lope to his foals. He also adds a lot of size.
What's your favourite thing about him?
Our favorite things about him are his balanced movement, his character, his willingness and his smart mind.
If you had to describe him in two words…
If we had to describe him in two words we would say: mind and movement.
But everybody can (and maybe will) say this about their own stallion. That is why we asked some for comments from his breeders and trainers:
"N Somnia or Moonshine as we called him had 'the look' from the day he was born! He has all the best from his dad Too Sleepy To Zip and his mom Zippin Fancy Flash (producer of 1000 points and 100.000 $). He is a great representation of our breeding program available in Europe."

Breeders BSB Quarter Horses (breeders, NSBA Hall of Fame)
"We had the opportunity to work with Moonshine as a young colt and he just had the most willing attitude and natural movement. With his excellent bloodlines, he has a lot to offer as a breeding horse to the industry."

Jay and Kristy Starnes (trainers)
"When I had Moonshine in training, I couldn't even tell that he is a stallion, because he was so kind and easy to train and to handle – I remember it was a cold Austrian winter. What is really special about Moonshine is his lope, so natural, slow-legged and balanced, it feels like you want to keep on loping forever!"

Nina Leiner (trainer)
Breeding at its best, conformation designed for correct function, mental capabilities to do the job, the looks to catch the eye – Moon was a pleasure to work and train. I appreciate the time I had with this horse.

Mark Shaffer (trainer)
Nachdem Sonntag ist und Valentinstag, wäre es ja fast schon schade, wenn wir den Tag nicht nutzen würden, um einen neuen Teil unserer Serie #stallionsunday zu veröffentlichen. Dieses Mal geht es um Meinou de Ruijters und Dolf Desmedts Hengst N Somnia. Meinou hat uns alles über ihren Hengst erzählt, der ein Vollbruder zu ihrem Erfolgspferd Get Some Sleep ist.
Meinou, kannst du uns ein paar Fakten zu N Somnia erzählen?
Unser Hengst N Somnia wird Moonshine genannt. Geboren wurde er in den Staaten im Jahr 2013, gezüchtet von BSB Quarter Horses. Sein Vater ist Too Sleepy To Zip, seine Mama ist von Zippin Bonanza Flash. Er ist ist bay und 1,68 m groß. Er ist der Vollbruder zu Get Some Sleep aka Duke, den wir 2011 gekauft haben. Duke hat über 100 Western Pleasure Klassen in Europa gewonnen.
Wie seid ihr denn letztlich zu Moonshine gekommen?
Während einer Show in Kreuth im Jahr 2013 – Duke hat dort übrigens die Golden Series Western Pleasure gewonnen – bekamen wir die Nachricht von BSB Quarter Horses, dass ein Vollbruder zu Duke geboren wurde. Wir haben das Fohlen sofort gekauft – Moonshine musste uns gehören.
Wurde er geshowt?
Als Jährling haben wir ihn ins Training zu Jay und Kristy Starnes gegeben, damit er die grundlegende Erziehung lernt. Ein Jahr später kam er nach Europa und war zunächst bei Mark Shaffer im Training. Mark hatte sich auch schon in den Staaten um Moonshine gekümmert, bevor er zu Jay und Kristy ging. Danach war Moonshine im Training bei Nina Leiner. Leider verletzte er sich eines Tages auf der Koppel und hatte dann eine große Verletzung an einem Bein. Wir haben versucht, das Problem durch mehrere Operationen zu beheben. Aber am Ende war die Verletzung zu schwerwiegend, um ihn wieder ins Training zu geben. Glücklicherweise tat das seiner Zuchtkarriere aber keinen Abbruch. Bevor wir ihn allerdings als Hengst einsetzen wollten, haben wir auf drei Kriterien geachtet: Seine Bewegungen, sein Verhalten und seine Röntgenbilder mussten perfekt sein. Wäre das bei einem der drei Faktoren nicht der Fall gewesen, wäre seine Zuchtkarriere vorbei gewesen, bevor sie überhaupt begonnen hätte. Aber wir konnten alle drei Punkte erfolgreich abhaken.
Wie sieht sein Alltag aus?
Normalerweise steht er tagsüber auf einer 1,5 Hektar großen Koppel. Nachts bringen wir ihn meistens rein – außer das Wetter ist schön, dann darf er auf seiner Koppel mit dem Unterstand bleiben. Er weiß auch genau, wann die Decksaison losgeht: Der Hänger kommt und er bekommt die speziellen "Zucht-Bandagen" an. Meistens bringt ihn Dolfs Vater auf die Deckstation und Moonshine kann ihn deswegen sehr gut leiden. Während des Fahrens und des Deckens ist er immer sehr ruhig. Wir haben das Glück, dass sein Samen etwa vier Tage hält und wie so gut Kunden in Europa beliefern können. Wir haben auch Gefriersperma von ihm, arbeiten aber lieber mit Frischsamen, da alles einfacher läuft und den Stutenbesitzern weniger Tierarztkosten beschert. Er ist außerdem in die folgenden SSA-Programm einbezahlt: NQHA, DQHA. NSBA Germany und AustrianQHA.
Könnt ihr schon etwas über seine Fohlen sagen? Gibt er bestimmte Merkmale weiter?
Was wir an den Nachkommen sehen – und das mittlerweile im dritten Jahr – ist, dass sie alle sehr korrekt gebaut sind und einen ruhigen Charakter haben. Wir haben auch bei einigen Fohlen Röntgenbilder anfertigen lassen und die waren alle gut. Außerdem finden wir, dass Moonshine seinen Lope weitergibt. Seine Fohlen sind auch alle recht großrahmig.
Was mögt ihr an ihm am liebsten?
Seine ausbalancierten Bewegungen, seinen Charakter, dass er klug ist und immer mitarbeitet.
Wenn ihr ihn in zwei Worten beschreiben müsstet?
Mind and movement. Aber das sagen wahrscheinlich alle Hengstbesitzer über ihren Hengst. Wir haben daher auch Statements von Züchtern und Trainern eingeholt:
N Somnia – Moonshine, wie wir ihn genannt haben – hatte von Tag eins an "den Look"! Er hat das Beste von seinem Vater Too Sleepy To Zip und seiner Mutter Zippin Fancy Flash bekommen. Er ist ein toller Vertreter unseres Zuchtprogramms in Europa.

BSB Quarter Horses
Wir durften mit Moonshine arbeiten, als er noch ein Jungpferd war und er war damals einfach so lieb, hat immer mitgearbeitet und sich toll bewegt. Durch seine Abstammung ist er eine Bereicherung für die Zucht.

Jay und Kristy Starnes
Als ich Moonshine trainiert habe, habe ich manchmal vergessen, dass er ein Hengst ist, weil er so lieb und einfach im Handling war – und es war ein sehr kalter Winter damals. Was Moonshine wirklich besonders macht, ist sein Lope: so natürlich "slow-legged" und ausbalanciert – man will einfach immer weitergaloppieren.

Nina Leiner
Perfekte Abstammung, das Gebäude eines Sportlers, die mentale Einstellung für den Job als Turnierpferd und den ganz besonderen Look – es war ein Vergnügen, Moon zu trainieren und mit ihm zu arbeiten. Ich weiß die Zeit mit diesem Pferd sehr zu schätzen.

Mark Shaffer